Can Xbox One Play DVDs? How to Watch DVDs on Xbox One?
You can play DVDs with Xbox One in some cases. To watch Blu-ray or DVD movies on your Xbox One consoles that have a disc drive, you first need to install the Blu-ray Player app and then insert your DVD disc. If there is no disc drive, you have to digitize your DVD disc to USB connected to Xbox and then play with DVD player app like VLC.
To say even more, you may wonder whether other models of Xbox console play DVDs or not. The below contents will show you how to play DVD on Xbox One (S/X)/360/Series X with the Blu-ray Player app, how to play DVD on disc-less Xbox One S All-Digital Edition/Series S, and how to fix Xbox One won't play DVD problem.
DVD Won't Play on Xbox One? Digitize DVDs for Playback on Xbox One Console
Encountering Xbox One not reading disc, 0x91d70000 error code, no full screen playback or bad DVD quality? The once-for-all solution is to convert DVDs to Xbox One supported video format like MP4 and play with a DVD player. Hence, WinX DVD Ripper Platinum is introduced to digitize DVD discs to MP4, MOV, AVI, WMV, etc. to solve all the problems as well as bypass region codes and DVD copy protection.
Part 1. Does Xbox One Play DVDs?
It depends. Based on Xbox Wikipedia, you can use Xbox One to play DVD, Blu-ray and 3D Blu-ray discs like some other Xbox consoles. Also, Xbox One S and Xbox One X allow you to play DVD, Blu-ray, 3D Blu-ray and 4K UHD Blu-ray discs. However, you have no luck in playing optical DVDs with Xbox One S All-Digital Edition as it comes with no disc drive supports.
Part 2. How to Play DVD on Xbox One Consoles [2 Ways]
Now that you have known some Xbox One devices support DVD discs while others don't, you have two ways to play DVD on Xbox One with or without disc drive.
Option 1. Play DVD on Xbox One with Optical Disc Drive
Xbox One, Xbox One X, Xbox 360 and Xbox Series X all are packed with optical disc drive to play physical DVD discs. So, DVD playback on those Xbox consoles is much easier.
Step 1. Install the Blu-ray Player app on your Xbox console.
Go to Store from Xbox Home and search Blu-ray Player app.
When Blu-ray Player app appears, click it to enter info page.
Select Install to download and install Blu-ray Player app on your Xbox console.
Step 2. Set Xbox console for automatic disc playback.
Press the Xbox button and enter into the settings.
Select System > Settings and choose Disc & Blu-ray. You can select Disc settings or Blu-ray settings based on the disc you have. Choosing "Play disc automatically" will let the Xbox console play a DVD immediately when you insert a disc.
Step 3. Insert a DVD disc into disc drive of Xbox console to start playing.
Please make sure the DVD is supported by your Xbox console. Like other DVD players and computer drives, Xbox is region-locked for DVDs. It only supports discs sold in the same region. Namely, you can't play any foreign DVD movies on Xbox One in your region.
Alternatively, if you insert a DVD disc to your Xbox One console before installing the Blu-ray Player app, you may save some time.
Put a Blu-ray or DVD disc into the optical drive on Xbox One.
Select the Blu-ray Player app when it appears.
On the Blu-ray Player app details page, select Install to install Blu-ray Player app.
Your disc should start playing automatically.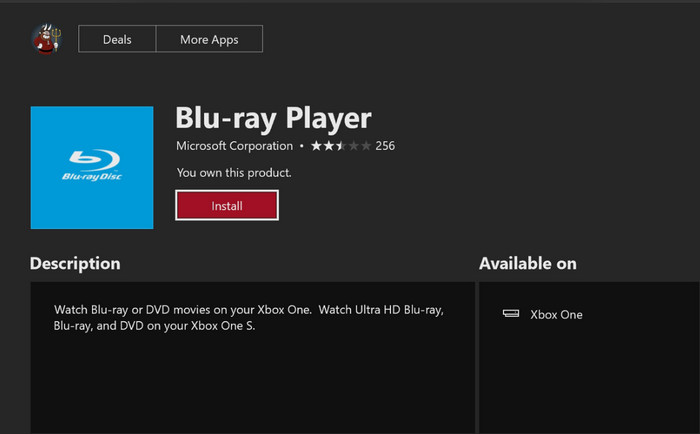 Option 2. Play DVD on Xbox One S All-Digital Edition without Disc Drive
You need third-party help when you want to play DVD discs on all Xbox One S All-Digital Edition and Xbox Series S models. As they ship with no optical disc drive, they can't play a DVD disc directly. To watch a DVD movie or TV series on these Xbox consoles, you have to convert the disc to digital formats for Xbox.
Digitize DVD to Xbox supported video formats first:
AVI (.avi, .divx), H.264 (.mp4, .m4v, mp4v, .mov, .avi), MPEG-4 Part 2 (.mp4, .m4v, .mp4v, .mov, .avi), WMV (VC-1)
The maximum file size for an MPEG-4 Part 2 or H.264 file is 4 GB.
Attention: Xbox One S' 1TB HDD has preloaded with Minecraft (1.12GB), Forza Horizon 3 (46.34 GB – 60 GB), and Sea of Thieves (25GB). Though the storage is enough to hold several games, you need to know that video games, quite different from media like movies which top out at a few GBs at most, are reaching 100GB on Xbox One and PS4. For example, Gears Of War 4 is about 116.77GB and Halo 5: Guardians is about 97.53GB. Therefore, you need to keep the digital version of the DVD movies smallest possible to keep fluent gaming experiences.
Considering the two facts above, you need a powerful DVD converter – WinX DVD Ripper Platinum to help digitize DVD discs to video file with best size and quality.
Digitize DVD to AVI, MP4, MOV, WMV, M4V, MPEG, MKV, FLV, 3GP, etc.
Convert DVD directly into Xbox consoles & other devices like PS4, iPhone, Galaxy, etc.
Compress DVD videos to 90% smaller size with 98% quality reserved.
No.1 fast ripping experience - Level-3 Hardware Acceleration delivers 5x faster speed than others.
Step 1. Load DVD disc
Download WinX DVD Ripper, install and launch it. Then, click DVD disc button to load the DVD you want to play on Xbox One S.
Step 2. Choose output format
When the DVD is loaded and the main title is automatically checked. After the Output Profile window appears, move to Microsoft Device > to Xbox Video > Xbox One (AVI/H264/WMV2) > OK.
Step 3. Compress your DVD file if needed (optional)
To ensure the smallest ripped video for Xbox, click the gear icon to adjust the bit rate, resolution, and other video/audio settings; and click the Edit button to cut any unwanted parts, remove commercials, etc.
Step 4. Start converting DVD to digital version
Check the Hardware Accelerator boxes on the main interface to speed up the process if possible. Click Browse to set the destination folder and click RUN to rip DVD to Xbox One.
Once done, you can import the ripped DVD file into Xbox One S for playback.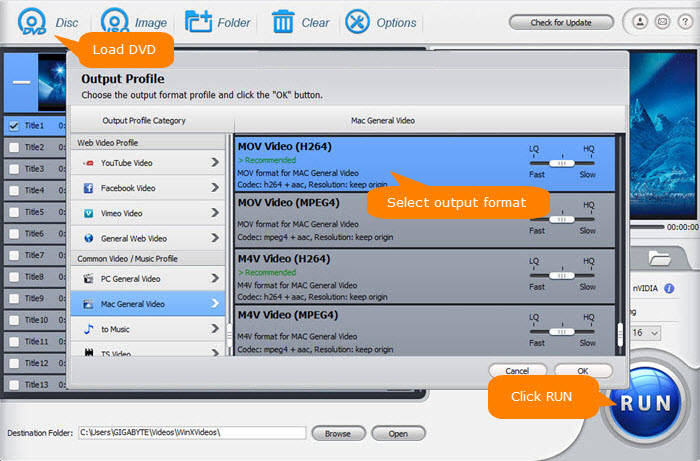 Part 3. How to Solve Xbox One Won't Play DVD Error?
Although there is an absolute YES answer to "Can Xbox One play DVDs", the forum is thronged with complaints of DVDs not playing on Xbox One. Besides the Xbox One S All-Digital Edition's incapability of DVD disc playback, there are also many typical Xbox One can't play DVD errors like "screen goes black", "incorrect region code", "unplayable disc", "error code 0x80820002", etc.
Accordingly, here are reasons and solutions to DVD not playing on Xbox One and other Xbox consoles.
Possible reason 1. Your DVD disc is defective or scratched
Solutions: If the disc is broken, in incorrect format, or in a bad condition, it won't play on Xbox One console and even show error code 0x91d70000. You are suggested to fix it with a repair tool, backup the scratched DVD or simply buy a new one. If it is just dirty without damaging, clean it with a soft and clean cloth. And please don't touch the top or bottom surface with your hands.
Possible reason 2. The disc drive on your Xbox console is cracked
Solution: If the DVD plays well on another console, probably something wrong happens to the disc drive. You need to replace the optical drive with a new one.
Possible reason 3. The Blu-ray Player app is not correctly installed
Solution: If you can play games well on Xbox One but not Blu-ray discs or DVDs, try to uninstall and reinstall Blu-ray player app. It will also remind you to connect the internet to play a DVD on Xbox One if you're offline with no Blu-ray player app installed.
Possible reason 4. Your DVD discs come from a different region
If your DVD discs are not from the same region when you purchased your Xbox One console, your Xbox won't read discs. As each Xbox console is manufactured for a specific Blu-ray and DVD region, the Xbox console including Xbox One can only play discs that are sold in the same region as the console. As a consequence, if you are an Australian but bought a DVD disc in Japan, you have to remove the region code to enable your Xbox One console to play the DVD from a different region. What's more, some DVDs (especially newly released DVD movies) are encrypted by particular protections which Blu-ray player app is not improved to support. You are suggested to decrypt DVD to digital file in a format supported by Xbox One for fixing the playback issue.
Solutions: To solve the problems, you can try WinX DVD Ripper Platinum mentioned above to convert region-locked, copy-protected DVD to region-free and DRM-free videos for Xbox One and other consoles.
Final Words:
Can Xbox One play DVDs? Yes, you can directly watch DVD discs on Xbox One, Xbox One S, Xbox One X, Xbox 360, Xbox Series X and the original Xbox with optical disc drive. By digitizing DVD discs to videos with WinX DVD Ripper Platinum, you can also play DVD media on drive-less Xbox One S All-Digital Edition and Xbox Series S. Besides, WinX DVD Ripper Platinum, with the industry-leading DVD digitizing & protection removal ability, is your best choice to solve some "Xbox One won't play DVDs" errors.
Disclaimer: Digiarty Software does not advocate ripping copy-protected DVDs for any commercial purpose and suggests referring to the DVD copyright laws in your countries before doing so.
Part 4. FAQs About Xbox One DVD Support
1. Can Xbox One Play DVDs?
Microsoft Xbox consoles are always developing, and as of now you already have 8 choices. In reality, most of the models support DVD playback and even some of them support discs up to 4K, but exceptions include Xbox One S All-Digital Edition and Xbox Series S. Below is the table showing you which models of Xbox console supports DVD disc. Based on that, you can make it clear why your Xbox One won't read disc, such as Xbox One All-Digital Edition's inability. The absence of disc drive is the main reason to blame, but there are also many other factors causing DVD not playing on your Xbox One S/X and Xbox 360/Series S.
2. Can Xbox One play DVD without internet/offline?
DVD playback on Xbox One doesn't require internet. But you should note that you need to connect the internet at least once to download the Blu-ray player to local. If you weren't connected to Xbox Live and didn't download it when you first put a Blu-Ray/DVD in the console, then it would give you an error. So, that's why some people think Xbox one won't play dvd without internet.
2. Can Xbox One play DVDs from other regions?
No. The Xbox One console can only play Blu-ray discs and DVDs that are sold in the same region as the console, as well as those that are not region-encoded or are coded to all regions. If your Xbox One is sold in region 1, then it will not be able to play region 2 DVDs.
3. Can the original Xbox play DVD?
Yes, but you need to purchase an extra Xbox DVD playback kit - remote control and receiver. You can get the kit from eBay or somewhere else.
4. Why Xbox One plays Bluray but not DVD?
It may be a hardware issue. The drive has two lasers in its assembly, red laser for DVD and CD, blue for Blu-ray. So, the one used to read DVD discs could have failed.