How to Free Rip DVD to USB Flash Drive on Windows (10/11) and Mac?
"I have a number of old TV series discs. Now I want to copy the DVDs to a USB drive and play on TV & computers. How can I do it? "
"My company evaluates used boats and we record the boat by DVD. We would like to convert the DVD to a USB Flash Drive for our clients"
As the access to DVD content is contingent on the availability of compatible DVD drives and players, many DVD owners want to copy DVDs to USB flash drives for easier and more convenient DVD playback. If you transfer DVDs to USB drives, you can play DVD content on any device with a USB port without carrying a DVD drive or space-consuming DVD discs around. Nowadays it's easy to get USBs with 256GB, 512GB, and even 1TB at lower prices. So how to rip a DVD to a USB drive?
Here we will show you how to convert DVDs to solid USB thumb drives and carry tons of DVD movies in one convenient drive.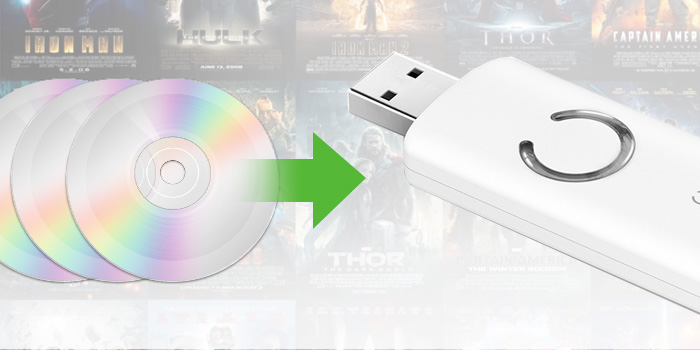 Easily Copy Protected DVDs to USB with Best Free DVD Ripper
WinX DVD Ripper - the best free DVD to USB converter to rip DVDs with region codes, RCE, 99 fake titles, bad sector, CSS, etc. Copy DVDs to USB flash drive, hard drive SSD, HDD, NAS, cloud, etc. with 100% quality in ISO image/Video_TS folder; and rip DVDs to USB and other storage devices with small size & high quality in MP4, AVI, WMV, MOV, and more. 5X faster than other tools!
Part 1. How to Copy DVD onto USB Directly [for Homemade DVDs only]
How can you copy a DVD to a USB stick? Actually, you're allowed to directly copy the DVD files and drag the content to USB if your DVD is not copy protected. It's pretty easy.
Solution:
Step 1. Insert the DVD into the disk drive and a USB into the USB port.
Step 2. Double-click the DVD drive. Find and copy all of the DVD's contents and files like ISO image or DVD folder. In the ISO image or folder, you can see the actual movie files such as VTS_01_1, VTS_02_1, VTS_03_1, and etc..., each representing a Chapter.
Step 3. Open the USB drive, then copy and paste DVD files to the USB drive.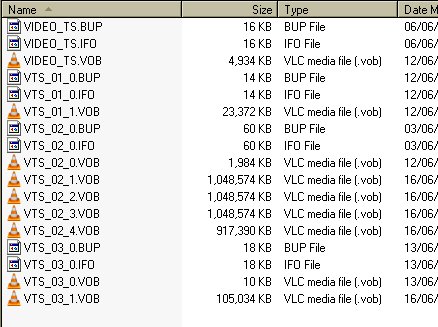 Note:
1. Your USB drive should have enough storage (a DVD contains around 4.5GB). That means you can't use a FAT32 USB drive.
2. Copying a DVD to a USB drive may be easy, but the playback maybe not. The copied DVD files in the DVD folder, ISO image, VOB videos, or other DVD formats are usually not compatible with some players.
3. The above method applies to non-protected DVDs only. In fact, there are various encryptions imposed on a DVD to prevent you from copying a DVD to USB or other storage directly. When you move a protected DVD to the USB flash drive via the way above, you will find the DVD empty, the files corrupted, or unplayable...
If you want to transfer protected DVDs to USB sticks in any format with a smaller size, you need a 3rd-party DVD to USB converter. Below we share an effective way to free rip DVDs to USB drives.
Part 2. How to Copy Protected DVD to USB with Free DVD Ripper
A DVD ripper is all that we need to put a protected DVD movie to USB. We can easily google out tons of such kinds of tools, free and paid, clean and ad-supported. For example, you can rip DVDs with VLC, Handbrake, MakeMKV, DVD Shrink, and Freemake Video Converter. But as far as DVD protection is concerned, you need a stronger DVD to USB converter.
WinX DVD Ripper is the best free DVD to USB converter you can use to convert DVDs to USB flash drives (-C) on Windows 11/10/8/7 and Mac within simple clicks. It's able to:
Rip any copy-protected DVDs to USB with support to protections like CSS, Region codes, RCE, 99 fake titles, bad sectors, etc.
Copy DVD movies to a USB stick in ISO image, Video_ TS folder, MPG in 1:1 ratio.
Convert DVDs to USB drives in MP4 with 80% smaller size and 98% quality, save DVD in H.264, AVI, WMV, MPEG, MOV, FLV, etc.
Copy DVDs to USB digital formats at 5x faster with Intel QSV/NVIDIA CUDA/NVENC hardware acceleration, Multi-core CPU, Hyper-threading Technology and Super Encode Engine based on MMX-SSE & 3DNow.
How to Rip DVD to USB(-C) Drive with Free DVD Ripper
Below is the guide to free rip DVDs to USB drives to play on smart TVs or other devices with WinX DVD Ripper. First, download and install this free DVD to USB converter software.
Step 1: Insert the DVD you need to rip to a USB drive.
Run the free DVD to USB drive converter, then insert the target DVD disc into your DVD-ROM. Click the "DVD Disc" button to load the DVD. You can also import the DVD folder and DVD ISO image from your computer hard drive. It will start to bypass the copy protections and detect the correct title of the DVD. This may take several seconds.
Step 2: Select an output format.
Once it finds the right title of the DVD movie, it will pop out the output format you want to copy the DVD to USB stick. You can save files in any format to the USB flash drive. Below are some best settings:
1. If you want to copy DVDs in 1:1 to a USB drive without quality loss, rip DVD to ISO image file or DVD main/full title backup in "DVD Backup" mode. This mode allows you to copy DVDs to computer with 100% quality, all the menus, tracks, extras, etc. But you should know that the ISO image/video_TS folder will take quite a large size.
2. If you want to copy DVDs to USB to play on TV, LG/Samsung TV, PS5/4, Switch, Xbox One, PC, Mac, and other devices with a USB port, you can convert DVD to USB drive in MP4 for its wide compatibility, good quality, and small file size. Just go to the PC General Video and select MP4.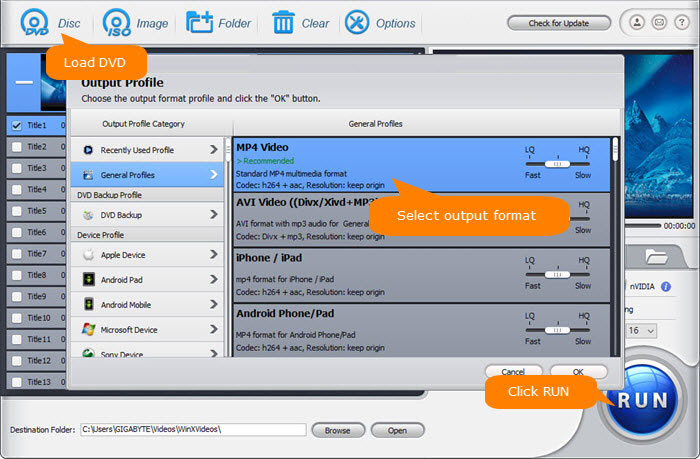 Step 3: Set your USB drive as the output folder.
Back on the main interface, you can find the Edit button and Parameter option to adjust the subtitles, audio tracks, edit, etc. Once finished, plug your USB drive into the computer, then hit the "Browse" button and select a folder in the USB flash drive for the DVD converted file.
Step 4: Start to copy DVDs to USB drives.
After that, hit the big "RUN" button and the free DVD to USB converter will start to rip. A few minutes later, you will get the digital DVD video and transfer the DVDs to the USB flash drive.
Video Tutorial on How to Free Copy DVD to USB Drive with WinX DVD Ripper
If you need to rip new protected DVDs to USB drives:
WinX DVD Ripper is capable of converting some DVDs to parts of common video formats. But in case the DVD cannot be ripped with free WinX DVD Ripper, please come round to use the advanced edition – WinX DVD Ripper Platinum, which is good at ripping any DVDs, even the latest and strongly encrypted 99-title DVDs, workout and alike released by Disney, Paramount, Warner Bros., etc.
In addition, the Platinum version is able to convert DVDs to 350+ formats & device profiles, as well as copy DVD 1:1 to ISO image/DVD Folder/MPEG2. Thanks to hardware acceleration and advanced DVD decryption technology, this DVD ripper has become the strongest and fastest one in the market and will always be the 1st to support new DVDs. Please free download it to have a try.
Tips: If you want to copy a DVD onto a USB flash drive and play it just as it would from the DVD, i.e. a Menu displays and then you click in the relevant heading in the Menu, say, Play All, Play selected items, and so forth, choose "Clone DVD disc to ISO image" or "Clone DVD to folder" under DVD Backup category to copy DVD to a USB stick with all Menus, Subtitles & Languages.
Part 3. FAQ on DVD to USB Rip
1. How to copy DVD to USB on Windows 10/11?
WinX DVD Ripper is compatible with Windows 10/11. You can download and install the free DVD to USB converter software and follow the steps mentioned above to copy the DVD on Windows 10/11.
2. How to copy DVD to USB with VLC?
VLC is not only a media player but also a DVD ripper. It can help convert a DVD to a USB flash drive in MPEG, MP4, AVI, Divx, ASF, WMV, FLV, etc. To copy a DVD to USB stick with VLC, you simply need to select Add > Convert / Save > Profile, select an output format and click Start to rip. Note that VLC can only help with non-encrypted DVDs. Read our guide on how to rip DVDs with VLC.
3. What format do you need to copy DVD to USB to play on TV?
If you want to rip a movie DVD to USB for later playing on TV, you should make sure the format of the DVD rip file is supported by your TV. For example, below are some of the general video formats supported by most common TVs.
Apple TV: H.264 video in .m4v, .mp4, and .mov.
Roku TV: H.264/HEVC in MP4, MOV, M4V, MKV and VP9 in WebM.
Sony TV: MP4, MPEG, WMV, MTS formats, etc.
Samsung TV: AVI, MKV, MP4, MOV, etc.
If you use WinX DVD Ripper, you can rip the DVD to any of the formats in USB based on your TV model. You can also scroll down the output list to TV Video where you can find some TV output presets.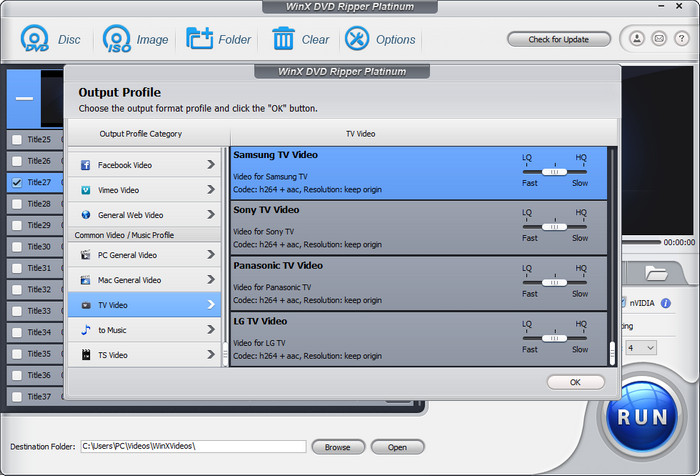 4. Why do USB DVD movies not play on TV?
When you insert the USB stick into your TV and try to play the DVD movies from the USB on the TV, it may not work and no files are here. In this case, consider the following reasons:
Check the ports on the TV and make sure there is no dusty or faulty USB port.
Make sure the USB drive is in the correct format. For example, some QLED and SUHD TVs support FAT, exFAT, and NTFS file systems while some full HD TVs support NTFS, FAT16, and FAT32.
If you're using the FAT32 USB drive, make sure the DVD movies ripped for the USB are not larger than 4GB.
Make sure the converted DVD movies on the USB are in a video format compatible with your TV. Generally, MP4 is your best bet.
When the USB drive contains many files and folders, the TVs may have problems displaying and accessing all the files. For example, if the USB drive has more than 4000 files, a Full HD TV may have problems opening the files and folders.
5. What USB format do you need?
Before you copy a DVD to a USB flash drive, make sure you're using the correct USB. For example, if you want to make intact copies of your DVD collection on a USB drive in ISO image, DVD folder, or VOB, the DVD copies will have large file sizes. To be specific, one single DVD copy is almost the same size as the original disc, which is more than 4.5GB. So you can't use FAT32 USB as it supports 4GB only for a single file.
To transfer DVDs to a USB stick when the size is greater than 4GB, here are some suggestions: use NTFS on Windows PC and HFS+ on Macs. To copy DVDs to USB to play on a TV, use exFAT.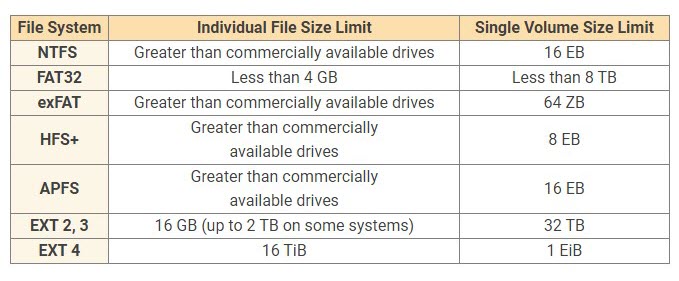 6. Why is the DVD to USB transferring speed so slow?
After you convert DVDs to USB digital formats, it's very annoying if it takes a long time to transfer the DVD movies to a USB flash drive. It's extremely a headache when you have converted a large DVD collection. Will USB 3.0 flash drive transfer videos faster than USB 2.0? Yes, the USB 3.0 device offers transfer speeds of up to 10 times what you get in a comparable USB 2.0 drive. However, when you connect a USB flash drive to a device, the data transfer speed will be limited by the slowest of the connected devices.
7. Are there any other DVD to USB services available?
For those who don't want to install a third-party program, there are online services to help. Search on Google, there are a lot of options. Take the first DVD to USB transfer as an example, it can save DVD videos on a USB stick in MP4 format. You can either buy the USB from it or use your own USB. It takes $15 to convert a DVD, which is expensive. And you will have to wait for the shipping. Other services are similar and most of them charge you per DVD.
8. How many GB is a DVD movie?
Movies of up to 2 hours at DVD quality are usually 4.7GB. However, DVD movies longer than 120 minutes come in 8.5GB DVD-9.
9. What USB flash drive capacity do you need to save your DVD collections?
If you ask how many movies can a 32GB flash drive hold, it depends on how many DVDs you want to transfer to the USB and what settings you choose. If you simply need to make digital copies of your DVD collections to USB drives with exact same quality & data, you may convert DVD to an ISO image, which will be as large as the DVD movie. Then you may need a USB stick with a larger capacity sooner.
If you convert a DVD to MP4, a DVD can be shrunk to 1~2GBs. WinX DVD Ripper Platinum is able to reduce 80% of the original DVD size. That means a 4.7GB DVD can be ripped to a movie at ~700MB. A 256GB flash drive at about $35 can store 300+ DVD movies. Detailed DVD backup guide >>
10. How to convert a flash drive to a DVD?
If you want to go the opposite way to transfer video to DVD from USB, iPhone, Android, or other devices, you will need a DVD burning program for the task. WinX DVD Author is a free application that will easily burn MP4, MKV, AVI, VOB, FLV, MOV, ISO, and other videos from your USB drive to a DVD disc.
Related External Source from Wiki:
DVD - A digital optical disc storage format which can store any kind of digital data. It is widely used for software and video applications watched using DVD players...
USB Flash Drive - A USB flash drive, also variously known as a USB drive, USB stick, thumb drive, pen drive, flash-disk, or USB memory, is a data storage device that includes flash memory with an integrated USB interface...
Disclaimer: Digiarty Software does not advocate ripping/copying copy-protected DVDs for any commercial purpose and suggests referring to the DVD copyright laws in your countries before doing so.