Top 5 Best External DVD Drives for Laptop in 2022
With movies having gone from physical media to digital files, modern laptops ditch pre-installed DVD drives used to read physical discs. Even though plenty of contents are available for streaming online, and it is a lot more trendy and efficiency to carry around a whole library of movies on the laptop's hard drive, there are still a lot of people out there who have got a pile of home videos or movies stuck on discs and prefer a more conventional option – play the physical media on laptop with an external DVD drive. If you are one of them and unfortunately get a laptop that doesn't come with a DVD drive built into it anymore, here is the solution: use an external DVD drive for laptop.
External DVD drives works identically to those natively built into laptops. They offer a great way to watch movies on your laptop, along with added convenience of taking along with it portably the time when you need it. What is the best external DVD drive for laptop? What kind of external DVD drive to buy for my old laptop? Jump straight into and browse the top-ranked list of external DVD drives for laptops below along with associated reviews and opinions.
Backup and Transfer DVD to External Hard Drive
Before your cherished DVD collection gets aging or scratched, it's time to digitize your DVD discs to MP4 or other format and store them onto your external hard drive. WinX DVD Ripper Platinum, A DVD expert with over 16 years of DVD ripping experience, helps to back up and rip DVD to external hard drive with fast speed and high quality.
Top 5 External DVD Drives for Laptops
#1. LG GP65NB60 8X Super Ultra Slim Portable CD/DVD Drive
If you need something that gets the job of playing DVD disc done on your laptops as cheap as possible, LG's GP65NB60 is absolutely your best bet. It is a low-profile and affordable DVD drive that can both read and write CD and DVD for your computers and laptops. Measuring 14.22x13.72x1.52 cm, the external DVD drive optimizes very less space as a slim OPU for installation and offers a simplistic look.
LG Super Ultra Slim Portable CD/DVD Drive features a decent write speed (up to 8x on DVD-R) and a maximum transfer speed of 11.08 MB/s for DVDs. This means it is not lagging behind most of the pricy external DVD drives despite its budge price. You can also enjoy watching movies on TV with a USB port. On top of that, it takes advantages of Silent Play technology to automatically adjust the optimal reading speed and reduce the noise during DVD playback. In addition, CyberLink software is included in the external DVD drive, which means you can burn a disc on your laptop without the need to purchase any additional software.
Pros:
It is affordable.
It is easy to use with a laptop.
You can connect the external DVD drive to a TV.
M-disc format is supported.
Cons:
Opening the tray needs more than once button pressing.
No Blu-ray support. #2. Rioddas BT638 USB 3.0 External DVD Drive
If you want to equip your laptop with an external DVD drive to read and write data but your budget is tight, Rioddas BT638 is absolutely the best choice. It is present at the No.1 of our picks simply because the external disc drive from Rioddas has a customer base of more than 20000 existing customers. It is compact and thin and a plug-and-play model, all you need to do is to plug the external DVD drive into the laptop and insert the DVD to play it.
Rioddas BT638 USB 3.0 External DVD Drive is praised for its fast data transmission speed, up to a maximum of 5Gbps on this DVD drive, this is because it is compatible with USB3.0, along with USB 2.0 backward compatibility. In addition, Rioddas BT638 features a hidden USB cable as a move to protect it from damage, and adds 4 rubber pads to the bottom of the main unit in order to make it sturdier.
Pros:
Easy to use.
Up to 5 Gbps data transmission speed.
Cons:
Not work with USB Type C laptops without a connector.
Not work with a TV or a tablet.
USB cable extension is required for a desktop PC.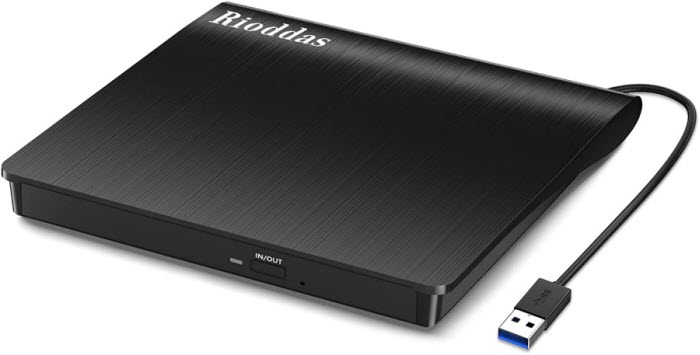 #3. Asus ZenDrive
If compactness matters to you when choosing an external DVD Drive for laptop, Asus ZenDrive is worthy of your choice. It has an ultra-slim 13mm thickness, making it portable and the perfect companion to thin and light laptops. The DVD drive from Asus provides a complete easy-to-use backup solution with up to 8X DVD read and write speeds and up to 24X CD read and write speed. It can access DVD content in 160ms.
This is one of the best external DVD drives for laptop that provides support for Nero Backup and M-DISC, and includes Cyberlink Power2Go8 and PowerBackup 2.5, in such a way to burn your import data, and protect your videos, photos and data for up to 1000 years. However, two USB ports are required for power and data, so make sure an extra slot is spared.
Pros:
Portable and cheap.
Support M disc and Nero backup.
Cons:
It is incompatible with USB 3.0 port.
No Blu-ray support.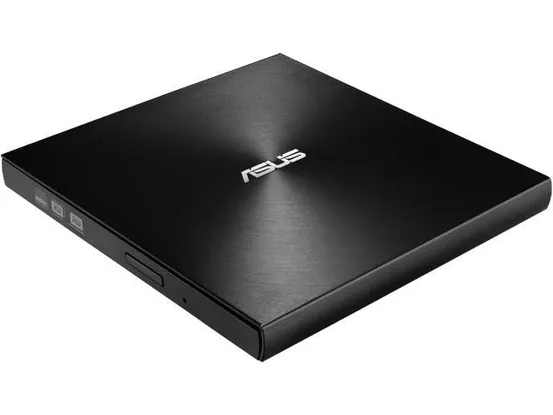 #4. Dell DW316 USB DVD Drive
If you've got a Dell desktop or laptop and want an external DVD drive mostly for reading DVD discs, this model is definitely a good add-on purchase. In addition to a slim profile that measures 0.55x5.41x5.67inches, Dell DW316 weighs just 0.44 pounds, all making this external DVD drive almost unnoticeable in your laptop bag.
Performance wise, the Dell DW316 does a really good job, capable of reading /burning DVDs and CDs at 8X and 24x respectively, despite the fact that Dell uses USB 2.0 to link with a computer instead of a USB 3.0 connection. As far as the writing speed goes, Dell DW316 DVD drive also scores a good mark of 5X DVD-RAMs rewriting speed, a bit higher than even some USB 3.0 drives can offer.
Like the other external DVD drives for laptop mentioned above, Dell DW316 is pre-loaded with the Cyberlink media suit so that you can back up your data, play movies, and create your own media without downloading any other software.
Pros:
Lightweight and portable.
Relatively good DVD writing speed.
Work well with Dell laptops and computers.
Only need a single USB port.
Cons:
The drive may stop spinning when reading DVD.
No blu-ray support.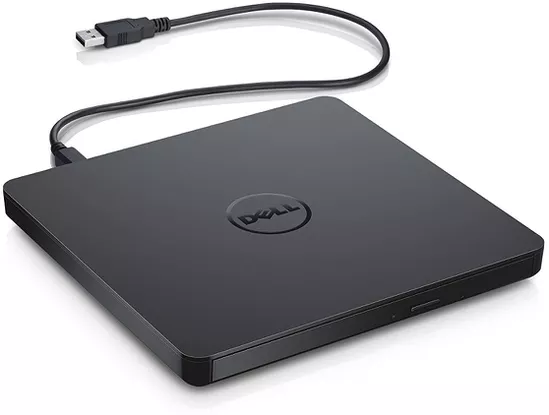 #5. Asus BW-16D1X-U Blu-ray Drive
Price: $144.47
Customers rating: 4.5 out of 5 stars (1,203 ratings)
Operating System:  Windows and Mac
Asus BW-16D1X-U Blu-ray Drive measures 2.48x6.50x9.57 inches and is priced at $144.47, costing an arm and a leg. Despite it isn't the best drive if you are on a tight budget, it absolutely scores the best mark in line with most of the external DVD drives have to offer. It can access BD-ROM in 180ms, let alone DVD-ROM in 170ms and CD-ROM in 160ms, which means you won't speed too much time waiting around. In addition, it offers super-fast 16X blu-ray writing speed with BDXL support that allows for data storage of up to 128 GB on a single compatible disc.
Asus BW-16D1X-U Blu-ray Drive is one of the best external DVD drives that can be easily used with a laptop and a computer. It features a diamond-shaped design for luxury look and clean aesthetics and is perfused with Cyber Link Power2Go 8 with optional encryption functionality, in such a way you can protect your private data information.
Pros:
Support USB 3 cable.
It is faster than other external DVD drives.
Cons:
Noise can be made during disc burning.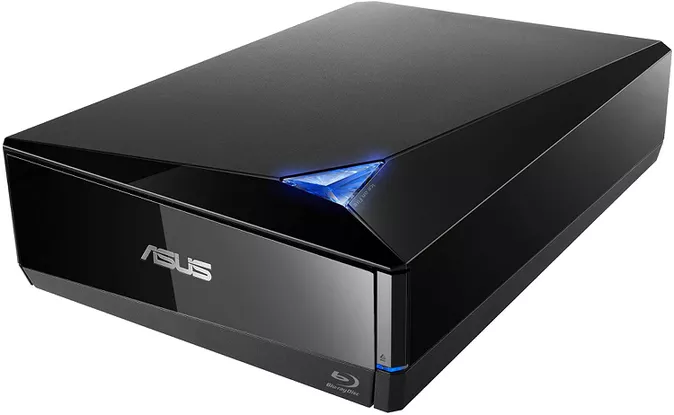 FAQ. FAQ about External DVD Drives for Laptop
1. What is the best external DVD drive for laptop?
When you are including an external DVD drive on a laptop, it's important to keep in mind what your unique needs are. Do you need versatile DVD drive that supports nearly all disc types? Or do you want a compact and easy-to-use DVD drive with limited functionality so you aren't confused. Thinking about these questions can help you identify what you need from these external DVD drives. Here are some key features to look for:
Speed: The DVD writing and reading speed plays an important role when purchasing an external DVD drive. Specifically, the rate at which a DVD drive can transfer data from your laptop's hard drive to the disc or vice versa is important, especially when you are burning or ripping discs. Common DVD drives have DVD read speed between 8x and 16x. The faster, the better. It is also preferable that the external hard drive supports USB 3.0, which operates the disc at a faster speed.
Compatibility: A good external DVD drive can not only read CDs and DVDs, but also read Blu-ray discs, tool. It can work with operating systems like PCs and Macs, and even Android.
Portability: Preferably, the external DVD drive is compact and portable, which can be easily put in your pocket of your bag or punch, so you can take the external DVD drive with you and watch movies on the go.
2. How do I add an external DVD drive to my laptop?
Modern laptops forgo an optical drive in order to trim down their size and weight. That's why see many modern laptops are sold without internal DVD drives. So it is worthy of picking up external DVD drives for your laptop, especially if have large collections of physical media like DVDs. If you are wondering How to use external DVD drive for laptop, here we go. To add your external DVD drive to a laptop, simply plug the cable into your DVD external drive, and then connect the other end of the USB cable to your laptop. Then you can watch movies now.
3. Can external DVD drives play movies?
YES. Most often DVD drives cannot read DVD and CD, rather than Blu-ray media, but if you have a Blu-ray Drive, you can play both CDs, DVDs, and Blu-rays. It is worth remembering that when your DVD is region locked, make sure you unlock the DVD region with a DVD player or digitize the regional DVD into a region-free digital file with a DVD ripper software.
4. What does an external DVD drive do?
An external DVD drive is a computer component that allows to read data from a laptop or a computer and burn data onto CDs, DVDs, and Blu-ray discs. It is often used to watch movies on a laptop or an HDTV or to backup computer data.