Posted by Bella Brown - Contact Author

Fix Xbox One 0x91d70000 Error Code When Playing DVD Discs

If you are looking for an effective solution, click here: The solution most recommended by us [85%]
Why and How to Fix Xbox One 0x91d70000 Error Code
I have an Xbox One which did work initially but now it can't read disk and show an error code '0x91d70000'. Anyone encounter anything like this before?
Xbox One features Blu-ray disc drive available for the playback of games or movies from DVD and Blu Ray discs. The frustrating thing is many users report error codes such as 0x91d70000 and end up with disc not reading error, e.g. when they try to play a PAL DVD disc on a Xbox One bought from the U.S.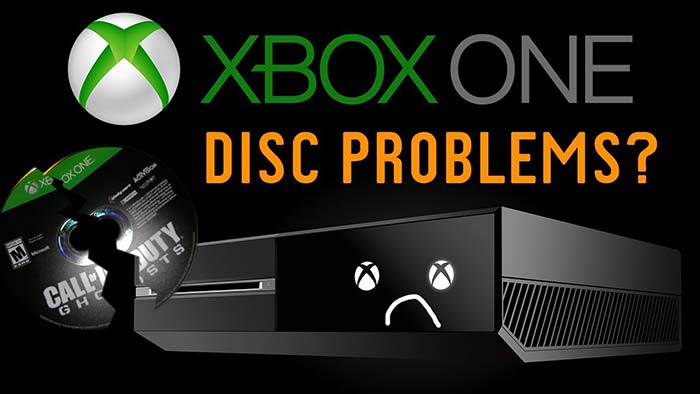 Why Xbox One shows error code 0x91d70000? Officially, the error means the formatting of the disc was not recognized, according to Xbox On. But based on the official Microsoft and other tech forums, the Xbox One 0x91d70000 has something to do with not only the disc itself, but also the console's disc drive, the blu ray player app, and most importantly, the copy protection scheme encoded on the DVD. Just keep on reading and solve the Xbox One not reading disc error.
You may be also interested: Xbox One play DVD with black bars, Fixes if you cannot play or read DVD
The main culprit for Xbox One 0x91d70000 error is the DVD copy protection scheme. The Key: Digitize DVD to remove region code and other protectionsThe Fast Solution
Analysis: Technically, the lack of copy protection support triggers the Xbox One 0x91d70000 error message onscreen. This is confirmed by Xbox. According to its official site, each Xbox One console is manufactured for specific disc region. If the disc is not correctly formatted or within the right region code, the error message will occur. For example, you cannot play PAL DVD movie or watch a Japanese DVD anime on XBO in USA. What makes things even trickier is commercial discs are under various copy protections other than region codes. These cause the media incompatibility with Xbox One.
Since it's absurd to discard your unplayable but cherished DVDs or spend extra $44.21 for a new drive but be uncertain of any other disc error code on XBO, why not decrypt and rip protected DVD to digital version and remove all the restrictions freely with a free DVD ripper such as WinX DVD Ripper. This is also the once-and-for-all solution to backup your cherished DVD against scratch or damage and watch your video content on XBO, TV, mobile, tablet, and more, without the need to put your DVD in your drive tray each time you want to play it.
WinX DVD Ripper - - Digitize DVD discs for All Xbox One Models
Rip all types of DVDs, including 99-title DVDs, new releases, TV series, and more.
Convert DVD to MP4 for playing on game console, mobile, TV, etc without Wi-Fi or HDMI connection.
Monthly upgrade to support all types of restrictions, incl. region code, CSS, Sony ARccOS, etc.
Blazingly fast DVD ripping speed, owning to Full GPU acceleration. 5 minutes only to rip a full disc.

Download WinX DVD Ripper Platinum on Windows

to rip DVD to Xbox One

Download WinX DVD Ripper Platinum on Mac

to digitize DVD
How to Convert DVD to Xbox One Supported Format with WinX DVD Ripper
Step 1. Load the DVD disc by tapping the DVD Disc button after you launch the program. Leave the software to scan and choose the right DVD title. It is built in DVD title check mechanism and DVD analysis kernel, which are strong enough to rip all intractable discs, including the unplayable or damaged one.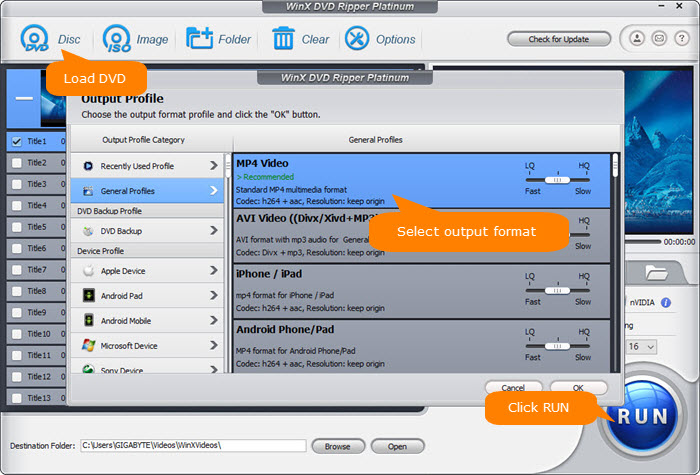 Step 2. Choose the output format that Xbox One recognizes. According to the official site, Xbox one supports playing videos in AVI, 3GP, AAC, MKV, MOV, MP3, MP4, and WMV. We suggest you to choose MP4 H.264 for the best compatibility. Or you can go to Xbox profile and choose the output format, since there is no need to tweak the parameter settings at all.
Step 3. Hit RUN button to start ripping. Then you can play the movie on Xbox One without 0x91d70000 error code.
Watch YouTube Video: How to Fix Xbox One Playback Failure Issue?
Disclaimer: Digiarty Software does not advocate ripping commercial DVDs for any illegal purpose. You're suggested to refer to the DVD copyright laws in your country before doing so.
Reasons for Xbox One 0x91d70000 error code can be various, among which the disc itself is the culprit. For example, dirty or defective disc may cause reading issue on Xbox one and show the error code 0x91d70000. To fix the issue, you can hold the disc by the edges and then resort to a piece of soft and slightly damp cloth to clean the disc. Please be sure not to touch the top or bottom surface. Or exchange Xbox One game disc within 90 days of purchase.
Check if there is something wrong with your Xbox One drive. It is suggested dirt, hair, debris, or foreign objects such as coins, matchstick, sticky notes settling on the Blu-ray drive can cause the error message. You can clean your disc drive by yourself to fix the problem.
Faulty laser or failure of internal components is also the major cause of most disc playback failure on Xbox One. You can try another Xbox One to check if the disc drive is problematic. If so, or request a drive repair and then insert the DVD disc to see if the error code 0x91d70000 on Xbox One is fixed.
Installation failure gives rise to DVD playing error on Xbox One, especially when you can play game discs but not DVDs or Blu ray discs. You can set up and install the player app on Xbox One to fix the 0x91d70000 error code.
Step 1: Go to Home > press Store > and then select Search.
Step 2: Type Blu-ray in the search bar > press the Menu button > choose Blu-ray Player app when it appears.
Step 3: select Free or Install to download the Blu-ray Player app.
Our test shows that the Xbox One showing the error code 0x91d70000 is mainly because of the copy protection issue related with the DVD. So you may remove the protection and digitize DVD to play on the game console to permernantly resolve the issue.
Go back to the easiest and most effective solution

Final Words:
The disc drive is going to decline. Microsoft announced it would drop the disc drive with Xbox One S. If you still have a large collection of physical DVDs, it's never too late to make DVD backup and save those digital copies on your hard drive or USB. To do the task, the advanced edition, WinX DVD Ripper Platinum, is your best mate, allowing you to clone intact DVD data to ISO image or MPEG2 with all/selected tracks and rip all types of DVDs, no matter they are commercial movies, TV series, workout, games, or music.