How to Rip Region 2 DVD to Region 1 DVD or Region Free Digital File
DVD region code is a DRM technique used by rights owners to control the international distribution of a DVD release. A DVD that is coded as region 2 can only be played on region-free DVD players and region 2 DVD players manufactured in Japan, Europe (without Belarus, Ukraine and Russia), Greenland, Overseas France, Turkey, Middle East, Egypt, Eswatini, Lesotho, and South Africa.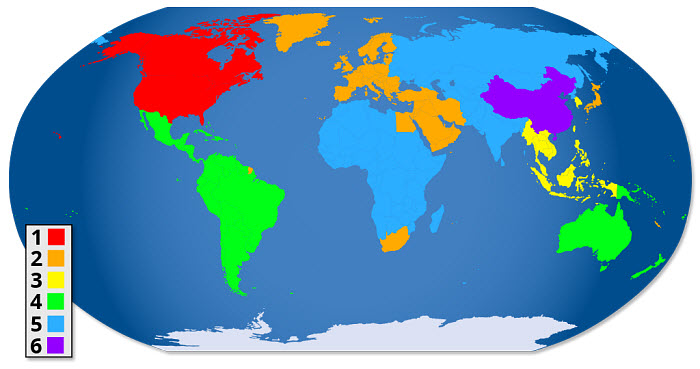 Owing to the region restriction, there's a great demand for ripping region 2 DVDs and converting region 2 DVD to region 1. Let me show you some examples.
"I'm a teacher and am receiving a DVD of a Shakespeare play from London that is Region 2. Is there a relatively easy way, or easy software program, that could decode and then rewrite this video file in Region 1?"
"We have some region 2 DVDs that we would like to burn as a region 1, or at the very least, just rip to a plain mp4. I use handbrake for other purposes, but it doesn't appear that it will do this, any thoughts?"
So, in this article we'll show you how to rip and convert a region 2 DVD from Japan, UK, and other countries, be it PAL or NTSC format.
Part 1 Which Software is the Best Way to Rip Region 2 DVD?
To rip a region 2 DVD, firstly you need to download and install a DVD ripper. The most popular DVD ripping programs are WinX DVD Ripper, HandBrake, and MakeMKV. So, which one to choose? Read our analysis and then you'll find the best choice.
HandBrake itself is unable to deal with DVDs that are coded for region 2 and other regions. It requires for installing libdvdcss. With libdvdcss, you may rip most region 2 DVDs to MP4 and MKV. Yes, not all region 2 DVDs are supported. This is because libdvdcss doesn't work with all DVDs, particularly newer ones.
Related guide: How to Rip Region Locked DVDs with Handbrake
MakeMKV should be able to rip a region 2 DVD to MKV without the help of a third-party program. However, it may also give you wrong region error. MakeMKV only creates MKV file. Absolutely the output presets are quite limited. If you use MakeMKV to do ripping, you may need to perform further video conversion and compression.
Compared with HandBrake and MakeMKV, WinX DVD Ripper is more powerful. It can read all region 2 DVDs and those from other regions on its own. Besides bypassing DVD region code, WinX DVD Ripper can crack RCE, CSS, UOPs, Sony ARccOS, Disney X-project, and more DVD copy protection systems.
And, WinX DVD Ripper gives more output options, allowing you to convert region 2 DVD to ISO image/VIDEO_TS folder for later burning to region 1 DVD and rip region 2 DVD to MP4, MOV, AVI, WMV, MP3, and more formats.
To sum up, WinX DVD Ripper is the best way to go. Now, you can free download WinX DVD Ripper and follow our guide to convert your region 2 DVDs to desired format. You can install it on Windows or Mac computer.
Part 2 Step-by-Step Guide to Rip and Copy a Region 2 DVD on Windows and Mac?
To begin with, put the region 2 DVD you want to rip into your computer's DVD drive. No built-in DVD drive? Just connect an external DVD drive as an alternative. WinX DVD Ripper will not ask you to set your DVD drive to the correct region or to be region free.
Then everything gets ready. Here we go.
Step 1. Open WinX DVD Ripper, click DVD Disc, and then you should find that your DVD has been detected. If multiple DVDs are inserted, you can select a DVD manually. Then hit OK.
Step 2. Choose which format you want to rip your region 2 DVD to. There're 350+ output profiles in total, covering all popular formats and devices.
* If you want to rip a region 2 DVD and burn it as a region 1 or something, you can click DVD Backup and choose Clone DVD to ISO Image or Clone DVD to Folder. Both provides 1:1 DVD clone. No data or quality will loss. Once done, you can reburn the ISO file or VIDEO_TS folder to a blank region 1 DVD in order to play on a region 1 DVD player/DVD drive in US.
Related Guide: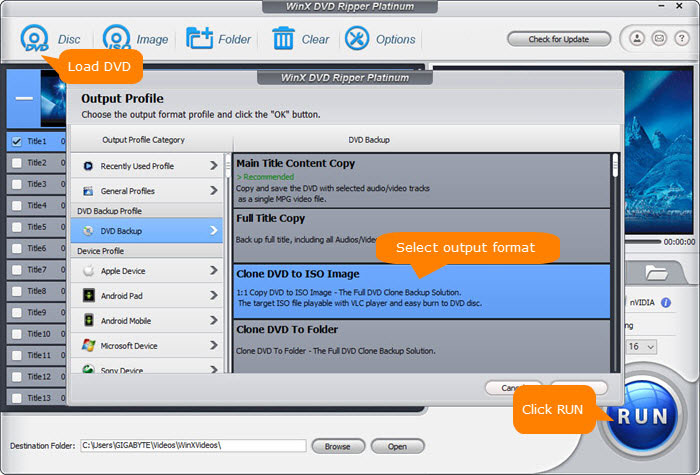 * If you just want to rip a region 2 DVD to MP4, you can click General Profiles and choose MP4 Video.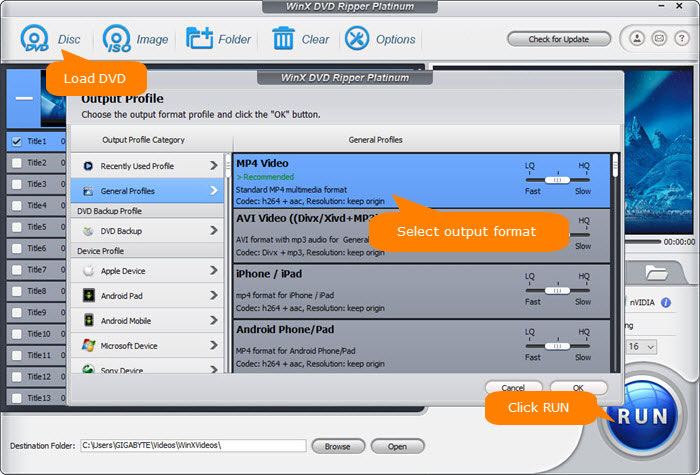 Step 3. If you have nothing to set, you can hit RUN. Then, WinX DVD Ripper will start ripping DVD to specified format. It won't take too much time to create a region-free digital copy, maybe a matter of minutes, because it can capitalize on multiple-core CPU and GPU to improve DVD decoding and encoding speed.
Disclaimer: Digiarty Software does not advocate ripping commercial DVDs for any illegal purpose. You're suggested to refer to the DVD copyright laws in your country before doing so.