Posted by Kaley Torres - Oct 15, 2020 Contact Author

Which DVD Region Is the UK & How to Play UK DVDs in Other Zones

Can't play UK DVDs properly, get the solution most recommended by us [85%]
Why won't UK DVDs Play in USA and Other Countries? Which DVD Region is the UK?
Region code is used to prevent the playback of region-locked discs outside the area they are made for. In most instances, discs manufactured in one region will play only on DVD players and dirves that were manufactured for use in that same region. That's why there are so many cases that UK DVDs not playing in USA, Australia, and other countries:
1. As a Brit, I often want DVDs that I just can't find in the U.S. It's usually U.K. comedy shows, but it won't play owing to the region code.
2. I bought on Amazon in USA the "Thin Blue Line" DVD series. I did not realise it had come from the UK. And the result comes that I can't play this disc on my ordinary USA DVD player. Has anyone had any luck with this? Thanks!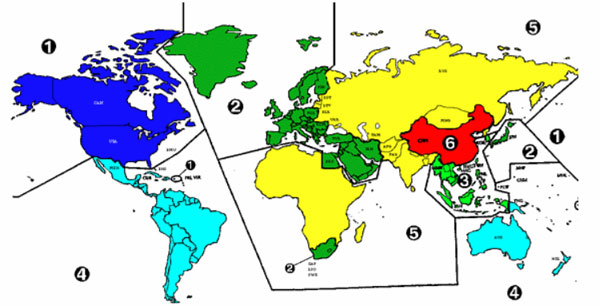 For that, the initial step goes to figure out which DVD region is the UK? Is it matchable with the region code of your DVD player or DVD drive? UK DVDs are assigned region 2, which is also used in Europe, Japan, and other selected parts of the world. While if you're living in another part of the world (for example, the United States, which is Region 1), you can't immediately put and play your region 2 PAL disc in your NTSC DVD player/driver. This doesn't mean you're out of luck, however. Here are some tips to play UK region 2 DVDs in other countries.
How to Play UK Region 2 DVD in Other Regions Effortlessly
The main cause for UK DVD not playing in other zones is attributed to the mismatching of region codes among DVD player, DVD drive and disc. To effortlessly play region Japanese DVDs in USA and other countries, you can make your DVD player/drive region code matched with your disc or kill the DVD region code radically. Scroll down for the detailed solution.
Solution 1: Buy a region 2 or region-free DVD drive/player. As region 2 DVDs can only be played in region 2 DVD players and DVD drives, it'll be great to buy a region 2 DVD player/drive. Of course, you can also buy a region-free DVD player/drive, which will play DVD discs from the entire world regardless of the DVD regions. But it'll be a little expensive, costing you $40 or more.
Solution 2: Change the region of your DVD drive or DVD player. If you already have a DVD drive or player, and don't want to spend extra money, you can change the region of DVD player/drive for free. It's quite easy, take DVD drive as an example. Click "My Computer" > "Properties" > "Hardware" > "Properties" > "DVD Region" and select the geographic area you want. But please note that you can change the DVD drive region for only five times. After then it'll be locked permanently to the region you last chose.
Also See: How to change region code on Sony/Samsung DVD player >>
Solution 3: Copy region 2 DVD to a blank disc without copy protection. Making a copy of your legally purchased DVD will remove its copy protection. You can turn to a DVD region decrypter to copy DVD to a blank disc, so as to play it wherever with any DVD players or drives on computer.
Is there a free way to play UK DVD in other zones after 5 times changes of DVD drive region code? Convert UK DVDs to digital videos for playing in USA or any other countries without limit. The Easiest Solution
You'll soon hit the ceiling of DVD drive region code changes, as there are only 5 times available. Rather than spending extra money ($40 or more) to buy a region 2/region-free DVD player/drive, you're more recommended to try a new way - rip DVD to digital videos, to make DVD disc region free.
WinX DVD Ripper Platinum is the easiest DVD region killer to remove DVD country code and rip DVD to MP4, MKV, MOV, FLV and all mainstream video formats. It accepts any kinds of DVDs, from the new DVD releases, old DVD collections, TV series/shows DVDs, workout/damaged DVD to any copy-protected DVDs with RCE, UOPs, Sony ArccOS, Disney DRM and more. By doing that, you can play DVD movies/TV series anywhere with whatever devices, without worrying region lock, or any DVD playback errors. Besides, this program will not cost you much time to make a digital copy, 5 minutes is enough to rip a 2-hours long DVD movie.
WinX DVD Ripper Platinum - Digitize DVD to Unlock DVD Region Code in 5 Mins
Rip DVD to 350+ profiles, including MP4, MOV, MKV, iPhone, Xbox, PS4, NAS etc.
Bypass DVD region code, as well as CSS, UoPs, RCE, Sony ArccOS, Disney encryptions and more.
No.1 disc support: newly released DVDs, old DVDs, TV discs, fitness DVD, UK/Japanese DVD etc.
Rip any DVDs, be it new DVD releases, old discs, kids/workout DVDs, damaged DVD etc.
World's fastest speed: 5 minutes only to rip a full DVD. No quality loss!

Download WinX DVD Ripper Platinum on Windows

to remove region code from DVDs.

Download WinX DVD Ripper Platinum on Mac

to unlock DVD region code encryption.
This DVD DRM removal software is available on Windows 10/8/7/XP, MacOS 10.6 or above. Follow the wizad steps to install it. Then launch it to remove DVD region code immediately.
Step 1. Insert your DVD disc into the computer DVD drive, and make sure it's showing in File Explorer (If not, fix DVD drive missing error here >>). Click on "DVD Disc" button to load the inserted DVD. After loading, all the DVD information will be shown in the list and the main title is selected automatically.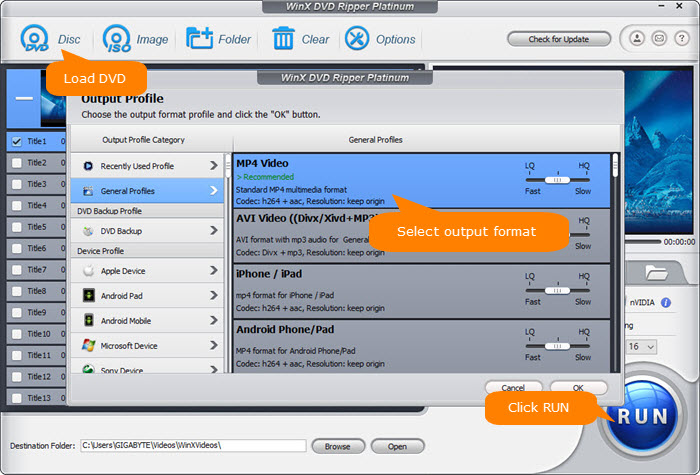 Step 2. Select output format from the popup window. You're able to rip DVD to MP4, MOV, MKV, ISO image, iPhone, iPad, Android, Xbox, PS4, or any mainstream formats and devices.
Step 3. Tap "RUN" button to start bypassing DVD region code and ripping DVD to digital video. If your computer is configured with GPU acceleration, tick on the Intel/nVIDIA box to enable it. You'll experience a blazing fast DVD ripping process, merely 5 minutes to rip a 2-hours long DVD.
Video Tutorial: How to Change DVD Region Code for Limitless Playback
Disclaimer: Digiarty Software does not advocate ripping copy-protected DVDs for any commercial purpose and suggests referring to the DVD copyright laws in your countries before doing so.
Additional Info:
DVD not playing in foreign countries error happens from time to time. To make clear which DVD region is the country you stay, here is the region code list of its corresponding countries:
Region 1: Bermuda, Canada, United States and U.S. territories
Region 2: The Middle East, Europe, Egypt, French overseas territories, Greenland, Japan, Lesotho, South Africa and Swaziland
Region 3: Southeast Asia, Hong Kong, Macau, South Korea and Taiwan
Region 4: Australasia, Central America, the Caribbean, Mexico, Oceania, South America
Region 5: The rest of Africa, Former Soviet Union, the Indian subcontinent, Mongolia, North Korea
Region 6: Mainland China
Region 7: MPAA-related DVDs and "media copies" of pre-releases in Asia
Region 8: International venues such as aircraft, cruise ships and spacecraft.
All: These region discs have all 1-8 flags set, allowing the disc to be played in any location, on any player.
It's always good to buy a right DVD player or drive for playing DVDs with the same region code. If you have an improper region setting DVD player/drive, you can modify the region of it before it's permanently locked. But that doesn't rule out other DVD playback errors, such as DVD drive scratching disc, not reading disc, poor quality, or half-way crashing, Windows DVD Player Error Code 0x87E10Bc6, 0x8004027d etc. For that, WinX DVD Ripper Platinum is the easiest yet most effective way to unlock DVD region code and digitize DVD for playing anywhere.