Top 6 Region Free DVD Players
Region code is deliberately encoded on DVD as a mean to protect movie studios against being liable to any loss of profit in case other regions have premature access to unreleased movies. This gives rise to an urgent demand for a region free DVD player (aka. all-region DVD player and multi-region DVD player) among DVD lovers who legally purchased the physical movies from abroad or constantly travel around the world, after all they don't want to be refrained by the limit of 5 region code changes. So which DVD players are region free? We are here to list 6 best region free DVD players that will play DVD discs from anywhere, including regions 0 to 8.
Convert Region-locked DVD to Region-free Digital File
In addition to using a region-free DVD player for playing DVDs from different regions, you can also take advantage of a DVD ripper like WinX DVD Ripper to convert those region-locked DVDs into region-free digital files.
WinX DVD Ripper is a versatile tool that not only allows you to create an exact digital copy of your DVD but also enables you to convert specific DVD content, such as the movie, into a more compatible format like MP4. You need not worry about DVD copy protections, as WinX DVD Ripper can effortlessly bypass them.
Digitizing your DVDs have many benefits. Firstly, it provides you with backup copies in case your physical DVDs get damaged over time. Secondly, it grants you the flexibility to enjoy your movies at your convenience, as you'll no longer require a physical DVD player to watch them.
You can free download it and take a closer look at it.
Remove Regions

DVD to MP4

1:1 DVD Copy
WinX DVD Ripper -
No.1 Fast DVD Ripper
Easily remove region codes from DVDs and make DVDs region-free for any DVD player/drive, computer, device. No need to get an expensive region-free DVD player.
Part 1. What Is Region Free DVD Player?
A region-free DVD player, also known as a multi-region DVD player or all-region DVD player, is a device that can play DVD discs from any region in the world. DVDs are often encoded with a specific region code, which restricts their playback to DVD players designed for that particular region. These region codes were implemented by the DVD industry to control the release of movies in different parts of the world and manage distribution.
For example, Region 1 encompasses the United States and Canada, while Region 2 covers Europe and Japan. If you have a DVD player that's locked to a specific region, it won't play DVDs from other regions, unless the DVD itself is region-free. This can be inconvenient if you want to watch DVDs from various parts of the world.
A region-free DVD player, on the other hand, is not bound by these restrictions. It's designed to ignore region coding and allows you to play DVDs from any region. This flexibility is especially useful if you have a collection of DVDs from different regions or if you want to watch content that is not available in your region.
You can check the DVD region codes and geographic scope to see if your DVD player can play your DVDs:
Region 1: the United States, Canada, and U.S. territories.
Region 2: Europe, Japan, the Middle East, South Africa, and Greenland.
Region 3: Southeast Asia and East Asia
Region 4: Australia, New Zealand, the Pacific Islands, Central America, Mexico, South America, and the Caribbean
Region 5: Eastern Europe, Russia, the Indian Subcontinent, Africa, North Korea, and Mongolia
Region 6: China
Region 7: Reserved for unspecified special use
Region 8: Special international venues for air and oceanic travel
Region 0 or All: Region-free or multi-region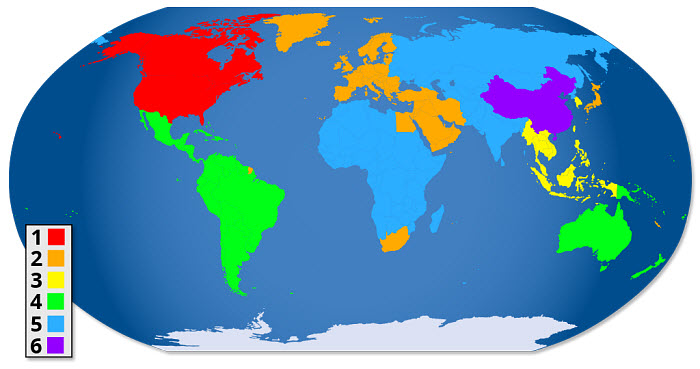 Part 2. Top 6 Best Region Free DVD Players in 2023
Here we stress on the additional playback features while choosing the DVD player, for region code cracking is the entry level and is no longer a technical problem for many players. To screen out the most suitable one, you can consider whether it delivers high video and audio quality except for your region code needs, after all it is a top priority for everyone.
1. Panasonic DVD Player DVD-S700
Best for: watch varying region DVDs from all over the world.
Amazon Price: $49.00, see more product details Panasonic DVD-S700 is a great ease-to-use DVD player that plays standard and rewriteable DVD discs from all regions 0-8. It is most known for the fast DVD loading speed once you shut the tray and gorgeous image playback up to full HD 1080p due to the support of 1080p upscaling. There are some other great features that will attract you, including the support of video and audio file playback via USB, as well as built in PAL and NTSC video signal switching.
You have to bear in mind there's neither Blu-ray support nor front display guaranteed for title, chapter, and runtime info. You are not even allowed to stream from Netflix or so.
Pros:
Supports a wide range of DVD formats: DVD-R, DVD-R DL, DVD-RW, DVD+R, DVD+R DL, DVD+RW, CD-R and CD-RW.
1080p upconversion.
Fast DVD loading speed.
Cons:
No streaming features.
No front display.
2. LG DP132 DVD Player
Best for: region free DVD player with CD to MP3 conversion at an affordable price.
Amazon Price: $23.99, see more product details LG DP132 is perhaps the cheapest region free DVD player from LG among our list but is suitable for most of the DVD playback needs. It is preferred by many foreign language learners since LG DP132 supports multiple language audio and subtitle outputs, with the great compatibility with Dolby Digital audio. Except for the availability of USB 2.0 port for playing audio, video and image files, there is also one unique feature which cannot be found in other region free DVD players - the USB Direct Recording, available for you to rip audio CDs to USB device directly (you can try DVD ripper to rip DVD to USB here).
One fatal weakness of the DVD player is the devoid of HDMI connection. You can only play regional DVD on older TV and won't enjoy quality movie on modern television, let alone the upscaling feature.
Pros:
Unique USB direct record feature.
Cheap and easy to use.
Region free.
Cons:
No HDMI connection.
No 1080p upscaling.
3. Samsung DVD-E360 DVD Player
Best for:High picture quality playing with advanced dolby® digital sound.
Amazon Price: $84.99, see more product details Samsung DVD-E360 has won multiple awards for its quality, performance and design. The lightweight DVD player is able to play all region standard DVDs from 0 to 6, along with PAL/NTSC conversion, CD ripping capability and EZ view screen ratio adjustment. You can play PAL/NTSC DVDs in formats of DVD+R, DVD-R, DVD+RW, DVD-RW on any TV from any country. It can decipher Dolby Digital data to utilize its dynamic stereo surround with the Dolby Digital Decoder Technology, in such a way you can get the full experience.
Samsung DVD-E360 is proud of the progressive scan technology that is able to deliver high picture quality. But according to customers' feedback, it doesn't meet expectations, showing grainy menu screen. Plus, it is problematic while playing some MP4, WMV files as it is advocated.
Pros:
Lightweight.
Fast play speed.
Cons:
Does not play MP4, WMV or DivX.
Quality is not as good as it is advertised.
4. Pioneer DV-3052 Multi System All Region DVD Player
Best for: All region DVD player with 1080p upscaling and USB Playback.
Amazon Price: $69.97, see more product details If you want a DVD player that is region free, Pioneer 3052 has a place in this category. As a small and compact DVD player, it offers you high-quality audio and video that is highly emphasized in this field.
There is no external video converter needed, and you can play PAL or NTSC DVD in high resolution up to 1080p on your TV by HDMI connection. With the sound retriever, it upscale the quality to be almost the same as original and restore the sound quality even when the audio is compressed in MP3 and WMA.
Pros:
1080p upconversion.
Crisp video and audio quality.
Cons:
Have difficulty playing home CD or DVD recording.
Slow response to menu input.
5. Sony BDPS3200 Blu-ray Disc Player
Best for: offering a high number of streaming services.
Amazon Price: $164.94, see more product details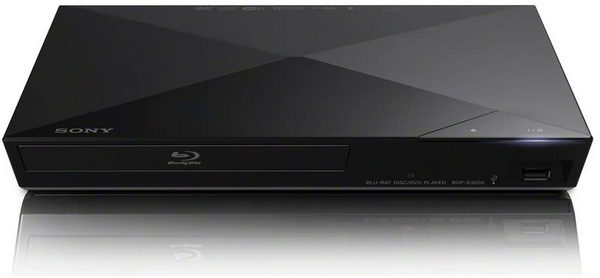 Sony BDP S3200 is the most expensive one among our top 6 region free DVD players. But its super DVD playback performance is worthy of your money. Rather than a DVD player, it is a region free Blu-ray player that plays both DVD and Blu ray discs, along with 3D files.
There is still another premium feature set - the 4K upscaling to deliver striking visuals up to 2160p resolution and built-in Wi-Fi to access a wide array of streaming contents. You are allowed to mirror your mobile device on your compatible TV with Miracast technology.
Pros:
Region free Blu ray and DVD playback.
4K upscaling.
Support 3D and Wifi.
Cons:
Expensive
No front display.
6. LG UBKM9 4K UHD Blu-ray and DVD Player
Best for: playing DVD with 4K video upscaling.
Amazon Price: $309.97, see more product details LG UBKM9 4K UHD Blu-ray and DVD Player is an outstanding DVD player that is able to play CDs, DVDs, Blu-ray discs and 4K UHD Blu-ray discs. It can handle DVDs of any regions you throw at it, from Blu-ray region A/B/C to DVD region 0 through 8. Moreover, it carries out seamless conversion between PAL and NTSC. And as a 4K UHD Blu-ray DVD player, the LG UBKM9 tackles 4K Ultra HD of HDR, HDR10, and Dolby Vision. On the audio side, it pumps out Dolby Atmos, Dolby Digital, Dolby TrueHD, DTS, and DTS-HD Master Audio.
Pros:

4K UHD Blu-ray compatibility.
DVD region 0, 1, 2, 3, 4, 5, 6, 7, 8 playback and Blu-ray region A, B, C support.
4K upscaling.
Dual HDMI outputs, Wi-Fi and Ethernet, 3D Blu-ray support.
Support HDR, Dolby Digital, Dolby TrueHD, DTS, DTS-HD Master Audio, Dolby Atmos
Netflix and YouTube streaming service support.
Cons:

Limited streaming capabilities
Part 3. FAQs
1. How to Make DVD Players Region Free?
DVD players of different brands have the different ways for unlock region codes. Take Sony DVD player as an example, you can
Power DVD player off. Take out the disc from the tray.
Type in 12345 on the DVD remote control.
As soon as the No Disc message appears, press 12345 again. Now the DVD player should be region free.
More about how to make Samsung, LG, Panasonic, Philips DVD player region free >>
Note: Making DVD player region-free may void the warranty and isn't recommended for all users.
2. How to Unlock DVD Region Code?
If you don't want to change the region code of your DVD player, you can also remove the DVD region to match your DVD player. WinX DVD Ripper could help you fulfill this sticky job. It's able to convert region-locked DVDs to a format such as MP4, MOV, AVI, etc that more preferable in the digital world.
All you need to do is to: insert your DVD disc into the DVD drive, WinX DVD Ripper could choose the right title automatically. Then choose an output format, and tap RUN button to save the zone-free digital movie.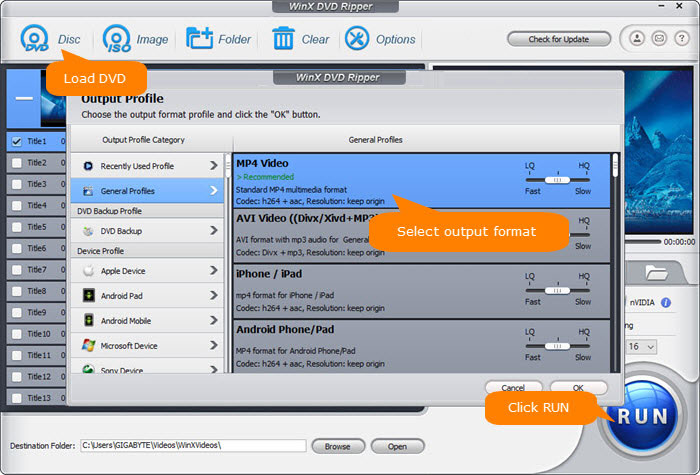 3. What Does Region Free DVD Mean?
Region free is a code for DVDs. Region Free or Region 0 is a version that is not locked to any particular region and will typically play on any DVD player worldwide.
4. Are Region Free or Multi-Region DVD Players Legal?
Different region coding is just to make it harder to pirate stuff internationally, but it is completely OK to have a DVD player that can handle all regions for your private viewing purposes. So owning a region free DVD player is legal in the US. But please don't sell a multi-region player in the US, since it is illegal according to DMCA.
5. Does walmart Sell Region Free DVD Player?
Yes. Check this page and you'll see a lot of options.
6. Is There Any Region Free DVD Player Software?
Yes. VLC and 5KPlayer are great region free DVD player programs that can work on Windows and Mac.
Final Words
Although region free DVD players can indeed play DVDs regardless of the region coding, they may still encounter various issues, including but not limited to sound error, poor DVD playback quality, DVD player not reading discs, keeping spinning, or unable to play certain newly released DVDs. Rather than fixing the issues one by one, often with no assurance of successful DVD playback, why not consider digitizing region-locked DVDs for flawless playback?