Top 5 Region Free DVD Players [FAQ and Troubleshooting]
Region code is deliberately encoded on DVD as a mean to protect movie studios against being liable to any loss of profit in case other regions have premature access to unreleased movies. This gives rise to an urgent demand for a region free DVD player among DVD lovers who legally purchased the physical movies from abroad or constantly travel around the world, after all they don't want to be refrained by the limit of 5 regional code changes. So which DVD players are region free? We are here to list 5 best all region DVD players that will play DVD discs from anywhere, including regions 0, 1, 2, 3, 4, 5, 6, 7, and 8.
Please note that region free DVD player just plays region-locked DVDs. It is glitchy & unresponsive when facing with scratched/damaged DVDs, and other commercially protected DVDs such as 99-title movies. You'd better digitize your DVD movie into a digital MP4, or other format for a flexible playback, without the need of DVD player or drive especially when you're abroad.


Free download WinX DVD Ripper to convert regional/99-title/damaged DVDs to MP4, AVI, etc with fast speed & high quality.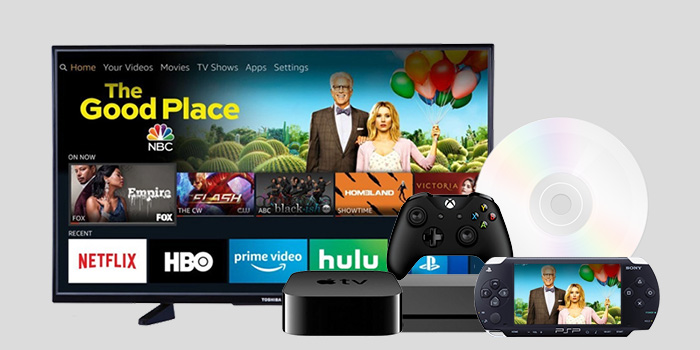 Part 1 Top 5 Best Region Free DVD Players in 2022
Panasonic DVD Player DVD-S700
LG DP132 DVD Player
Samsung DVD-E360
Pioneer DV-3052 Multi System All Region DVD Player
Sony BDPS3200 Blu-ray Disc Player
Here we stress on the additional playback features while choosing the DVD player, for region code cracking is the entry level and is no longer a technical problem for many players. To screen out the most suitable one, you can consider whether it delivers high video and audio quality except for your region code needs, after all it is a top priority for everyone.
1. Panasonic DVD Player DVD-S700
Amazon Price: $49.00, see more product details Panasonic DVD-S700 is a great ease-to-use DVD player that plays standard and rewriteable DVD discs from all regions 0-8. It is most known for the fast DVD loading speed once you shut the tray and gorgeous image playback up to full HD 1080p due to the support of 1080p upscaling. There are some other great features that will attract you, including the support of video and audio file playback via USB, as well as built in PAL and NTSC video signal switching.
You have to bear in mind there's neither Blu-ray support nor front display guaranteed for title, chapter, and runtime info. You are not even allowed to stream from Netflix or so.
Pros:
Supports a wide range of DVD formats: DVD-R, DVD-R DL, DVD-RW, DVD+R, DVD+R DL, DVD+RW, CD-R and CD-RW.
1080p upconversion.
Fast DVD loading speed.
Cons:
No streaming features.
No front display.
2. LG DP132 DVD Player
Amazon Price: $23.99, see more product details LG DP132 is perhaps the cheapest region free DVD player from LG among our list but is suitable for most of the DVD playback needs. It is preferred by many foreign language learners since LG DP132 supports multiple language audio and subtitle outputs, with the great compatibility with Dolby Digital audio. Except for the availability of USB 2.0 port for playing audio, video and image files, there is also one unique feature which cannot be found in other region free DVD players - the USB Direct Recording, available for you to rip audio CDs to USB device directly (you can try DVD ripper to rip DVD to USB here).
One fatal weakness of the DVD player is the devoid of HDMI connection. You can only play regional DVD on older TV and won't enjoy quality movie on modern television, let alone the upscaling feature.
Pros:
Unique USB direct record feature.
Cheap and easy to use.
Region free.
Cons:
No HDMI connection.
No 1080p upscaling.
3. Samsung DVD-E360 DVD Player
Amazon Price: $84.99, see more product details Samsung DVD-E360 has won multiple awards for its quality, performance and design. The lightweight DVD player is able to play all region standard DVDs from 0 to 6, along with PAL/NTSC conversion, CD ripping capability and EZ view screen ratio adjustment. You can play PAL/NTSC DVDs in formats of DVD+R, DVD-R, DVD+RW, DVD-RW on any TV from any country. It can decipher Dolby Digital data to utilize its dynamic stereo surround with the Dolby Digital Decoder Technology, in such a way you can get the full experience.
Samsung DVD-E360 is proud of the progressive scan technology that is able to deliver high picture quality. But according to customers' feedback, it doesn't meet expectations, showing grainy menu screen. Plus, it is problematic while playing some MP4, WMV files as it is advocated.
Pros:
Lightweight.
Fast play speed.
Cons:
Does not play MP4, WMV or DivX.
Quality is not as good as it is advertised.
4. Pioneer DV-3052 Multi System All Region DVD Player
Amazon Price: $69.97, see more product details If you want a DVD player that is region free, Pioneer 3052 has a place in this category. As a small and compact DVD player, it offers you high-quality audio and video that is highly emphasized in this field.
There is no external video converter needed, and you can play PAL or NTSC DVD in high resolution up to 1080p on your TV by HDMI connection. With the sound retriever, it upscale the quality to be almost the same as original and restore the sound quality even when the audio is compressed in MP3 and WMA.
Pros:
1080p upconversion.
Crisp video and audio quality.
Cons:
Have difficulty playing home CD or DVD recording.
Slow response to menu input.
5. Sony BDPS3200 Blu-ray Disc Player
Amazon Price: $164.94, see more product details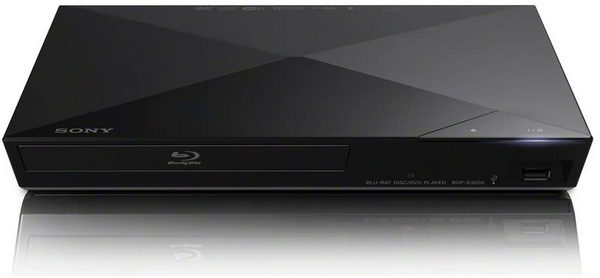 Sony BDP S3200 is the most expensive one among our top 5 region free DVD players. But its super DVD playback performance is worthy of your money. Rather than a DVD player, it is a region free Blu-ray player that plays both DVD and Blu ray discs, along with 3D files.
There is still another premium feature set - the 4K upscaling to deliver striking visuals up to 2160p resolution and built-in Wi-Fi to access a wide array of streaming contents. You are allowed to mirror your mobile device on your compatible TV with Miracast technology.
Pros:
Region free Blu ray and DVD playback.
4K upscaling.
Support 3D and Wifi.
Cons:
Expensive
No front display.
Part 2 FAQ and Troubleshoot DVD Player
1. What Does Region Free DVD Mean?
Region free is a code for DVDs. Region Free or Region 0 is a version that is not locked to any particular region and will typically play on any DVD player worldwide. i.e. You can play DVD bought in Europe with your US DVD player.
2. What Does Region Free DVD Player Mean?
A region free DVD player means that it can read DVDs regardless of its region code. It can not only play discs from your area but also discs from other countries and regions. A region free DVD player can play DVDs that are encoded with region 0, 1, 2, 3, 4, 5, 6, 7, 8.
3. Are Region Free or Multi-Region DVD Players Legal?
Different region coding is just to make it harder to pirate stuff internationally, but it is completely OK to have a DVD player that can handle all regions for your private viewing purposes. So owning a region free DVD player is legal in the US. But please don't sell a multi-region player in the US, since it is illegal according to DMCA.
4. Does walmart Sell Region Free DVD Player?
Yes. Check this page and you'll see a lot of options.
5. How to Make Your DVD Player Region-Free?
DVD player are hackable. For example, Sony requires a CD image to be burnt to a disc. Samsung DVD player can be made region free, with firmware update and region code resetting. To make DVD player region free, you can check here >>
Watch video tutorial on how to unlock DVD region code
6. Is There Any Region Free DVD Player Software?
Yes. VLC and 5KPlayer are great region free DVD player programs that can work on Windows and Mac.
Common DVD Player Problems and Troubleshooting
Although region free DVD players play DVDs regardless of the region coding, there are still problems, including but not least to no sound error, DVD looks bad, DVD player not reading discs, keeps spinning, or cannot play some newly released DVDs. Rather than fixing the issues one by one without any guarantee of successful DVD playback, why not digitizing region-locked or other DVDs to a format such as MP4, MOV, AVI, etc that more preferable in the digital world.
WinX DVD Ripper is a world-known DVD ripper capable of ripping old, new, damaged, and even the most intractable DVDs to digital format for successful playback on TV, PC, iPhone, iPad, Android and other mobiles on the go without worrying about the regional issue.