How to Hook up a DVD Player to Samsung/Sony/LG/Amazon Fire TV
Although streaming services have taken a toll on DVD sales, DVD player is still a good choice for watch high-quality movies, especially your dusty discs at home. But do you know how to connect a DVD player to Samsung, Sony, LG, or Amazon Fire TV? Should you hook your DVD player to TV with HDMI cable, A/V cables or component cables? Follow this article to learn the whole process of connecting DVD player to TV and quick fixes for frequent problems during connection.
Part 1: How to Hook up a DVD Player to a TV
Watching DVD movies at home is really a great enjoy without any expensive hassles or distractions. But firstly you need to connect your DVD player to your TV. Here are the easy steps:
Step 1. Place Your DVD Player Near the TV
At the very beginning, place your DVD player close to your TV, better on a shelf, where you can reach the appropriate cables to the back. The DVD player has a motor inside, which creates heat. Thus directly put the DVD player on the top of or underneath other devices may lead to overheating.
Then unplug your DVD player and TV before you connect them. This will prevent you from the likelihood of electric shocks and protects the equipment.
Step 2. Connect Your DVD Player with Included Cable (HDMI, A/V, Component Cables, or SCART cable)
You know, there are 4 common ways to connect a DVD player to TV, and each needs different kinds of cable to work, namely HDMI, A/V cables, component cables, and SCART cable. Your DVD player should be equipped with all these cables, but you need to check which connections your TV accpets. You can find what cables your TV suppoted in manuals, or directly check the socket in the back of the TV. Here we're going to show you how to connect your DVD player to TV with these 4 different cables.
Firstly, unplug the power cord of your TV and DVD player. Now here we go to connect them:
How to hook up a DVD player to a TV with HDMI: Connect one end of your HDMI cable to one of the HDMI jacks on the side or back of your TV, and the other end to the HDMI OUT jack on your DVD player. How to connect a DVD player to a TV with red, white, yellow A/V Cables: Connect your AV cable to the AV IN jacks (Video/L/R or yellow/white/red ports) on your TV, and to the AV OUT jacks on the DVD player. It's worth noting that the yellow plug is for video, and the red and while ones are for audio. You need to make sure insert the different color plug into the corresponding color jack.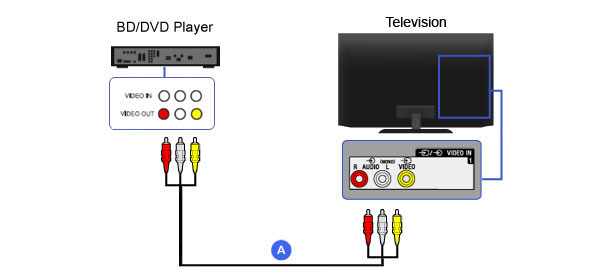 How to connect a DVD player to a TV with Components Cables: Plug all five cords into the interfaces with the same color. If the Output area just contains green, blue and red colored interfaces, you need to plug the white and the second red cables into the audio output area. Then insert the other ends of these cables to your TV and make sure to match their colors.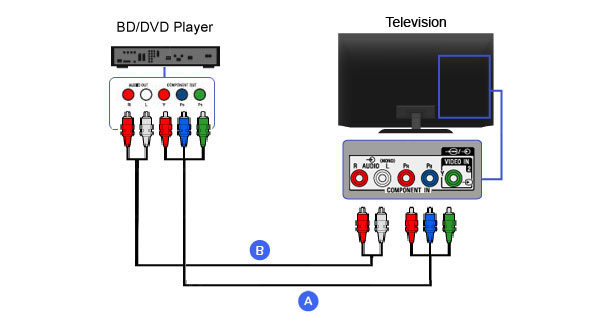 How to connect a DVD player to a TV with SCART cable: If your DVD player and TV have a SCART jack (socket), you can connect them using a SCART cable. Connect one end of your SCART cable to the SCART jack on your TV, and the other end to the SCART OUT jack on your DVD player. SCART connection may provide the same picture quality as a composite connection. Step 3. Switch the TV to the Correct Channel for DVD
When you have done, plug in the power cord of your TV and DVD player. And then turn them up. Now, switch the TV to the correct input using the "source" button on your TV or Remote. If you don't know what input to use, you can leave the DVD player on and test each input for 5-10 seconds to see where the video appears.
Part 2: FAQs about DVD Player to TV Connection
Q1: Can I connect a DVD player to a TV without cable?
No, you can't. There are 4 types of connections between DVD player and TV, namely HDMI, A/V cables, component cables and SCART cable as we mentioned. No matter which one you choose, you do need a cable to connect them.
Q2: How do I hook up a DVD player to TV with no yellow input?
The yellow RCA coax connection (composite video) is the lowest picture quality connection you can use with DVD players. If the TV is less than about 12 years, you can connect your DVD player and TV with HDMI cable.
Q3: Can I connect my phone to DVD player?
If your DVD player is available to play video files in the format that is on your phone, you can connect it to your phone with via USB. You have 3 ways to do so:
Directly copy files to a microUSB card and insert it with the proper adapter in the DVD player.
Connect your phone to your DVD player via USB cable. And selecting as external drive to get an access of your video files on phone.
Buy a microUSB to HDMI connector cable, and connect your phone straight to the TV.
Q4: Can I connect a DVD player to a TV using USB?
No. Most USB inputs on TV can only read images and files off of a USB flash drive, and cannot communicate with real-time devices like DVD players. If you DVD player doesn't have any connections other than USB, your player is made for computers and not for TV.
Q5: How to connect DVD player to Comcast cable box and avoid changing TV channels?
Power off your DVD player and disconnect it from your TV.
Power off your Comcast cable box and finx the "Video IN" and "Audio IN" connection ports on the cable box.
Plug the yellow video cable from your DVD player into the "Video IN" port and connect the white and red audio cable in to the left and right "Audio IN" port respectively.
Turn on the Comcast cable box, the TV and the DVD player. On your Comcast remote, press the "Input/TV/VCR" button to change to the channel for viewing the DVD player connected to the cable box. You should see the logo of DVD player on the tv.
Q6: How to hook up an old DVD player to a new smart TV?
When you get a new TV, you may find the TV isn't designed with RCA jacks and has HDMI input only. But what the problem is that your old DVD player doesn't come with HDMI. In this case, how can you connect your old DVD player without HDMI to a TV with HDMI? Don't worry! There is a cheap device called RCA to HDMI Video Audio Converter. With this small box, you can convert the red, white and yellow cable from your old DVD player and make it compatible with an HDMI output. Q7: What channel should TV be on for DVD player?
DVD players will display on one of the Input or Auxiliary channels. Some TVs will label the Input channels based on the type of input, such as "HDMI", "AV", and "COMPONENT". Which input to choose is based on how you connect. For example, if you connect DVD player to TV via HDMI, you should choose HDMI.
Part 3: How to Play DVDs without DVD Player
If you've tried all these ways to connect your DVD player to TV but failed for some reasons, you might be able to try an alterntive way to play your DVD movies - rip DVD to digital files to play them on TV directly. To do this, you can use WinX DVD Ripper Platinum. It allows you to rip DVDs to H.264 MP4, AVI, WMV, MOV, FLV and all your TV compatible formats fast and easily.
Here are the easy steps to convert DVD to digital formats:
Insert your target DVD into DVD drive. Open up WinX DVD Ripper Platinum and click "DVD disc" to load the DVD.
Choose an format for the output. For example, the MP4 Video (h264+aac), which is fully supported by TVs.
Plug in your USB drive to the computer, and click "Browse" button to select the USB drive as the output folder.
Hit "RUN" button to start ripping DVD to MP4.
Once done, plug out the USB drive from your computer and plug it into the TV. Then you can watch your DVD movie on TV freely.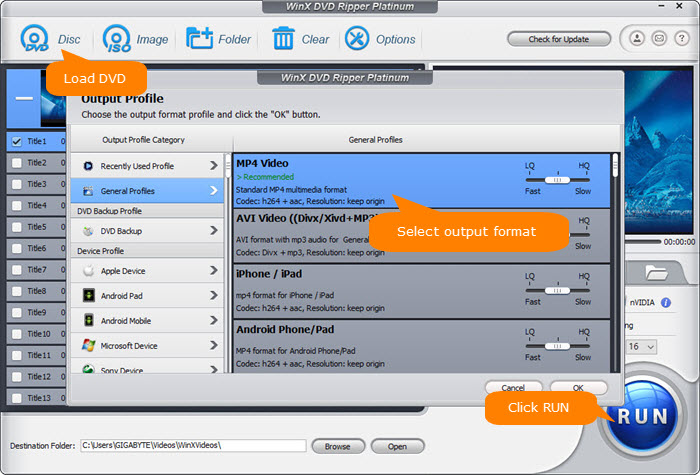 Disclaimer: Digiarty Software does not advocate ripping/copying copy-protected DVDs for any commercial purpose and suggests referring to the DVD copyright laws in your countries before doing so. And do not use WinX DVD Ripper to rip DVD rentals.