Posted by Donna Peng - Contact Author

[Fixed] Panasonic/LG/Sony/Samsung DVD Remote Not Working

Check the 100% efficient solution: The solution most recommended by us [85%]
"My DVD player (Toshiba SD-125E) is refusing to work. The DVD player remote control stopped working. I have tried replacing the batteries, but to no avail. This means that when I put a DVD in, and it requires me to press ENTER on the handset so the DVD runs, I can't. Simply pressing PLAY on the DVD player does not work either. How can I get the DVD player to work?"
It's annoying if the DVD player is not responding to remote control - it prevents you from watching a movie successfully. The DVD player remote control not working problem could be caused by reasons like dead battery, disconnected connection, unsupported model/file type, failure of DVD player remote sensor, etc. Let's find the real culprits and resolutions below.
Possible Reasons & Fixes for Panasonic/LG/Sony/Samsung DVD Remote Not Working
* The batteries in the remote are dead. When the DVD player remote control is not working, check and replace the battery first.
* The remote is dirty. Even if the remote dosen't look dirty, there may be dirt between the buttons. Open the remote and clean it.
* Unsupported model or compoent type. Check and make sure the TV is on the correct input (component or composite input video) for DVD playback.
* Disconnection. Check if the DVD player is not connected to the TV correctly and replace the cable if needed.
* Conflict components. Any newly-added video/audio components or units may be incompatbile with the old remote control and therefore lead to not working issues. Remove the units if necessary.
* IR sensor goes wrong. There may be something wrong with the IR sensor and that results in DVD player not responding to remote control. You can buy a new or universal remote control to check if the remote sensor on the DVD player works. If it won't work, then you will need to buy a new DVD player as it's cheap nowadays.
Related: see how to fix DVD not playing error
[Alternative Fix] How to Control DVD Player without Remote
If the above troubleshooting tips won't fix the LG/Sony/Samsung DVD remote not working issues, we provide an alternative fix - how to control DVD player without remote. You can easily do this by turning mobiles into a universal remote control (or buy one if you want).
* Samsung mobiles - download app Samsung WatchON app on the mobiles > enter the info of the TV > sign into the Samsung account and select the TV brand > then it will pair with the TV via various codes, try them > add the DVD player and now you can use it as a DVD remote.
* Android mobiles - Try Remote Control for TV app, Android TV Remote, Smart IR Remote apps with similar steps.
* iDevices - Try Next Guide Remote, iRule, Zmart with similar steps.
[Ultimate Fix] No DVD Player Remote Control Not Working Anymore Digitize DVD to watch movies without DVD remote control errors. Easy & fast
Convert any homemade discs, damaged, old & latest DVDs, and decrypt DVDs encrypted by regions, CSS, RCE, Disney X-project, etc.
Convert DVD to ISO image (1:1), or (98% quality reserved) MP4, MOV, HEVC, AVI, WMV, FLV, 3GP, MPEG, etc. for Apple TV, HDTVs, iPhone, iPad, Android mobile, Xbox, PS4, etc.
Super fast speed to convert DVD into digital files: 5 minutes for one disc on a recent computer.

Download WinX DVD Ripper Platinum for Windows

to convert DVD to digital

Download WinX DVD Ripper for Mac

to convert DVD to digital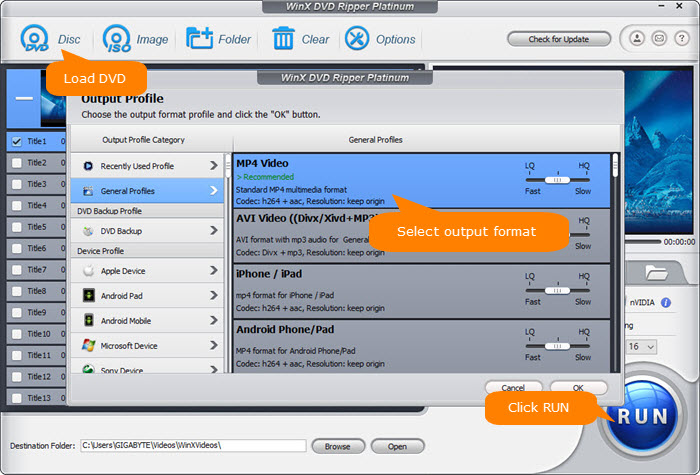 Disclaimer: Digiarty Software does not advocate ripping commercial DVDs for any illegal purpose. You're suggested to refer to the DVD copyright laws in your country before doing so.