How to Stop DVD Player Tray from Opening and Closing
I have an LG DVD player and the DVD player tray keeps opening & closing at all times when the power is on and I cannot play any DVD discs. Any suggestions?
Hardware can always be the culprit for DVD playback errors, like the last post DVD remote not working. In this post, we will focus on another error that users may meet once inserting a disc into the DVD player tray - a DVD drive problem on the computer or DVD player. It prevents them from watching a movie successfully from the first step. For example, the DVD tray keeps opening and closing, the DVD drive opens automatically, DVD player's tray won't open, won't stay close, etc. In this post, we will discuss the most likely culprit and tips on how to fix the error that a DVD drive opens and closes by itself.  
Part 1. Why and How to Stop DVD Drive/Player from Keeping Opening and Closing
1. Wrong boot sequence - If your computer DVD player tray keeps opening, the configuration of the computer may be set to give a CD or DVD drive boot sequence priority over the hard drive. Then problems occur when there is no valid info. To stop the DVD tray from keeping opening, get into the BIOS and change the order (boot sequence) to let the computer boot from the hard drive before the CD/DVD drive.
2. Loose cog - Frequently pushing the drawer of the DVD tray instead of the close button to close the player may cause a loosening of one or two cogs out of their proper position. And thus the DVD player tray keeps opening and closing. Try to pull the drawer gently and push the close button.
3. Bad connection - Try another data cable to the drive. A bad connection can sometimes cause the problem on standalone DVD players.
4. Bad tray sensor - There may be a physical problem with the ejection mechanism that triggers the tray opening and closing. You then need to open the case and check the inside.
5. Virus - If you have downloaded a bunch of files recently, the computer DVD drive opens and closes by itself. Then you will probably want to run a really good virus and malware scan.
6. Mechanic problem - If none of the tips stop the DVD tray from opening and closing prank, it can be a serious mechanic problem with the player. You will need the controller board replaced or the whole drive replaced since they are pretty cheap now in days.
Part 2. The Workaround to Fix 'DVD Player Tray Keeps Opening and Closing'
Convert DVDs to digital to avoid DVD player tray open/close errors.
The tool you need - WinX DVD Ripper Platinum
Offer wide support for user-burned, scratched, region-coded, encrypted DVDs, old and latest DVDs.
Convert DVD to ISO image (1:1), or (98% quality reserved) MP4, MOV, HEVC, AVI, WMV, FLV, 3GP, MPEG, etc. for Apple TV, HDTVs, iPhone, iPad, Android mobile, Xbox, PS4, etc.
No.1 speed to convert a disc into digital files via 3 clicks: load DVD -> select output -> start ripping.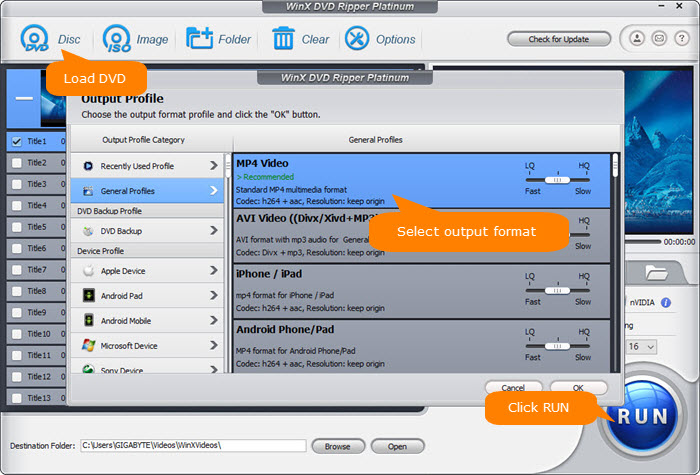 Disclaimer: Digiarty Software does not advocate ripping commercial DVDs for any illegal purpose. You're suggested to refer to the DVD copyright laws in your country before doing so.