How to Use Sony LG Samsung and Other DVD Players Without Remote?
When you open DVD player, you may find that the remote control is not working or lost. Well, how to play DVD on Sony DVD Player, LG, Samsung, Philips, Sanyo, Toshiba, and other DVD players without a remote?
7 Solutions to Get Your DVD Player to Play without Remote
Solution 1. Use the Built-in Controls on Your DVD Player
Some DVD players have basic buttons on the front or top of the player to allow you to play, pause, skip, stop, fast forward, eject, power on and power off. These buttons can help you play DVD without remote, although it doesn't seem to go easily. You have to seat up from the sofa and walk up to DVD player to control it.
However, some players don't have play button and other basic buttons on the machine. In this case, you have to try other methods.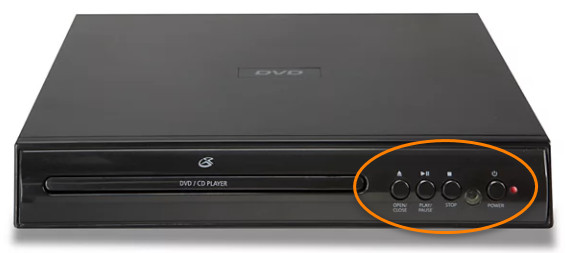 Solution 2. Use Your TV Remote as a Replacement
If your DVD player and TV are newish and they are connected via an HDMI cable, you can turn on the built-in feature HDMI CEC (Consumer Electronics Control) which will allow you to use your TV remote to control your DVD playback.
If your TV turns on or changes sources right after you turn on the DVD player, it means that CEC is working. Then the transport buttons on your TV remote will likely work to control the DVD.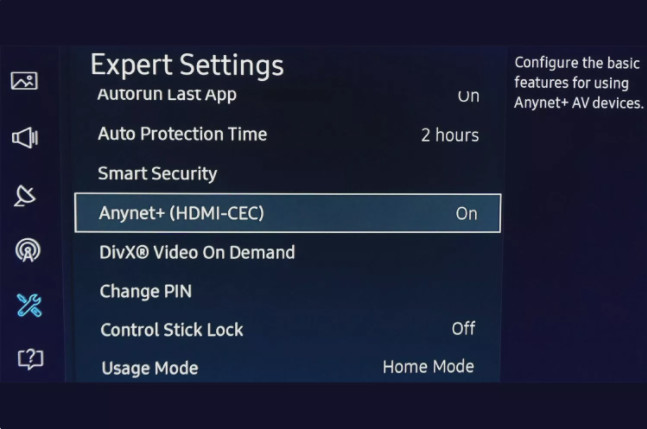 Solution 3. Install a Remote Control App on Your Phone
Your smartphone, be it an iPhone or an Android phone, can also work as a remote control for DVD player as long as you download and install a remote control app on it.
Some DVD players have companion app with which you can control DVD player over your local network. You can check your manual or the manufacture website to see if there is such an app to use.
If your phone has an IR blaster, you can download a universal remote app and use it as a remote for your DVD player, TV, and other household appliances. Some smartphone manufactures have abandoned old school IR blaster but we can still find it on some devices such as Xiaomi, Galaxy S6 and LG G5.
Remote control apps for DVD player (Sony, Samsung, LG, Philips, Sanyo, Panasonic, Magnavox, etc.)
Exploring the Google Play and App Store, we have found a few. There are more remote control apps for Android and iPhone to choose.
Universal DVD Remove Control (for Android): It contains quite a lot of remotes including LG DVD Remote, Samsung DVD Remote Control, Sony DVD Remote Control, Philips DVD Remote Control, Panasonic DVD Remote Control, and so much more.
DVD Remote Control – All DVD Player Remote (for Android): It also contains many popular and less popular remotes.
LG DVD remote control (for Android): As its name indicates, it is designed for LG DVD. Please note: this app is only use in phone with IR blaster.
AnyMote Smart Universal Remote (for iPhone and Android): It provides remotes for DVD player and other smart devices controlled through IR commands and WiFi network.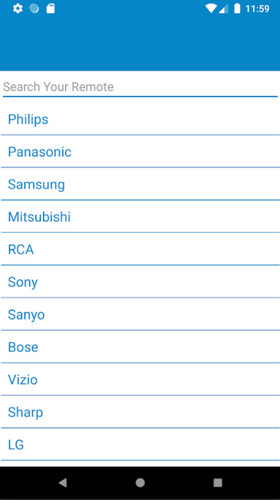 How remote control app works?
Let's take DVD Remote Control - All DVD Player Remote as an example.
Step 1. Install the remote control app on your phone.
Step 2. Select your DVD brand in the available list.
Step 3. Wait until your connection is successful
Step 4. Check if your device is IR Infrated or not?
Step 5. Control DVD playing via the remote control app.
Solution 4. Buy a Replacement Remote for Your DVD Player
Check the model of your DVD player and order a replacement remote from manufacturer, Amazon, eBay or somewhere. It isn't expensive.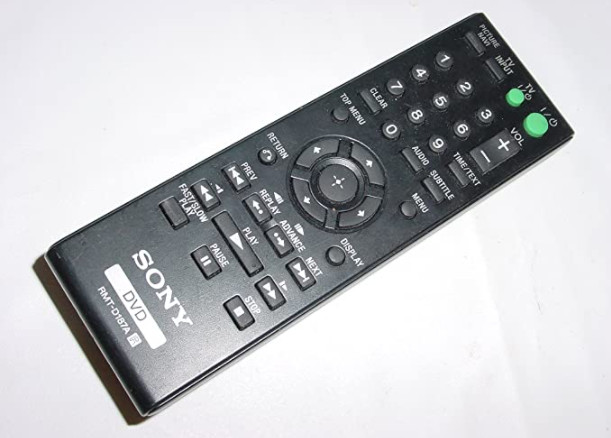 Solution 5. Buy a Universal Remote Control Device for DVD Player
If you can't find an exact remote control for your model, you can purchase a universal remote control. A universal remote control can work with DVD players of various brands, like Sony, LG, Samsung, and so on. What's more, it can also work with TV, Blu-ray player, cable box and other entertainment equipment.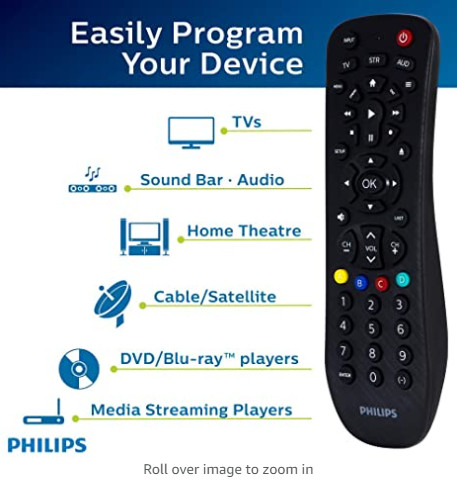 How to program a universal remote control to DVD player?
Step 1. Turn on your DVD player.
Step 2. Press and hold the setup button on your universal remote control till you see red light is on. Then, the remote is in setup mode.
Step 3. Quickly press and release the DVD button (or BD/DVD button) on your remote control.
Step 4. Key in the correct codes using the keypad on your universal remote. When you get the correct code, the component button will blink twice and turn off. The code can be found online or in the remote's manual.
Step 5. Point your universal remote control in the direction of DVD player, press a button, and see if it can control your DVD player. If it works well, congratulations. If not, you may get the wrong code.
Remote codes for DVD players
SONY DVD Player 4 Digit Remote Control Codes: 1272, 1275, 1276, 1277, 1002, 1109, 1137, 1201, 1202, 1249
SONY DVD Player 5 Digit Remote Control Codes: 31070, 31033, 31069
SONY DVD/HDD Combo Player 5 Digit Remote Control Codes: 31033, 31070, 31069
SONY DVD/VCR Combo Player 5 Digit Remote Control Code: 30864
SONY DVD AV System 5 Digit Remote Control Codes: 51658, 51858, 51622, 51558
SONY DVD Changers 5 Digit Remote Control Code: 31633
LG DVD Player 4 Digit Remote Control Codes: 0591, 0741, 0571, 0801, 1906, 0869, 1983, 2039, 2270, 2297, 2303, 2339, 2352, 2363, 2368, 2371, 2418
Samsung DVD 4 Digit Remote Codes: 0820, 1075, 1936, 0490, 0573, 0744, 1932, 1928
Samsung DVD 5 Digit Remote Codes: 10814, 10037, 10030, 10056, 10110, 10217, 10427, 10250, 11581, 10812, 10060, 11632, 10702, 11959, 11060, 10766, 10329, 10587, 10482, 10019, 10032, 10178
Check remote codes for DVD players of Panasonic, Philips and more
Solution 6. Digitize Your DVD
Actually, you can not only play DVD without remote, but also play DVD without DVD player. What you need to do is to convert DVD disc to digital file. WinX DVD Ripper makes it easy to create a digital copy from your DVD. Both homemade and commercial DVDs are supported.
How to rip DVD to digital?
Step 1. Download and install WinX DVD Ripper on your computer.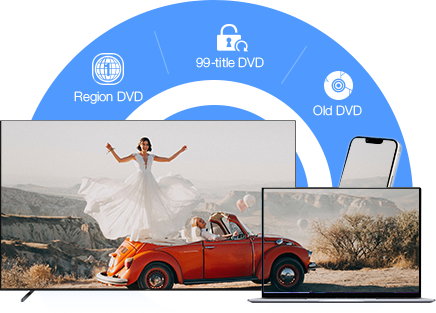 Step 2. Insert the DVD into DVD drive and click the DVD Disc button on the top left corner of WinX DVD Ripper to open the DVD.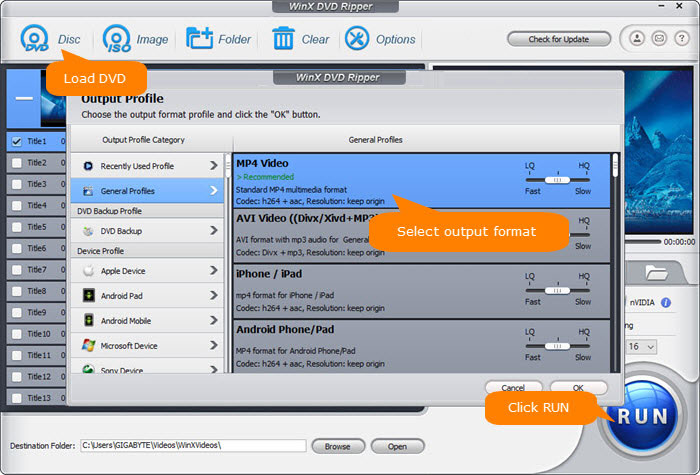 Step 3. Choose an output profile. There are over 350 profiles. If you want to make a full copy of your DVD, you can go to DVD Backup and choose Clone DVD to ISO Image or Clone DVD to Folder. If you just want to keep the main movie part, you can select MP4 Video in the General Profiles.
Step 4. Hit RUN and then it will start ripping. A digital file will export quickly, without quality loss. The conversion time depends on your settings and your hardware configurations.
Once done, you can transfer the DVD rip file to TV. And then, enjoy and control the movie via your TV remote.
Solution 7. Play DVD on Computer and Stream to TV if Necessary
Besides standalone DVD player, you can also play DVD on computer with a built-in or external DVD drive. If you still prefer to watch DVD on TV, you can stream DVD to TV via Airplay mirroring or HDMI cable.
How to stream DVD from computer to TV via HDMI
Step 1. Connect your computer to TV via a HDMI cable.
Step 2. Set your TV to the input coming from your computer.
Step 3. Insert DVD into your computer's DVD drive and play it. Then you will find the movie will show on your TV screen.
Now we have shared all the ways to play DVD without a remote. If this article is helpful for you, don't forget to share it with your friends.