2022 Top 3 Portable DVD Players for Kids
When you're occupied in driving car, doing chores, or something else, you can entertain your kids and keep them busy by giving them a portable DVD player to watch their favorite movies and TV series. Compared with smartphone or tablet, portable DVD player is more affordable. It is very cheap and generally costs tens of dollars only. If you don't know what to look for in a kids portable DVD player and don't know which one to buy, this article will give you some hints.
Want to digitize DVDs to portable DVD player compatible formats?
WinX DVD Ripper Platinum can help you digitize DVDs easily and quickly. It can rip both home-made and store-bought DVDs to MP4 (H.264, MPEG4), AVI (Xvid, Divx), WMV, VOB, MP3, AAC, and other video/audio file formats that your portable DVD player or other mobile devices accept.
Please DO NOT use WinX DVD Ripper to rip rental DVDs.
Important Things to Consider While Buying a Portable DVD Player for Kids
1. Supported formats
There're differences in supported media formats between those portable DVD players in the market. For example, some supports both Blu-ray and DVD discs while some supports standard DVDs only. Therefore, you should check the supported media formats and make sure the player you're going to buy can meet your or your kids' needs.
2. Screen size
Portable DVD player comes in various sizes, ranging from the smallest 5 inches to the largest 20 inches. There's no best, only the optimal. A large-screen player can deliver good viewing experience, but it can make your travel tiresome. So think about how you or your kids want to use the portable DVD player, mainly for travel or for using at home, before you make a decision.
3. Battery life
The battery life of a portable kids DVD player could range from 2.5 to 5 hours, but it also depends on how your children use it. Undoubtedly, a player with longer battery life is a better choice, especially if you often take your children for long car/train/plane trips. What's really great is that many portable DVD players come with car adaptor and A/C adaptor.
Apart from above mentioned, you also need to take the following things into consideration while shopping for a portable DVD player for kids: durability, usability, connectivity, and of course price.
You may also be interested in: Fixes to DVD won't play, Common DVD player problems and fixes, Region free DVD players.
Our Top 3 Picks of Portable DVD Player for Kids
1. UEME 9-inch Portable DVD Player
UEME portable DVD player is designed with an 800*480 9" TFT LCD swivel screen which can be rotated 180 degrees. It allows your kids to play DVD, DVD-R, DVD-RW, CD, CD-R, HDCD, Music-CD, Audiobook-CD, Mp3-CD, Picture-CD, VCD, EVD, SVCD. What's more, it is available to play multi-media files (MP3, WMA, VOB, AVI, MP4) through the USB port and SD card slot. Therefore, you can also copy your DVDs to a USB flash drive or to SD card for watching movies on the go without carrying fragile and cumbersome discs.
The battery life can last about 4 hours. This kids portable DVD player comes with a wall charger and a car charger, thus make it easy to recharge it no matter where you are. What's more, it comes with a car headrest mount holder, thus your kids can watch movies in the back seat.
Note: UEME doesn't support playing Blu-ray discs.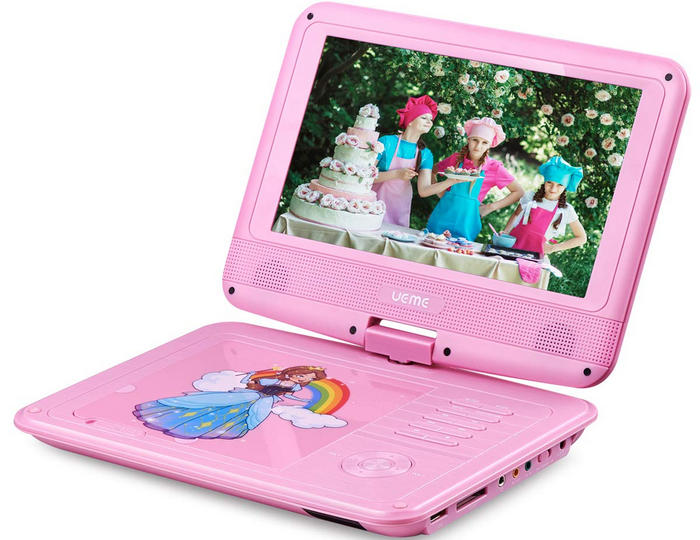 2. DBPOWER 10.5-inch Portable DVD Player
If you want to buy a larger-screen portable DVD player for kids but don't want to sacrifice portability, DBPOWER 10.5" is a good option. It has a lot in common with UEME player. It has a swivel screen with 270-degree rotation and 180-degree flip, supports a variety of disc formats (CD, DVD, CD-R/RW, DVD -R/+R, DVD+RW/-RW, VCD, SVCD) and multimedia formats, comes with rechargeable battery and also power adapter and car adapter, remote controller, etc. Like UEME, it is also incompatible with Blu-ray disc.
What need reminds is, DBPOWER 10.5-inch Portable DVD Player doesn't come with a car headrest mount holder. You need to buy your own if you need it.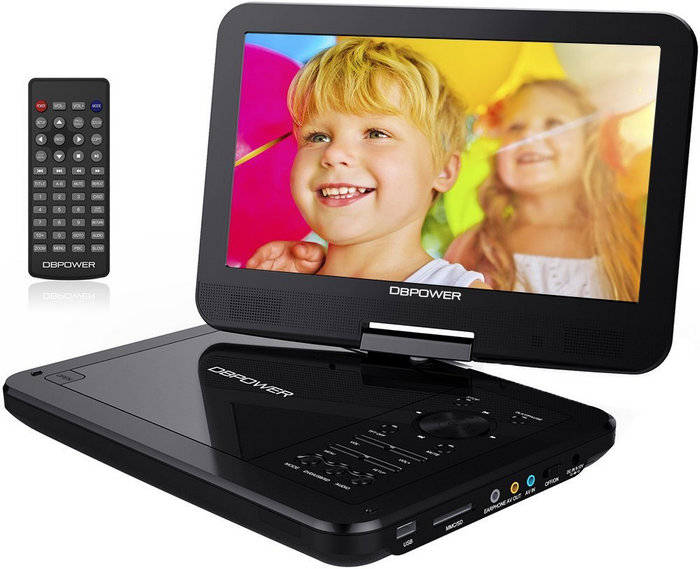 3. Sylvania SDVD7046 7-inch Portable DVD Player
Sylvania doesn't make its portable DVD player like most others do. It gives its compact SDVD7046 7" player a unique design with rounded shape and integrated handle. It looks cool and special, and is a great design for kids. It comes in 7 colors: black, blue, pink, purple, silver, red, and white, so you can find the one you like. This portable DVD player can play DVD, DVD+-R/RW, CD, CD-R/RW, MP3 and JPEG. Also, no blu-rays. It can play videos about 4 hours. And the battery can also be recharged. Additionally, this player comes with a fully functional remote and a set of headphones.
The disadvantages of this kids portable DVD player that you might mind: it doesn't come with a case; it doesn't come with USB port; it doesn't include cables to connect it to TV; it isn't suitable for headrest mounting; it doesn't support automatically resuming playback from where you left off.