Posted by Donna Peng - Contact Author

[Solved] DVD not Playing Full Screen? Watch DVD without Black Bars

If you are searching for the best solution, click here: The solution most recommended by us [85%]
"Why don't my DVD fill full screen on TV?"
Questions similar to the opening are frequently found in communities. We prefer full screen playback but sometimes black bars prevent the DVD movie from fitting entire display, especially on TVs. How to solve this problem? In this article, we will figure out the cause of DVD not playing full screen and all available solutions.
DVD not Playing Full Screen – The Reason
It's all due to aspect ratio. The length to height of screen/image is commonly fixed. Once the TV can't match up to the precise size of a DVD, the DVD player will show wrong aspect ratio and not playing full screen issue happens.
There are two kinds of TV aspect ratio, 4:3 for traditional televisions and 16:9 for modern widescreen televisions (like HDTV, OLED/LED TVs).
Speaking of DVDs, 4 different aspect ratios are used for years: 1.33:1, 1.78:1, 1.85:1, 2.39:1. The aspect ratio of the movie is usually printed on the back of the box of DVD disc.
1.33:1 is also known as 4:3. A 1.33:1 DVD can perfectly fill the screen on a 4:3 TV, while black bars appear on left and right sides to make up the missing width if playing on a 16:9 TV.
1.78:1 is also known as 16:9. It has black bars at the top and bottom to play a 1.78:1 DVD on a 4:3 TV.
1.85:1 is commonly used for widescreen movies in the US.
2.39:1 is a popular aspect ratio for major movie releases.
When playing 1.85:1 or 2.39:1 movie on TVs, black bars exist on the top and bottom, huge on 4:3 TV while smaller on 16:9 TV.
So, the matching aspect ratio is the core to make a DVD full screen. see how to convert 4:3 to 16:9 for widescreen >>
DVD not Playing Full Screen – The Troubleshooting
How to fix DVD not playing full screen issue? - Adjust TV aspect ratio.
According to the aspect ratio of DVD disc, you can change the picture size on TV to make the movie full screen. Online tutorial on the official site of your TV brand or paper instruction can guide you to set aspect ratio correctly. And here, we will make an example of how to adjust aspect ratio on Samsung Smart TV.
Press Menu button on remote control and select Picture > Picture Size. There are several options: 16:9, Wide Zoom, Zoom, 4:3, Screen Fit, Smart View 1 and Smart View 2. Select the most appropriate one.
How to fix DVD not playing full screen issue? - Change aspect ratio on Xbox/PS4.
If you try to play a DVD on Xbox/PS4, but encounter not playing full screen issue on the connected TV, you can adjust display settings on the devices.
Xbox: Press Xbox button > System > Settings > Display & sound > Video output and then choose the display and picture settings appropriate for TV. See how to play DVD on Xbox One with 16:9 aspect ratio
PS4: Select Settings > Sound and Screen > Display Area Settings and then select a suitable option to match the TV screen.
How to fix DVD not playing full screen issue? - Alter DVD aspect ratio.
DVDs are recorded at various aspect ratios. It is seemingly impossible to directly make changes of original movie. But we can make a digital of DVD and switch aspect ratio to fully fit TV screens.
WinX DVD Ripper Platinum is a great program which can easily digitize DVD discs. It helps rip DVD to digital file in MP4, AVI or other mainstream formats as well as offers adjustable parameters to make advanced settings for better playback effect on any device. Through altering the aspect ratio with this software, you can get the movie completely fit the screen.
Download and install WinX DVD Ripper Platinum and follow the tutorial to make the aspect ratio match up to TV.
WinX DVD Ripper Platinum - The Easiest Way to Digitize DVD with Advanced Settings
Convert and rip DVDs to MP4, AVI, WMV, MOV etc, while keeping original quality.
Modify video parameters, including aspect ratio, resolution, bit rate, frame rate, for getting better playback effects on any screen and devices.
Offer editing tools to crop for removing black bars, trim the length and select/add subtitles.

Download WinX DVD Ripper Platinum on Windows

to alter DVD aspect ratio and remove black bars

Download WinX DVD Ripper Platinum on Mac

to alter DVD aspect ratio and remove black bars
Step 1. Insert the DVD disc. Launch this DVD ripper and click DVD Disc button to load the movie.
Step 2. A couple of seconds later, all titles are listed and main title will be automatically selected. Meanwhile, Output Profile window pops up. Select a format compatible with your TV (MP4 is recommended). In addition, WinX DVD Ripper Platinum provides presets for Apple TV, Xbox, PS3/4 etc. You can select precise preset. After that, click OK.
Step 3. Click the gear icon to get access to settings window. In Video Options panel, find Aspect Ratio and change the original to 4x3 or 16x9 according to your TV aspect ratio.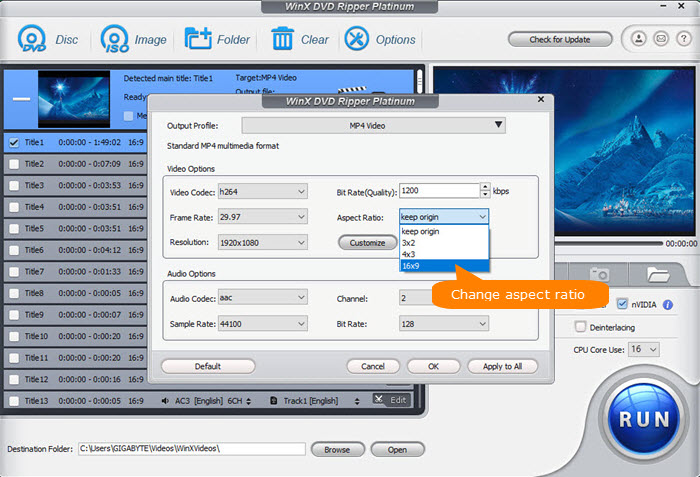 WinX DVD Ripper Platinum also allows you to remove black bars from DVD movie by cropping. Click Edit > Crop & Expand > Enable Crop. Now, choose the aspect ratio of cropping box: Free, LetterBox, 16:9, 4:3 or 1:1 according to your needs. Then, adjust the position and size to get rid of black bars. Then, click Done.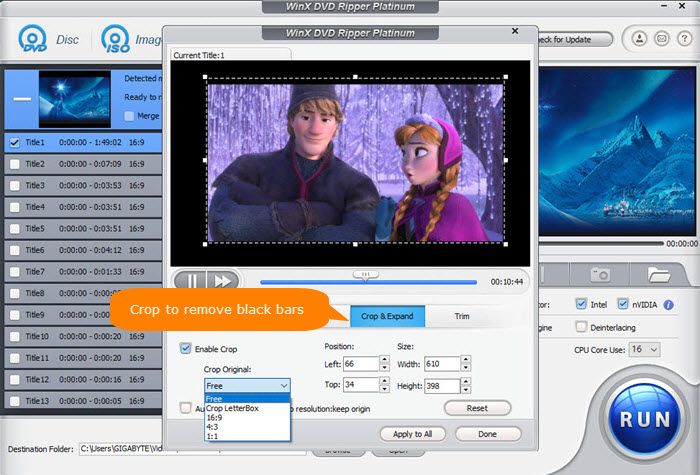 Step 4. If necessary, click Browse button to set a new destination folder. Next, click RUN button to start ripping.