Bypass DVD Region Code: Convert DVD to Region Free on Win 10/8/7
I travel a lot so bought many movies from other areas. Now my problem is I can't change the region code on DVD player anymore, for there is a 5 times limit. Can I convert region 1-6 DVDs and get rid of region errors when playing DVDs without changing region codes on DVD drive.
Can't play Region 2 DVDs in USA? Failed to play PAL discs in a NTSC standard DVD player? This tutorial briefs on removing DVD region code, changing DVD country code for USA, Europe, Australia, Japan etc. in either NTSC or PAL with an effective region-coded DVD converter.
Unlock DVD Region Codes and Play DVDs from any Region Freely
WinX DVD Ripper - [100% free, clean, and safe] An all-region DVD ripper for Windows (10) and Mac to remove region codes 1-6 and rip DVDs from different countries to region-free video files. Play region coded DVDs on any devices without limits.
What is DVD region code?
DVD region code is a digital rights management technique mainly for controlling DVD content, release date and price by the distributors. It defeats many region-locked DVD drives and regular DVD players. When playing a region code encrypted DVD, the DVD player should be set to the same geographic area to make the DVD drive play the DVD encoded with such region. In other words, users should know the exact region and country of the DVD. Otherwise, you will get wrong region error message.
But it is not the main concern. What totally disappoints us is the limitation on the region code changing times. You can change the DVD region code on DVD Player or DVD drives for a limited number of times (mostly 5) before it's permanently locked. Once you reach 5 times, you cannot change the region unless you reinstall Windows or change a different DVD drive.
Here is a list of DVD regions and their ranges of application (countries):
Region 1 (R1): U.S.A., U.S. Territories and Canada.
Region 2 (R2): Europe, Japan, the Middle East, Egypt, South Africa, Greenland.
Region 3 (R3): Taiwan, Korea, South Korea, Hong Kong SAR, Macau.
Region 4 (R4): Mexico, South and Central America, Australia, New Zealand, Pacific Islands, Caribbean
Region 5 (R5): Russia, Eastern Europe, India, Africa (excluding South Africa), North Korea, Mongolia
Region 6 (R6): People's Republic of China, Hong Kong SAR
Note: If you play a certain region DVD in other regions, for example, playing USA DVD in UK, it can not be played and a "This disc is not formatted to play in this region." hint will pop up automatically on the screen.
How to Remove DVD Region Codes without Resetting DVD Drive's Counter?
Ripping and copying regional DVDs is the best way to avoid resetting PC's DVD drive's counter and to play foreign region-coded DVDs without limits. WinX DVD Ripper is the best free tool to make all DVDs region free. In the respect of DVD region code, it works in the following ways:
• Unlock/remove region codes on DVD: WinX DVD Ripper gets around country code blocks and makes any regional DVDs unlocked and convertible. It can decrypt regional-playback control (RPC) encryption, Region-code Enhanced (RCE) or any other region locks.
• Change region codes on DVD: Acting like a region code changer seemingly, it changes regions 1, 2, 3, 4, 5, 6 to region 0. To put it simple, the output file becomes region free and playback of the converted file is easier than ever without needing to consider region issue.
• Convert regional DVDs: not only a region code remover, WinX DVD Ripper is also a region coded DVD converter. This free DVD ripper can convert region encrypted DVDs to AVI, MP4, H.264, HEVC, MPEG, WMV, MOV, etc. After conversion, DVD owners are enabled to transfer the regional movies onto memory stick, hard drive, USB flash drive, MicroSD Memory Card and so on or even play back the DVD videos on Android (Samsung, HTC, Google, Amazon, Xiaomi, Aquos, Fujitsu), iPad, iPhone, Apple TV, WP8, Surface Pro, PSP and more.
Warm up: Get the DVD ripper downloaded and installed on your Windows (10) PC or Mac.
WinXDVD is now officially offering a holiday discount, and you can get a coupon code here to activate it >>

Step 1: Insert a region 1/2/3/4/5/6 DVD into your DVD-ROM, launch the software and click "DVD Disc" button. Alternatively, you can input an ISO image or DVD folder instead of a disc itself. After that, the main movie title will be checked automatically.
Step 2: Choose an output format according to your needs. WinX DVD Ripper has 350+ built-in profiles, so you can convert the region code DVD to general mobile/tablet video, PC videos or Mac videos. You can also try main title content copy that is one of the fastest solutions to copy and save the region (2) DVD with selected audio/video tracks as a MPEG2 digital file without quality loss on image and sound. It's a good way to convert region code DVDs to MP4 for playback on mobile devices, laptops, TVs, etc.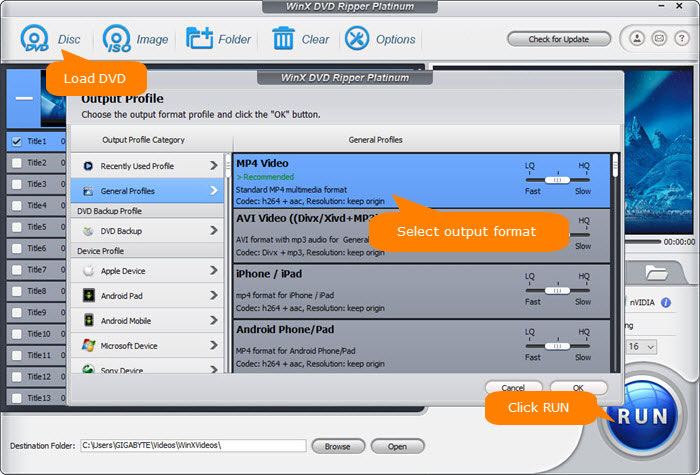 Step 3: Change the Destination Folder to an easy-to-find folder on your computer. Try to avoid saving it on Disk C.
Step 4: Hit RUN button and start convert the region code DVD. After ripping is completed, the DVD video is totally region free.
Disclaimer: Digiarty Software does not advocate ripping copy-protected DVDs for any commercial purpose and suggests referring to the DVD copyright laws in your countries before doing so.
[YouTube Video Tutorial] How to Convert Region Code DVDs
User Feedback and Awards:
- I travel a lot and DVDs make great souvenirs, now I don't have to worry about which format they are in.
- The software helped us convert all DVDs we've bought to mpg format and store them on a large 3.5inch drive for ease of travel.
- The first software I've ever seen that rip and copy DVDs in different regions so well. I buy NTSC Region 1, and Pal Region 2. So that was a deciding factor.
- I live in Taiwan (DVD region 3), and have bought lots of DVDs (region 1) from Amazon.com. In my tests so far with WinX DVD Ripper Platinum, all my region 1 and region 3 movie DVDs pass!
Frequently Asked Questions about Region Code
How can I find the region code on a DVD?
The region code number is usually printed over a small globe icon on the back of the individual DVD packaging and on the disc itself. Informal term meaning "playable in all regions". Region 0 discs will play on any DVD player.
Can I watch region 2 DVD in USA?
No. Region 2 DVD can only be played in Europe and other countries which are in region 2, while USA is in region 1 and can only play a DVD designated region 2 or region 0. If you need to watch region 2 DVD in USA, you can change your DVD drive's region coding or digitize the DVD.
Can I convert region 1 dvd to region 2?
DVD region code converter programs such as WinX DVD Ripper Platinum can remove region code 1, 2, 3, 4, 5, 6 from the digital copies. You can play region 1 DVD on region 2 freely. The region code protection method on physical discs is reserved.