Best 5 Ways to Remove Copy Protection from DVDs
Commercial DVDs always have copy protection measures, which bring great trouble to DVD owners who want to save DVD movies to computer, cloud or mobiles. Therefore, many people wonder how to remove copy protection from DVD?
-- "Most DVDs in my collection are copy-protected. Now, I want to make copies of them and watch freely on my laptop. How to remove encryption from DVD in a good way? Any suggestion is greatly appreciated!"
-- "I have a problem with Frozen 2 DVD, get to about 46 percent and stops."
-- "Use AnyDVD to rip Lionsgate movie Knives Out. It makes it to 1-2% then stops. Tried Handbrake and only got 12 seconds."
It is not an easy task to rip and copy protected DVDs, especially Disney DRM-ed DVDs. Some DVD rippers can remove several copy protection schemes, while some can't. In this article, we'll show you the best software to remove copyright protection from DVD and how to remove copy protection from DVDs with HandBrake and VLC which are frequently asked in communities.
Part 1. How to Remove DVD Copy Protection
In fact, we cannot remove copy protections from our original DVDs. What we can do is to use a program to bypass or crack them and make an unencrypted physical or digital copy of our DVD. After hours of search, analysis, and comparison work, we found that the following software can help us, respectively WinX DVD Ripper, WinX DVD Copy Pro, AnyDVD, VLC, and HandBrake if libdvdcss is installed.
Comparing the 5 Methods to Remove Copy Protection from DVD
| | |
| --- | --- |
| Name | What DVD copy protection scheme can it remove? |
| WinX DVD Ripper Platinum | CSS, region code, RCE, Sony ArccOS, UOPs, Analog Protection System, Disney X-project (99-title DVD copy protection), etc. |
| WinX DVD Copy Pro | CSS, region code, RCE, Sony ArccOS, UOPs, Analog Protection System, Disney X-project (99-title DVD copy protection), etc. |
| HandBrake+libdvdcss | CSS |
| VLC | CSS |
| AnyDVD |  Copy preventions, user operation prohibitions (UOPs),  Macrovision analog copy prevention, etc. |
Method 1. Removing Copy Protection from DVD with WinX DVD Ripper Platinum
WinX DVD Ripper can remove a variety of copy protections from DVDs without additional software. It supports almost all DVD encryptions, covering CSS, region code, RCE, Sony ArccOS, UOPs, Disney X-project (99-title DVD copy protection), and other special encryption schemes. Old and latest DVD movies and TV series from Disney, Paramount, 21st Century Fox, and other studios, educational DVDs, workout DVDs, and other standard video DVDs are well supported.
This DVD DRM removal software can easily bypass DVD copy protections and rip DVD to MP4, MPEG, ISO, AVI, WMV, MOV, FLV, MP3, iPhone, iPad, Android, and more formats and devices without loss of image or audio quality. The built-in Hardware Accelerator, Super Encode Engine, Hyper-threading tech and Multi-core utility can deliver an exteremly fast ripping speed, about 5 minutes to rip a 2-hour DVD.
Click the button below to free download this DVD copy protection removal software on your Windows or Mac. It is lightweight, clean, and easy to install and operate.
How to Remove Copy Protection from DVD?
To begin with, download and install WinX DVD Ripper on your Windows (10/11) PC or Mac. Next, follow the tutorial below to get past DVD copy protection.
Step 1. Import the DVD with copy protection.
Insert the copy-protected DVD disc into the optical drive of your computer. Then, open WinX DVD Ripper and tap DVD Disc button on navigation bar to select and open the DVD you just inserted. Then it will fast scan your DVD, bypass DVD copy protection, and detect the correct main movie title for you. When a Disney encrypted DVD is detected, it will pop up a small window and tell you which is the main title and give you a link to learn what is Disney protection.
Tips: You can also input ISO image and DVD folder and convert them to a mainstreaming format.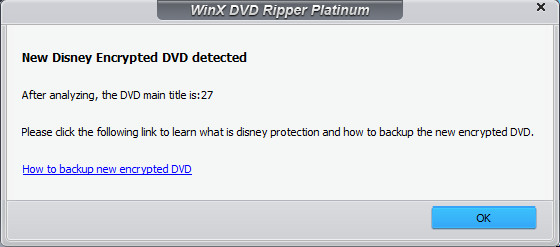 Step 2. Select output format.
On Output Profile window, you should select an output format based on your own needs. You can choose one from general profiles (like MP4, AVI, WMV), device (Apple, Android, Microsoft, Sony etc.), web videos (FLV, WebM and more), music (MP3, AAC, AC3), TS video or copy DVD as ISO image/VIDEO_TS folder or a single MPEG2 file with full/main title.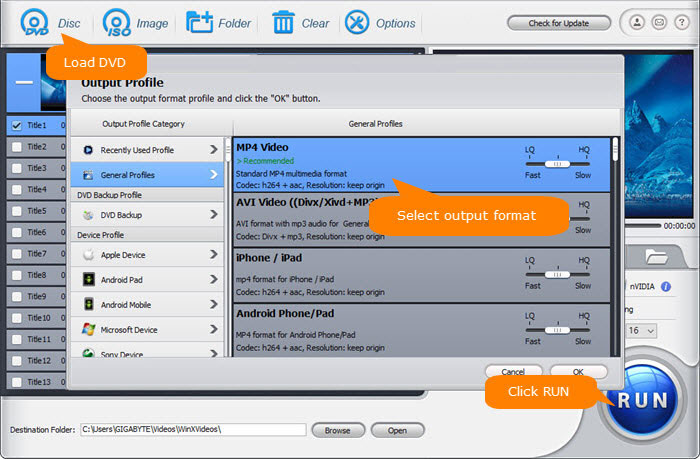 Step 3. Rip DVD with removal of copy protection
Tap Browse button to set destination folder (hard drive or device) and click RUN button to rip DVD with removal of copy protection. Once done, you'll get a DRM-free and region-free copy.
If the software fails to rip a protected DVD, go back to the above steps, enable the Safe Mode on the right side of the interface, and try again. This feature will enhance the ability to remove strong DVD encryptions.
Disclaimer: Digiarty Software does not advocate ripping copy-protected DVDs for any commercial purpose and suggests referring to the DVD copyright laws in your countries before doing so.
Watch the YouTube Video Tutorial to Remove DRM from DVD
Method 2. Removing Copy Protection from DVD with WinX DVD Copy Pro
WinX DVD Copy Pro is another Digiarty product which can help you strip DVD copy protections. It can remove DVD region code, UOPs, CSS encryption and Disney's fake, and then create a digital or physical copy of your original DVD. To be specific, it can clone your DVD to a blank DVD, ISO image, VIDEO_TS folder, or just extract the main title, audio, or video track from the DVD as you require. In addition, it can help burn your ISO file and VIDEO_TS folder back to DVD, and mount ISO as a virtual drive.

Now let's download and install WinX DVD Copy Pro and show you how to use it to circumvent copy protections in your DVD.

Step 1. Open WinX DVD Copy Pro.

After opening this program, you should see a list of features on the left sidebar. Choose a desired function to start, such as Clone DVD to ISO.

Step 2. Select source DVD and destination.

Insert the DVD you want to remove copy protection into DVD drive. Then, you should see it beside Source DVD. Next, you should choose a destination folder to save the output file.

Step 3. Select DVD copy protections to remove.

Make sure you have checked the boxes of "Remove DVD region code", "Remove UOPs", "Remove CSS encryption", and "Check Disney's fake". Otherwise, it will not remove copy protection from your DVD.

The default option is to read 32 sections per time and jump 32 sectors when meeting bad sector. You can also change the value to suit your purposes.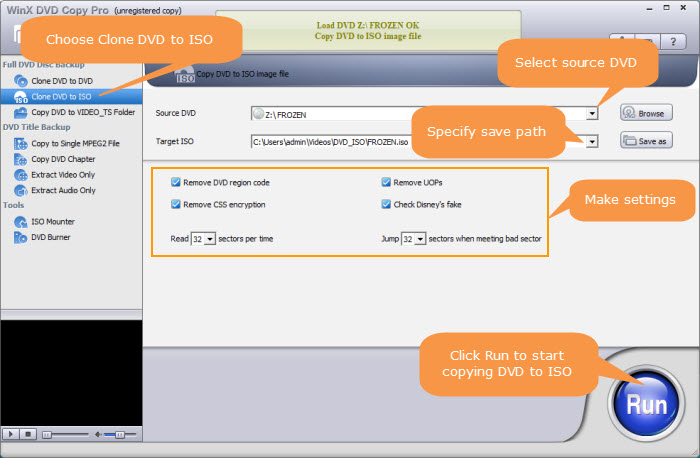 Step 4. Start stripping copy protection.
When all settings are done, simply click Run. Then, it will begin creating a DVD copy without copy protection.
Method 3. Removing Copy Protection from DVD Using HandBrake and libdvdcss
In fact, when you try to import a copy-protected DVD into HandBrake, you will get a message saying "please note that HandBrake does not support the removal of copy-protection from DVD Discs. You can if you wish use any other 3rd party software for this function…".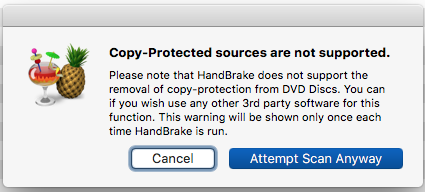 HandBrake itself cannot overcome DVD copy protection. Well, what software can be used to work with HandBrake for removing DVD copy protection? That is libdvdcss.
From VideoLAN, libdvdcss is a simple library designed for accessing DVDs encrypted with CSS DVD copy protection system like a block device without having to bother about the decryption. libdvdcss is compiled into DLL files for Windows users. Now, we'll show you how to use libdvdcss together with HandBrake to remove copy protection from DVD.
Step 1. Pick the version of libdvdcss to download and install.
You can go to VideoLan or Github to find libdvdcss and download the version you like. The latest version is recommended.
Download libdvdcss from VideoLAN: https://download.videolan.org/pub/libdvdcss/
Download libdvdcss from GitHub: https://github.com/allienx/libdvdcss-dll/find/main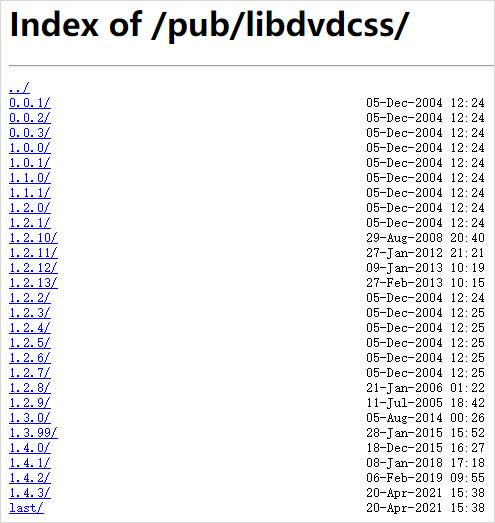 Windows users should download libdvdcss-2.dll file. And, you should find there is a 32-bit version and a 64-bit version. Make sure to choose the version compatible with your operating system.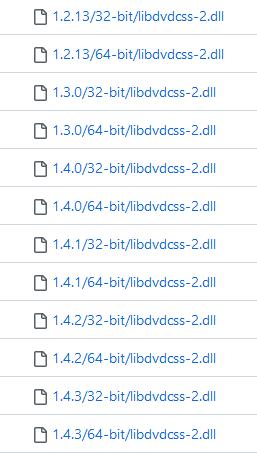 After you download libdvdcss-2.dll, you should move it to your HandBrake installation folder (usually C:\Program Files\HandBrake) and rename it to libdvdcss.dll.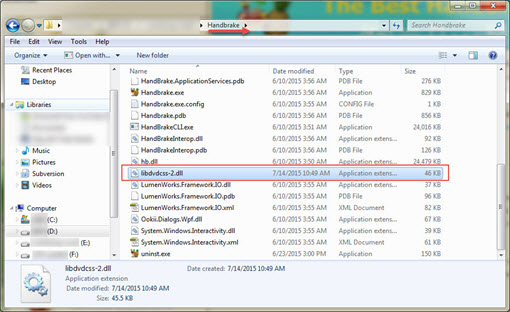 Mac OS X Yosemite or older users should download libdvdcss.pkg and then click it to install. The steps to install libdvdcss on macOS EI Capitan and later are more complicated because of a security feature called System Integrity Protection. After research, we find a few ways to install libdvdcss on macOS EI Capitan and later:
Disable SIP.
Make use of Homebrew to install libdvdcss.
Download libdvdcss zip file compiled by Softpedia's team.
Softpedia's team has compiled the libdvdcss library from source so that users don't need to manually configure, build, and install the library via the command line. It' really easy. This method has been proved to be able to work on OS X El Capitan, macOS Sierra and macOS High Sierra.
Simply download the zip file, unzip the libdvdcss_1.4.2.zip file to the Downloads folder. Now, you get two options.
Option one - double click on Auto_install.command
Option two - run these commands in a Terminal window: sudo mkdir /usr/local/lib/   sudo cp ~/Downloads/libdvdcss_1.4.2/libdvdcss.2.dylib /usr/local/lib/libdvdcss.2.dylib
That's it.   
Step 2. Import DVD into DVD drive and HandBrake.
Firstly, insert DVD into your computer's DVD drive. Next, open HandBrake and then you'll be required to select source file. Just select the DVD you inserted.
Step 3. Select the content you want to convert.
Specify which title(s) you want to extract from the DVD.
Step 4. Choose output format.
HandBrake comes with dozens of presets to meet the most common needs. You can simply choose one. Alternatively, you can create your own preset.
Step 5. Specify destination to save the output file.
Click the Browse button at the bottom right to specify the store path for the resulting file and enter a file name.
Step 6. Start removing copy protection from DVD.
Click the Start Encode button at the top menu bar to begin removing DVD copy protection and ripping DVD to specified format. Method 4. Removing Copy Protection from DVD with VLC
VLC is not only a DVD player, but also a DVD ripper. Since libdvdcss which we have introduced in part 2 is inside VLC, you can use VLC to remove CSS copy protection mechanism from DVD. Now, let me show you how to rip copy protected DVD with VLC.
Step 1. Open DVD.
Insert DVD into disc drive. Next, open VLC, click Media and then click Convert / Save...
On Open Media window, click Disc tab, and make sure the DVD you want to rip is selected in Disc device.
Step 2. Select content.
On Open Media window, select title, audio track, subtitle track, and click Convert / Save.
Step 3. Choose output profile.
On Convert window, choose output profile from the preset options or create your own.
Step 4. Try removing copy protection from DVD.
Click Browse to specify destination folder, and then hit Start to begin ripping DVD to a digital file without copy protection.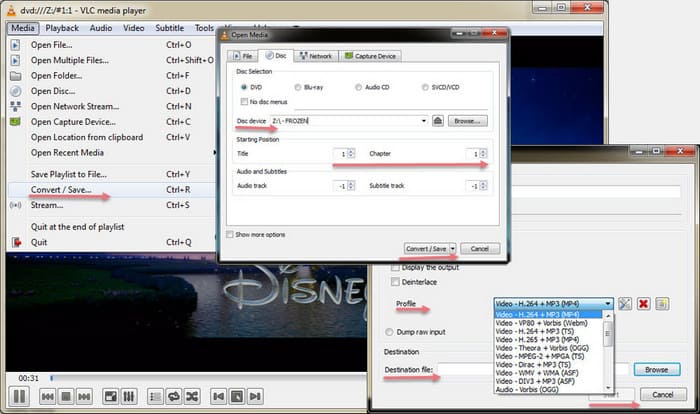 Method 5. Removing Copy Protection from DVD with AnyDVD
AnyDVD is different from other programs we mentioned above. Instead of bypassing DVD copy protections and exporting a copyright free copy, AnyDVD helps you access the content of a movie DVD or Blu-ray. It removes restrictions of DVD and Blu-ray automatically in the background. With AnyDVD enabled on your computer, all programs can handle copy-protected DVD and Blu-ray media.
How to use AnyDVD?
Step 1. Download and install AnyDVD.
Make sure your computer meets AnyDVD's system requirements:
A Windows compatible PC with minimum 2 GHz Processor and 1 GB RAM
Windows XP 32/64bit, Windows Vista 32/64bit, Windows 7 32/64bit, Windows 8 32/64bit, Windows 10 32/64bit
Step 2. Enter your license key.
You can request a 21-day trial or buy one. It charges 59.00 EUR for 1 year, 75.00 EUR for 2 years, 89.00 EUR for 3 years, and 109.00 EUR for lifetime.
Step 3. Enable AnyDVD to remove DVD copy protection.
Right click on the AnyDVD notification icon in the lower right corner of the Windows task bar will open the AnyDVD HD status Window, which tells you all about the disc AnyDVD HD is dealing with at the moment. To remove copy protection from DVD, make sure Enable AnyDVD is checked.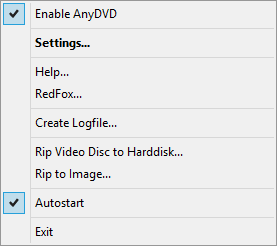 Part 2. List of Most Common DVD Copy Protection Schemes and How Do They Work
▪ CSS (short for Content Scramble System) utilizes a proprietary 40-bit stream cipher algorithm to restrict DVD-Video access. This digital rights management (DRM) and encryption system is employed on many commercially produced DVD-Video discs.
▪ APS (Analog Protection System): This DVD copy protection system is also known as Copyguard or Macrovision. It adds pulses to analog video signals to negatively impact the AGC circuit of a recording device so the images on copied DVDs becomes garbled and unwatchable.
▪ DVD region codes restricts region where DVD disc can be played by matching region number with configuration flag in DVD players. Although we can change the region on our DVD drive, there is a limit to how many times the region can be changed.
▪ RCE or REA: It is also known as region-code enhanced. It is a retroactive attempt to prevent the playing of one region's discs in another region, even if the disc was played in a region-free player.
▪ UOP (user operation prohibition): A form of use restriction to prohibit the viewer from performing a large majority of actions during sections of a DVD using most DVD players. It is used mainly for copyright notices or warnings, such as an FBI warning in the United States.
▪ Sony ArccOS (Advanced Regional Copy Control Operating Solution): A copy-protection system designed as an additional layer to be used in conjunction with CSS. The system deliberately creates corrupted sectors on the DVD, which cause copying software to produce errors.
▪ CPRM (Content Protection for Recordable Media): This copy protection scheme has largely been restricted to the Japanese market. Special CPRM-compatible recordable media are required, with each disc including a unique Media ID inscribed as a bar code in the inner hub area. When a CPRM-compliant recorder detects compatible media, it uses the unique Media ID on the disc to encrypt the data it records to the disc. The recorder will also write a block of data called the Media Key Block (MKB) which is used to decrypt the disc. If the disc is copied, the Media ID on the new disc will be different and the recorded data will not decrypt correctly.
▪ Disney X-Project DRM (99 titles copy protection): This is when the disc title structure has been messed up with multiple erroneous angles, 99 titles and video file references. There are 99 titles, among which some titles have similar video length and size, but only one is the right title for proper playback. This protection confuses DVD rippers and induces them to select the wrong title to rip. As a result, we will find the movie is out of order or the movie is way too short. And even if one manages to rip a movie, it may result in a 40GB or 60GB file or file structure.
▪ TAGES: Tages is not only employed on software products, but also CD and DVD discs. Its method of protection is described as twin sectors which are sectors with same logical address but different data. Twin sectors may be hard to read in order to copy but are easy to write. Part 3. Frequently Asked Questions
How to tell if a DVD is copy protected?
You can check your DVD box or the disc, and see if there's a copy protected icon on it. Another way to tell whether a DVD is encrypted is to make use of a third-party tool. Some DVD ripping programs will show whether the disc has encryption or not and which copy protection it has. For example, WinX DVD Ripper will pop up a prompt when a disney encrypted DVD is imported. Actually, nearly all commercial DVDs are copy protected.
What is the best DVD copy protection removal software?
In this article, we've explained how to remove DVD copy protection with WinX DVD Ripper, HandBrake, and VLC. Both HandBrake and VLC rely on libdvdcss to decrypt DVDs protected by CSS, while WinX DVD Ripper can bypass CSS, region code, RCE, UOPs, Sony ARccOS, and more copy protection schemes on its own. To sum up, WinX DVD Ripper is the best software to remove DVD copy protection on Windows and Mac.