How to Burn Video_TS to DVD within a Few Clicks
Video_TS folder cannot be played directly on regular DVD player sometimes. This article will discuss how to burn Video_TS files or folder to DVD easily for playback, for collection, or any other use. The job can be done with a few easy click quickly. Use the steps below to burn Video_TS to a DVD. Menu, chapter, subtitle etc. files can be burned to a DVD perfectly.
Get the job done in easy steps:
Download video_ts to DVD burner.
Insert a blank DVD.
Add your Video_TS folder.
Burn Video_TS folder to DVD.
Part 1. Steps to Burn Video_TS to DVDs Easily and Quickly
Step 1. Download the Best Video_TS Folder to DVD Burner - WinX DVD Author
WinX DVD Author enables users to burn all kinds of videos, including Video_TS, ISO, MP4, MKV, MPEG etc. to DVD for smoothly playback on regular DVD player or permanently collection of your memories on discs. To burn Video_TS folder to DVD-5 / DVD-9, it can reserve the original DVD menu, chapter, subtitles and other elements. Free download WinX DVD Author to start burning DVD from Video_TS right now:
Tips: If you want to rip DVD disc, ISO image, or DVD folder to MP4, MPEG2, AVI, WMV, MOV, and other digital formats, WinX DVD Ripper Platinum is the way to go.
Step 2. Insert a blank DVD.
After you download WinX DVD Author on your computer, launch it. And then insert a blank DVD into your drive. It allows both DVD-5 and DVD-9. Choose the proper one according to your Video_TS folder size.
Step 3. Add your Video_TS folder.
Click "DVD Disc Burner" to access the DVD burning interface, and click "DVD Folder" to import your Video_TS folder that you want to burn it to DVD.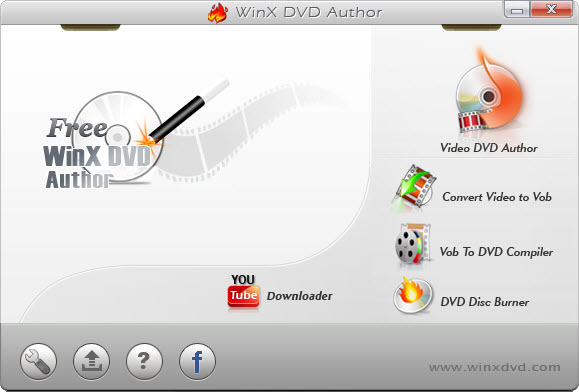 Step 4. Burn Video_TS Folder to DVD.
As Video_TS folder keeps the DVD info like menu, chapter, subtitle etc. intactly, you don't have to make them additionally. Just click

button to start burning video_ts to a playable DVD.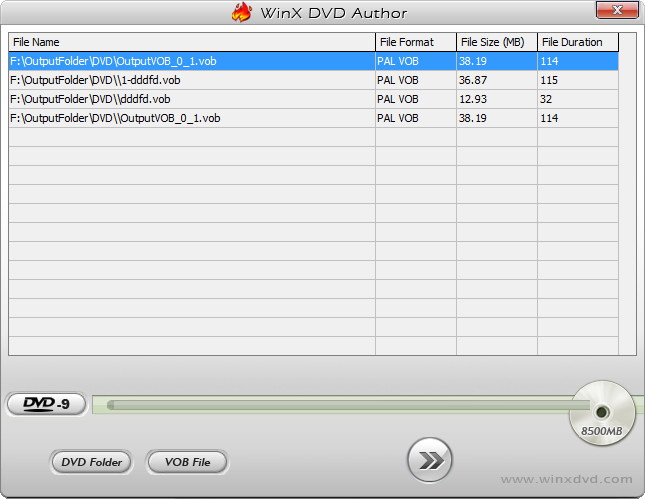 Besides Video_TS, WinX DVD Author also allows you to burn other digital video formats to DVD. It allows you to make home video DVD with personalized DVD menu, subtitle, and other elements. By doing that, you can store your memories of graduation, wedding or other significant moments into DVD disc permanently.
Also check: 2022 Top Free DVD Burner Software for Windows
Part 2. More Info about Video_TS
Video_TS is also kown as a Video Title Sets directory. It stores all data for the DVD-Video. A video_ts folder includes three kinds of files: Video_TS.IFO, Video_TS.BUP, and Video_TS.VOB.
Video_TS.IFO is a file of backup information, such as DVD chapters, DVD menu, subtitles, audio tracks, etc. This file stores all the control and playback information of the video, like how many volumes there are and what data should be loaded first.
Video_TS.BUP is the exact copies file of the IFO files, which help to play the DVD video correctly even if the IFO files cannot be read properly. It is part of Video Manager.
Video_TS.VOB is the first-play Video Object of the DVD-Video disc stored in the VIDEO_TS directory. It is the file that contains the video & audio data - the main parts of a DVD, subtitles, and other data. It has a .vob filename extension and can contain H.262/MPEG-2 Part 2 or MPEG-1 Part 2 video, MPEG-1 Audio Layer II/MPEG-2 Audio Layer II audio, linear PCM, AC-3, DTS audio, and subtitles.
Part 3. FAQs about Burning Video-TS Folder to DVDs
1. What is Video_TS folder burning a DVD?
The VIDEO_TS folder includes DVD video data and playback information, like the .VOB (video object), the .IFO(information), the .BUP(backup) files. The .VOB files contain the majority of the DVD data, such as video and audio data. The. IFO files have basic DVD information, and the .BUP files are the copies of the IFO files.
2. How do I play TS files on a DVD?
There are several ways to play a TS files on a DVD. You can use a DVD ripper tool like WinX DVD Ripper to play the files on your computer easily. It's also popular to burn the VIDEO_TS files to a DVD for playback. Some third-party software supports the Video_TS files playback on PC as well. VLC Media Player is recommended for playing TS files on PC.
3. What format do I need to burn a DVD to play on a DVD player?
DVDs can store videos in the standard MPEG-2 format (aka H. 262) and MPEG-1. DVDs contain Video_TS and Audio_TS. The Video_TS contains .IFO, .BUP, and .VOB. The VOB can be encoded in MPEG-2 Part 2, MPEG-1 Part 2, Linear PCM, AC-3, DTS audio, etc. in different sampling rate, channels, and bit rates. The maximum bitrate of the audio and video is 10.8 Mbit/s.