Best 7 Free MP4 to DVD Converters: Create a DVD from MP4 Files
Learn easy steps to burn MP4 video files to DVD with high quality in a few clicks with clean freeware on Windows 10, 8, 7.
Q1: I have many MP4 videos. How can I make DVDs with those MP4 videos? Is there any simple and fast way? I want excellent quality DVDs. Of course freeware is the best.
Q2: Hey all, Windows 7 had a built in DVD maker that was very helpful in burning video (.mp4) files to DVD, but the program is not supported in Windows 10. DVD burned from the media player app cannot be played on normal DVD players. So do I need software that can properly burn video files to disk? If so, any recommendation here?
Either shooting or collecting interesting videos is a great joy. Then how do you deal with those videos that take up lots of space on your hard disk? Uploading to cloud service or compressing video file size? Burning video to DVD is another choice of better safety and quality.
From Vista to Windows 7, all Windows users are able to create DVDs from MP4, AVI or other video formats with Windows DVD Maker. While this utility was unavailable since Windows 8. This means you have to turn to a third-party DVD burner to convert an MP4 to DVD. Now let's check how to burn MP4 to DVD disc on Windows 11/10/8/7 step by step.
Part 1: Best Free MP4 to DVD Converter for Windows (10): Features and Guide
The best free MP4 to DVD converter for Windows 11/10/8/7 is WinX DVD Author. As a free, clean, and feature-rich program, it has been recommended by Techradar (THE SOURCE FOR TECH BUYING ADVICE), Software Testing Help, The Tech Lounge, and many sites. With this tool, you can fast and easily convert MP4 movies and files in other formats to blank DVD+/-R or DVD+/-RW for playing on home DVD player.
Main features:
Create DVD from MP4, MKV, MOV, AVI, WMV, FLV, VOB, and almost all formats. Videos in different formats can be burned to a DVD.
Allow creating custom DVD menu with favorite background, icon, and music.
Keeping or removing original subtitles is totally depends on you. And, it also allows you to add external subtitle track.
Allow users to burn DVD with desired quality and speed by setting encoder engine.
Will not put watermarks on the output.
Let's free download this DVD burning software for Windows and follow the steps below to convert MP4 to DVD.
How to Convert MP4 to DVD on Windows 11/10/8/7?
Step 1: Run WinX DVD Author
After you get WinX DVD Author on your computer, insert a blank DVD, and double click on the icon of WinX DVD Author to run it. On the main interface, please click "Video DVD Author" button to enter second step. Several other options are also given here to meet more of your needs.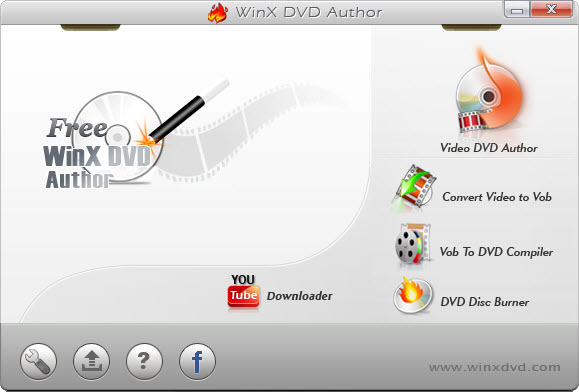 Step 2: Set up source MP4 video files
Click the Add Files (+) button or simply drag and drop to add MP4 videos into the source list. You can add more than one MP4 video at one time if you need.
Right click the source clip and you can find the options to move up/down, delete source video, add subtitle file, etc in the list.
Then click the >> button to enter the next step.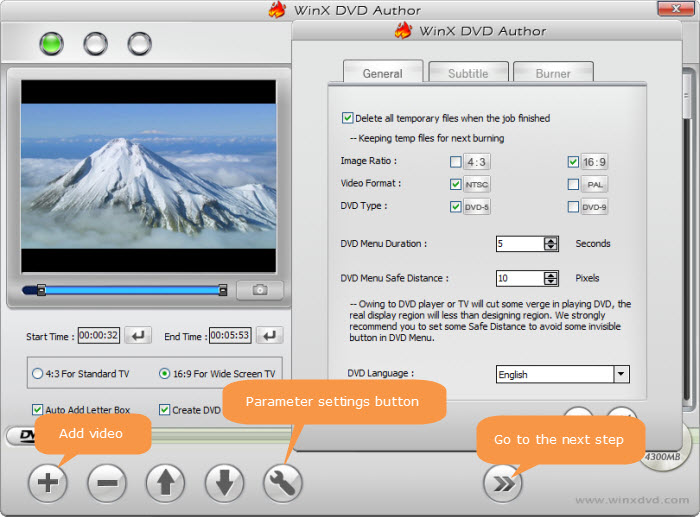 Step 3: Create DVD menu and chapter menu to personalize your DVD
1. You can choose background picture in the list or use your own picture to personalize your DVD background by clicking

.
2. Create title menu: Double click "Title Menu" then you can change the picture of title menu. Click

to add text for the title menu then double click to edit.
3. Create chapter menu: Click "Chapter Menu" to create chapter menu for selected clip in preview area. Click

to add text for chapter menu then double click text to edit it.
4. Add background music by clicking

.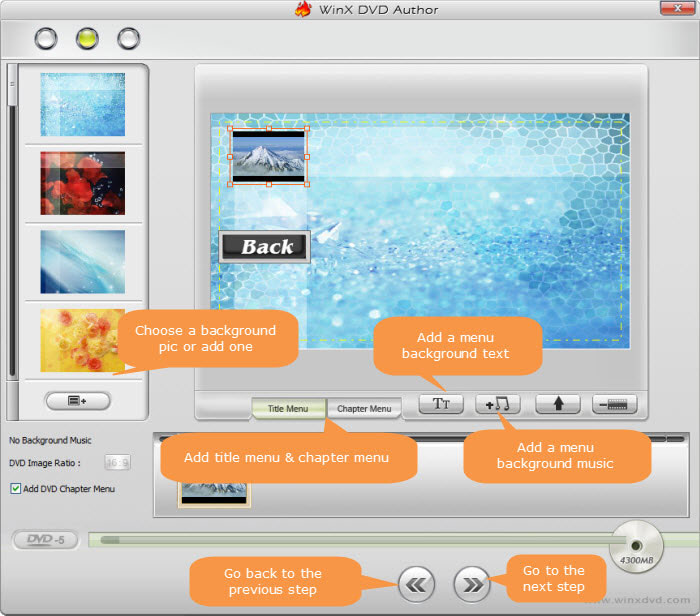 Step 4: Build the DVD
Choose the output folder -> Select writable DVD Driver -> Select the output DVD format -> Click "Start" button to begin the MP4 to DVD conversion and burning task.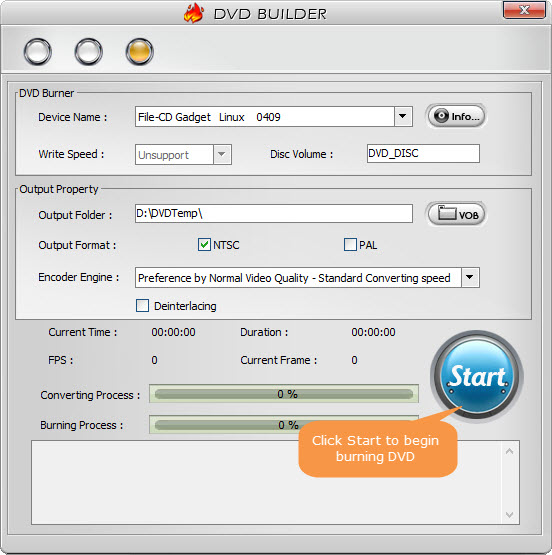 With only several simple steps, WinX DVD Author could help you burn and convert video to DVD fast and easily.
Video Tutorial on How to Use WinX DVD Author
Note: DVD is still unportable compared with its digital format VOB. You can choose to convert to VOB file for later burning to disc, here is the complete solutions for you to convert MP4 to VOB format.
Part 2: Other 6 MP4 to DVD Converter Software to Try
WinX DVD Author is the best free MP4 to DVD burner for Windows, but not the only option. If you want to know more choices, keep reading.
1. DVD Flick
This is a free open soure DVD author compatible with Windows only. It can convert videos to a DVD for playing on DVD player, media center or home cinema set. It claims to support 45 file formats, 60 video codecs, and 40 audio codecs. From the supported format list, we find MP4. This means that you can make use of it to convert MP4 to DVD on Windows. It can run on Windows 2000 Professional, or any edition of Windows XP, Windows Vista or Windows 7. Since it hasn't been updated for more than 10 years, it may be unable to work perfectly on Windows 10 and 11. Anyway, try it if you love it. There is no adware, spyware, limitations, or watermark.
Features:
Add DVD menu for easy navigation.
Add additional custom audio tracks.
Add subtitles in MicroDVD (SUB), SubRip (SRT), Substation Alpha (SSA/ASS), and SubView format.
Read AviSynth script.
Rely on FFMPEG to decode the many file formats and codecs it supports.
Download DVD Flick to try converting MP4 to DVD>>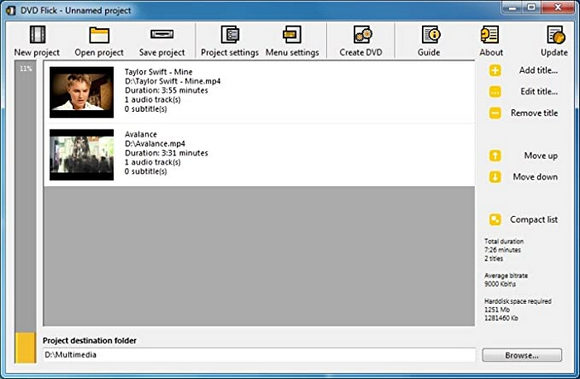 2. DVDStyler
If DVD Flick can't satisfy you, take a look at DVDStyler. This is also a free open source DVD authoring program, but provides more options. Different from DVD Flick, this MP4 to DVD converter is still being updated and built for multiple platforms. It has been updated to version 3.2.1 on 2 Novermber 2021 coming without adware or spyware.
Features:
Support a wide range of file formats, such as MP4 and MKV.
Create interactive DVD menus with ease, thanks to the predefined menu templates.
Design your own DVD menu with favorite images, buttons, text, and graphic objects.
Add audio and subtitle tracks based your own needs.
Create photo slideshow.
Support multi-core processor.
Download DVDStyler to burn your MP4 movies to DVD>>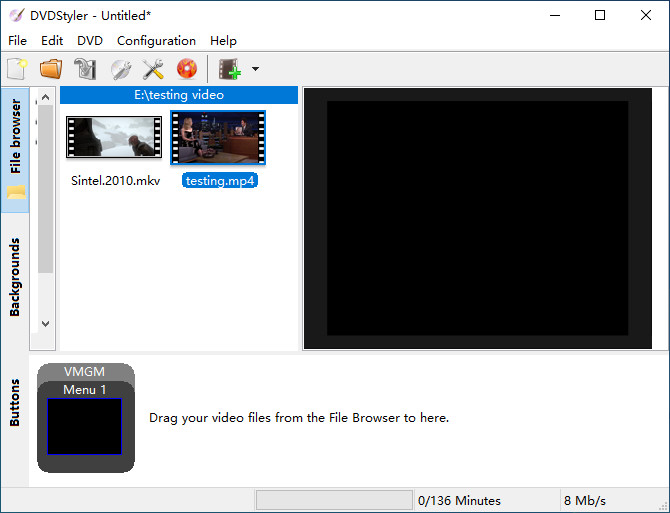 3. AVStoDVD
This is the third free open source MP4 to DVD converter we want to introduce to Windows users. It is compatible with Windows 7, 8, and 10. This tool can convert various media formats such as MP4 to DVD compatible streams and burn them into a DVD using ImgBurn.
Features:
Add multiple subtitle and audio tracks.
Customize DVD menus.
Use AviSynth to process video and audio editing.
Use QuEnc/HCenc/ReJig/FFmpeg to process video encoding.
Use QuEnc/FFmpeg/Aften/Wavi to process audio ending.
Use SubtitlesCreator to encode subtitles.
Use MuxMan/BatchMux to author DVD.
Use ImgBurn to create ISO image and burn DVD.
Try AVStoDVD to convert MP4 to DVD>>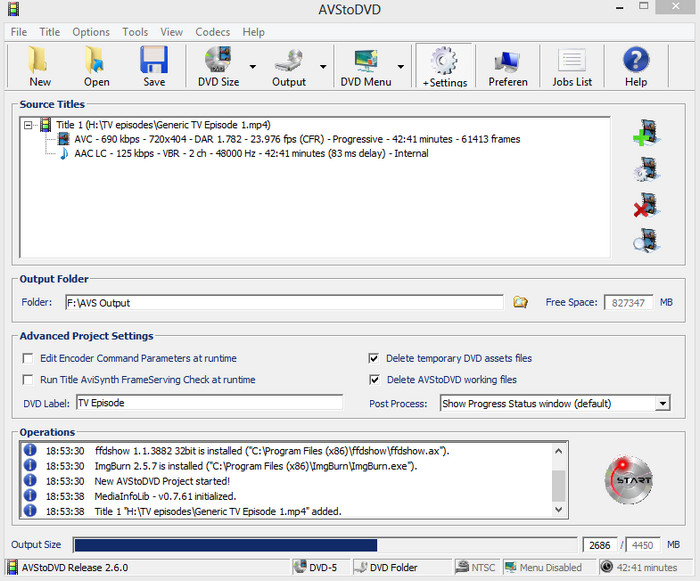 4. ConvertXtoDVD
ConvertXtoDVD was previously named DivXToDVD. It can not only convert DivX to DVD, but also convert MP4, MKV, MOV, and more into a compliant DVD Video set of files and burns it on a DVD media. You can use this tool to convert MP4 to DVD on Windows 7/8/8.1/10. No mac version is available. Unlike the above MP4 to DVD burners, ConvertXtoDVD is trialware. It provides 7 days full trial but the trial version will put watermark on your output. The full version is priced at $44.99.
Features:
Create chapters automatically. Also allow editing your own.
Offer pre-made menu templates and permit customizing menu.
Burn video to DVD with soft or hardcoded subtitle.
Provide video editing options: merge, cut, pad, crop, rotate, add copyright/watermark, and sync video/audio/subtitle.
Support hardware decoding and multi-core to improve conversion speed.
Check how ConvertXtoDVD converts MP4 to DVD>>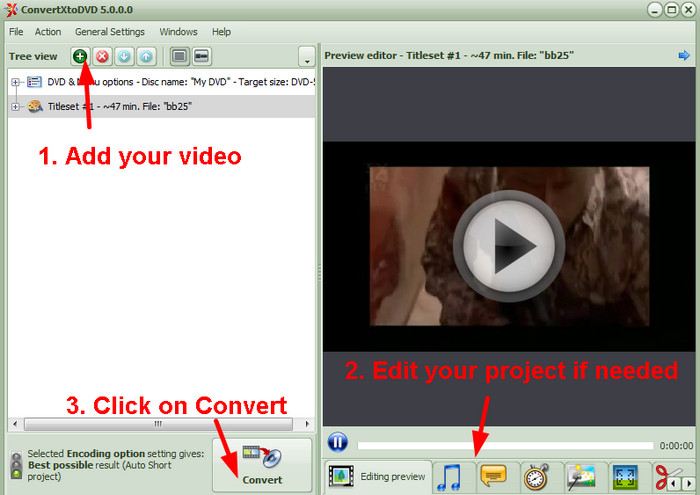 5. Freemake Video Converter
Freemake is a freemium tool for Windows. It was initially released in 2010 and last updated 23 December 2020. In spite of its name, it is more than a video converting program. It can do many things. It can convert between video formats, extract audio from video, rip DVDs and Blurays, create photos slideshows and music visualizations, perform basic video editing, as well as burn videos including MP4 files to DVD and Blu-ray discs. Now let's explore the features of Freemake's built-in DVD burner.
Features:
Turn videos in MP4, AVI, MKV, and others to DVD and Bluray.
Support DVD-R, DVD+R, Blu-ray, Double Layer DVD, and rewritable data discs.
Provide video editing features: trim, crop, flip, and rotate.
Offer creative menu templates and also allow customizing menu.
Allow adding external subtitles.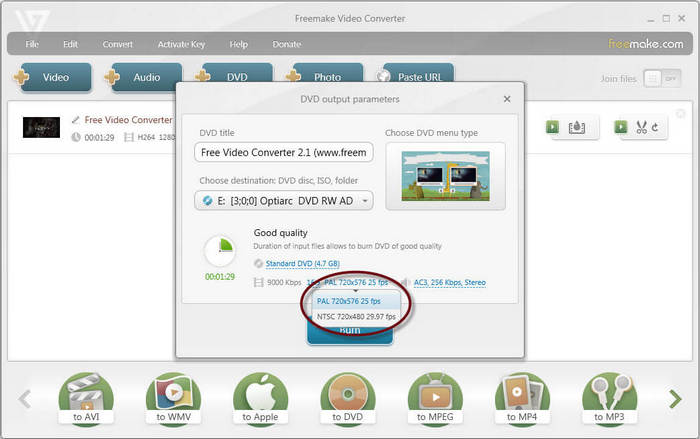 6. DVDVideoSoft Free Video to DVD Converter
DVDVideoSoft Free Video to DVD Converter is free and easy to use. This lightweight and clean tool can work on PC with old-fashioned and newly released Windows operating systems. It has a straightforward user interface so that users can use it to convert MP4 to DVD without hassle.
Features:
Compatible with a bunch of video formats with MP4 included.
Allow importing and converting several video files into a DVD.
Create an interactive DVD menu automatically.
Estimate the output size.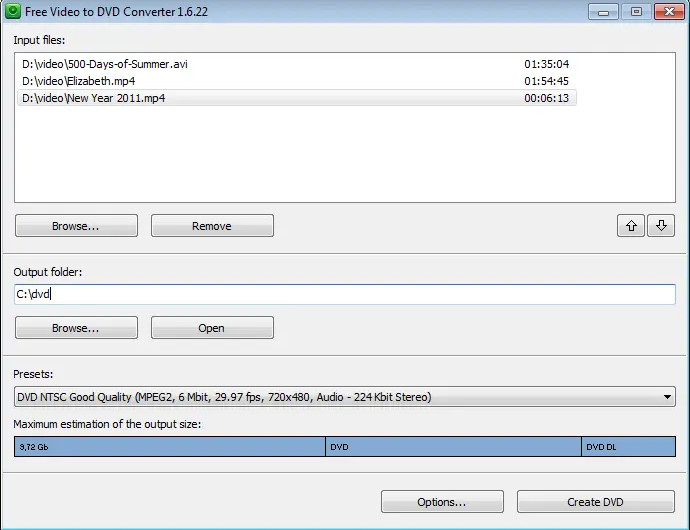 Part 3: FAQs about Converting DVD from MP4
Q1: Can I convert MP4 to DVD with Windows Media Player?
A1: Yes and no. Windows Media Player allows you to burn MP4 to a data DVD disc. If you want to burn MP4 to video DVD discs, you need a professional DVD burner as well.
Q2: Can MP4 files be played on DVD player?
A2: Higher-end DVD players are able to handle WMA and MPEG-4 video discs, and JPEG photo discs. But ordinary DVD players usually only recognize DVD+R and DVD-R.
Q3: Can Windows 10 convert MP4 to DVD?
Windows DVD Maker isn't supported on Windows 10. Thus you cannot create MP4 from DVD natively. Instead, you have to search for a 3rd party app to create DVD-Video discs compatible with home-theater components.
Q4: How to burn MP4 to DVD with HandBrake?
HandBrake comes without burning feature. So it cannot convert MP4 to DVD.
Q5: How to convert MP4 to DVD with VLC media player?
VLC also lacks DVD burning feature. Don't expect it to create a DVD from your MP4 files.
Q6: How to burn MP4 file to DVD+R?
You can try WinX DVD Author. This free MP4 to DVD converter is fully compatible with DVD+/-R, DVD+/-RW, DVD DL+R, DVD DL+/-RW. You can follow the guide above to convert MP4 to DVD+R.
Q7: How to burn MP4 to DVD and keep subtitles?
WinX DVD Author will not remove your subtitles. It keeps the subtitles by default. And, it also allows users to add external subtitles. Download it to have a try!