Top 11 Free DVD Burning Software for Windows (10/11/8/7)
To preserve recorded videos, collect favorite online videos into one album, or make a backup copy of a new purchased DVD, you may need to burn them to rewritable DVD discs. But which is the best DVD burning software?
A good DVD burner should possess the following characteristics: ease of use, fast disc burning speed, powerful features, and stable performance. Based on the 4 factors, users' feedback, professional reviews, and questionnaires, we have sorted out the top 11 free Windows DVD burning software to burn DVD on Windows 11, 10, and other systems.
Tips: if you want to burn DVD to computer and convert DVD (homemade or commercial copy-protected DVD) to digital MP4, H.264, HEVC, AVI, MP3, or PS4/5, Xbox, iPad, iPhone, Android tablets/phones for safe backup and flexible playback, you can try WinX DVD Ripper (no libdvdcsss needed). SAVE $15 NOW!
Part 1. Best 11 Free DVD Burning Software for Windows 7/8/10/11
Best free DVD burning software for Windows without watermark
Compatible OS: Windows 11, 10, 8.1, 8, 7, Vista, XP
File size: 10.6 MB
Released in 2006, WinX DVD Author is a 100% clean and free Windows (10) DVD burning and authoring application. It enables users to free burn video files in VOB, MP4, WMV, AVI, MKV, M2TS, MPEG2, WebM, FLV H264, HEVC, and other video formats to DVD with highest possible quality. This free DVD burner can also convert almost any video to DVD VOB for later compiling to DVD folder. Also it's a no brainer to burn VOB file to DVD or write DVD-Folder to DVD disc. And it will create DVD disc at multi-core CPU (up to 8), roughly 5 times faster than ordinary DVD writing software.
This free DVD burning software gives users full control over aspect ratio, video length, file size, video type (NTSC or PAL), DVD Type (DVD-5 or DVD-9), menu and subtitle settings. Users can freely set the start/end time to cut the unwanted parts, like warnings, trailers, ads, titbits before burning to DVD, and can author chapter menu and subtitle with international languages, such as French, German, Japanese and Chinese. The built-in video compression engine will resize videos larger than 4.7 or 8.5G to seamlessly fit your disc storage with no quality loss.
As a piece of totally stand-alone and safe DVD writing software for Windows 7/8/10/11, WinX DVD Author has a clean installation pack without hiding any confusing plug-ins or malicious software.
Key features:
Burn video to DVD with menu and subtitles.
Convert video to VOB.
Produce DVD folder on hard drive.
Burn DVD folder or VOB files to DVD disc.
Trim video.
Add external subtitle.
Pros:
100% free and clean. No watermark.
Accept various video formats.
Rich feature set.
Cons:
Can't support burning data DVD.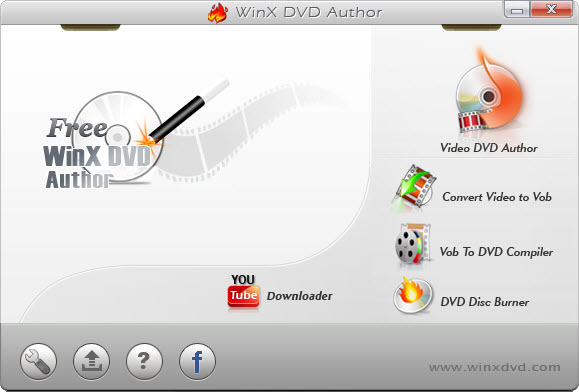 Create CD, DVD and Blu-ray of all types, including M-Disc
Compatible OS: Windows 11, 10, 8.1, 8, 7, Vista, XP
File size: 22.7 MB
This DVD burning software was released a year after WinX DVD Author. Its first version was released on December 21, 2007. Now, it's still being updated. The latest version is 16.3, released in February 2023, coming with Windows 11 theme and new icon, updated translations, improvements to user interface and program performance, and fixes to bug with setting %disc% parameter in Span Disc and Data Disc compilations.
BurnAware has three versions: Free, Premium, and Professional. BurnAware Free comes with the most commonly used disc burning tools and can meet the needs of most home users.
Intuitive BurnAware Free edition can burn DVD-Videos, audio CDs, standard and bootable data CDs, DVDs, and Blu-ray discs. It can convert CDs, DVDs, Blu-ray discs to disc images. What's more, it is available to create and burn standard and bootable ISO images. Other features such as burning files across multiple discs (span disc), extracting files from ISO Images, and copying disc to disc using direct copying are only available for paid versions. Both Premium and Professional versions offer 10-day free trial.
Be careful while trying to download BurnAware Free from its official site, because there is ad with download button. You should click the Download button on the navigation bar and then you'll find the correct Download button for BurnAware Free. However, the download will not begin immediately. It will jump to third-party site – fileforum and then starts downloading.
Key features:
Burn standard, bootable and multisession discs   
Burn Audio CDs, MP3 Discs, DVD-Videos, BDMV 
Make and burn standard and bootable ISO Images       
Copy CDs, DVDs, Blu-ray discs to Disc Images
Pros:
Simple to use.
Low CPU usage.
Can write over already-used discs.
Cons:
Some advanced features are only available on paid version.
Require the installation of .NET Framework.
Read user reviews for BurnAware Free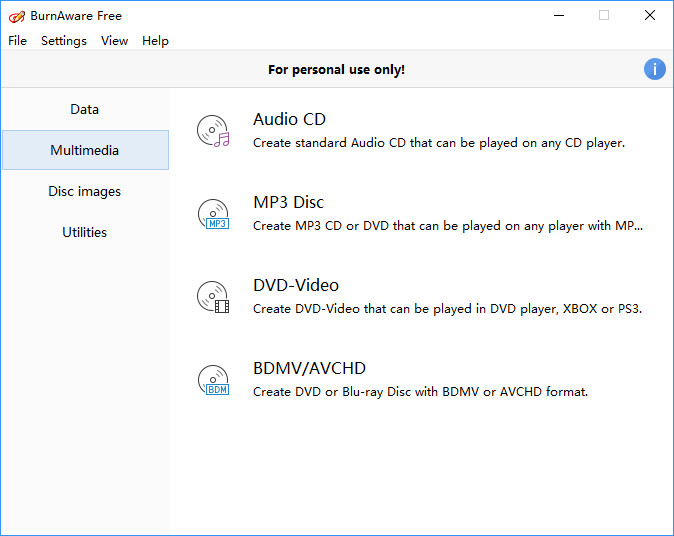 A free tool to burn CD, DVD, and Blu-ray on Windows
Compatible OS: Windows 11, 10, 8, 7
File size: 61.6 MB
Ashampoo Burning Studio FREE is a versatile DVD burner for Windows 11, 10, 8, and 7. It is available to burn videos and data to DVD or Blu-ray discs, and burn audio CDs. Rewritable discs can be erased for reusing. Ashampoo offers customizable disc burning settings.
Apart from disc burning, Ashampoo can also extract audio files from CDs. Users don't need to name the resulting file manually because it can detect the song and album automatically. Available output audio formats include MP3, WMA and WAV.
Ashampoo is free to use, but you are required to submit your email address to get a license key. And to get even more features, you need to upgrade to Ashampoo Burning Studio 23 which is currently priced at $49.99.
Key features:
Burn CD, DVD, and Blu-ray.
Extract audio from CD.
Backup file with password protection.
Turn CDs, DVDs, and Blu-rays into ISO images.
Pros:
Simple and intuitive navigation.
It covers many functions.
Cons:
Sometimes it crashes with no indication of why.
It creates a shortcut named "Ashampoo Deals" on my desktop without my permission.
Users have to enter a valid email address before they can access the features. The email address may be used to send users ads for its own software.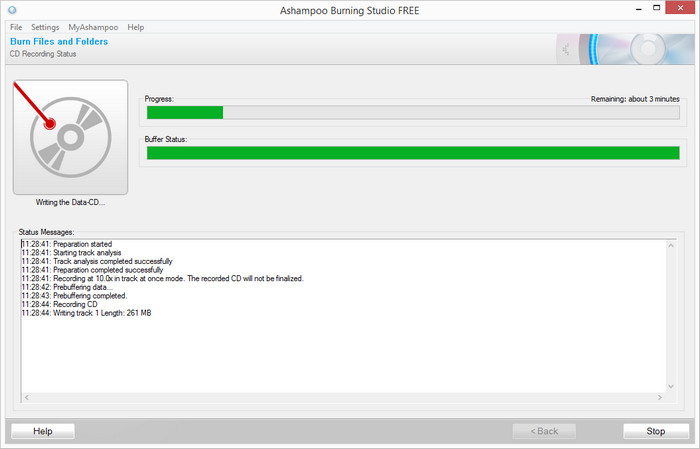 A lightweight free CD / DVD / HD DVD / Blu-ray burning application for Windows
Compatible OS: Windows 10, 8, 7, 2008, Vista, 2003, XP, 2000, NT4, ME, 98, 95
File size: 2.95 MB
ImgBurn is another piece of lightweight free DVD burning software for Windows 10/8/7 in 2023, which is specially designed for burning CD, DVD & Blu-Ray. It is capable of writing images like ISO & files/folders to DVD disc and creating ISO image from DVD disc, files/folders. Also, this free DVD creator can verify and discovery disc for checking if the disc is completely readable and how about burning quality. All features are classified in 5 modes: Read, Build, Write, Verify and Discovery.
ImgBurn also presents a concise interface where you can get its main features. However, its operation is not as accessible as its main interface. You may cost several seconds to get how to add a file source to burn DVD.
Plus, th numerous yet complex options, like Data Type, File Systems, may confuse you if you don't have technology knowledge on multimedia. Although this top free DVD maker is actually powerful on creating DVDs at a high speed, you may be a little bothered with the bundled adware and worried if the adware is safe to your PC.
Key features:
Support a variety of image file formats.
Burn audio CD, DVD, HD DVD, and Blu-ray.
Support Unicode folder/file names.
Pros:
Ease of use.
Lots of optical disc burner features.
Cons:
The ImgBurn installation file is loaded with opencandy.
Audio cd support is buggy.
There is an initial learning curve.
There hasn't been an update since 16th June 2013.
Check user reviews for Imgburn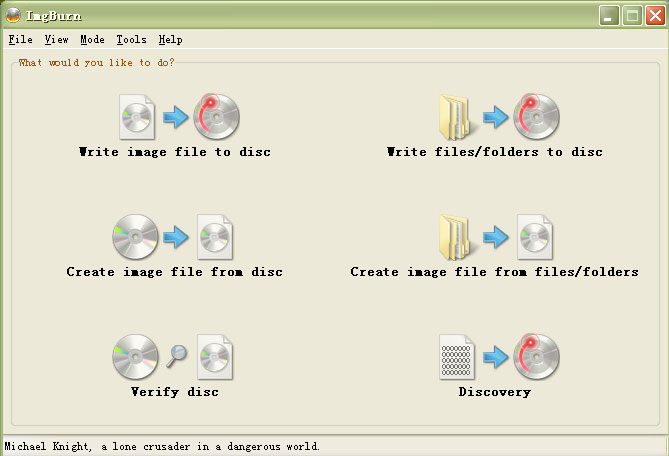 Burn DVDs, HD-DVDs, CDs, and Blu-Rays for free.
Compatible OS: Windows 10, 2012 Server, 8, 7, 2008 Server, Vista, 2003 Server, XP, 2000
File size: 6.11 MB
CDBurnerXP is also free DVD burning software for Windows (10) to burn CD, DVD and Blu-Ray to allow users to copy DVD disc, create ISO from image, burn DVD disc from ISO image/video/audio and erase contents from rewritable medium.
CDBurnerXP has a colorful interface. Also, it lists key features on the main interface to be convenient for users to quickly find what they want. To be frank, it can be easier in conducting than ImgBurn but a little complicated than WinX DVD Author.
Click Data disc to enter Data compilation; then you may need a guide or have several tests to get the hang of contents it displays. In addition, CDBurnerXP requires you to install Windows .NET Framework on your PC at first because it is mostly written in Visual Basic .NET. For this, some people turn to select other DVD burner software rather than installing .NET Framework with a long-time.
Key features:
Burn data discs.
Create audio-CDs with or without gaps between tracks.
Create ISO files.
Burn ISO files to disc.
Copy audio and data discs.
Erase disc.
Pros:
GUI is very straightforward.
It has portable version.
Support disc spanning.
Cons:
It doesn't allow burning a video file to DVD.
It requires Microsoft .NET Framework.
Check user reviews for CDBurnerXP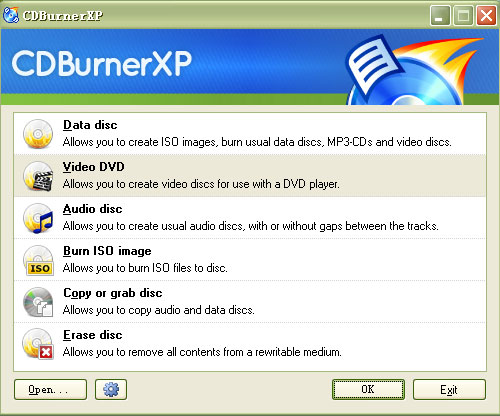 A free DVD and Bluray burning software for Windows.
Compatible OS: Windows 11, 10, 8, 8.1, 7, Vista
File size: 994 kb
Freemake DVD Burner is built into Freemake Video Converter. This DVD burning software allows you to import videos of varied formats, and then burn them to DVD-R, DVD+R, Blu-ray, Double Layer DVD, and rewritable data discs. It provides stylish menu templates for all occasions. Before burning files to DVD, it allows editing video, such as deleting unwanted video parts and black bars, flipping/rotating videos, and adding subtitles.
With the release of 1.1.5, the video system selection (PAL/NTSC) was added. With the release of 1.1.6, the aspect ratio selection was added. The support for Blu-ray video creation and burning wasn't added until the launch of 2.0.0. The updates for Freemake still go on.
But be very careful when you use Freemake, it tries really hard to get you to pay.
Key features:
Burn videos to DVD and Blu-ray discs with menu and subtitles.
Edit videos.
Convert video, audio, and DVD.
Pros:
Simple interface.
Support a variety of video formats.
Besides working as a free DVD burner, it is also a DVD ripper and video converter.
Cons:
It crashes frequently.
It runs slowly.
Ad-support.
It will plant a large logo watermark over your video unless you pay to remove it.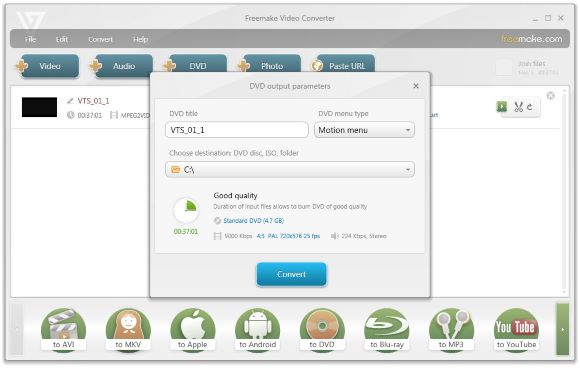 Free data DVD burning software.
Compatible OS: Windows 10, 8, 7
File size: 3 MB
DeepBurner has a Free version and a Pro version. With the free version, you can burn data CDs/DVDs, audio CDs, bootable CD/DVD discs, and create & burn ISO images. Except for these, the Pro version can burn video DVDs, copy disc to disc, burn photo albums, etc. The good news is that the free trial version users can access full features for 30 days without any limitations and without requiring registration or credit.
DeepBurner Free provides very limited options, but it allows users to create disc labels and create a custom autorun menu for the CDs and DVDs.
Note that there is also a portable version for DeepBurner Free which you can download and unzip onto a USB drive and run DeepBurner.exe.
Key features:
Burn data CDs/DVDs.
Burn AudioCDs.
Create and burn ISO images.
Bootable CD/DVD support.
Pros:
No spyware.
Simple and easy to use.
There is a portable version of this free DVD burning software for Windows 7/8/10 to download.
Cons:
Outdated user interface.
Free version can't burn video discs.
It has only a few options.
Check reviews for DeepBurner Free A free open-source DVD burning software for Windows, Mac, and Linux.
Compatible OS: Windows, Mac and Linux
File size: 31.6 MB (32bit); 33.2 MB (64bit)
If you want to burn video DVDs without costing a penny, you can try DVDStyler. This is a free open-source DVD burning software for Windows 10, Mac, and Linux. With this free DVD creator, you can burn video AVI, MOV, MP4, and more to DVD.
Like Freemake, there's a list of DVD menu templates and options to create your own DVD menu. Place buttons, text, images and other graphic objects anywhere on the menu screen. In addition to importing videos, you're allowed to input multiple subtitle and audio tracks, as well.
DVDStyler is still being updated, although infrequently. The latest version is 3.2.1 published on November 2, 2021. This version added the support for font attribute "underline" and "line-through" and fixed audio normalize. To get DVDStyler, simply go to dvdstyler.org and click the button "Download Now DVDStyler-3.2.1". There are ads on the page, be careful not to click the wrong button. If you are running on a 32-bit system, choose DVDStyler-3.2.1-win32.exe. For 64-bit users, choose DVDStyler-3.2.1-win64.exe.
Key features:
Burn DVD with menus you create or select from templates.
Create photo slideshow.
Create DVD with subtitles.
Pros:
Multiple platform support.
Free and open-source.
Come with DVD menu templates.
Cons:
The interface seems antiquated.
Unable to burn audio or data disc.
The installer is bundled with Avast Free Antivirus.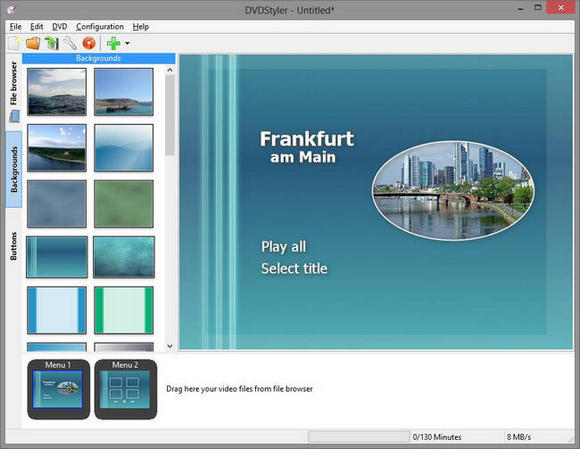 Free CD/Blu-ray/DVD burning software for both home and business use.
Compatible OS: Windows 11, 10, 8.1, 8, 7, etc.
File size: 1839 kb (32bit), 1906 kb (64bit)
This is another free DVD burner specially designed for Windows. It can burn videos to DVD and Bluray, and burn audio files of different formats to audio CD. What's more, it can copy disc to image file, convert image file from one format to another such as from DMG to ISO, rip audio CD to digital audio format, create bootable USB drive, etc.
AnyBurn was initially released in 2012. The initial version only supports burning CD/DVD/Blu-ray disc and making disc image file. And now it has been updated to version 5.5 with so many features available. The last update released on November 22, 2022 adds the support for installing Windows to USB drive and converting audio file formats, and brings some minor bug fixes and enhancements.
AnyBurn is very lightweight. The 5.5 32-bit version of this free DVD burning software for Windows 10/7 is only 1869K and the 64-bit version is just 1937K. And like DeepBurner Free, it has a portable version which doesn't require installation.
Key features:
Burn CD / DVD / Blu-ray.
Rip Audio CD to MP3, FLAC, etc.
Copy disc.
Create image files from hard disk files or discs.
Convert disc image files between various formats.
Create bootable USB drive.
Pros:
Smaller installer.
Completely free for home and business use.
Rich features.
Portable version is available.
Cons:
Drag-and-drop isn't supported.
It works slowly now and then.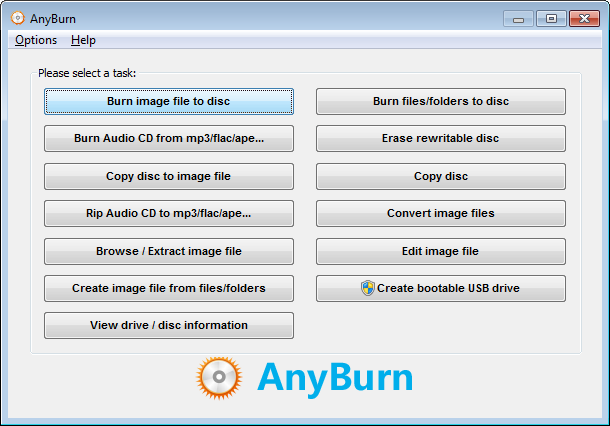 A free CD/DVD burning solution for Windows.
Compatible OS: Windows 7, Vista, XP, 2000
File size: 3.96 MB
InfraRecorder, initially released in 2006, is discontinued CD and DVD burning software for Windows 7 and a few older system versions. Despite that, it is still available to download. InfraRecorder is an open source free DVD writer. It was once recommended by CNET as the best free alternative to commercial DVD burner.
It goes a long way in recording custom data, audio and mixed-mode projects to discs, burning ISO to disc, erasing rewritable discs, creating disc copies, saving audio and data tracks to files, and fixating discs to prevent further data from being added to them, etc.
Key features:
Create data, audio and video disc.
Copy disc.
Erase rewritable discs.
Record disc images (ISO and BIN/CUE).
Fixate discs.
Save audio and data tracks to files.
Pros:
Lightweight and easy to use.
Free and portable.
Support dual-layer discs.
Cons:
Discontinued; outdated interface.
No warning when something goes wrong.
Check reviews for InfraRecorder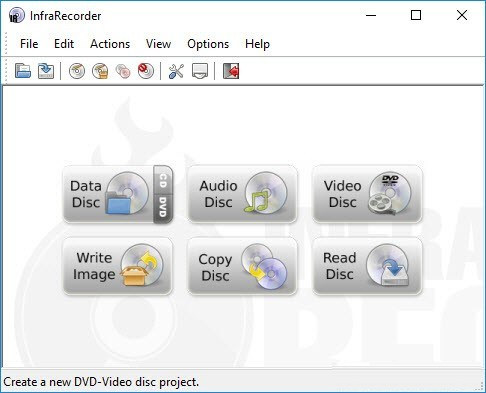 Compatible OS: Windows 10, 8, 7, Vista, 2008, 2003, XP, 2000, 98
File size: 2.5 MB
Burn4Free can also help you burn DVD for free on Windows (10). It is available to burn audio, video, and data files to CD and DVD. It's really easy to work with it. You simply need to add your files and then hit the Burn Audio or Burn Data. Then, Burn4Free will do the rest. In addition to using the "Add" button to add files, you're also offered a fly window onto which you can drag and drop files without opening the program window.
But unfortunately, the interface of this free DVD burning software is riddled with a lot of ads. Many options on the toolbars are actually links to other programs. What's more, it even installs a toolbar automatically.
Key features:
Copy data and audio from different files types.
Burn and save .ISO files.
Pros:
Support two user modes: Easy and Expert.
Support a fly window.
Designed with an auto-shutdown feature.
Cons:
Dazzling interface.
The interface is filled with lots of advertising links.
The toolbar is automatically installed. Part 2. Top Free DVD Burning Software for Windows (10) - Feature Comparison
If you still have questions about how to choose the best one from the best free DVD burners for Windows (10/11/8/7), check the feature comparison table below which may give you some suggestion. Bottom Line
From reviews and feature comparison table, you can find that all the free DVD burning software for Windows 10/11/8/7 are very useful to burn data or kinds of videos like MPEG, AVI, MP4, MKV, to DVD discs. Besides basic DVD writing functions, these programs have oddles of bonus features. Take WinX DVD Author for instance. It can create menu and add subtitle for DVD.

Free Download the Best Free Windows (10) DVD Burning Software - WinX DVD Author
Part 3. FAQs about Burning DVD
1. Does Windows 10 have a free DVD burning program?
Yes. Windows 10 has built-in CD and DVD burning feature in File Explorer and Windows Media Player. For detailed steps, you can read how to burn DVD on Windows.
2. What is the best free DVD burning software for Windows 10?
Although Windows 10 has built-in free DVD burning software, it only provides basic options. The DVD creator software for Windows 10 has been introduced above, such as WinX DVD Author and Ashampoo® Burning Studio FREE. Even some of them also feature the ability to free burn ISO image to DVD, burn audio to CD disc, as well as burn Blu-ray disc. Give them a whirl if needed.
3. How do I burn a video to DVD in Windows 10?
To burn a video to DVD in Windows 10, you can use WinX DVD Author. It is very simple to use.
Step 1. Download and install WinX DVD Author on your Windows computer.
Step 2. Launch WinX DVD Author and click Video DVD Author option.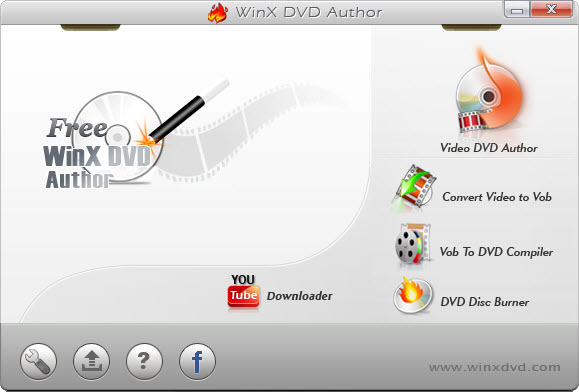 Step 3. Click the + button at the bottom left to import the video files you want to burn to DVD.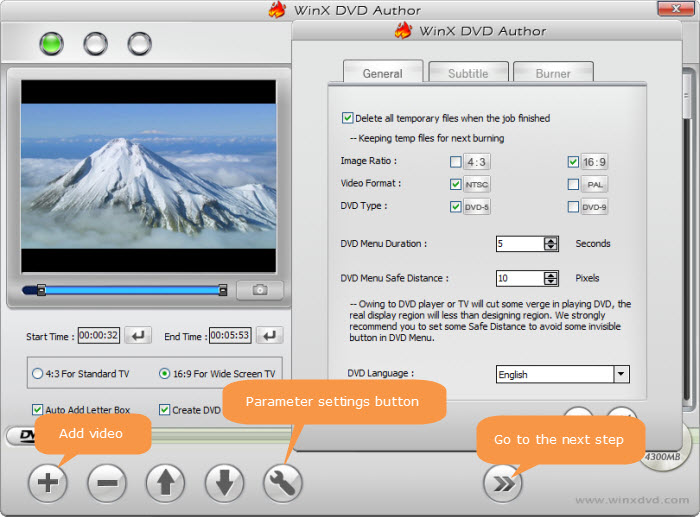 Step 4. Next, you can add subtitle, set subtitle lanugage and font size, specify aspect ratio, trim off unwanted footage, etc.
Step 5. Check Create DVD Menu and click >> button to come to menu creating interface. Once finished, click >> button.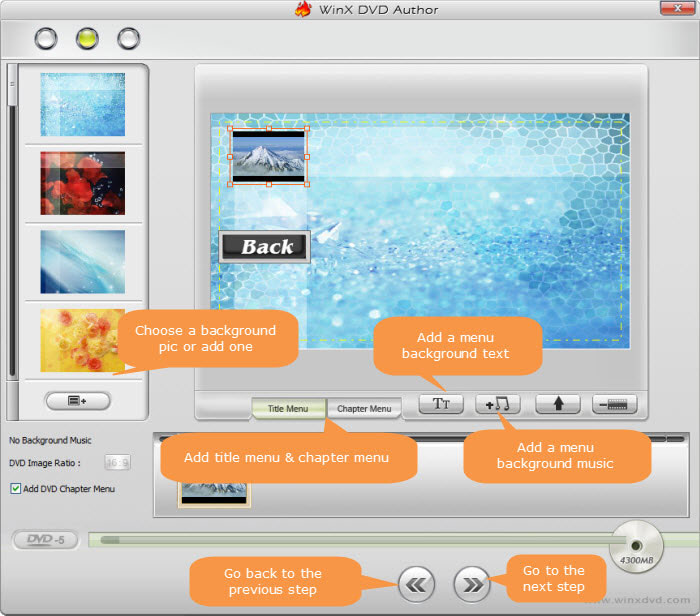 Step 6. Insert a blank DVD, specify output property, and hit Start to begin burning movie to DVD.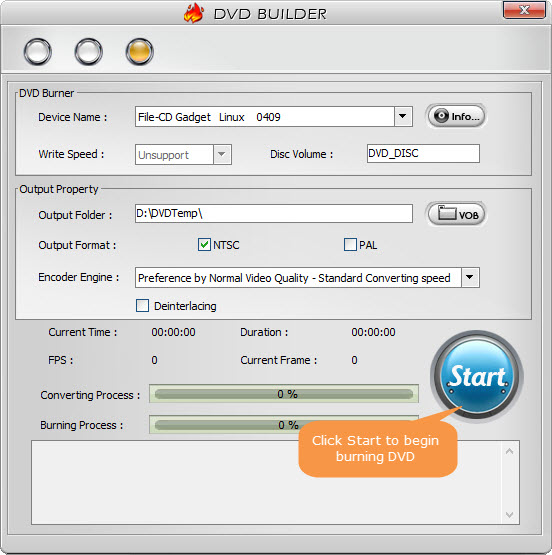 4. Can I burn DVD with VLC media player?
5. Can I burn DVD with HandBrake?
No. HandBrake can rip DVD to digital video but cannot burn DVD from videos.
6. Is burning DVDs legal?
What determines if burning a DVD is legal or not is if the content you are putting on that DVD is copyrighted and whether you are allowed to make a copy of the original medium. It isn't illegal to burn your home movies to DVD discs.
7. What is meant by burn DVD?
Burn is a colloquial term meaning to write content to a CD , DVD , or other recordable disc. DVD and CD drives with recording capabilities (sometimes called DVD or CD burner s) etch data onto the disks with a laser.
8. Does burning a disc damage it?
No. burning a DVD requires reading the disc and then using the read data to burn a copy. This doesn't differ from playing the DVD once and has no effect on the source DVD.
9. Is there any dvd burning service near me?
Yes. Below are some choices.
Digital Media Transfer - DVD Walmart
CD Burning Service – DiscMasters
Discburn
Also Want to Rip DVD to Video?
Use WinX DVD Ripper Platinum. It can copy and rip any home-made and commercial DVDs with removal of copy-protections to MP4, AVI, WMV, MOV, FLV, 3GP, ISO image, DVD folder, iPhone, iPad, Android, PS4/5, Xbox, etc, at No.1 fast DVD rippping speed.
Still have trouble about DVD burning on Windows? Please feel free to Email Us >>