2023 Best DVD Authoring Software for Windows and Mac
When it comes to DVD authoring, choosing the right software is crucial for creating professional-grade discs with ease. With numerous options available in the market, it's important to identify the top DVD authoring software that truly stands out. In this article, we'll explore the true leaders in DVD authoring programs based on extensive research, Google results, and in-depth reviews. Get ready to discover the best tools to author DVDs on Windows 11/10/Mac with custom menus and no watermarks.
2023 Best DVD Authoring Software for Windows/Mac
OS: Windows 11, 10, 8, 7, and earlier
Price: Free
WinX DVD Author is a free DVD authoring and creating tool. It's able to burn VOB, Video_TS folder, ISO image, MP4, AVI, WMV, almost all known video formats to blank discs. Not only merging videos and audios together, but also allowing you to create DVD title menu and chapter menu, add subtitles, add background music, and edit resolutions, parameters and other settings. The output can be a single sided DVD-5 or double sided DVD-9 disc, or VOB file format. The clarity of video and audio is excellent. 
It also supports downloading YouTube online videos and then burn them to DVD discs. The free DVD author comes with no watermark or other limitations. The straightforward interface and simple operation guides help the novices start quickly. With this free DVD authoring software for Windows 11/10/7, you can save both time and effort.
Pros:
Nearly all popular video formats are supported.
It's easy to manipulate, even for novices.
Cons:
It works on Windows systems only.
It doesn't support authoring Blu-ray discs.
How to Author a DVD on Windows with the Best Free DVD Author?
Free download and install this free DVD author program on your computer
Get a PC computer with disc drive (or external drive)
Get a blank and writable DVD disc (DVD-R/DVD+R/DVD-RW/DVD+RW) according to the size of your source video.
Step 1. Insert a blank DVD and launch this free DVD author software. Click Video DVD Author button on the main interface.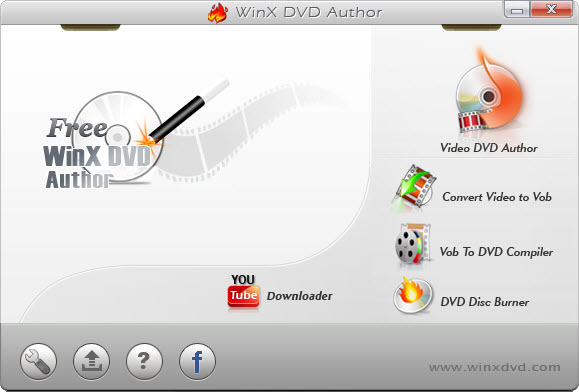 Step 2. Click the Add button (+) to add source videos. You can also delete/move up/move down the imported video by clicking relevant button or just by right clicking them. Click Settings to set the desired aspect ratio, language, subtitle, format, type, etc. based on your needs.
Then click the Next (>>) button to continue.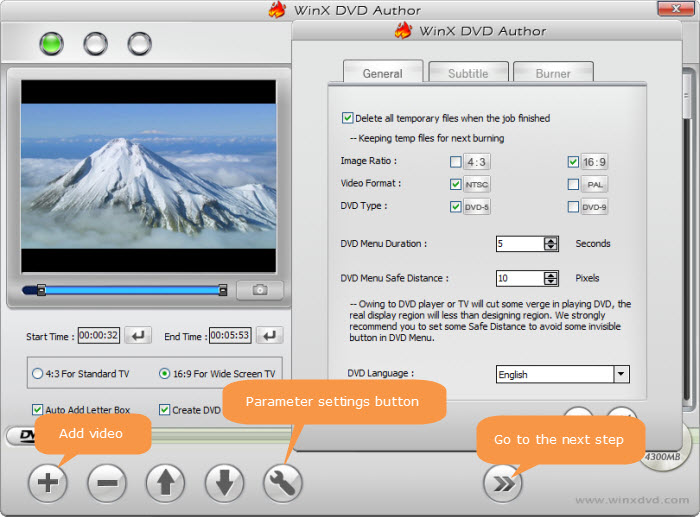 Step 3. Create DVD menu and chapter menu to author DVD with title menu, chapter menu, and customize background picture and background music.
Then click the Next (>>) button and you will need to specify the device, write speed, output folder, output format, and encoder engine. After all the changes, click the Start button to begin the DVD authoring process on Windows.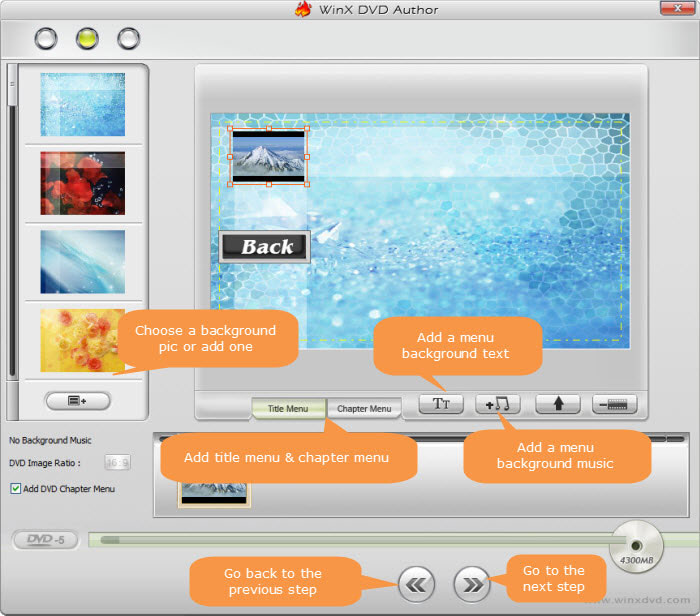 OS: Windows, macOS, Linux
Price: Free
DVDStyler is a free DVD-authoring application for Windows, macOS, and Linux to create professional-looking DVDs. It's able to put videos in different formats into a DVD. There are an absurd amount of options to add multiple subtitles and audio tracks, set the language, create menus, add and adjust graphic objects, and more. It makes DVD creation easier with the drag-and-drop feature. There is also a collection of pre-designed templates that can be customized to fit your preferences and needs.
The DVD authoring freeware is based on FFmpeg and the output DVD quality is even better and sharper than many paid DVD authoring programs (e.g. Nero Burning Rom, Magix Video, Adobe Premiere Elements). The performance of the software is good with support to multi-core processor.   
Pros:
There are tons of customization and configuration options
There's an amazing amount of layouts that can be edited.
It's a cross-platform free DVD author with no watermarks or limits.
Cons:
Pay very close attention to what it is trying to install.
The program crashes occasionally.
It doesn't support as much formats as other free DVD authoring software. OS: Windows 10, Windows 8, Windows 7, and earlier
Price: $39.99
CyberLink PowerProducer offers you a complete DVD authoring tool to create Blu-ray and DVD discs. You can put most video files to DVDs for playback on virtually any home devices with an optical drive. It's able to create Blu-ray, DVD, VCD, AVCHD or AVCREC discs, making it suitable for various types of disc authoring. There is a range of DVD authoring tools to create interactive menus, chapters, and subtitles for your videos as well as a variety of customizable templates and themes to enhance the visual appeal of your DVD or Blu-ray menus.
The DVD creation process is easy to follow with explanations available for many feature icons. It's an ideal DVD authoring program for quickly creating DVDs and Blu-rays that you can share with friends and family.
Pros:
It supports authoring videos onto DVD, Blu-ray discs, and variety of disc formats.
The DVD authoring software offers a good selection of templates and themes.
It's able to create and burn side-by-side 3D discs (BDMV, DVD or AVCHD).
Cons:
It has been updated for years, and there are compatibility issues with certain file formats or disc burners.
The free trial adds 10 seconds of a watermark page at the end of every video. OS: Windows 11, 10,8. 7, XP, Vista; macOS 10.5 or above
Price: $19.99- $29.99
Express Burn is a free program to burn audio and CDs for non-commercial use. The Express Burn Plus includes numerous tools to author videos to DVDs, Blu-Ray and HD-DVD, and CDs. There are various menu and button templates available to author DVD with menus easily. MP4, AVI, WMV, and all video formats with a DirectShow based codec are supported. Authoring DVDs using Express Burn is extremely easy as you only need to drag &drop files into the DVD authoring software and select three options: aspect ratio, picture quality and video format.
The Plus edition of this DVD author for Windows and Mac is offered in 3 versions based on your needs. For example, if you simply need to author a standard DVD, choose the plan for $24.49. If you also want to author videos to DVD and Blu-ray discs, you need to pay $29.49 to get the full disc support.
Pros:
It can handle a huge number of formats.
It's known for creating DVDs at a very fast speed.
Cons:
Limited DVD authoring options. For example, it doesn't allow menu creation or chapter navigation for video discs.
There is a watermark in the trial version's DVD creation.
It's too pricey for its features compared to other DVD authoring freeware programs. OS: Windows 2000 Professional, or any edition of Windows XP, Windows Vista or Windows 7
Price: Free
DVD Flick is a free and open-source DVD authoring tool that allows you to create DVDs from various video formats on Windows. With support to over 60 video codecs and 40 audio codecs, you can convert AVI, MPG, MP4, MKV, and any video to DVD without errors. There are options to author DVDs with menu, subtitles, and custom audio tracks. This free DVD authoring program for Windows is lightweight and very simple, but does exactly what it is supposed to do, creating perfectly acceptable DVDs that are compatible with most DVD players and can be played on various platforms.
The speed is fast and the quality of the created DVD is acceptable. It comes with no watermarks, any adware, spyware or limitations.
Pros:
This DVD authoring software is free, open-source, and lightweight.
It offers a user-friendly interface, making it relatively simple to navigate and operate.
It's able to make DVDs on Windows quickly and efficiently.
Cons:
The customization options are very limited as DVD Flick is primarily designed for DVD authoring rather than advanced video editing.  
The conversion process in DVD Flick can be relatively slow, especially when dealing with large video files or complex projects.
As DVD Flick has stopped updated since 2009, there may be compatible issues with Windows 11, Windows 10 and lack the latest features or improvements. OS: Windows 11/10/8.1/8/7; macOS 10.10 - 12.3
Price: $24.99/month
DVDFab DVD Creator for Windows and Mac can help create a DVD disc, ISO image, or Folder from AVI, MP4, MKV, VOB, MOV, and 200+ other video formats. It provide a wide range of menu templates and customizable options, including background art, thumbnails, text font, color, and size, etc. So you can easily make personalized home DVDs with different DVD types. It utilizes advanced acceleration technologies to speed up the DVD authoring process. There is an exclusive Meta Info feature that can automatically synchronize all of the source video's meta data, such as the movie title, cast, and cover for easier navigation on players such as Kodi.
Pros:
DVDFab DVD Creator supports a wide range of video formats.
If offers a variety of DVD menu templates and basic video editing features to personalize your DVD creations.
The software takes advantages of GPU acceleration to help expedite the DVD authoring speed, about 50X faster speed than other DVD authoring programs as claimed by the developer.
Cons:
As DVDFab DVD Creator is part of the DVDFab overall DVD and Bluray utility suite, it requires more computer resource.
It doesn't support authoring Blu-ray discs. OS: Windows 10/8/7/Vista/XP; Mac OS X 10.10 or later
Price: $55.95
Wondershare DVD Creator is one of the best DVD authoring software if you need to create Blu-ray discs on Windows 10/7/earlier. It supports create DVD/DVD folder, Blu-ray DVD folder/Blu-ray disc, and ISO files from 150+ video formats. It offers 100 free static and dynamic DVD templates of Sport, Travel, Memory, Family Life, and other themes. You can make personalized DVD with background image/music, title thumbnail, text, etc. before authoring the DVD. And there is also a built-in video editor to let you trim, crop, add watermarks, edit subtitles, apply video effects, and more.
Pros:
It supports authoring videos onto DVD, Blu-ray discs, and variety of disc formats.
It offers a diverse collection of DVD menu templates and customization options to meet different needs.
It provides a rich toolbox.
Cons:
Some features are available on Windows only. For example, only Windows version supports Blu-ray DVD output.
Randomly crash during DVD authoring and burning process. FAQs about DVD Authoring Software
1. What is DVD authoring?
DVD authoring is the process of creating a DVD video disc with interactive menus, chapters, and additional features. It involves combining video, audio, and other multimedia elements into a cohesive and navigable structure that can be played on DVD players or computers.
The DVD authoring process typically includes several steps:
Content Selection: Choosing the video and audio files that you want to author to a DVD and organizing them appropriately.
Menu Design: Creating interactive menus that allow users to navigate through the content, including options like play, scene selection, bonus features, and more.
Chaptering: Dividing the video content into chapters, which allows users to skip or jump to specific sections.
Navigation and Linking: Defining the interactivity of the DVD by linking menu buttons, chapter markers, and other navigation elements.
Additional Features: Incorporating special features like subtitles, multiple audio tracks, bonus materials, behind-the-scenes footage, or interactive games, depending on the desired DVD content.
DVD authoring software provides the necessary tools and functionalities to perform these tasks and create a finalized DVD.
2. Does Windows DVD Maker still exist?
Windows DVD Maker was a feature included in some earlier versions of the Windows operating system, such as Windows 7. However, it was not included in later versions, such as Windows 10 and Windows 11. Microsoft officially discontinued Windows DVD Maker, and it is no longer supported or available as a built-in feature in the more recent versions of Windows.
3. Does Windows 11 have DVD maker?
No, Windows 11 doesn't include a specifict DVD authoring or burning application. However, the File Explorer and Windows Media Player offer DVD burning features.
4. Does Adobe have a DVD authoring software?
Yes, Adobe has a DVD authoring software called Adobe Encore. However, Adobe has officially discontinued the development and support for Adobe Encore. Therefore, while the software may still be available for use, it is no longer actively updated or included in Adobe Creative Cloud subscriptions.