2023 Top 12 Free DVD Maker Software to Create DVDs
Want to create your own DVD movie from some precious video clips? Is there a program to burn MP4, AVI, WMV, MKV, MKV, MOV, VOB and other videos to DVD easily?
This post collects the top 10 free DVD creator software and will present reviews on each one based on functions, ease of use, burning speed, users' comments and so on. Besides, a detailed guide on how to make a DVD from video files on Windows 10 is also included.
Best Free DVD Creator for Windows 10/11 [Best Overall]
WinX DVD Author [100% free and safe] is the best free DVD creator software in 2023. No worries. Easily burn any video to DVD and customize DVD menus or chapters.
Make DVDs from MP4, MKV, AVI, VOB, FLV, MOV, ISO, and videos in any format directly (incl. burning YouTube to DVDs).
Support all disc types, be it DVD-9/5, DVD (NTSC or PAL), DVD+/-R, DVD+/-RW, DVD DL+R, DVD DL+/-RW...
Create DVD chapter/title menu & subtitle (*.srt), add music, pictures as background, remove unwanted parts, and more.
Part 1. 2023 Top 10 Free DVD Creators for Making a DVD
Price: FREE
Supported OS: Windows 11/10/8/7, etc. | Average User Rating: ★★★★☆ (based on 359 votes)
WinX DVD Author is the best DVD creator freeware for Windows 10/11 because it's totally free, clean, fast, easy-to-use, and powerful. It is able to burn any video format to a DVD-5 or DVD-9 disc fast and smoothly, like burning MP4 to DVD, converting AVI to DVD, writing MKV to DVD, making DVD with VOB, and many more. DVD+/-R, DVD+/-RW, DVD DL+R, DVD DL+/-RW are perfectly supported.
This free DVD maker comes with a lot of options allowing users to trim video, create DVD menu, add subtitle track, set subtitle font size, specify aspect ratio, choose format (NTSC or PAL), and so on.
There are a few templates for users to choose as background. If you don't like them all, you can also add a picture from your own library. Meanwhile, you can also add background music for your DVD menu.
Another advantage worth mentioning is that it can quickly make a DVD. Creating a full 4.3GB high quality DVD can be finished within 1 hour only.
Besides burning videos to DVD, this DVD creator freeware also allows users to convert video to VOB, create DVD menu from VOB files, and burn VOB or DVD folder to DVD disc.
Pros:
It's free, safe, and easy to use.
It supports different video formats to let users make DVDs from various videos directly.
Various customization options are available to make professional-look DVDs.
The DVD making speed is quite fast, even handling large videos.
Cons:
The interface is a little bit oudated.
It doesn't support creating Blu-ray discs or CDs.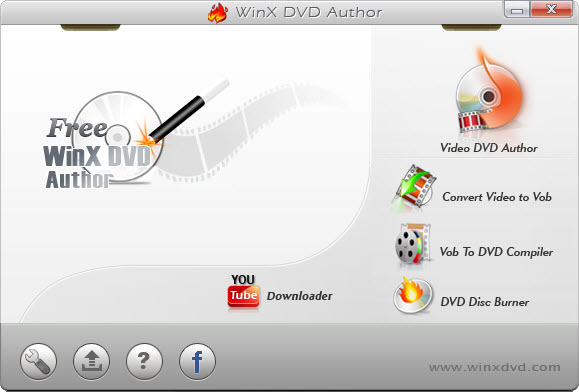 Price: FREE
Supported OS: Windows 10/8/7, Mac & Linux
DVDStyler is a free open source DVD maker. It has a user-friendly interface. It enables users to produce DVD from AVI, MOV, MP4, MPEG, WMV, OGG, and more, just like WinX DVD Author.
DVDStyler provides users with a useful DVD menu making function. It offers users dozens of DVD menu templates with different themes and a lot of buttons to help creating a professional-looking DVD. The font, color and other parameters of buttons and graphic objects can be changed based on your own needs. DVDStyler is a cross-platform program. It is compatible with Windows, Mac, and Linux.
Pros:
It's very easy to use with a drag-and-drop DVD authoring process.
There are various customization options for DVD menus, allowing users to create professional-looking DVDs with their own unique style.
Cons:
The user interface of this free DVD creator may feel outdated to some users.
There are advertisements and adware in the installer.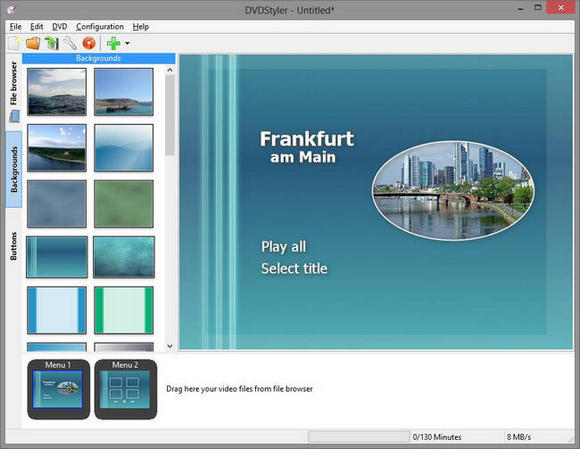 Price: FREE
Supporting OS: Windows 7/Vista/XP/2000 Professional
DVD Flick is an easy and free DVD creator program for Windows. It is a lightweight program. The latest version 1.3.0.7 is 13 MB only, coming without adware or spyware. Free as it is, there is no limitations. It can assemble videos files, audio tracks and subtitles into a DVD. It supports more than 45 file formats, 60 video codecs, and 40 audio codecs. This DVD creator freeware has widely supported file formats including MP4, MOV, AVI, VOB, MPEG, JPG, JPEG, PNG, MP3, WMA, etc.
It allows you to add subtitles in MicroDVD, SubRip (SRT), Substation Alpha (SSA\ASS), and SubView format.
Additionally, it comes with a DVD menu creating feature, allowing you to add a menu for easier navigation. The latest version added buttonSubtitleMenuX and buttonAudioMenuX button types that jump to a title's audio or button menu directly.
Pros:
It's free, open-source, and easy to use.
It supports various formats and a range of customization options are available.
Cons:
The DVD creation software has not been updated in several years and may not compatibe with newer hardware and software.
It can be slow and resource-intensive, particularly when encoding and burning large video files.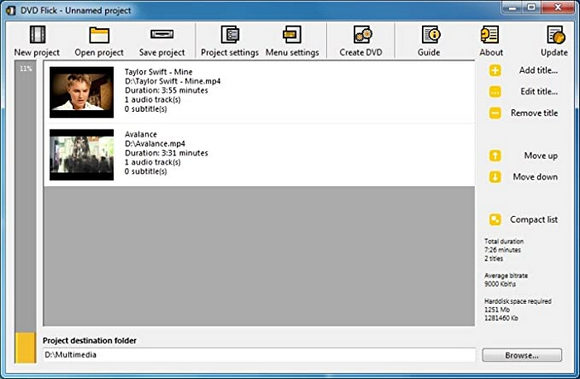 Price: FREE
Supporting OS: Windows 10/8/7, etc. & Linux
ImgBurn is an optical disc authoring application that can create DVD, HD DVD, Blu-Ray, and CD. It is created by Lightning UK who is the author of DVD Decryter. It is based on the optical disc burning engine of DVD Decrypter but it doesn't possess the ability to bypass DVD copy protections. ImgBurn can help users write image files, files, and folders to disc. It supports a wide range of image file formats including ISO, BIN, CUE, DI (Atari Disk Image), IMG, MDS, NRG, PDI and more.
As it's a free DVD creator for Windows 10, Ask.com adware is included with the installers of some versions (from version 2.5.1.0 to 2.5.7.0). And it was replaced with OpenCandy adware in version 2.5.8.0. Only the version of the installer distributed directly from imgburn.com contains OpenCandy; the version distributed via the official mirror sites is adware-free.
Pros:
It offers a wide range of DVD authoring features, including image creation, disc copying, and direct-to-disc burning, and there are various options to customize settings, such as write speed and disc verification, giving users greater control over the DVD making process.
It supports supports different file formats, making it a flexible tool for working with different types of disc images and files.
It's known for its fast DVD creating speed.
Cons:
Some versions of ImgBurn may come bundled with adware.
It has not been updated since 2013, and there is no official support for newer operating systems, such as Windows 11, which may cause compatibility issues for some users.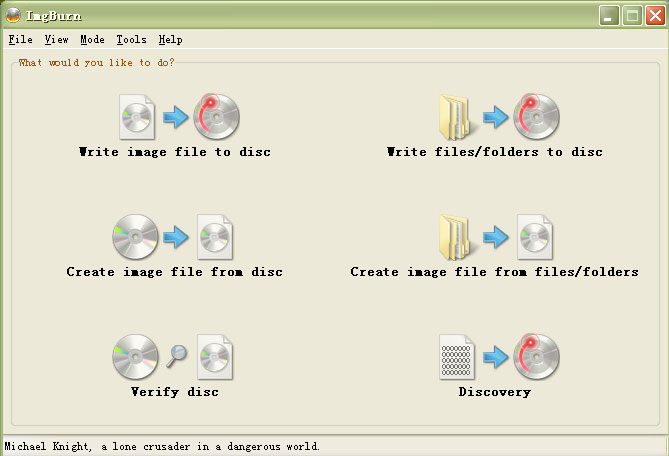 Price: $39.95
Supporting OS: Windows 7/8/8.1/10
Leawo DVD Creator isn't a free DVD maker. It's a paid product, but it has a free trial version. With Leawo DVD Creator, you can burn AVI, MP4, WMV, MKV, and more videos to DVD-5/DVD-9. Besides creating DVDs from videos, it can also create folders and ISO files from videos. While making a DVD, you'll find more than 40 disc menu and template models to choose. And you can DIY disc menu and tamplate based on your own needs.
The built-in video editor allows you to trim video to get your desired video clip burned, crop video size to remove the black bar, adjust video brightness, saturation, contrast and volume, and add text or image watermark to the DVD movies as your own signature. Different from other DVD makers, Leawo DVD Creator can convert 2D video to 3D DVD movie. There are 6 3D effects for you. With the support of Intel Quick Sync accelerating technology, it runs very fast for DVD burning.
Pros:
It allows users to customize DVD menus and add subtitles and audio tracks and there are a variety of DVD templates and themes for users to choose from.
It offers fast conversion and DVD creating speed.
It supports high-quality output with good video and audio quality in the created DVD.
Cons:
The free trial version has some limitations, such as watermarks on the output and limited burning times.
The DVD maker may not offer as many advanced features as some other DVD creation software on the market.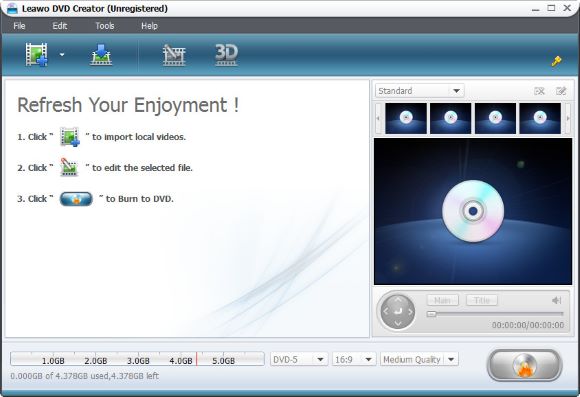 Price: FREE
Supporting OS: Windows 2000/XP/2003 Server/Vista/2008 Server/Win7/Win8/2012 Server/Win10 (x86 / x64)
CDBurnerXP is a free yet powerful DVD creator for Windows (10). It allows users to burn all kinds of discs (CDs, DVDs, HD DVDs, Blu-Rays, and M-Discs), create bootable discs, create ISO image files, convert bin- and nrg-files to ISO, and remove all contents from a rewritable disc.
After the burning process, CDBurnerXP will verify written Data automatically. The installer of CDBurnerXP 4.5.8.7128 is very small. It is 6.11 MB only. But it requires you to install Windows .NET Framework first before you can install it on your Windows PC.
Pros:
It's a completely free and open-source DVD maker for Windows 10 users.
It supports various formats including ISO, BIN, NRG, and IMG. It also supports burning DVD-Video discs, audio CDs, MP3 discs, and bootable discs.
 It's very fast to create CDs, offering an impress read and write speed.
Cons:
The installer comes bundled with adware. Be careful during the installation process to avoid installing unwanted software.
It lacks video editing features and advanced burning options.
The interface may take some time to getting used to.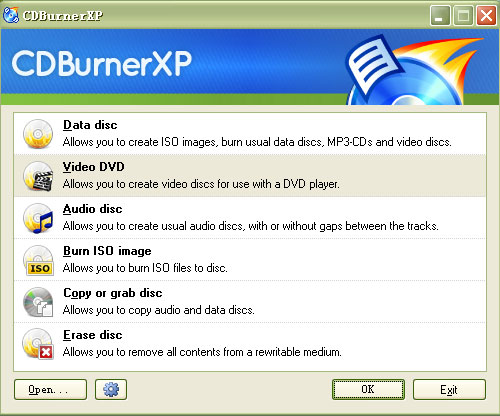 Price: $55.95
Supporting OS: Windows 10/8/7/Vista/XP & macOS
The reason why Wondershare DVD Creator gets lower ranking in best free DVD creators is that it's a paid product. But it has a free trial version. with Wondershare DVD Creator, users are able to create DVD from 150 video formats, burn videos to DVD folder, Blu-ray DVD folder, ISO, and Blu-ray disc (only available for Windows version), and burn music to CD.
This DVD maker provides more than 100 free static and dynamic DVD menu templates in different themes like birthday, holiday, travel, sport, and memory. It also allows you to customize the background image, music, title thumbnail, and so on.
Moreover, it allows editing your video before burning it to DVD. The edit features including trimming, cropping, adjusting video brightness, contrast, and saturation, applying special effects, adding watermark, and adding susbtitles. Most surprising of all, it allows you to create photo slideshows with background music and then make them to DVD discs.
Pros:
Supports a host of media formats so users can create DVDs from different videos directly.
There is a in-build video editing tool to edit the video before authoring.
The DVD creating speed is relatively fast.
Cons:
Only the Windows version supports Blu-ray DVD output.
The free trial has many limites, e.g., the created DVD will contain watermark and only 3 templates are available for the free trial.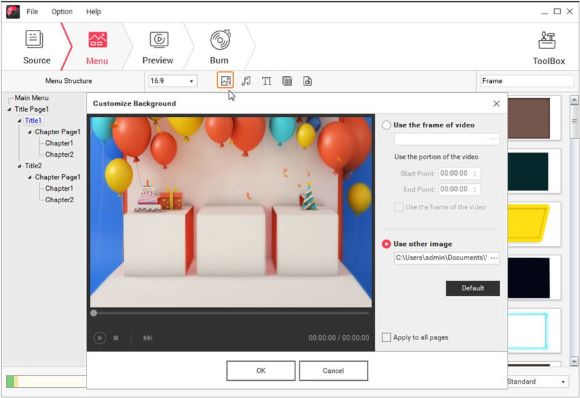 Price: FREE
Supporting OS: Windows 11/10/8/8.1/7/Vista
Freemake Free DVD Burner for Windows is able to make DVD discs with up to 40 hours video content of whatever format. It can burn videos to DVD-R, DVD+R, Blu-ray, Double Layer DVD, and rewritable data discs.
It is built with various DVD menu templates for several common occasions including birthday, Christmas, and vaation. You can select a stylish DVD menu and upload your own picture for maximum personalization. It is also built with a video editor allowing users to trim, crop, flip, rotate, and subtitle videos. Besides burning videos to discs, it can also create DVD folders and ISO files from your videos, and save photos to a DVD.
Pros:
The free DVD creator for Windows 11/10 can burn almost any type of video file to DVD.
It offers a range of customization options, allowing users to add custom menus, subtitles, and audio tracks to their DVD.
Cons:
Besides some customization options, the free DVD maker does not offer extensive editing options for video files.
During the installation process, it will ask users to install additional software, such as a toolbar or other applications.
It does not offer extensive technical support, which can be frustrating for users who encounter issues with the software.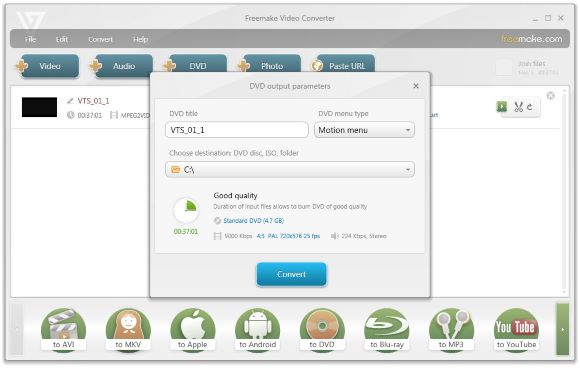 Price: FREE
Supporting OS: Windows 10, Windows 8, Windows Vista, Windows 7, Windows XP
Sothink DVD Movie Maker can create high quality DVD from a wide range of video formats for free. However, it will place a splash screen before segments. To remove the ads, you need to update to a premium version.
This free DVD creator for Windows 10 allows you to add files by dragging and dropping, move clips up and down, and customize your settings. While creating DVD menu, it allows you to specify fonts and buttons. If you don't have a blank DVD right now, you can save your project and burn it to DVD later.
Pros:
It's very simiple to use. The drag-and-drop feature simplifies the process of adding video files to the project.
There is a wide range of customizable menu templates to personalize DVDs with users' own background images, music, and text.
It uses advanced video compression technology to make high-quality DVDs that can be played back on most DVD players.
It supports a variety of video formats to let users create DVD projects with any video they want to include.
Cons:
The options for customization are somewhat limited.
It only supports DVD authoring and doesn't support Blu-ray or CDs.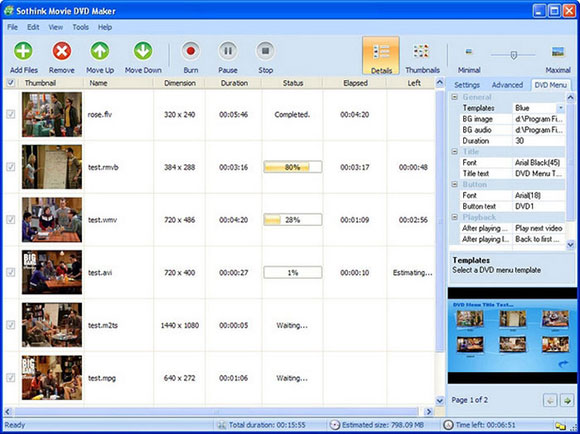 Price: FREE ($29.95 for Pro version)
Supporting OS: Windows 2000 /XP/2003/Vista/7/8/8.1/10/11
AnyBurn has two versions, namely AnyBurn Free and AnyBurn Pro. Both editions are compatible with Windows 32 bit and 64 bit systems and have been updated to version 5.5 on November 22, 2022. And it also has a portable version which doesn't require installation. Simply extract and start using it.
The differences between Free and Pro version are that the Free version cannot convert audio file formats and install Windows to USB drive. The Free version can help you create data disc, burn image files, burn audio CD, rip audio CD, convert disc to image files, copy disc to disc, convert image files format, create bootable USB drive, etc.
Pros:
It offers a wide range of features to create CDs, DVDs, and Blu-ray discs, create ISO images, rip audio CDs, and erase rewritable discs.
It supports multiple disc formats, including CD-R/RW, DVD+/-R, DVD+/-RW, DVD-RAM, BD-R/RE, and more.
It has a fast DVD burning speed, allowing users to make discs quickly and efficiently.
Cons:
It doesn't offer a lot of customization options for DVD authoring, such as the ability to create custom menus or add background images.
It lacks some advanced disc burning tasks, such as creating bootable discs or burning copy-protected discs.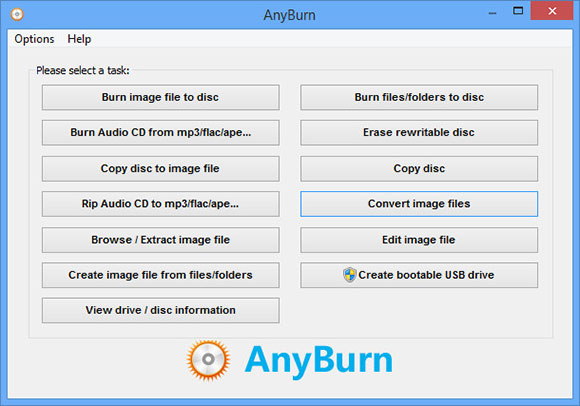 Price: $69.99
Supporting OS: Windows 7/8/8.1/10/11
Power2Go is a powerful DVD creator for Windows 10/11 that allows users to make different types of DVD discs, including audio CDs, video DVDs, and Blu-ray discs. It offers a comprehensive set of features and tools for users who need to create DVDs, such as options to backup data, create ISO files, customize DVD menus and lables, etc. While the software may be resource-intensive and comes at a cost, it's user-friendly interface and high-speed burning make it a top choice for users who require a reliable DVD making solution.
Pros:
It offers a wide range of DVD creation options, including audio CD burning, video DVD and Blu-ray burning, data backup, disc copying, etc.
It supports CD, DVD, and Blu-ray and various file systems, including ISO9660, UDF, and HFS+.
It offers disc encryption and password protection to help protect users' sensitive data from unauthorized access.
Cons:
It's not a free DVD creator. The free trial version offers limited features and is only valid for a short period of time.
This DVD movie maker is quite resource-intensive. It may consume a significant amount of system resources, particularly when burning large files or multiple discs at once. This may cause the computer to slow down or freeze during the DVD authoring process. Price: $59.99
Supporting OS: Windows 11/10/8.1/8/7 (32/64 bit), macOS 10.10 - 13
DVDFab DVD Creator is one of the best DVD maker for Windows and macOS that will convert and burn video files to DVD with customizable menus, subtitles, and audio tracks. You can create DVDs from a variety of video formats, like MP4, AVI, MKV, VOB, and more. There are various customizable DVD menus, subtitles, and audio tracks and options to add subtitles, audio tracks, adjust video quality, etc. If you're looking for reliable DVD authoring software with customizable menus and support for subtitles/audio tracks, it may be a good option to consider.
Pros:
Users can make DVDs from a wide range of video formats.
It provides a variety of customizable DVD menus and templates that users can use to create professional-looking DVDs.
It allows users to add subtitles and audio tracks to their DVD projects, making it easier to create DVDs with multiple audio tracks.
There is a real-time preview feature to let users check how their DVD project will look before burning, saving time and reducing errors.
Cons:
It's relatively expensive compared to other DVD creator software on the market and there is no free trial to try before purchasing.
The software lacks advanced video editing features, such as the ability to trim or cut video clips.
Some users have reported slow burning speeds when using it, which can be frustrating when making DVDs with large video files. Part 2. How to Create a DVD from Video Using the Best Recommended DVD Maker
Free download and install WinX DVD Author on your Windows (10) computer. Now follow the 3 simple steps below to create DVD from video files.
Step 1. Import the blank writable DVD disc.
Insert a blank DVD disc to the DVD-ROM. Launch the best free DVD creator for Windows (10) and choose "Video DVD Author" button to enter into the video to DVD burning interface.
Step 2. Add source videos into this free DVD maker.
Click "+" icon on the left bottom to add video files into the list.
Then click "Setting Button" to customize DVD aspect ratio, format (NTSC/PAL), Type (DVD-5/9), duration, language, etc., and click "OK".
Next, hit the double arrow next step button to personalize title/chapter menu, and add background music or picture for DVD.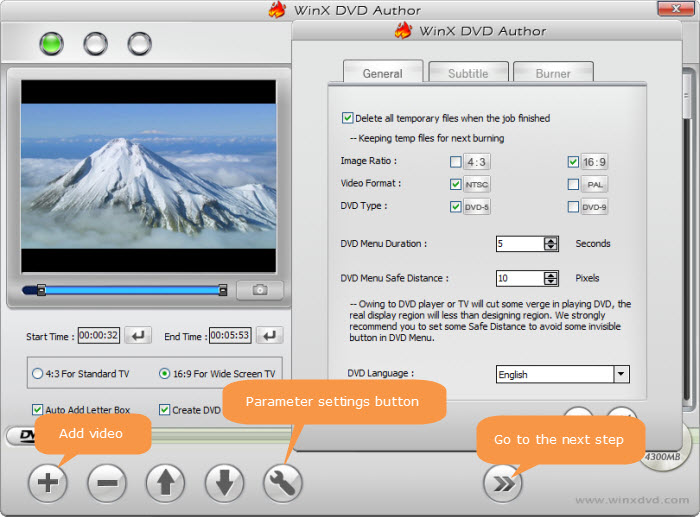 Warm Tips:
You can add several videos at one time, and can also move up/down or remove certain video in the list. Better still, it also works as a DVD editor to trim video clips by setting Start Time and End Time, and preview the source video.
It also plays the role as a free DVD menu creator to customize your DVD menu by setting menu duration and safe distance.
All the operations of adding, deleting, moving up, moving down a video file can also be accomplished by right clicking the target video clip.
Step 3. Start making your movie DVD on Windows (10).
Tap the double arrow button on the bottom and then hit "Start" button to begin free burning videos to DVD. The whole DVD creation process is very fast and smooth, and you can then go to have a cup of coffee. >> How to Use WinX DVD Author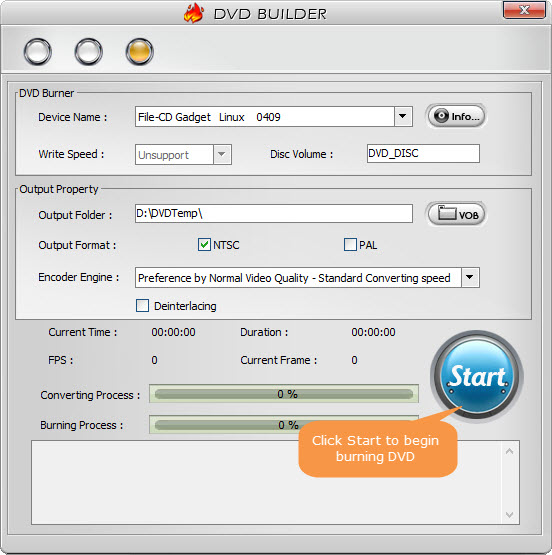 Disclaimer: Digiarty Software does not advocate ripping/burning copy-protected DVDs for any commercial purpose and suggests referring to the DVD copyright laws in your countries before doing so.
Want to Create DVD from DVD on Windows 11/10/8/7? Try WinX DVD Copy Pro!
WinX DVD Copy Pro is available to backup DVDs to blank discs or computer quickly without any quality loss.
1:1 burn DVD to another blank DVD disc or burn ISO Image/DVD folder to DVD disc at fastest speed.
copy DVD to ISO image/DVD folder/single MPEG2 file with intact original video/audio/subtitles.
Available to copy DVD chapter and extract DVD video or audio only.
Support copying or burning scratched DVDs thanks to its advanced bad sector recover engine.
Burn any copy-protected DVD by removing DVD CSS, Region Code, RCE, UOPs, Sony ARccOS, APS as well as Disney X-project DRM.