How to Burn Matroska Video to DVD: 3 Free MKV to DVD Converters to Choose
You may have a bunch of video in MKV container and want to burn the MKV files to DVD for playback on any DVD player. You may want to keep the subtitles, multiple audio tracks of the MKV files in the DVD. And, it will be better if you can create menu and burn Matroska video to DVD without watermark or logo. Is there any good DVD burning software for doing this? Yes.
This article is going to introduce you the best free MKV to DVD converters and walk you through the detailed steps on how to burn MKV to DVD.
Also learn: how to rip DVDs to MKV
How to Burn MKV to DVD:
Method 1. Burn MKV Files to DVD with 100% Free WinX DVD Author
About WinX DVD Author
WinX DVD Author, the first product of Digiarty Software, was initially released in 2006. It is primarily designed to burn videos (including MKV) to DVD on Windows OS. It fully supports Windows 11, 10, 8, 7 and even older systems. This tool is 100% free and safe to use. No registration. No ads or malware. If you're looking for a free MKV to DVD converter with no watermark for Windows 10 or other versions, you might as well give it a shot.
Main features:
Support virtually all video formats. Beside burning MKV to DVD, it can also convert MP4, AVI, M2TS, WMV, DivX, Xvid, MPEG, MOV, FLV, H.264, M4V, VOB, and other formats to DVD.
It allows you to create DVD menu and chapter of your own, add external subtitles, add background music, edit the MKV files, etc.
Support DVD discs of any kinds, including DVD±R/±RW, DVD DL+R, DVD DL±RW.
It's fast and easy to use. The output DVD quality is as good as the MKV files.
How to Burn MKV to DVD in Windows 11/10/8/7 with WinX DVD Author?
Before you start to burn Matroska video to a DVD disc, you will need the tools below:
Software: Free download and install this MKV to DVD converter and burner
Hardware: a PC computer with disc drive (or external drive)
Disc: a blank and writable DVD disc (DVD-R/DVD+R/DVD-RW/DVD+RW)
Source: the MKV files you'd like to burn
Step 1: Run WinX DVD Author.
Insert a blank DVD and run this free MKV to DVD burner. Now you should see the main interface shown below. What you need to do here is to click Video DVD Author button to continue.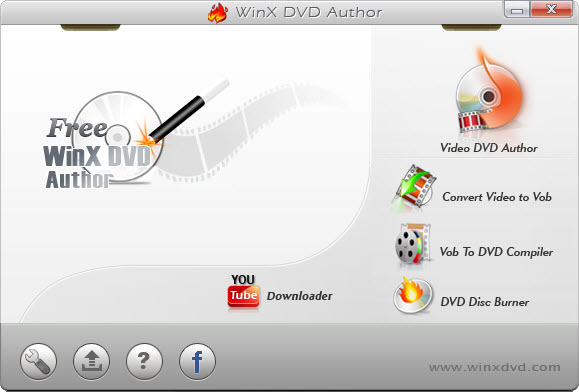 Step 2: Set up source MKV video files.
Click Add button (+) to add the MKV video clips you want to convert and burn to DVD. Batch adding MKV videos are allowed. You can also delete/move up/move down listed MKV video clips by clicking relevant button or just by right clicking them.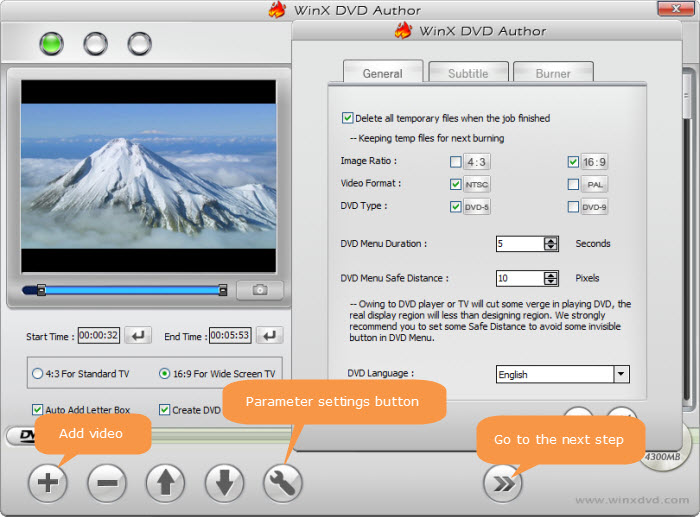 And you should see a SRT/Subtitle button on the left side of source file list. Clicking it will take you to a small window where you can find options to delete subtitles, set font size, and add external subtitles.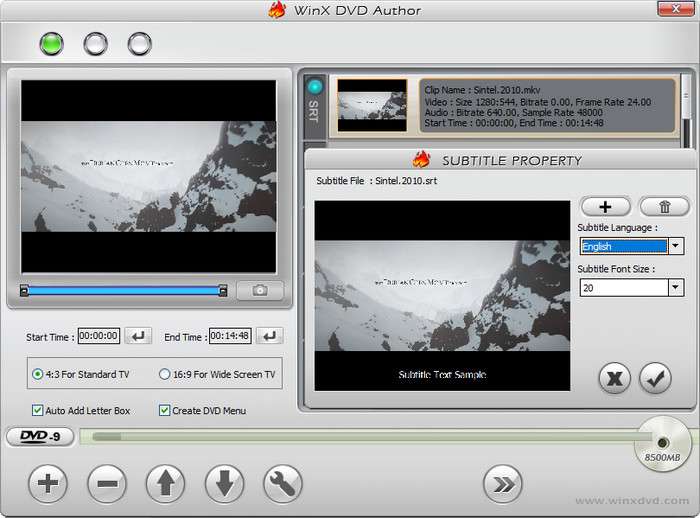 In addition, you should notice a few options under the preview window. If you want to cut some in the beginning or ending, set the start and end time. Choose aspect ratio, 4:3 or 16:9, according to the player you use. Check the box of Create DVD menu if you want to make your own DVD menu.
Once done, you can click the Next step button.
Step 3: Create DVD menu and chapter menu to self define your DVD file.
Choose Background Picture - You can either use the listed pictures or add your preferred ones by clicking .
To create title menu and chapter menu, you only need to click Title Menu/Chapter Menu button or to edit.
Add Background Music - This free MKV to DVD converter and burner also supports adding background music by clicking .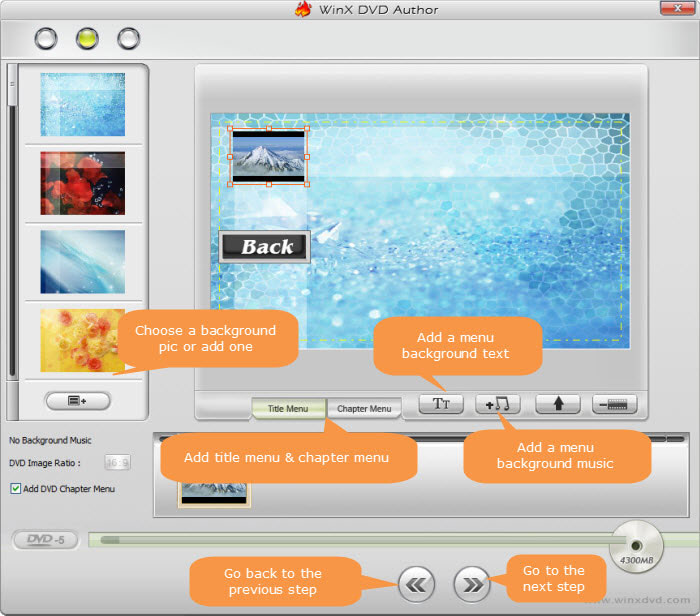 Step 4: Burn DVD from MKV files.
Choose Output Folder, Output Format (NTSC or PAL), and Encoder Engine, then hit "Start" and begin the MKV to DVD converting and burning.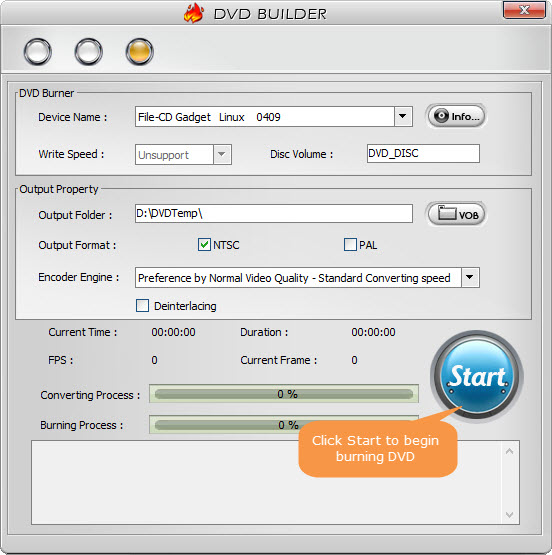 WinX DVD Author will bring you delighted MKV to DVD converting and burning experience. If you have any trouble on burning MKV files to DVD on Windows PC, just feel free to Mail support team >>
Method 2. Burn MKV Videos to DVD with DVDStyler
About DVDStyler
DVDStyler, released in 2003, is a free and open source DVD authoring application. It can be used to burn MKV and other videos to DVD on Windows, Mac, and Linux. Some versions such as 2.8.0 and 2.8.1 are reported to come with adware in the installer and a confusing "opt-out" option. Now, you don't need to worry about this, because newer versions haven't been reported to have adware or spyware. The latest version is 3.2.1 released on 2 November 2021 and gets support for font attribute 'underline' and 'line-through'.
Main features:
Support popular video and audio formats, such as MKV, AVI, MOV, MP4, MPEG2, WMV, MP3, and AC-3.
Provide menu templates and allow creating individually designed DVD menu.
Allow adding subtitle and audio tracks.
How to Burn MKV Files to DVD with DVDStyler?
To begin with, you should download and install DVDStyler on your computer, and install an empty DVD disc into the DVD drive built in or connected to your computer.
Step 1. Set new project.
In the Welcome dialog, choose Create a new project, and then enter disc lable, choose disc capacity, and specify video format, aspect ratio, and audio format.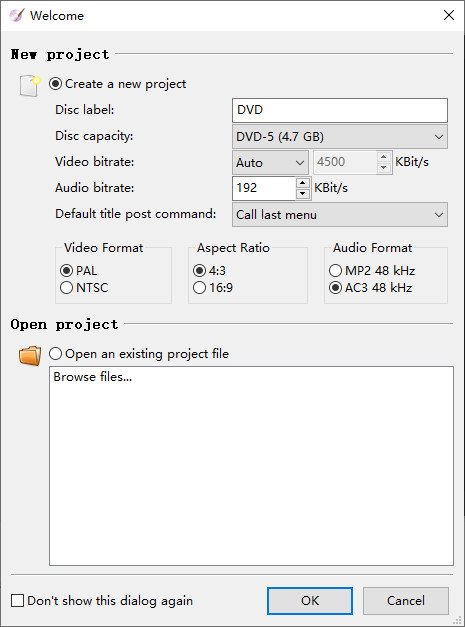 Step 2. Select a DVD menu template or create one.
There are 29 DVD menu templates to choose. You can choose one and click OK. Or, click No template and create a customized one later.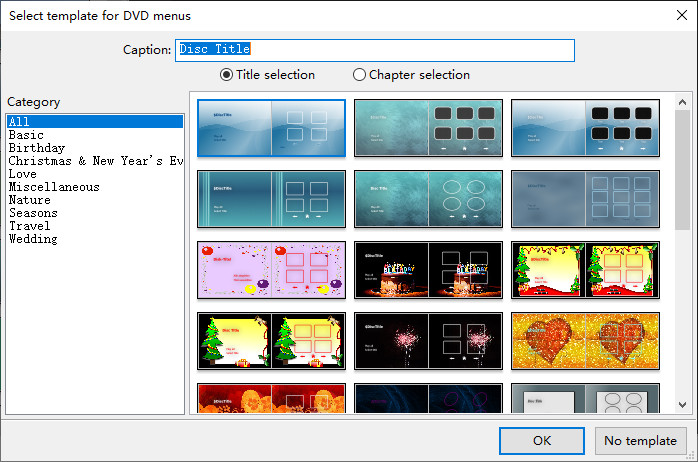 Step 3. Add MKV files.
Click the File browser, find the location where your MKV files are stored, highlight the MKV file(s) you want to convert to DVD, and then drag them at the bottom of DVDStyler.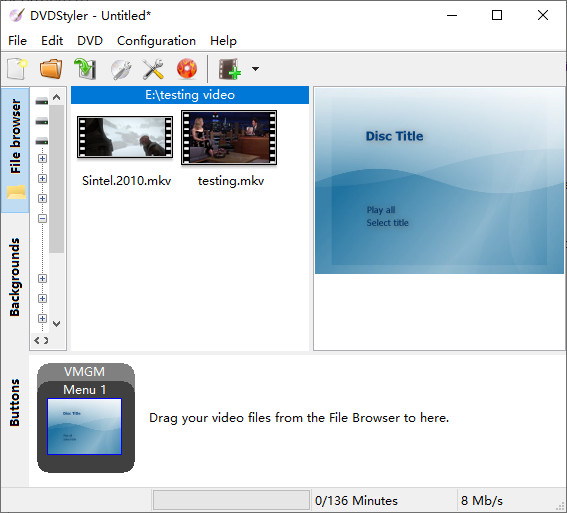 Step 4. Save the project.
Just click on the Save button to save your project. Step 5. Start burning MKV to DVD.
Click on the Burn button and then you'll see the Burn dialog. Here you can specify temp directory, choose preview or not, select the drive that shows the inserted blank DVD, and finally click Start button to begin converting MKV files to DVD.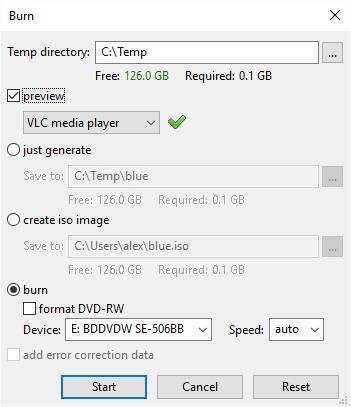 Method 3. Burn MKV to DVD with AVStoDVD
About AVStoDVD
AVStoDVD is also a piece of free open source software created to convert various media formats to DVD compliant streams and burn them into a highly compatible single track DVD. It makes use of several free encoding and authoring programs such as HCEnc/QuEnc/ReJig, AviSynth and ImgBurn, and puts them into a complete package. The latest version is 2.8.9 released on October 11th, 2020.
Main features:
Convert MKV, MP4, AVI, MPG, VOB, and more formats to DVD.
Use AviSynth to edit video and audio.
Use HCEnc/QuEnc/ReJig to encode video and audio.
Use DVDAuthor to mux and author DVD.
Use ImgBurn to build ISO image and burn DVD.
How to Burn Matroska Video to DVD with AVStoDVD?
Above all, you need to download and install AVStoDVD on your Windows computer. This tool isn't compatible with Mac or Linux. When you come to choose components panel during installation, make sure AviSynth and ImgBurn are checked if you haven't installed them before. After finishing installation, you can follow the steps below to convert MKV to DVD.
Step 1. Set preferences.
When you first start AVStoDVD, you need to set DVD preferences (select DVD video standard: PAL or NTSC), encoding preferences, and GUI preferences.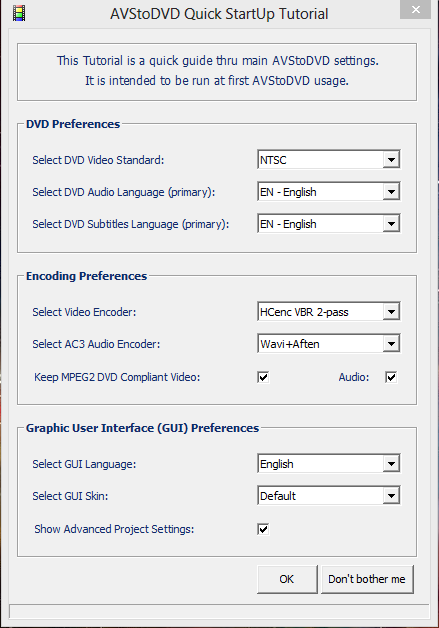 Step 2. Load your MKV files.
You can click on the green + sign on the right side of the window to import target MKV videos.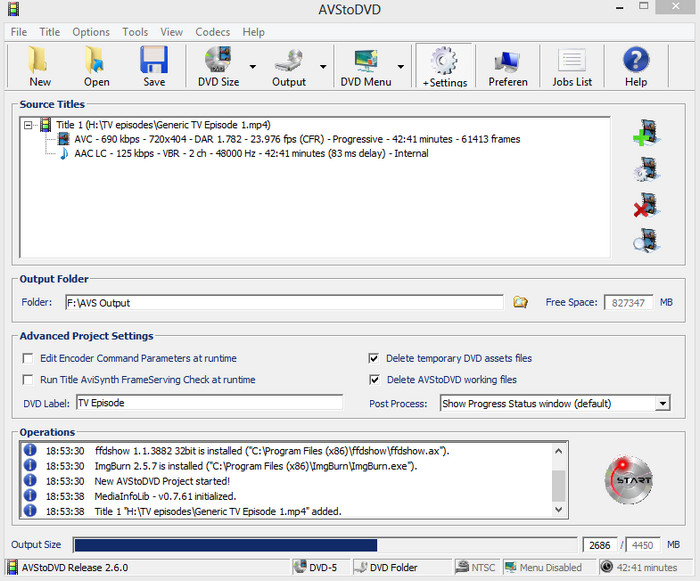 Step 3 (optional). Load extra subtitle or audio tracks.
To do this, right click on the title and select audio/subtitle track -> add.
Step 4. Set the DVD Size.
Click the DVD Size, and then choose DVD-5 for a single layer DVD, DVD-9 for a dual layer disc, or use a custom size to make oversized DVD videos.
Step 5. Set Output.
Click the Output, choose to output to a DVD folder(video_TS), ISO, or a MPEG2 file.
Step 6. Start encoding.
Just click the START button to begin encoding MKV to desired output.
Step 7. Burn to DVD.
Open ImgBurn, load the file that are converted from your MKV files, insert a blank DVD, and then start burning MKV to DVD.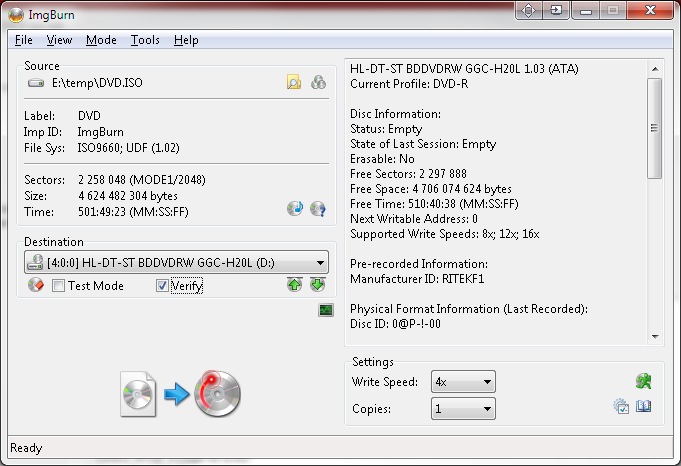 FAQs
Can I play MKV on DVD player?
I'm afraid that there is no DVD player that can play MKV files, while some Blu-ray player with USB support may work. If you don't have budget to get a Blu-ray player just for MKV playback, you can burn your MKV files to DVD with one of the methods we introduced above.
Is there an online MKV to DVD converter?
Online tools are convenient because they don't require installing anything to get the job done. However, there are no online tools for burning Matroska video to DVD.
How to burn MKV to DVD with HandBrake?
Actually, HandBrake can only convert DVD to MKV. It doesn't have video to DVD burning feature.
How to burn MKV to DVD with VLC?
VLC can't burn MKV to DVD either.
Why burned DVD won't play on DVD player?
This issue could be caused by improper DVD burning speed, incompatible DVD disc format, old DVD player firmware, and more. You can find more details and solutions on our previous article "Troubleshoot Burned DVD Won't Play on DVD Player/Computer".
FREE Burn MKV to DVD Now with WinX DVD Author
WinX DVD Author is a free and one-stop DVD creation and burning tool. It can convert and burn virtually all videos to DVD, such as MKV, M2TS, M4V, AVI, MP4, MPEG, WMV, 3GP, DviX, Xvid, ASF, MOV, FLV, H.264, RM, OGG, QT, etc with top quality and fast speed.