DVD Rot Fix - How to Store DVD for Long Term Easily
"Does anyone know anything about DVD rot fix? I have a library that is close to 3000 titles. Recently I found some discs suffered from DVD rot. I tried to play them but the discs were not recognized on any of my Blu Ray or DVD players. I know that all digital discs will eventually die from DVD rot but how long do DVDs last? To spend up to $50 on a disc makes me worry about other titles now."
DVD degradation happens when the discs are old and nor stored properly. This is not good news especially for film buffs who have collected thousands of DVD titles. In this post, we will focus on the common concerns about DVD rot like how long do DVDs last, DVD rot fix, how to prevent further damage, how to keep DVDs for long term via DVD backup, etc. 100% Working DVD Rot Fix: Backup DVD Discs to Digital Copy for Long-Term Safe Storage
WinX DVD Ripper Platinum is an excellent DVD ripping software that allows you to rip and backup DVD discs to digital copies to prevent from DVD rot. It's capable of copying DVD with intact quality, so as to not losing your precious DVD content even if DVD disc rot.
Please DO NOT use WinX DVD Ripper to rip rental DVDs.
If You're a DVD Collector, You Know the Horrors of DVD Rot
DVD rot means the chemical degradation of the disc layer that makes the DVD unreadable. DVD rot occurs when the DVD is exposed to moisture and oxidizing compounds and the protective layer is not strong enough to protect the metal layer underneath the disc. There are many forms that indicate your DVDs go bad: DVD bronzing, DVD mold, DVD discoloration, and even when the DVD looks perfect outside. When you play the DVD, it may be unplayable or full of picture pixelating, freezing, and skipping.
"With DVDs, I actually own something: with licensed content, they can take it away from me anytime they want! Therefore, I have spent more than $50,000 on my big DVD library (4000+ titles). But I'm scared of losing my investment to this silent killer..."
A DVD is priced from $5 to $25 depending on what and when you buy it. This means you're going to lose money if DVD rot occurs and you have never created any digital DVD backups. If you have a very large DVD library, you do the math. Even worse, some old & classic DVDs are out of print. Good news is that many newer DVDs are sold with a digital DVD copy in it.
How Long Do DVDs Last? They Die Faster Than You Think
According to most manufacturers, DVD lifespan of commercial discs is about 50 years and burned DVDs will last for about 20-200 years. The read-write (RW) discs have a much shorter life - they won't last for 15 years. These figures are quite impressive.
But according to the US National Archives, DVD lifespan is less optimistic. Any unrecorded (blank) DVDs are expected to last for 5-10 years and the recorded DVDs will be around for about 2-5 years. This is the best result when the discs are stored in a cool, dark, and dry place. In fact, temperature, humidity, light exposure, surface-handling effects, and any other improper handling can produce DVD degradation faster than its claimed shelf-life.
Here Are Some Notable Facts for DVD Rot
1. Discs with significant errors are often still at least partially readable. That means your DVD may still playable even if it's damaged silightly.
2. A scratch at the top of a DVD disc is more problematic than one on the bottom, as the upper scratch can penetrate through and damage the reflective layer.
3. Recordable DVDs, which have higher levels of light sensitivity don't last as long. The way a recordable disc is burned can also define DVD lifespan. A poorly recorded disc tends to wear out more quickly, making burned DVD not playing.
4. Proper storage and handling helps prolong DVD lifespan.
DVD Rot Fix - How to Store DVDs Long Term
Can I fix the DVD rot? - No, this DVD degradation is not repairable. But there are tips to help DVDs last longer.
* Store DVD under proper environmental conditions, like proper temperature without water damage, or dark, dry, and cool place.
* Handle the DVDs in a manner that won't produce scratches and avoid DVDs from young kids.
* Store the discs in the jewel cases instead of the paper slips.
* Do not use rewritable DVDs to store videos for the long term.
* Store the DVDs vertically and don't put any labels on them.
* Most importantly, backup your DVD collection in case of any damages.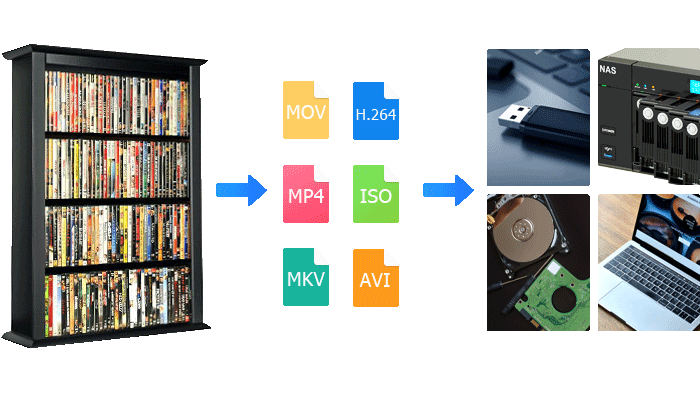 Prevent DVD Rot - Create Digital Backup from DVD Collections Easily
Better safe than sorry. In fact, there is no surefire way to prevent disc rot. And once it happens, there is no effective DVD rot fix. You would like to back up DVD to computer/hard drive using WinX DVD Ripper Platinum.
* It offers four DVD backup modes: main title, full title, 1:1 DVD to ISO image, and DVD to Video_TS folder, as well as DVD to MP4, HEVC, MOV, WMV, AVI, MKV, PC/Mac, hard drive, cloud service, iPhone, Samsung, etc.
* It's continuously-updated to remove various kinds of encryption algorithms, such as CSS, APS, UOPs, Sony ArccOS, and Disney X-Project.
* It supports all kinds of movie DVDs, scratched/damaged discs, store-bought DVDs, homemade discs, 99-title/tv shows, etc.
* It's the fastest DVD backup software with Level-3 hardware acceleration based on Intel QSV and Nvidia. You can backup the main title DVD to MPEG within 5 minutes.
Step 1: Load the DVD.
Download and install the software on the computer, then run it. Insert DVD into the DVD drive, click DVD Disc button and the backup software will load the DVD. It will automatically remove any protection and display the correct title.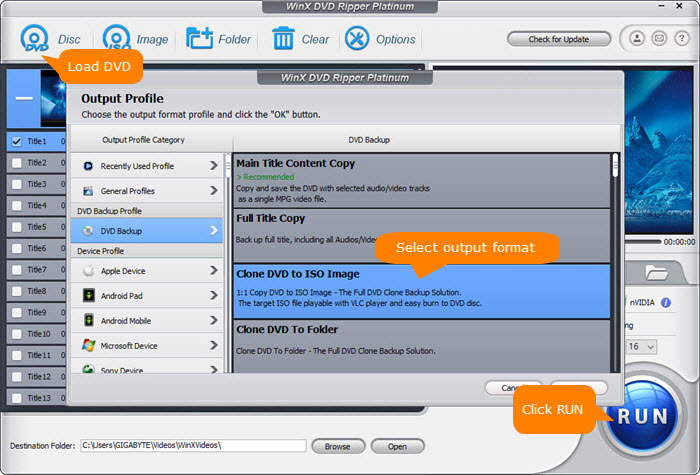 Step 2: Choose output format.
Select an output format from the popping-up window. To make 1:1 digital copy on the computer/hard drive/cloud service and avoid further DVD degradation, go to DVD Backup > Clone DVD to ISO Image. To create a digital copy that works on any platform, you can also go to General Profiles > MP4. There are many other formats & devices available, select the output file as you need.
Step 3: Start to back up DVDs.
At last, click the RUN button start the DVD backup. It takes minutes to finish the backup of a DVD (the speed depends on the configuration of our computer.)
Disclaimer: Digiarty Software does not advocate ripping commercial DVDs for any illegal purpose. You're suggested to refer to the DVD copyright laws in your country before doing so.
Video Tutorial: What Is DVD Rot & How to Fix It