How to Erase/Format DVD and Reuse DVD RW
In case you want to clear some room from your DVD disc so as to refill it with new stuff or just delete the file data permanently, it's a must step to erase your DVD disc. Well, here comes the question: what kind of DVD disc can be erased and reused? Can the file data be removed from all the DVD discs? Check the following rough explanations on DVD formats, which are in response to these questions.
Most Common DVD Formats:
DVD-/+RW: write, erase and write again
DVD-/+RAM: write, erase and write again
DVD-/+R: write once and close
DVD-/+R DL: write once and close
DVD-ROM: read only, non-writable.
Now, you can see that only DVD-RW, DVD+RW, DVD-RAM and DVD+RAM can be erased and re-written. Considering that many a user concerns more about DVD RW disc, here we mainly focus on how to erase, format and reuse DVD RW disc. The same applies to DVD RAM, needless to repeat it.
Part 1: How to Delete Files from DVD RW on Windows 10
Step 1: Pop up File Explorer on Windows 10. Unlike Windows 7, there is no "My Computer" icon on the desktop. Therefore, to activate file explorer, switch your attention from desktop to the bottom of your screen > find and click Windows icon and you'll be re-directed to File Explorer icon. Alternatively, simultaneously press the windows key and the "E" key on your keyboard to access to file explorer.
Step 2: Tap "This PC" on the left-hand side of the File Explorer and all your disk drives will be listed out.
Step 3: Open the files of your DVD folder after you double click the DVD (labelled with "DVD RW Drive").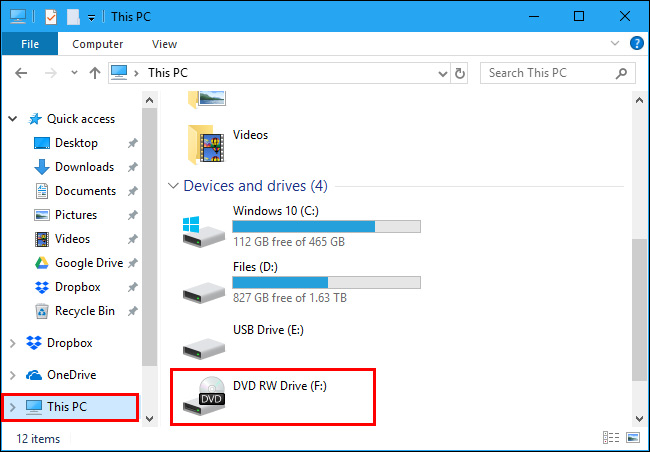 Step 4: Select files and delete them. Select the files you wanna remove and press "Delete" key on your keyboard to get rid of them. Go back to the "Recycle Bin" on the desktop to empty the trash bin if you need those files permanently disappeared.
Warm Prompt: before you remove DVD files partially or entirely, it's always better to "have" a backup than "need" a backup. Forethought is no harm but good. A professional DVD backup tool is helpful. With 13 years of development history, WinX DVD Ripper is gonna help you backup DVDs to digital MPEG-2 file, VOB, MKV, MP4, etc. for playback or storage on any laptop, hard drive, smart devices, cloud with a shred of quality degradation.

Free download to make a Plan B before DVD data deletion.
Part 2: How to Erase DVD RW Files on Windows 7 or Vista
Step 1: Click "My Computer" on the desktop > insert your DVD RW disc into your laptop (using external DVD drive if your computer doesn't have the built-in DVD drive) > your DVD RW disc will appear on "My Computer" display once the DVD drive is closed.
Step 2: Select this DVD RW and right-click to pop up the options list, where you click "Erase this disc". Then your PC starts to remove files from your rewritable disc.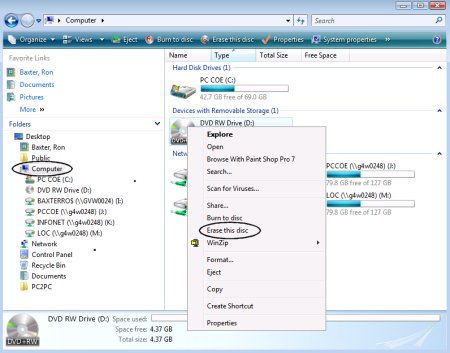 Note: as for DVD R discs, the afore-mentioned methods are all excluded. The way to wipe DVD R discs is to physicially cut, shred or scratch your DVD R discs until it becomes unreadable.
Part 3: How to Format DVD RW Disc on Windows 10
Step 1: Insert DVD-RW disc into your computer > still tap "This PC", find and hit DVD RW drive icon.
Step 2: Move your mouse to the upper-left side of the File Explorer interface, where tap "Manage" on the pop-up toolbar.
Step 3: Opt for "Format" under "Manage".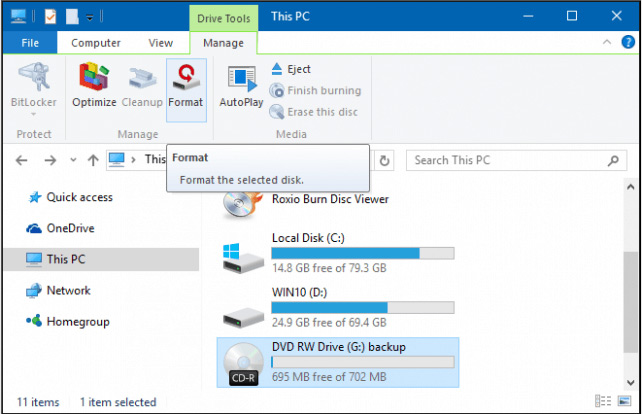 Step 4: Choose a file system from the below systems options:
UDF 1.50 - For use on XP and older.
UDF 2.00 - For use on XP and older.
UDF 2.01 (default) - Usable with most current operating systems.
UDF 2.50 - Usable with most current operating systems. Supports Blu-ray.
UDF 2.60 (Recommended) - Usable with most current operating systems. Supports Blu-ray.
Step 5: Hit on "Start" > tap "OK". Then the system will go into action to format DVD RW on Windows 10 now.
Step 6: Last hit goes to "OK" when prompted, which indicates the complement of the whole DVD formatting task.
Check here if you have the demand to format a write-protected DVD.
What to do if "Windows unable to complete the format" error occurs
When formatting the disc, some users receive the error message "Windows unable to complete the format (E)" on Windows 10 or Windows 8. If you have the same issue, try the following troubleshooting tips.
Perform Clean Boot and try formatting the DVD again. Clean Boot can help dig out the causes of the issue.
Uninstall any third party DVD burners installed on Windows.
Uninstall and reinstall the DVD drive or download the latest DVD drive update.
Part 4: Tips on Formatted DVD RW Reuse
Some outsiders, if not all, are proned to reuse formatted DVD-RW and DVD+RW disks to store new file data. Yet, they're confronted with numerous problems during the process but don't know why. To avoid unnecessary errors in DVD reuse, there are a few tips you'd better have a look before you go:
Keep in mind that DVD RW discs can NOT be used for DVD Audio (MP2, AC3, DTS formats) or DVD Video Formats (MPEG-2 file format). DVD -RW & DVD +RW disks can be utilized in standalone DVD Recorders only for recording and playback purposes. If you want to burn video to DVD, please use DVD Video disc under the assistance of a DVD burner software.
DVD-RW disc saves file data roughly 4.7GB and is able to record 1,000 times. To reuse DVD RW to store bigger data, please resort to DVD+RW disc, double-sided with 4.7GB storage per side.
The price of DVD RW disc is falling down these days. Usually, the price range is narrow among most brands. You'd better choose Panasonic, Toshiba, etc. prestigious brands to get higher quality.