Home > Resource > DVD Is Not Dead
7 reasons to prove DVD is not dead and here's how you can keep them forever
Is DVD dead 2018? Not so.
More folks are struggling about the future of DVD or other physical media at the present in 2018 when online streaming and downloading go viral. Is DVD dead in 2018? A recent Bloomberg report sadly showed that the revenue on purchasing and renting DVDs was expected to be surpassed by that on downloading and streaming movies and videos for the first time in the history. People are wondering whether the place of the "old-school" DVD is in jeopardy.
The misgivings should be dispelled. According to data published by the Digital Entertainment Group (DEG) and other institutions, money spending on buying DVDs and Blu-ray Discs was $6.93 billion in 2014, and physical sales will be $7.8 billion in 2015. The DVD sales are neither dead, nor declining largely. Sticking to DVD is in the same way people buy paper books. Although there is a boatload of electronic reading content online, we still go and buy printed books.
Why is DVD not dead 2018?
It may be extreme to say that DVD is dead or dying and will be ditched altogether just for the rise of streaming. Even though digital/technological climate has changed, DVD stays alive and remains a staple for entertainment spending in recent years. The various reasons are funneled into seven points generally:
1. First of all, let me remind you that DVD sales have been a nice source of income for entertainment companies for quite a long time, dating back to 1995. DVD won't be died. Or rather, producers won't let DVD disc quit the stage. I guess money spinner would never give up milk cow. Well, plugging away at DVD storage capacities and resolutions might be the right way out.
2. For consumers, the movie titles they are searching are not always available on the streaming service. Constantly, neither some masterpiece films nor new movies are present at Netflix, the popular streaming service, as a protection or a trick. The unavailability of such video sources propels visitors to another avenue like DVD that is fortunately vast in sources.

3. Then move to a sort of technical part. Comparing optical storage and hard disk drive, HDD does have the upper hand for data could last longer. So the logic behind "DVD won't die" maybe lies in its faster writing speed. A DVD supporting speeds of 24x can write at 33MB/s, which is basically out of the question for external drives.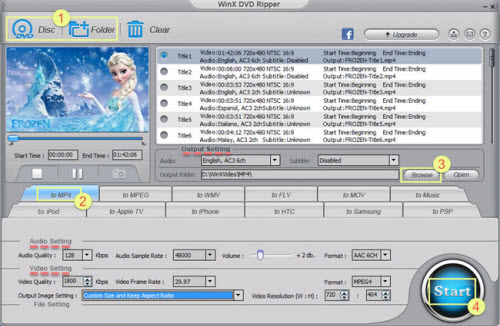 4. Identical to physical presences, DVD can be sold at physical stores way more easily than a digital source. For example, it is not uncommon to see an international traveler buy a DVD featuring local culture as a souvenir. Besides, owning a physical medium means you get a genuine copy that is not in doubt. For the senior, DVD can be played more directly without the slightest complexity, compared with the multifarious net things.
5. Once upon a time, DVD was the bleeding edge in media format development, for being HD and convenient. Now in this era brimming with UHD movies and displays, plus fast network, DVD seems to be behind the times. But why are there large numbers of people sticking it out with DVD? Maybe we still enjoy the way of "pay once and play". Once you have paid for it, no more extra money will be needed for replay anywhere anytime.
6. Believe it or not, high speed Wi-Fi is still luxury in numerous places. Imagine the situation that online download or streaming is unattainable in airport, hotels, parks, small restaurants, parks and some public vehicle and you don't take the expensive expenditure of 3G/4G mobile network into consideration. But a DVD can be converted through free DVD ripper software to a digital file storable and offline playable on your mobile devices, without considering the whims of your network connectivity. Then what would probably be your choice?
7. Gotta say, streaming bodes well for media and entertainment industry. And it's true that free streams and SOVD services are on the digital front. But still, many people, say Americans, prefer to buy or rent cheap movie/game DVD discs from Redbox around groceries, c-stores or McDonalds. Personally, I'm more intrigued by renting DVD console games for testing before purchasing, while most online games are "no paying, no gaming".