Used DVD Price Guide: Find Out How Much Your Used DVDs Are Worth
If you grew up between the 1980s and the early 2000s, you probably have a huge collection of DVDs in the cabinet, shelf or scattered all over your house, collecting dust - probably never to be watched again. The good news is that if you have a sprawling collection of used DVDs, they don't have to sit there taking up your precious space. There is another way: turn used DVDs into cash!
Yes, you can sell used DVDs for cash, which is one of the best ways for old DVDs disposal. After all, One man's trash is another man's treasure. But how much is your dust DVD collecting worth? Where can you sell your old DVDs? This used DVD price guide will clear up your confusions.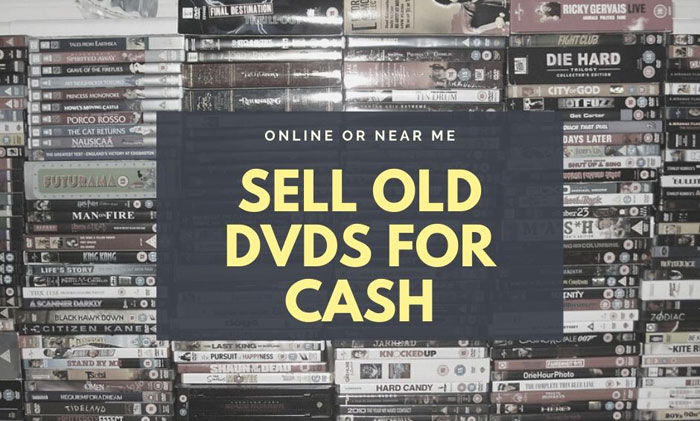 Part 1. How to Find Out the Value of Your DVD
Selling used DVDs is certainly a good way to make extra money. However, with the decline of DVD rental chains, it has been harder to find out a general price for your old DVD titles. But there are still some tips helping you price your used DVD.
Check the release date of your used DVD. Search online to find out when your DVD was released. For hard to find DVD movies, the original releases are more valuable. While for those re-released ones, the newer the DVD, the more it will be worth.
Value the condition of your DVD. Take into account such factors as if it is unpacked in perfect condition, opened but looks like new, or just operational but with obvious and significant wear.
Include everything that may increase your DVD value. For example, a DVD with the actor's or director's autograph on it will increase its value. Or if your DVD came with any bonuses like mini-figures or t-shirts, it will be worth more. And a store exclusive can also help increase the value from a standard edition.
Compare the DVD movie price. Take GetDVDPrices as an example, type in your DVD name, you will see a list of versions of this DVD with different prices.
See the transaction price for the DVD on online auction sites. Search the DVD title and view the most recently ended auctions instead of the current one. Those prices are the most direct reflection of the value of your used DVD.
Tips: The prices of used DVDs change constantly depending on what the people demand and want. If you are determined to sell your DVD, keep checking the price increases or decreases on DVDs.
Part 2. Digitize DVDs Before Cluttering Them into Cash
Your used DVDs may evoke fond memories, but a sprawling collection of them also mean huge storage space occupation. To get the best of both worlds, making digital copies from used DVDs could keep your precious DVD contents and free up storage space. WinX DVD Ripper Platinum can make this done flawlessly.
It accepts all kinds of DVDs, from classic discs to new releases, Disney 99 titles to Sony DVDs, workout DVDs to slightly damaged ones etc.
With 420+ profiles preset, you're able to rip DVDs to MP4, MOV, MKV, ISO image, MPEG2, iPhone, iPad, Android, Xbox, HDTV and more.
It achieves a delicate balance among quality, file size and speed. 5 minutes to get a digital copy of DVD with 80% smaller size and 1:1 quality ratio.
Now, free download WinX DVD Ripper Platinum to make a digital copy of your used DVDs!
Is It Legal to Rip a DVD That I Own?
Many of you may have doubts whether it's legal to rip a DVD. The short answer is, not very clear. Different countries have different copyright protection laws for DVDs. But it's clear that digitizing DVDs for commercial use is illegal. If you just rip your DVD for personal use, you'll not be sued. Besides, never rip rental DVDs with WinX DVD Ripper.
How to Rip DVD to Digital Files with WinX DVD Ripper Platinum?
Here are the easy steps to digitize your DVDs before turning them into cash:
Step 1. Insert your used DVD disc into the DVD drive on your computer. And Launch WinX DVD Ripper Platinum.
Step 2. Click "DVD Disc" button to load the disc you inserted. The full information about the disc will be available instantly.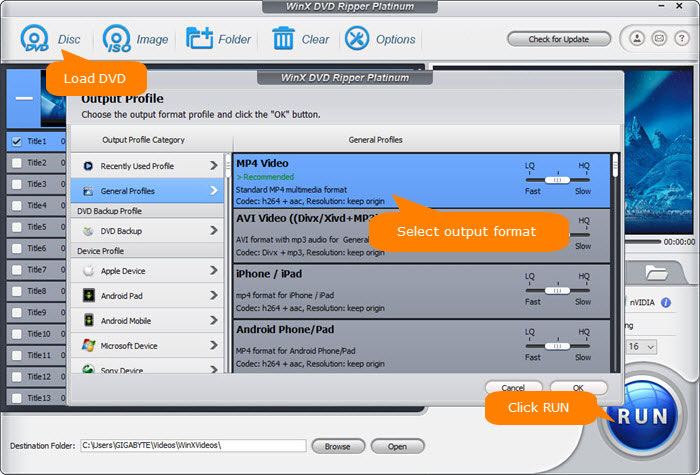 Step 3. Choose your preferred output format. MP4 is always recommended owing to its wide compatibility. Simply click "General Profiles" > "MP4 Video" > "OK".
Step 4. Click "Browse" button to specify the output folder path if necessary. Then tap "RUN" button to digitize DVD immediately.
Part 3. Where & How to Sell Used DVDs for Cash
There are many places to sell your second-hand DVDs, from online to local. And we've listed the top places where you can sell your old DVDs online or near you.
Where to Sell Old DVDs Online

Where to Sell Used DVDs Near Me

1. Decluttr

2. Amazon

3. SecondSpin

4. eBay

5. SellDVDOnline.com

1. Have a yard sale

2. Pawn Shop

3. Facebook Marketplace

4. Visit your local bookstore

5. Craigslist

* Online DVD sales could reach more niche collectors, making it easier to get a pretty penny with your used DVDs.
* Selling DVDs near me requires you to meet the buyer in person. Don't go alone, take a friend and meet them in a public area.
Now taking Decluttr as an example, learn how to sell used DVDr for most money.
Step 1. Visit Decluttr official site and choose SELL CDS, DVDS, GAMES & BOOKS column.
Step 2. Enter the DVD barcode to get a free instant valuation. Certainly, you can get a valuation of your disc based on the used DVD price guide above for a comparison.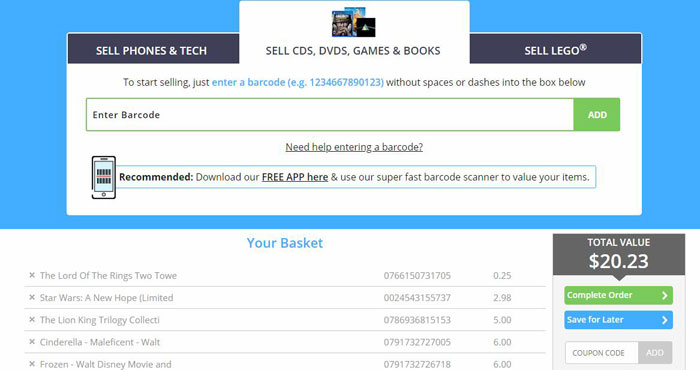 Step 3. Complete order in your basket, which must be worth $5 and at least 10 media items or 1 item of Tech.
Step 4. Pack your DVD discs into a box. Print the free shipping label that is sent by email out, tape it to your box and you're all set!
Step 5. Drop your box off at your nearest shipping location to ship your box for free.
Step 6. A few days later, you will be paid by Direct Deposit or PayPal after their expert team checks the used DVD discs over.
Note: If your DVD disc doesn't meet Decluttr's criteria, they won't pay you or send the unaccepted DVDs back. Therefore, you should always evaluate your DVD value honestly based on the used DVD price guide to get rid of unnecessary loss.
To the Conclusion
So there you go! Selling your used DVD is pretty easy, which not only makes some extra money but also gets rid of clutter in your house. If you are determined to sell unwanted DVDs, calculate its value according to the used DVD price guide and set the correct DVD pricing, be firm yet friendly when selling used DVDs. Certainly, protect yourself no matter if you're selling DVDs online or offline.