How to Store DVDs in a Visually Pleasing Way (with Images)
Tips & Tricks to Store DVDs in Small Spaces - Keep as Many DVDs as You Like in Your Home
DVD storage ideas are being explored by tons of people, especially by those guys living in a small place but owing hundreds of DVDs or even more. It is no exaggeration. Every year, numerous Hollywood movies DVDs are released, attracting movie buffs to add them to their DVD libraries without hesitation. After years of collection, they get a big DVD mountain standing in their small houses, leaving little room to walk around, put new furniture, store new DVDs, etc. More than that, improper storage will accelerate DVD rot. Here we put together top DVD storage ideas (wall-mounted, hidden solutions, creative & DIY options) to organize and store DVDs minimalist.
#1. Best Way to Store DVDs - Put DVD to hard drive, portable devices, cloud,etc.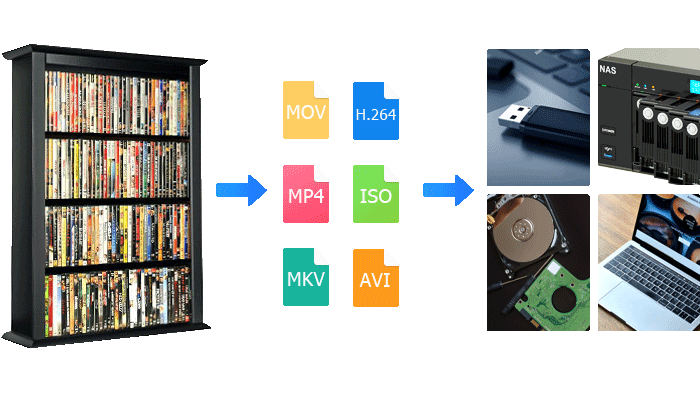 You don't need to allot space to store DVD discs in your small house if you store DVD content digitally to hard drive, flash drive, cloud service and so on. It is not only the most effective way to save home space, but also an economical and easy way to efficiently organize your DVD library by movie genres or alphabetical order. And all you need to do is to rip the DVDs to digital files with a DVD ripper.
WinX DVD Ripper Platinum is able to digitize home-made DVDs and commercially copy-protected DVDs to MP4 (H264/HEVC), AVI, MPEG2, MOV, MKV, WMV and so on, for saving to SSD, HDD, external hard drive, USB flash drive, Micro SD card, cloud service, Plex, Roku, iPhone, iPad, Android, etc. with 98% quality reserved (High Quality Engine), 47x real-time fast speed (up to 5 mins to rip a full DVD thanks to GPU hardware acceleration tech and high-end hardware configurations on your PC) and smaller resulting size. DVD editing features let you add subtitles to DVD, trim/crop movie, modify DVD info, merge multiple episodes into 1, etc.
Detailed guide: how to backup DVD movies in clicks
Best DVD Storage Ideas for Small Space
It will cost you about 3 mins to read through the article. You can skip to:
#2. Wall Mount DVD Storage Ideas
Store DVDs Minimalist on the Wall
Wall is not just a place to put pictures, but also available to store DVDs. You can buy some DVD storage shelves or cabinet from IKEA like floor-to-ceiling shelves, floating shelves, unusual wall shelves or choose bespoke DVD storage shelf, and pin it up on the wall of hallways, living room, bedroom, study, recreation room, attic, staircase or storage room to store DVDs. This DVD storage option can help you save space, and also decorate your wall in a stylish way.
The currently most popular wall mount DVD storage options cover:
● Modern wall-mounted cabinet for DVD;
● Wall-mounted stillage (made of wood);
● Corner etagere shelves;
● Retro DVD storage rack wall-mounted unit;
● DVD floating wall racks;
● Wall-mounted DVD holder;
...... Warm prompt: some car DVD organizer searches are noticed on Google. Usually the results are related to car backseat organizer or DVD binder bag sold at dozens of bucks. However, you're not advised to store DVDs in cars, especially in the summer. Because DVDs are vulnerable to high heat, ultraviolet and high humidity. The chance of DVD melt is slim while warpage is a real possibility at the summer temps. On top of car, when you store DVDs on the wall of your bedroom, study, staircase, hallways, etc., you're also required to avoid the wet, hot and sunny spot.
#3. Hidden DVD Storage Ideas
It would be nice to DIY or purchase some wall-mounted cabinet or shelves to store DVDs. And any friend can visit your large yet gorgeous DVD collections. Maybe DVD collections would be the first subject for you to start the conversation. The downside is that your routine cleaning work would be doubled or even tripled. To reduce the chores burden caused by DVD storage shelves and get DVD stored out of sight, you can try on the below hidden DVD storage ideas, most of which are easy to be conducted.
3.1 Categorize DVDs into Baskets or Drawers
Skip this space-saving storage idea for DVD movies if you don't use DVD sleeves. If not, pick out a couple of breathable baskets to save your DVD collections that are covered with DVD sleeves rather than cases. You can also add a label on each basket based on DVD movie genre or alphabetical order for later faster searching. The same also applies to DVD storage on drawers.
3.2 Store DVD under bed
Trunk beds offer a lot of room for storing stuff. So, why not make use of it to store your DVDs? It can keep a bunch of DVDs. Put them into the drawer under your bed, and then those bulky DVDs will be out of your sight. And that is not an eyesore. One thing to be noticed is that you'd better use a comparatively dry rag or mop to clean your floor. The lower humidity, the longer lifespan for DVD collections. 3.3 Store DVDs behind the door
All you need is just a DVD rack or shelf that can be fixed on the door. The door I mean here is not only a room door but also a closet door. You can buy one from stores or build a DVD storage unit by yourself. This is a great DVD organization idea for small home.
3.4 Save DVDs inside guitar
This is a quite creative idea to store DVDs. Though it can't include too many DVD discs, it's an awesome place to store your secret DVDs.
#4. DIY & Creative DVD Storage Ideas
4.1 Store DVDs under Staircase
Do you take full advantage of the abnormal space under staircase? If not, it's the time to open your computer and draw a plan picture on how to DIY your DVD storage cabinet under staircase. Head over to pinterest, instagram or interior & architecture websites (CASE 3D, DOCK, Concrete LCDA...) to seek inspiration.
4.2 Rebuild your Indoor Railings into DVD Cabinet
Which one owns higher practicability, indoor railings or DVD cabinet? It's definitely the one with organization function, except for decoration function. It seems that there are more compelling reasons to transform your single-function indoor railings into multi-purpose DVD cabinet.
4.3 Make Full Use of Unused Ledge
This is not so much a creative DVD storage idea as an overlooked DVD storage solution. Go through your house and stack your DVDs with cases side by side if you find any unused ledge somewhere. 4.4 DIY a 360 Degree Rotating Tower for DVD Storage
There are all sorts of rotating towers for cosmetics storage, with different material, size, rotation angles, price, etc. The same applies to your DVD storage spinning tower. The biggest gap between DVD revolving tower and cosmetics rotating tower is the price. Generally, a small-sized DVD rotating tower costs you at least $200, let alone the medium or large-sized one. You can DIY a 4-side spinning DVD tower if you're natively keen on handcraft.
4.5 Build Your Own DVD Chair
Online shop for bookcase chair and you'll be greeted with an expansive variety of re-degined chairs, with book storage feature. Yet, this is not the case to DVD. Nothing related to what you need pops up. No biggie! You can build your own DVDcase chair grounded on the bookcase chair. Or order a book chair and use it to store DVD collections. Who can say no?
4.6 Create a DVD Curtain
This is probably your first time to hear of DVD curtain. But this is really helpful when you want to store DVDs without taking up much space in your small house. Buy some clear DVD pockets, join them together into this unique curtain, and then put your DVDs (without cases) into it. I bet you and your friends will love this creative decoration.
In case some of your old DVDs are meant to be thrown to the trash, wait a second. Your unwanted old DVDs can be recycled as a DVD curtain, no DVD pockets mentioned above. Instead, you can repaint or recolor them to repurpose it as a artwork. Check more creative ways to reuse your old DVD collections. #5. Common Cool DVD Storage Options
5.1 Use DVD Sleeves with Binder Holes to Replace the Traditional Plastic Cases
The traditional plastic DVD case is beneficial for DVD protection against the external contaminants. It causes zero bothers to you if your DVD collection is acceptable in scale. If you have hundreds of DVD discs, that's totally another kettle of fish. It will eat up your physical space. The most cost-effective way is to use DVD binder sleeves or DVD wallet to organize your DVD discs.
5.2 Store DVD Collections under Bench
Granted that a bespoke rectangle cabinet is inserted under the bench, you can consider to take it for DVD collection storage. The cabinet under bench is away from the direct ultraviolet, high humidity and high temperature. It would be a silver bullet to store DVDs for small spaces. Important tip:
Above are the 5 innovative DVD storage ideas for small spaces. You can choose one or combine them to store your favorite DVDs. Since DVD disc is subject to damage in use, you'd better make a digital copy. By doing this, you can keep your precious movie/video safe, carry the content when you're out of home, play the content on computer without disturbing DVD drive and DVD disc, watch them on iPhone, iPad, Android and more. Besides, after having a digital copy, you can choose to ditch space-consuming DVD discs. Obviously, it can be regarded as a good DVD storage idea.
WinX DVD Ripper Platinum will rip any DVD to digital file easily and quickly! Got a few minutes? Give this ripper a shot.
Please DO NOT use WinX DVD Ripper to rip rental DVDs.
You may want to know the best format for archiving home DVD movies: best format to rip a DVD >>