5 Most Creative DVD Storage Ideas for Small Places You Must Check
Tips & Tricks to Store DVDs in Small Spaces - Keep as Many DVDs as You Like in Your Home
DVD storage ideas are being explored by tons of people, especially by those guys living in a small place but owing hundreds of DVDs or even more. It is no exaggeration. Every year, numerous Hollywood movies DVDs are released, attracting movie buffs to add them to their DVD libraries without hesitation. After years of collection, they get a big DVD mountain standing in their small houses, leaving little room to walk around, put new furniture, store new DVDs, etc. And then, it's time to seek for some creative DVD storage ideas to organize DVDs and make more space for the small apartment.
5 Novel DVD Storage Ideas for Small Spaces
DVD storage idea #1. Store DVD content to hard drive, portable storage devices, cloud service, etc.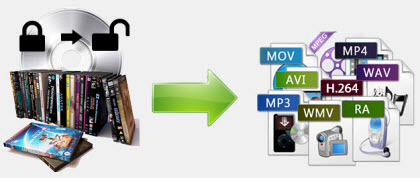 You don't need to allot space to store DVD discs in your small house if you store DVD content to hard drive, flash drive, cloud service and so on. It is not only the most effective way to save home space, but also an economical and easy way to manage your DVD libraries. And all you need to do is to rip the DVDs to digital files with a DVD ripper. There're many good DVD rippers in the market, some are free, and some are paid. If you have both home-made and commercial DVDs, you're recommended to give WinX DVD Ripper Platinum a try.
WinX DVD Ripper Platinum is able to convert both home-made unencrypted DVDs and commercially released copy-protected DVDs to digital files in MP4, AVI, MPEG2, MOV, WMV and so on, for saving to computer hard drive, external hard drive, USB flash drive, Micro SD card, cloud service, iPhone, iPad, Android, etc. Just throw your DVDs, be them old or new, to this ripper and later save the DVD content without occupying your small room.
Related tutorials: Copy DVD to Hard Drive, Free Rip DVD to USB Flash Drive, Rip DVD to MicroSD Card, Save DVD Library to Cloud Storage Device, Convert DVD to iPhone
DVD storage idea #2. Store DVD on the wall

Wall is not just a place to put pictures, but also available to store DVDs. You can buy some DVD storage shelves or cabinet from IKEA or other places, and pin it up on the wall of living room, bedroom or bathroom to store DVDs. This DVD storage idea can help you save space, and also decorate your wall in a stylish way.

DVD storage idea #3. Store DVD under bed

Trunk beds offer a lot of room for storing stuff. So, why not make use of it to store your DVDs? It can keep quite a lot of DVDs. Put them into the drawer under your bed, and then those bulky DVDs will be out of your sight. Now, it's time to enjoy your small but tidy room.
DVD storage idea #4. Make a DVD curtain

This is probably your first time to hear of DVD curtain. But this is really helpful when you want to store DVDs without taking up much space in your small house. Buy some clear DVD pockets, join them together into this unique curtain, and then put your DVDs (without cases) into it. I bet you and your friends will love this creative decoration.

DVD storage idea #5. Store DVDs behind the door

All you need is just a DVD rack or shelf that can be fixed on the door. The door I mean here is not only a room door but also a closet door. You can buy one from stores or build a DVD storage unit by yourself. This is a great DVD organization idea for small home.
Above are the 5 innovative DVD storage ideas for small spaces. You can choose one or combine them to store your favorite DVDs.
Important tip:
Since DVD disc is subject to damage in use, you'd better make a digital copy. By doing this, you can keep your precious movie/video safe, carry the content when you're out of home, play the content on computer without disturbing DVD drive and DVD disc, watch them on iPhone, iPad, Android and more. Besides, after having a digital copy, you can choose to ditch space-consuming DVD discs. Obviously, it can be regarded as a good DVD storage idea.
See also: What to Do with Old DVDs? 5 Ways to Dispose Useless and Useful Old DVD Discs
WinX DVD Ripper Platinum enables you to rip any DVD (including Zootopia and Jurassic World series) to digital file easily and quickly! Got a few minutes? Why not give this ripper a shot?