How to Organize Your Cluttered DVDs for Not Being An Eyesore
Massive DVD discs without organization seemingly swallow quite a large space of room and even involve the room into a clutter. And, it is not an easy task to dig out a desired DVD from discs thrown randomly. What's more, precious DVDs are probably broken or scratched if there is no protection.
If you've had any of these cases, you do need to declutter your DVDs to make them in order instead of an eyesore in your house. Here are some must-have tips to declutter your DVD discs to build a well-organized DVD library.
Part 1: Digitize DVDs to Make Them Easier to Declutter on Hard Drive, USB, Cloud etc.
Ripping DVDs to hard drive could be the easiest way for DVD organization. It won't take you too much space for storage, and you can keep as many DVD movies as you like in your home. Certainly, sorting out DVDs is no longer a pain, it's handy conversely. You're able to declutter your DVD movies in whatever sequence, such as organizing DVDs by genre, alphabet, actor, director or release date etc.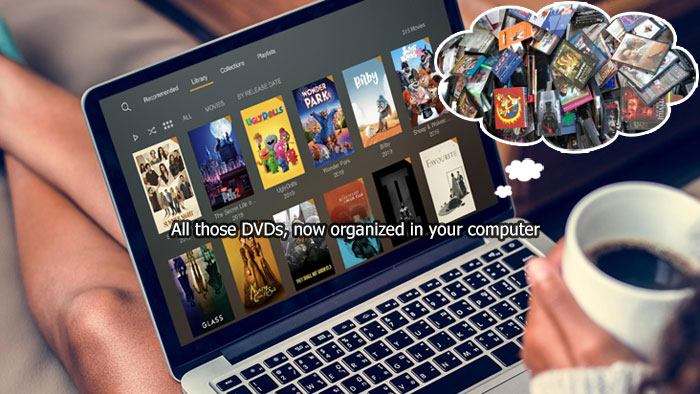 However, the premise of all this lies in that there is a DVD ripper capable of converting a DVD to a hard disk. WinX DVD Ripper Platinum is honored to own this ability. It enables users to digitize both home-made DVDs and commercially copy-protected DVDs to MP4 (H.264/HEVC), MOV, MKV, ISO image, MPEG2 etc., or directly to iPhone, iPad, computer, game consoles, Plex etc. With the support of hardware acceleration, high quality engine and compress engine, you can even get a digital copy of DVD with 80% smaller size, 1:1 quality ratio within 5 minutes.
Better yet, it can be quite easy to digitize DVDs to hard drives. 3 steps can make all done.
Insert your DVD disc into the DVD drive and open up WinX DVD Ripper Platinum. Click "DVD Disc" to load teh disc.
Choose a format for the output DVD. MP4 is always recommended as it's widely compatible with any devices and platforms.
Click "Browse" button to choose an output folder if necessary. Then hit "RUN" button to start ripping DVD to USB or hard drive.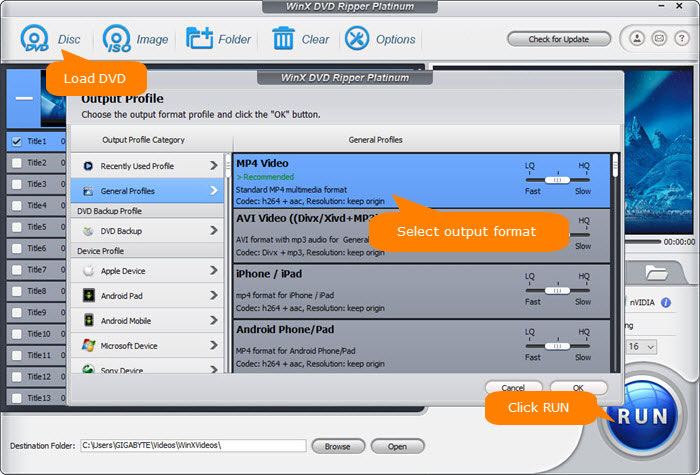 Part 2: Declutter DVD Discs by by Alphabetical Order
If you have enough space to store your DVD discs, sorting DVD by alphabetical order could be the most reasonable way to keep your DVD collection organized without abandoning any physical discs. Listing DVD movies in A-to-Z order allows you to find a movie quickly and accurately every time you want to see it. For example, you want to throw on Joker? No problem! There it is under the 'J''s where it should be.
What you may interested in: Creative DVD Storage Ideas for Small Spaces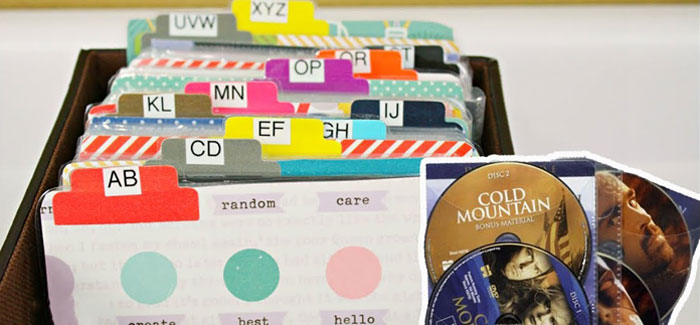 However, it doesn't mean sorting DVDs from A to Z is a perfect method. Every now and then there may be some exceptions. Yes, I know it sucks but I'd like to show you when it's acceptable for not going the alphabetical route.
1. Movies that start with numbers.
You have two ways to sort DVD movies that begin with numbers. For example, if you have films like "28 Days Later" or "300", you can put them under the "T", since both numbers start with a T. But if you declutter them simply with in numerical order and put them before "A", it will be more organized.
2. Movies that begin with "The's" and "A's".
There are too many movies starts with "The" and "A". If you put all of them under T or A column, the two sections will go on forever. Thus, the best choice is to ignore "The's" and "A's".
3. A sequel movie which is named differently.
A sequel movie named with different names really brings difficulty for organizing DVDs. Take The Evil Dead series for example. You have The Evil Dead, Evil Dead 2 and then Army of Darkness. Sorting them by alphabetical order? Obviously, putting the sequel movies all together gives you a better experience.
Part 3: Organize DVD Collections by Your Preference
Another well-received DVD organization method comes to declutter your DVD collections by your preference. It seems not coherent, but is this really the case? Certainly not. This method suggests keeping your favorites and disposing of the unwanted old DVDs, which can save a lot of storage space in your room. It's a significant step towards minimalism living. Now let's go further towards how to declutter DVDs based on your preference.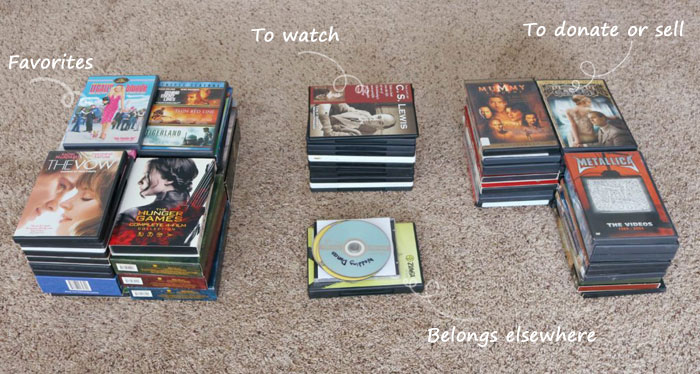 Step 1: Isolate your favorite DVD movies.
There are always some DVD films that you come back to time and time again, no matter when you feel down, too tired to concentrate on anything or when you're alone. This requires you to fast find and fetch your target DVD every time. For that, you're recommended to clear a shelf completely and put all your favorites in it.
Step 2: Get rid of the rubbish.
We may buy DVD discs for a variety of reasons, being recommended by friends, being attracted by the high ratings on IMDb, or simply because of an actor or director. It might not be your thing after watching it.
Seriously, why are you keeping them? They do nothing but take up a huge space in your shelf, cabinet and so on. Why not sell such old DVDs for cash or donate them to help those in need? In short, get the unwanted DVD discs out to slim down your DVD collection library.
Step 3: Make a "To watch" pile.
There are some DVD discs that you think you may watch later. Just put them together to build a "To watch" pile. Then when you want to watch a movie but have no idea which one to watch, you can pick one from it. This helps you make a quick decision, especially for those with choice difficulties.
Step 4: Repeat the process frequently.
Don't think decluttering DVDs once will make them organized all the time. The odd thing about DVD organizations is that the more you do, the more you can thin out, until you get to a streamlined and fresh DVD collection that you can enjoy.
Part 4: Taboos for DVD Declutter & Organization
• Do not organize by genre, actor or director.
Many of you may prefer to organize DVDs by genre. It's okay for a small DVD collection. But if you have a huge collection that accumulated over decades, it will be a mess. That's because a movie is usually tagged with several genres, for example, "The Lion King" is tagged as Animation, Adventure, and Drama. Which one should you put it in? The similar situation goes when sorting DVDs by actors or directors.
• Don't mix movies and TV series DVDs together.
Just as the title says, DVD movies and TV series DVDs should not be mixed together. There is nothing more annoying than looking for a DVD movie and having to skip through 8 seasons and 73 episodes of Game of Thrones or two seasons of The Westworld DVD. However, it's a different story if you have 300 DVD movies but only one TV series.
No matter which way you prefer, DO NOT NOT organize your DVD movies comes the most important rule for DVD decluttering and organization. It may sound weird, but I'm sure you understand the double negative.
Imagine that you're planning to watch "Knives Out" to kill time, then it takes around 20 minutes to find its case from a jumble of cluttered DVDs. You open up the case but the "Frozen 2" movie is sitting there! What the hell is that? This could make you extremely frustrated that don't even want to watch a movie anymore.
If you really don't want to repeat the tough process for DVD sortment, digitizing them is an once-for-all solution for a tidy and well-organized DVD library on computer, NAS, HDD, cloud, USB etc. Free download WinX DVD Ripper Platinum to make digital copies from your DVD discs now!
* WinX DVD Ripper doesn't endorse any act of ripping DVDs that does not comply with the DVD copyright laws.
* Please use the ripped DVD movies for personal uses only.