How to Sell Used DVDs for the Most Money (Near Me & Online)
DVDs used to be one of the most popular ways people consume movies, music, games, etc. But with the options to stream movies easily on Netflix, Hulu, YouTube, etc., you may not even remember the last time you take a DVD out from the case. And the piles of DVDs will pretty much end up in redundant, old discs. Selling your used DVDs for cash is a good way to declutter your room and make the best use of the old DVDs. In this post, you will find where you can sell old DVDs for cash near you and online, with or without case.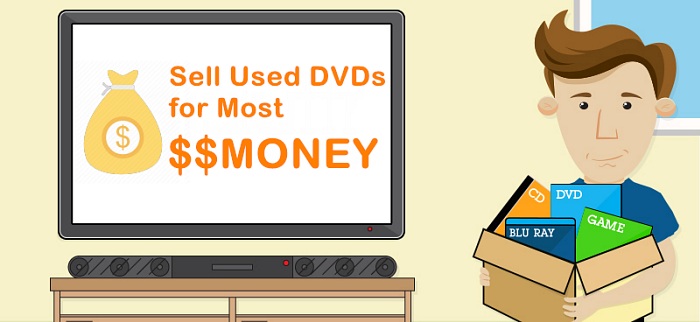 Before you sell used DVDs, be aware of legal caveats DVD copying
Before selling a used DVD for cash, some DVD owners may want to save a digital copy. But is it legal to rip a DVD and resell it? The short answer is, not very clear. Different countries see differently on personal DVD ripping (check the Copyright Laws in different countries). In the US, it is still illegal to rip your own DVDs, except for educational use. Will you get caught or sued for ripping your DVD? You're safe. Most government agencies focus on those who distribute DVD copies for business purposes. If you don't share the ripped copies, no one knows.
Instead of selling used DVDs for a little cash, you might as well save the movie and pass it on to other family members as an eternal good investment. So, if you're allowed to rip your legally-purchased DVD in your place, you're suggested to make a copy before you sell the old DVDs. Consider that you may have piles of DVDs to rip, try tools like WinX DVD Ripper Platinum (

Windows version or

Mac version) or similar.
Do You Want to Sell DVDs Near You or Online?
[Part 1] How to Sell Used DVDs for the Most Money Online?
Before you go, you may wonder how much your old DVDs are worth. Actually, multiple factors decide your used DVD value, including your old DVD condition, rarity, extra value, market demand, etc. Therefore, it's seemingly impossible to give you a fixed yet exact price on your classic DVDs. What's plus, online thrift stores vary from each other in old DVD value criteria. Hence, you can single out more candidates and make a comparison on price. Afterwards, make your decision on which store to sell used DVDs with the highest profits.
1. Decluttr
Online or in-store: Online
Shipping cost: Free
Payment options: Direct deposit into your account, Deposit by PayPal, Check
Decluttr is where you can sell second hand DVDs, CDs, Blu-rays, games, phones, tablets, etc. To sell an old DVD on Decluttr, you need to scan the barcode on the site or via the mobile app and it will give you an instant price. If the price is OK for you, you can get an order with which you can ship your DVDs for free. Once your DVDs are received and processed, you will get the payment the next day. Note your DVDs may be rejected if: 1, they are damaged or marked; 2, there are missing elements like cases and artwork. What about the used DVD prices? The average price for a used DVD is between 10 cents and $1 each.

Pros:
1. Free shipping
2. Instant price
3. Next day payment
Cons:
1. It won't send unaccepted DVDs back: you won't get paid and will lose your DVDs if they don't meet the criteria.
Also see: where to buy DVDs for cheap?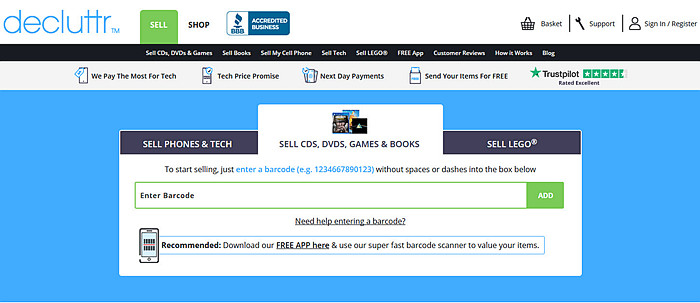 2. SecondSpin
Online or in-store: In-store & Online
Shipping cost: Shipping credit for up to 25 items
Payment options: Direct deposit into your account, Deposit by PayPal, Check
SecondSpin is focused on buying and selling unwanted DVDs. If you wonder "where can I sell used DVDs for cash near me", you may have choices among its two major stores and a number of affiliate stores. To sell old DVDs online, you need to find your title on its site and select the title that provides a satisfactory price > ship the DVD and wait. Sellers will have to pay for the shipping but once the DVDs are accepted, the site will provide shipping credit for up to 25 items. How much you can make cash for DVDs on this site? It depends. Generally, a normal DVD is about $0.5 -$3.00.
Pros:
1. Local stores so you can sell old DVDs in person.
2. Great selection for buying.
Cons:
1. Shipping reimbursement is provided only if you trade in more than $10 or 5+ items that are priced above $0.25.
2. The payment is not always fast.
3. Poor customer service.
4. Overly complicated shipping reimbursement policy.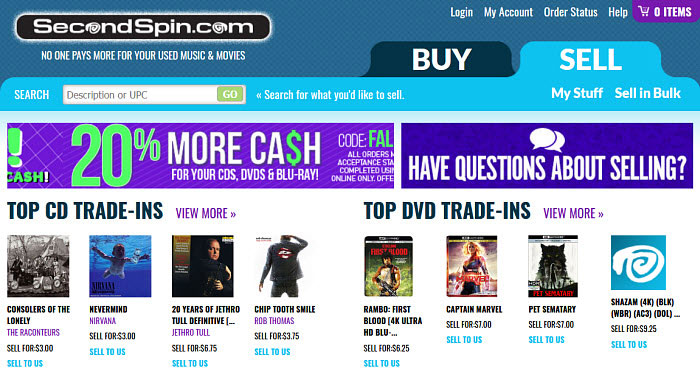 3. Eagle Saver
Online or in-store: Online
Shipping cost: Free
Payment options: PayPal or Check
Eagle Saver works quite like Decluttr, you can also sell used DVDs via UPC scanning with free shipping and next day payment. However, the site buys old DVs that are Region 1 – North American only. The good thing is that any DVDs with medium or heavy scratches, skips, and missing elements will be sent back, for free. Note that the old DVDs you shipped should be valued for at least $20.00 in total and at least $0.75 per item.
Pros:
1. Free shipping & return shipping.
2. Very easy to use and flawless.
3. Fast payment.
Cons:
1. Accept Region 1 – North American DVDs only.
2. It won't accept items less than $0.75.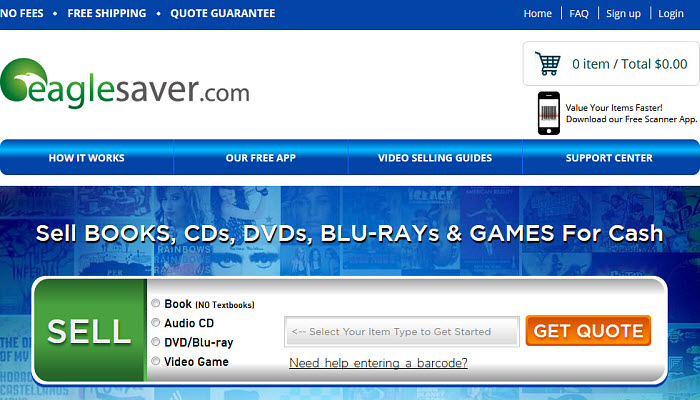 4. Bonavendi
Online or in-store: Online
Shipping cost: Depends
Payment options: Depends
Bonavendi is a site where you can find the best offer to sell old DVDs for the most money. It works like a search engine which compares prices of more than 20 different vendors and buyback websites. By entering the barcode, ISBN number, EAN and title, you can quickly find used DVD prices from different buyers. Then you can select and sell your second hand DVDs to the third-party vendors as per their policies. iOS and Android apps are provided to scan bulk DVDs.
Pros:
1. Good place to sell used DVDs for the best money.
2. Distinctive bulk comparison tool.
3. Easy to use.
Cons:
1. You can sell DVDs on the site directly.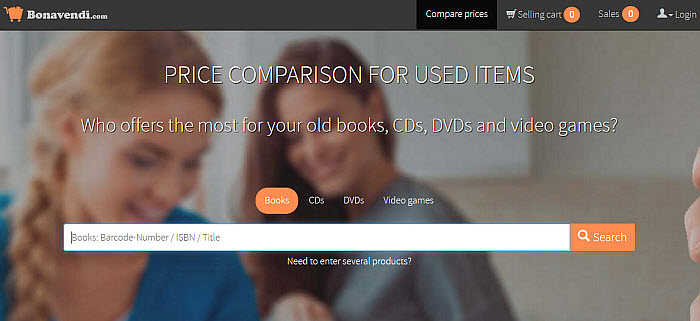 5. Amazon
Online or in-store: Online
Shipping cost: by customers
Payment options: Depends
Amazon is where you can sell used DVDs that don't meet the quality standards of other sites. You can list your DVDs on Amazon and get paid until you send them to the buyer. However, there are things to note: first, Amazon will charge 15% of the sales price as well as monthly listing fees; second, you need to get approval to sell DVDs on Amazon. So this method is recommended when you have a large number of old DVDs that are rejected by other buyback vendors. You can also trade-in with Amazon, but for lower prices.
Pros:
1. Shipping fees are paid by the customers.
2. You can sell DVDs without a case.
Cons:
1. Long-time wait for buyers.
2. A monthly subscription fee of $39.99.
3. Approval required to sell DVDs on Amazon. Things to note before you sell used DVDs online
1. Check the terms and conditions of each DVD buyback site carefully. Familiarize yourself with the minimum quality standards, shipping methods, return policy, required fees, etc.
2. Be careful with an offer that provides money more than your DVD - it can be a scam. Some may offer a high price, but other fees may be charged. Remember the vendors need to earn a profit.
3. Compare prices to find the best place to sell used DVDs for the most money. The site Bonavendi can help you do this fast. You can also sell your DVDs on different platforms.
4. Avoid paying any extra money. There are users complaining that the shipping fees they pay are higher than the DVD sales.
5. Describe your old DVDs honestly. You may pay more if the items you send do not fit your description. Meanwhile, please try to take good pictures, clear headlines, other details, etc.
[Part 2] Where to Sell Used DVDs for the Most Money Near Me
1. FYE
You can sell second-hand DVDs to FYE stores locally and get paid immediately. But you need to make sure if there is an FYE store near you. According to FYE official site, it has 206 brick and mortar stores in total, spreading over different states in the US. For example, there are only two stores in Alabama. If there is a store near you and your DVDs are accepted, you can normally get $1 to $5 per DVD. But there are DVD sellers saying that the store staff is very nitpicky that even a light scratch will be rejected.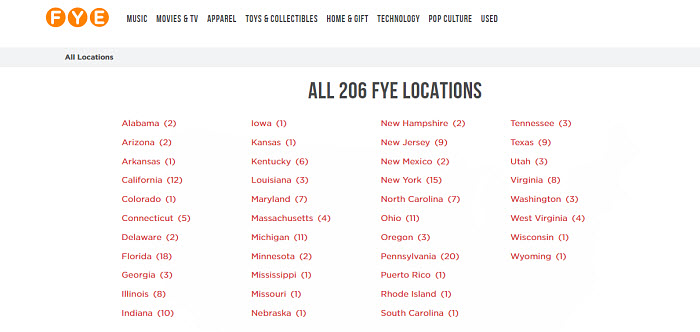 2. Pawn Shops
Pawn shops are easy to find and will buy your used DVDs, Blu-ray discs, phones, electronics, watches, pieces of jewelry, and various other stuff. To sell used DVDs for cash in pawn shops, your DVDs should be free of scratches or other damages. The better condition your DVDs are, the higher prices you can get. However, pawn shops won't offer the best price for old DVDs. Generally, old DVDs and Blu-rays can be sold between $.50 and $2 each.
3. Bookstores
If the above two options won't address your problem "where can I sell DVDs for cash near me?", try used bookstores. Some bookstores not only buy used books but also accept old DVDs. You may bring several DVDs and visit the bookstores to see if they will buy.
Things to note before you sell used DVDs near you
1. Don't meet any buyer in person alone.
2. Demand payment in cash.