Hold on, Do You Think You can Remove Vudu Disc to Digital Limits?
Vudu has offered a disc to digital program for DVD owners to convert their physical DVD libraries into digital copies. Simply scan, convert, and play, DVD owners can get more space in the house and carry the digital copy along with mobile devices, whether it's for trips without data or flexible movie playback. However, one question still lingers "is there a limit on disc to digital on Vudu?" What's the mobile D2D 100 a year limit? What about the prices and compatible titles? Before you get an account and invest the cash, you may want to have a look at the Vudu D2D limitations, downsides & benefits in this Vudu disc to digital review, and 2022 list of VUDU disc to digital compatible titles. Table of Content
Part 1. Brief Review on Vudu Disc to Digital Program
Vudu disc to digital service helps when some old DVDs don't come with digital copies or when the digital redemption codes expire. It provides the DVD to digital conversion via the In-Home and Mobile (In-App) Disc to Digital programs. On the desktop, you need to download Vudu to Go app, insert the disc to scan, and the app will analyze if the title is in its movie database. If yes, it will add the digital copy to your account. On the mobiles, download the Vudu app and scan the UPC barcode of the DVD movie to analyze. Currently, the mobile app is available for Android only and iOS users have to go to vudu.com/disc to do the conversion. Check how to convert disc to digital for full rundown >>
Available Options:
DVD to SD $2 per conversion
DVD to HDX $5 per conversion
Blu-ray to HDX $2 per conversion
Movies Anywhere: Movies Anywhere removes the Vudu disc to digital limits that the digital movies can be played on Vudu-supported devices only (smart TVs from Samsung, Sony, Vizio, LG; Roku, Apple TV, Chromecast, and Shield TV; Xbox and PSP; mobiles, and web). It makes digital movies converted, purchased, and rented on Vudu available for other Movies Anywhere connected video vendors like iTunes, Amazon, etc. But still, there is a limit on Vudu disc to digital movies that you can stream via Movies Anywhere, namely, movies from Disney, Universal, Sony, Fox, and Warner Bros.
Vudu Disc to Digital Review - Pros & Benefits
1. Fast. Converting discs to digital using Vudu won't go through the lengthy process of ripping and converting the physical discs to a digital video. If the movie is in its database, the digital copy will be offered after a short buffering. We'll give you a list of VUDU disc to digital compatible titles later.
2. Convenient. You don't need to do the inserting and converting manually. Simply scan the disc or the UPC barcode, you can get a digital copy. More importantly, the digital movies added to your Vudu account can be watched on the smartphones, tablets, computers, smart TVs and shared with your family members without adding the movies one by one.
Part 2. Vudu Disc to Digital Limits that You Must Know
1. Pay Again for Movies You Already Own
Paying as little as $2 per conversion to Vudu seems to be fair, considering the time saving of doing the manual conversion and transferring to multiple devices on your own. But it's annoying having to pay yet again for movies you already own. It can be a particularly Vudu D2D drawback if someone wants to has a large DVD collection and use Vudu to convert tons of DVDs at $2 a pop.
Learn how to digitize DVD collections without paying $2 each convert >>
2. Vudu D2D Mobile 100 Limit
There is an express limit on Vudu disc to digital official page that users can convert a maximum of 100 DVDs per year using Vudu Mobile disc to digital app. The restriction will reset a year from the first Disc-to-Digital mobile transaction. The Vudu mobile D2D 100 limitation has irritated many large DVD collection owners. For example, "I have reached my 100 limit in about 4 days and still have a bunch more movies to convert." In this case, you can switch to the desktop Vudu to Go app or wait for another year.
3. Vudu Disc to Digital is Limited to US Only  
Unfortunately, Vudu is a service available for users in the US and Mexico only. You can't convert DVD via the Vudu disc to digital service, or stream, purchase from the platform outside the country. However, you can use some block the Vudu region restrictions by creating an IP address in the two countries with a good VPN.
4. You can't Convert All DVDs (incl. Family Discs)
There is another annoying downside of Vudu disc to digital: Vudu's movie library doesn't cover all the titles you want to convert. Some movies are for rent only, some for convert, some for purchase, etc. For example, in 2017, Vudu Mobile Disc-to-Digital was limited to around 8,000 movies (though its library is expanded by now.) from Paramount, Sony, Twentieth Century Fox, Universal, and Warner Bros, and it doesn't support DVDs from Disney or other studios. This also means, all your homemade DVDs are out of luck. Thankfully, you can always find a strong & free DVD ripper as a backup method when Vudu cannot convert your DVD.
When you insert or scan a DVD, Vudu will tell you if the DVD is available for converting. Considering that some users are looking for VUDU disc to digital compatibility list, we did the search for them and found some useful google sheets:
https://docs.google.com/spreadsheets/d/1IgK7tIEKngP59PUOs_lsF4P1hbSRIG71tgxncpu1Mws/edit#gid=1306230493
https://docs.google.com/spreadsheets/u/0/d/1po70GCN9JUwrWgycMueNfxpEvBjLd7DQkiMRUQFFsL8/htmlview
5. You must Convert at the Same Billing Location
The GPS is applied to detect whether you're staying at your home billing address when you do the disc-to-digital conversion on the Mobile app. We can totally understand as this Vudu disc to digital limit is a good way to verify the ownership of the DVD collections and prevent anti-fraud behaviors like scanning the bar codes of the DVDs on the shelves in a store. But the drawback is the billing address match problem; it seems that the GPS doesn't always work.
6. You Don't Actually Own the Digital Movie
You should know that pay $2-$5 is sort of buying an extra license that allows you to view the digital copy of your DVD movie in the cloud. Unlike the digital videos converted with DVD rippers, you can't to local devices to carry when there is no internet or use the Vudu digital copies freely (an alternative way to convert the DVD to hard drive). Your digital movie collection depends on the longevity of the Vudu, and there is no guarantee that the video service won't die off someday, considering the close of UltraViolet.
7. You must have the UPC Code Using Vudu Mobile D2D
To convert DVD to digital using Vudu mobile app, you must have the barcode on the cover of the DVDs. Or you can scan the DVD via the phone's camera. It can be an unpleasant Vudu downside for owners who have old DVD collection and also movie-loving kids. If your cover is lost, switch to the Vudu to Go app on the computer. So take good care of the collection.
In addition to the above major limits on Vudu disc to digital service that you should note, there are some other small downsides of Vudu D2D. Just to name a few, you will get Vudu disc to digital location error if your location doesn't match billing address. You get no control on the output video. Only 8 devices can be linked to your account to share the digital movies. You can't select the subtitles, audio tracks, or digital version, especially annoying when the DVD package contains some special extras. The DVD-to-digital conversion is riddled with tricky errors, e.g., can't add billing info, checkout problems, Vudu internet error code 28, etc. Anyway, after having a rough idea of the Vudu D2D limits, you may want to know how to get break these restrictions.
Find more Vudu disc to digital not working errors and solutions here >>
Part 3. Convert Any Disc? No 100 Limit? Can You Remove Vudu Disc to Digital Limits?
The Vudu disc to digital review above has offered the possible ways to deal with the Vudu D2D restrictions & drawbacks, like using a VPN to bypass the region limitations. But you cannot remove the most others. The only way to get rid of the limits on Vudu disc to digital conversion is to try a third-party converter. For example, you can use WinX DVD Ripper Platinum.
It will convert DVD movies and TV shows released by Disney, Sony, Paramount, and any other studios. Any old, scratched, new, and homemade discs are supported. It will remove Vudu region limits, M2D 100 title limits, internet requirements, etc. with the ability to remove region codes, CSS, RCE, Disney X-project DRM, etc. and convert DVD collections to digital MP4, HEVC, ISO, MKV, MOV, AVI, etc. with all subtitles, tracks, extras, native resolution in fast speed.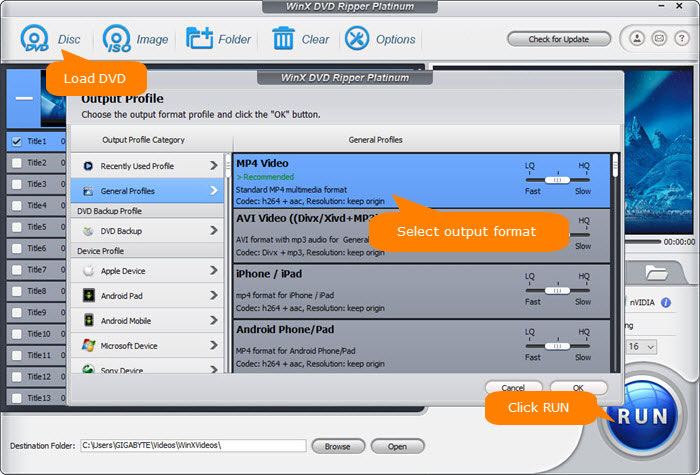 Step 1: Run it and insert any DVD. Click the Disc button to load the movie info. You can also convert ISO image and DVD TS_folder.
Step 2: Then the software will detect the right title of the DVD and then ask you to select an output format.
Step 3: Click Run to start the conversion. It has 5x faster speed to convert a DVD in 5 minutes (main title).
Disclaimer: Digiarty Software does not advocate ripping commercial DVDs for any illegal purpose. You're suggested to refer to the DVD copyright laws in your country before doing so.