Solved: How to Fix Vudu Location Not Matching Billing Address Error
I'm using the disc to digital service with in the VUDU app for Android I'm getting stuck at location verification. With it saying "Location must match billing address". Yes I am in the comfort of my own home and yes my billing address is the same as my home. I have even confirmed this with Google Maps GPS location services. How can I get rid of VUDU disc to digital location error and make it work normally?
If you've ever tries the Disc to Digital feature on Vudu, you may possibly get an error telling you that your current location must match your billing address. This is considered as one of the biggest issues Vudu need to figure out as soon as possible. The worse thing is Vudu users reported they never got any response even they had e-mailed Vudu about it a couple of times. Given this, we will focus on how to fix the Vudu disc to digital location error, along with alternative solution for flawless DVD to digital conversion. Table of Contents
Part 1. How to Get Vudu's Current Location Match the Billing Address
Vudu provides a convenient way for users to upgrade the physical movie collections to digital copies. But there's a catch: it requests permission to access your current location data, followed by your credit card data. If you are not physically at the billing address associated with the Vudu account at the time of conversion, VUDU disc to digital will not work because of location error. This is an anti-fraud measure designed to prevent you from scanning movies that you don't own. But the opposite side is Vudu works poorly especially when you are live in a rural area. If you have no clue about how to cope with this. Here are some fixes to the issue.
1. Make sure to enable your phone's Location Services/GPS and the GPU permission is enabled for the Vudu app.
• To enable location permissions on iPhone or iPad
Go to Settings on your phone > privacy > turn on the Location Services.
Scroll down in the list of apps until you get to Vudu.
Allow to use the location services "While using" Vudu.
• To turn on location access on Android
Go to the Settings on your Android.
Tap Location > Google Location Reporting.
Tap Location Reporting and toggle the switch to on.
2. Make sure your home address is correct under both "account info" and "payment info".
If you already have a credit card on Vudu account, make sure the billing address is correct, up-to-date, and not appearing as PO Box.
If you are currently using a PayPal account as Vudu payment method, add your credit card to Vudu account.
3. Turn your Location Services/GPS off for 1 minute and then back on. Check the see if the Vudu disc to digital location error is fixed.
If you still encounter location error, you may have to try an alternative service.
Part 2. Best Vudu Alternative to Convert any DVD Disc to Digital without Location Error or Limit
Vudu's cheap movie conversion is tempting if you are looking to rid yourselves of the physical DVD. But the $2-5 DVD to SD/HD price is too steep and the max 100 titles per year are too limited for DVD owners, especially when they have a large collection of physical media. There's another gotcha: despite Vudu is available for up to 8000 titles from Warner Bros, paramount, Lionsgate, etc, the movies from Disney are not eligible for the Mobile Disc-to-Digital program.
To get rid of the Vudu location error as well as the VUDU limits permanently, you are suggested to resort to a third-party DVD ripper such as WinX DVD Ripper Platinum. It supports ripping any old, scratched, or new DVD movies, workout DVDs, or homemade discs which Vudu doesn't support and digitize them to a compact file that is well recognized by iPhone, iPad, Android, TV, PC, and more.
Step 1. Free download the Vudu alternative on your computer, install and run it, after which you can load the DVD movie, ISO or folder.
Step 2. Choose the output format as per your needs. For the best balance in speed, quality and speed, choose MP4 H.264, which is also compatible with most media player, iPhone, iPad, Android, Windows Phone, etc. If you want to keep the original quality intact, go to DVD backup profile and choose ISO, main title copy or full title copy, which will keep the audio, video, and subtitle tracks at your disposal.
Optional: you can also make a simple edit of the movie, add external subtitles, crop the video for full screen playback, even enhance the video quality to 1080p or so.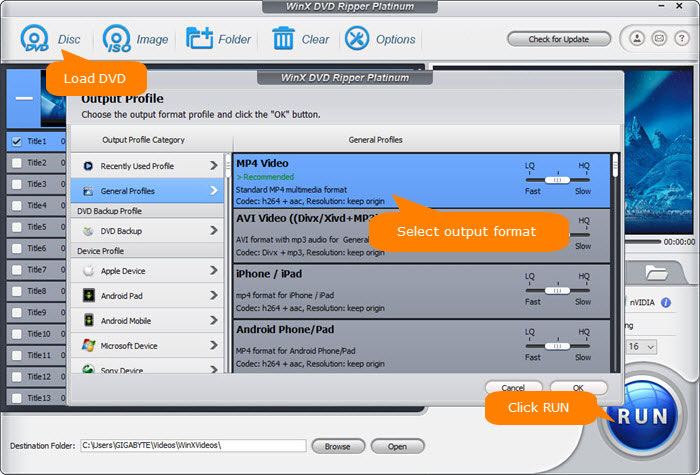 Step 3. Click browse to save the output movie and tap RUN to begin the disc to digital conversion. It takes just a few minutes to finish the whole process, depending on your computer configuration.
Disclaimer: Digiarty Software does not advocate digitizing commercial DVDs for any commercial use. You're suggested to refer to the DVD copyright laws in your country before doing so.