VUDU Disc to Digital Not Working Anymore? Time to Make a U-Turn
Dropping a physical DVD into a tray for viewing is going the way of the dinosaurs. Instead, getting a digital copy of the purchased DVD to extend the viewing option is in its pomp. Accordingly, Vudu is deservedly popular among DVD owners, since it allows you to convert DVD to digital copies so that you can keep them safe and organized without messing up your room. The fact is you may encounter Vudu disc to digital not working problem while using the in-home service. Much of the post here will focus on why and how to fix the issue, along with the best alternative to digitize your DVDs successfully.


Updated:
Recently, Vudu is reported not working error on Roku TV, Android, and more. You cannot log on Vudu. It just stopped and won't let you back in. To avoid all your movies gone and save thousands of dollars in movies, it's better to resort to Vudu alternative such as desktop DVD ripper software for help.
Download the Best VUDU Alternative - WinX DVD Ripper Platinum
To avoid Vudu's D2D not working error and free you from the M2D' limits like unreasonable $2-5 for each conversion, 100 conversions/year, etc, you can try WinX DVD Ripper Platinum. It allows you to convert any DVD (incl. Disney, home-made and workout disc that VUDU doesn't support) to MP4, H.264, MOV, AVI, etc without any visual quality loss or number limit, even when you are out of U.S.
Possible Reasons and Solutions to Fix Vudu Disc to Digital Not Working Error
1. Walmart's Vudu dropped in-home disc-to-digital support
Walmart ended the support for Vudu to Go/In-home disc-to-digital starting January 1, 2020. Does Vudu disc to digital still work? Actually, you can resort to M2D to continue digitizing DVD discs by scanning UPC codes on your mobile phone or tablet. Here is the detailed tutorial to get VUDU back to work.
• To turn physical DVD into digital on Android
Step 1: Download Vudu Android from the app store.
Step 2: Sign in or sign up for free.
Step 3: Select Disc to Digital and grant the app access.
Step 4: Let VUDU scan the UPC. VUDU won't work with the DVD if it doesn't have a UPC.
Step 5: It will start converting the disc.
• To convert DVD on iPhone iPad with VUDU app
Step 1: Launch the VUDU app on your iPhone or iPad.
Step 2: Tap the menu icon > Disc to Digital > Scan Barcode to begin the scanning on your DVD.
Step 3: Select the quality format from SD or HDX > tap Submit List to start the digitizing process.
Step 5: Scan, convert and watch instantly.
2. Location doesn't match your billing address
Many users reported Vudu's disc to digital didn't work and received error "you current location is not your billing address" through both Safari and Chrome even they have the location service turned on or update their Vudu app.
As a matter of fact, Vudu asks permission to access your location data. For a trouble-free DVD scanning on Vudu, your billing address needs to be in accordance with your phone's GPS location, in such a way to avoid you scan any old DVD case you find at a friend's house or in stores.
To fix the disc to digital location problem, make sure to have the GPS accuracy at the highest setting. But if you have a stack of old DVDs gifted from your friends, VUDU won't work, instead you need to try some DVD ripper software. See how to fix Vudu location error >>
3. VUDU has error reading disc or the title is not eligible 
The failure to work with all of the movies is quite a prominent VUDU error. Despite the App can recognize the location, scan the UPC, and you try everything - clear cache, history, uninstall app, reset Phone, you may still have no luck. This is because Vudu only digitizes discs that are eligible and currently offered in the marketplace. For the old DVDs, some special multi-disc editions, TV shows, multi-movie packs, homemade DVDs, workout DVDs and more, Vudu won't work at all. In addition, movie studios like Disney and its affiliates don't participate in the Vudu disc to digital program. If you want to rip Disney DVD, take a third-party DVD ripper for a try.
4.. If you reached max disc to digital, Vudu stops working.
If you have a large DVD collection to be converted, chances are you may receive a message that tell you have reached your max limit for converting from disc to digital. VUDU sets a cap of 100 discs that can be converted per account per year via mobile. See more VUDU limits >>
Best Alternative to Vudu D2D/M2D to Convert any DVD without 100 limit
Vudu disc to digital service is great for you to liberate your purchased DVDs from the plastic and metal prison and let you watch the movie on your iPhone iPad and Android. But its mobile-conversion feature is capped at 100 titles per year. For those with large disc collections it may take years to convert and take whopping $200-$500 for 100 DVD to SD or HDX conversions, which must be achieved on condition that the DVDs are available and eligible for disc to digital conversion. Or else, you may run into the Vudu disc to digital not working errors like above.
Instead of being plagued with the Vudu D2D & M2D limits and errors, why not trying third-party DVD ripper software like WinX DVD Ripper Platinum. With its unique title check mechanism, it is easy to convert any DVD movies and TV shows released by Disney, Sony, Lionsgate and more without a hiccup. On top of that, the program enables you to back up your large DVD collection to ISO, MPEG2, digital MP4, H.264, MOV, WMV, AVI, MP3, etc at a lightning speed without compromising quality. You can follow the steps below to digitize your DVD library to digital format as easy as ABC.

Free download the Windows version (Windows 10 and earlier)


Free download the macOS version (Big Sur and earlier)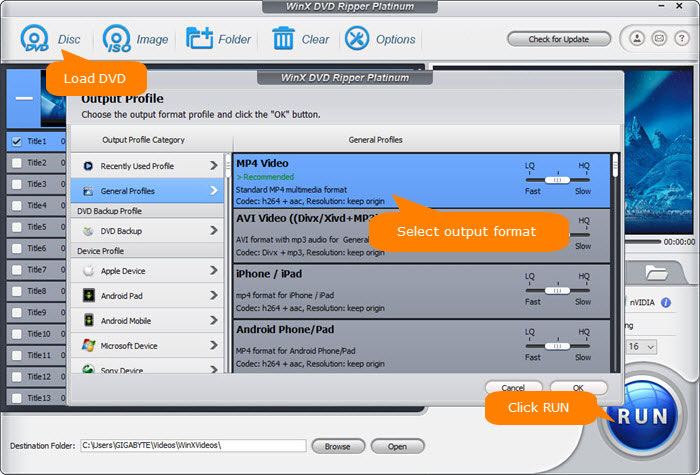 Step 1: Click the DVD Disc button to load the DVD, ISO or DVD folder after your install and run the program. It will scan the movie title in seconds.
Step 2: Choose the output format as per your needs. For the best balance in speed, quality and speed, choose MP4 H.264, which is also compatible with most media player, iPhone, iPad, Android, Windows Phone, etc. If you want to keep the original quality intact, go to DVD backup profile and choose ISO, main title copy or full title copy, which will keep the audio, video, and subtitle tracks at your disposal.
Step 3: Click Run to begin the DVD to digital conversion. Unlike Vudu that relies on network connection to finish the disc to digital conversion, WinX DVD Ripper Platinum makes full use of the hardware acceleration and takes as short as 5 minutes to finish the conversion, depending on your computer hardware.
Disclaimer: Digiarty Software does not advocate digitizing commercial DVDs for any commercial use. You're suggested to refer to the DVD copyright laws in your country before doing so.