Posted by Donna Peng - Contact Author

Fix 'Unable to Identify This Disc' on VUDU Disc to Digital

If VUDU cannot identify your disc or barcode, click here: The solution most recommended by us [85%]
Fix VUDU Disc to Digital Not Working Issue: Disc/UPC Not Identified
VUDU offers an amazing disc to digital service which allows you to convert your DVD or Blu-ray collection to digital on your computer, Android, and iOS phone. It's very easy to use. But you're not guaranteed to be able to digitize every disc you own. Many users report online that when they attempt to digitize some discs on VUDU they get 'unable to identify this disc', 'this disc is not eligible for disc to digital conversion', or 'the barcode not recognized' error. Oddly enough, some discs are listed as eligible titles but still cannot be read.
Also see how to fix Vudu Failed to Connect Error Code 28

Why and How to Fix VUDU Unable to Identify This Disc Problem?
The possible reasons for disc or UPC not recognized issue:

1. The movie is a new release and hasn't been added to VUDU library. Most new release films take a year or more before VUDU activates them.
2. Your DVD drive can't load/recognize the disc.

3. The movie studio isn't supported. Disney and subsidiaries and MGM movies are not eligible for disc to digital conversion in VUDU.
4. The movie is an adult theme video. VUDU doesn't offer adult pornography.

To fix VUDU unable to identify disc or UPC error: go to https://www.vudu.com/in_mobile_disc_to_digital.html, find Search for movies available for Disc to Digital conversion, type in your title and see if it is supported. If it is, you should be able to convert it to digital without issues. If it isn't, you can wait for some time. VUDU may add it to its library in the future update. If you don't want to wait for an unknown result, you can use an alternative to Vudu D2D service to convert your DVD disc to digital copy.

You can find more Vudu disc to digital not working errors and solutions here >>
The best workaround to fix Vudu To Go or Vudu mobile app unable to identify disc/UPC error: Use WinX DVD Ripper Platinum to convert problem disc to digital file.Easy & fast
WinX DVD Ripper Platinum is one of the best DVD rippers in the market. It has been developing for over one decade and supports the widest range of DVD titles, including Disney movies. Both old and newly-released movie DVDs, TV shows DVDs, workout DVDs, adult DVDs, and others can be identified and digitized to high-quality modern format such as MP4, AVI and WMV. Pay $47.95 and you'll get a lifetime license for this ripper to convert as many discs as you like. No quantity limits. So, it is more cost-effective than VUDU. You can check more detailed comparison between them at VUDU vs WinX DVD Ripper. Anyway, WinX is worth a try.
Below is the guide to digitize DVD disc with WinX DVD Ripper.
Step 1. Insert DVD into the DVD drive of your computer and click DVD DISC button on the ripper interface to scan the disc.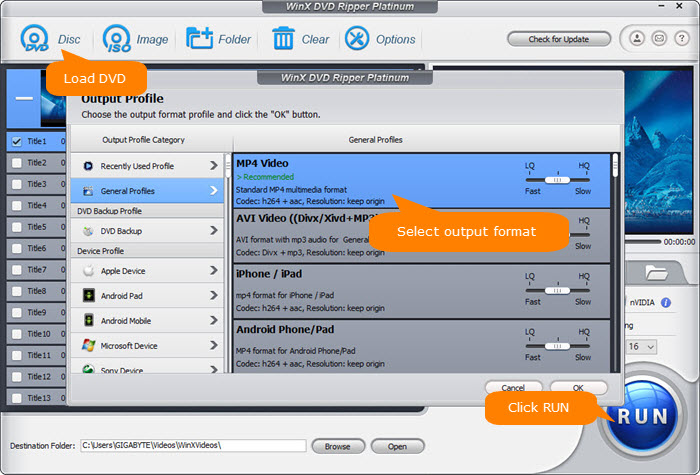 Step 2. You'll be directed to Output Profile panel where you should select a desired format for the resulting digital file.
Step 3. Hit RUN and it will begin converting disc to digital. This VUDU alternative allows you to use Intel QSV and NVIDIA NVENC hardware acceleration to speed up ripping.
Disclaimer: Digiarty Software does not advocate ripping commercial DVDs for any illegal purpose. You're suggested to refer to the DVD copyright laws in your country before doing so.