What We Can Use to Back Up DVD Without Vudu's Service
As one of the biggest DVD rental, retail business chain, Vudu announced November 2019 about the termination of its "Disc to Digital" service on 1st Jan 2020, which means you can no longer carry your DVDs to Walmart and transfer them to digital format with the assist from Walmart faculties. Instead, you need to download the Vudu APP and use it to scan the UPC of your DVD and transfer them with a $3 payment.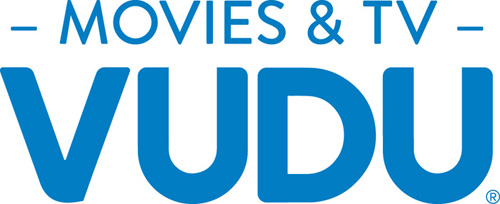 It could be a triumph since a mobile APP seemingly a convenient choice to back up your DVD by click some button on your phone, it sounds promising. But there are several things we should taking care of: the DVD is what yours, you shall pay double attention to deal with it.
Reasons for you to prudently use Vudu new "Disc to digital" service
1. Unable to scan /find the UPC code
Their new version of the "Disc to Digital" service will need users to scan the UPC (barcode) as the certification to get your DVD downloadable on the Vudu service. But this isn't always a good thing to be heard for all DVD collectors since there are many customer can no longer found. Theoretically, the UPC could be easily found on the box of DVDs, and this is the problem: not all customers will keep the original box for every single piece of their DVD. And there are expectable situations like fouled, damaged bar code will end up the result that your DVD could not be digitalized since it can't be scanned. Also, beware of that not all movie titles are supported to have a digitalized backup since there's limited movie in Vudu's movie library, thus could be the importance to find an alternative DVD rip software with a once purchased, life-long use software.
2. Payment
Vudu's "Disc to Digital" service will cost you at a minimum of $2 for each disc and various by different types of discs & contents. It is OK of transferring one or two physical discs to digital format, but you would like to think twice if you need to convert a whole series with 20 discs in a pack with $60 or even more. And the cost will be intolerable for customers who want to back-up his whole stash of DVD collection to the digital form. In the second case, it's much proper to have a DVD rip software since the cost is unreasonable for clustered two bucks for each disc. For a common DVD collector, if they need to back up their physical disc to digital, there will be an urgent need of finding an alternative solution instead of Vudu's "disc to digital" service.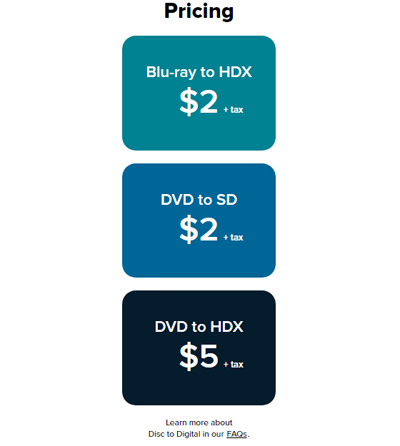 3. Unexpected error codes, device issue
As we've mentioned above, all Vudu services are based on internet connection and heavily rely on the hardware. Hence that they are not able to optimize their service to fit every piece of smart devices on the market, there will be problems. Identically, the frequently reported "error code 60" for Vudu, which indicates that failed to certificate the "legal license", could be the one most bothering for all customers who want to enjoy their movie simply. Alone with other error like "error code 28 vudu roku" which probably represents that there is a connection issue. Hence that a simple solution without too many complicated settings/configurations could sometimes be the better way of resolving.
Disclaimer: Digiarty Software does not advocate ripping commercial DVDs for any illegal purpose. You're suggested to refer to the DVD copyright laws in your country before doing so.
A better solution: the WinX DVD ripper
Digiarty's WinX DVD ripper allows customers to make a full digital back up any DVD to your PC/ smart devices without any quality loss, plus the capability to convert them to a portable format which means multi-platform playback function is surely obtained. Without the requirement of the internet, it could be a decent option for seeking substitutes for Vudu's Disc to digital function.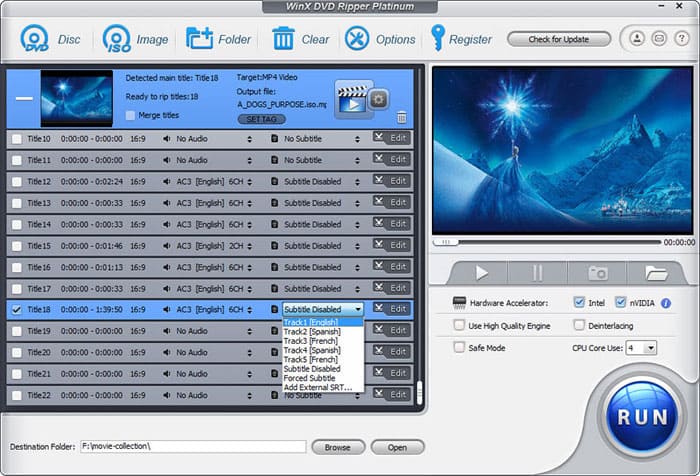 WinX DVD ripper is competence for high speed DVD backing up with lossless quality. For people who need to back up their DVD discs library, WinX DVD ripper provides a both in decent quality and reasonable price (with the full price of $67.95, and now is your chance to win the free copy).
WinX DVD Ripper is the strongest 1:1 DVD backup tool to copy corrupted DVDs with scratches or bad sector DVD protections (as well as regions, Disney's Fake, other schemes). The software offers different DVD copy modes: clone full damaged DVD to DVD, DVD to ISO, and Video_TS Folder, or backup the DVD title to MPEG2 or extract the video/audio only. There are tools to burn DVD and mount ISO.
Free download WinX DVD Ripper Platinum for Windows


Free download WinX DVD Ripper Platinum for Mac