What is the level-3 hardware acceleration?
[Level-1]: Hardware Encoder
Most DVD rippers on the market claim themselves to support Hardware Acceleration actually are classified to this level. They take advantage of hardware encoder to accelerate disc to digital processing - to a certain degree.
[Level-2]: Hardware Encoder + Hardware Decoder
DVD ripping speed can be further boosted, however, NONE of DVD ripper gets into such level until now.
[Level-3]: Hardware Encoder + Hardware Decoder + Processing
With full utilization of level-3 hardware acceleration powered by Intel (QSV) and NVIDIA (CUDA/NVENC), WinX DVD Ripper achieves the highest level of performance in speed, while perfectly preserving image quality with smallest possible file size.
Specifically, in DVD ripping, the tech speeds up the process: "source DVD - Hardware Decoding - Processing (GPU) - Hardware Encoding -target video", thus at least 50% ripping time can be saved.
Furthermore, you can freely proceed with other tasks during its converting process because it costs low consumption of CPU. That means zero harm to your computer hardware and more protection to prolong the life of your drive.
How Fast Can You Rip Discs into Digital Copies?
Having a rough idea of the Level-3 hardware acceleration in disc digital copy, let's see how fast it is.
According to internal tests, it can convert discs into digital copies ~5x faster than others. For example, on a computer i7-4790K Processor and 16GB RAM, it runs at a speed of 260fps converting DVD to digital H.264. The speed boosts to 300-500fps on a higher configuration, being able to turn a full disc to mp4 h.264 within 5 minutes only. The speed depends heavily on your hardware, the higher the faster. But the overall speed is about 3x to 5x faster than many DVD rippers under the same testing condition.
Only 3 Steps to Rip DVD Disc to Digital File:
1. Load your source DVD disc.
Select your DVD source as DVD disc, ISO image or DVD video folders from your computer. 
The DVD movie info will be automatically read itself and the right DVD main title (with full content) will be clicked directly for you.
2. Select the digital video formats
The output profile window will pop up in front of you with various output categories lying on the left.
To rip your DVD to a digital file (here MP4 for example), click under the directory: General Profiles- MP4 Video. Press "OK".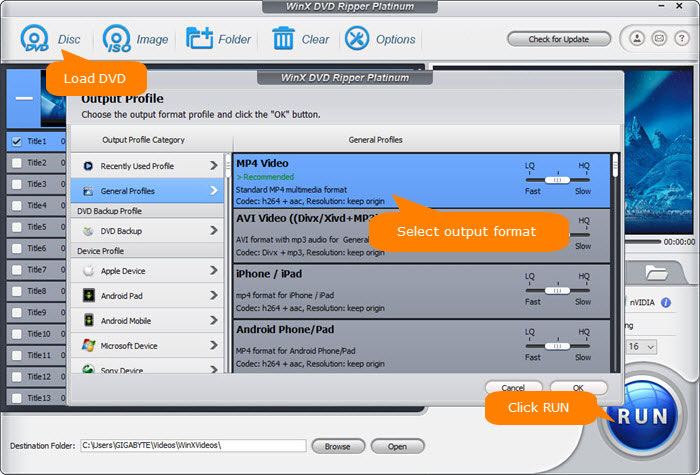 Optional:
Before copying this DVD to digital file, you may press the setting icon on the main interface to adjust various media-related parameters as you like, such as resolution, ratio aspect, frame rate and so on. 
Also, you can simply add subtitles, crop& expand the video size, trim the start and ending time and adjust the volume by clicking the "Edit" button.
3. Start ripping DVD disc to digital files 
Please remember to check the default destination folders on the bottom to store the Digital files in your own pack, click "Browse"; then tap "Run" to begin ripping DVD disc to digital copy fast in only 5 minutes!
Warm tips :
The hardware encoder( Intel/nVIDIA) will be auto-clicked if your PC supports it;
It's a good way to select the CPU Core as high as possible to accelerate this converting;