[Money-saving] Where to Buy DVDs Cheap with Free Shipping?
If you're movie addicted but not a DVD collector, you may want to watch different movies without having to make a heavy investment. How can you buy more DVDs with less money? A side-subject that must be broached: where to buy DVDs for cheap? Amazon? Best Buy? In fact, there are many other places offering cheap DVDs with free shipping online & near you.  You can even save $10-$20 each DVD. Check this post before you buy a DVD movie or TV shows, you can save more money.
What to do with your old DVDs? If you have any old and used DVDs that you don't want to keep, you can also sell them to those who need, at a lower price. To get the best money of your old DVDs, see how to sell DVDs for cash >>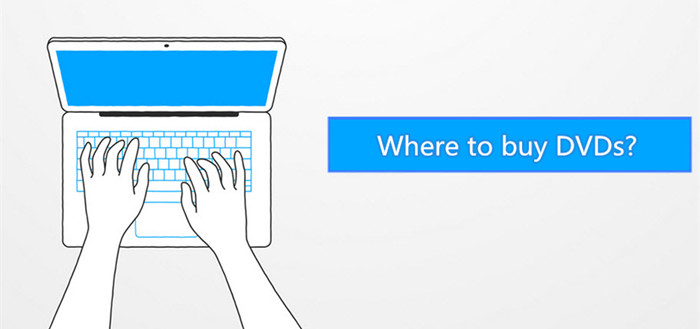 Select the way you want to buy a DVD
[Part 1] Best Places to Buy DVDs Online with Free Shipping.
1. Walmart
Shipping: Free delivery or free delivery on $35 + orders
Walmart is a good place where you can buy cheap DVDs with free shipping or free delivery once you buy more than $35, depending on the DVD movies. Like many other places on the list, you can set the price range to find the cheap DVD, or filter by rating, format, studios, genres, etc. The best part of buying DVDs on Walmart is that it offers new or used DVD price comparison and links of the same DVD from different vendors, like DeepDiscount, MovieMars, M and N Media LLC, etc. and you can select the best deal and make a purchase directly on Walmart.

2. Best Buy
Shipping: FREE Shipping
Best Buy is the best place to buy DVDs with free shipping unless you want the Next-Day Delivery. There is an Award category so that you can find the best DVD movies that have won Oscar, Golden Globe and others. You can also easily find 20%-60% off discounts, top deal, deal of the day, on sale, and coupon cards on the site. If you're not looking for a specific movie, Best Buy is surely a good place where you can buy DVDs for cheap.

3. eBay
Shipping: Free Shipping and some offer Free Returns
Most DVDs on eBay are sold with free shipping while some may require shipping paid by the buyer. On eBay, you can find DVDs come from different countries, 1-6 regions. Among other filters, the DVDs are also classified as New, Like New, Good, Acceptable, etc. That means some old DVDs are offered at a much lower price. But you need to pay attention to the pirated DVDs, which are quite rife on the site. If you're OK with that, don't miss the used DVD movies for sale and you're likely to find the lowest price here.

4. FamilyVideo
Shipping: Free Shipping on Orders $25+
FamilyVideo makes it easier to compare the price differences between DVD movies in different formats and conditions. Before you add a DVD movie into the cart, you can intuitively see the prices of DVD, Blu-ray and Blu-ray 4K discs in new and used conditions. Movies under the used DVDs/Blu-rays category are priced at $4.99 and $2.99 for DVD yet $6.99 and $4.99 for Blu-ray. You can select and buy DVDs for cheap from this online site.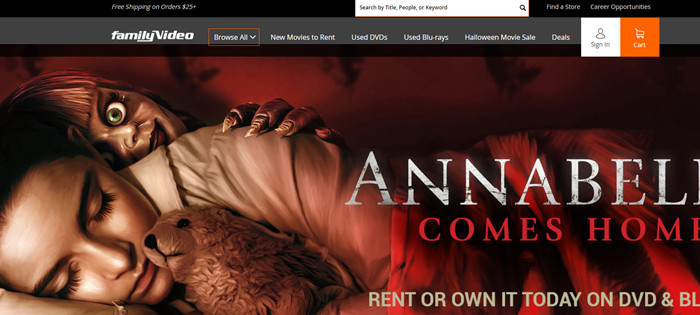 5. DeepDiscount
Shipping: FREE SHIPPING* on qualifying orders $25+
As suggested by its name, you can always buy DVDs from DeepDiscount with hefty discounts. For example, when we select new released Action/Adventure, all the DVD movies are offered at 10%-50% off. That means you can save from $2 up to $15. There is a slew of deals available, like 50%-69% Off Movies Sale, $9.9 And Under Movies Sale, etc. If you're not looking for some new DVD releases, DeepDiscount is where to buy DVDs for cheap.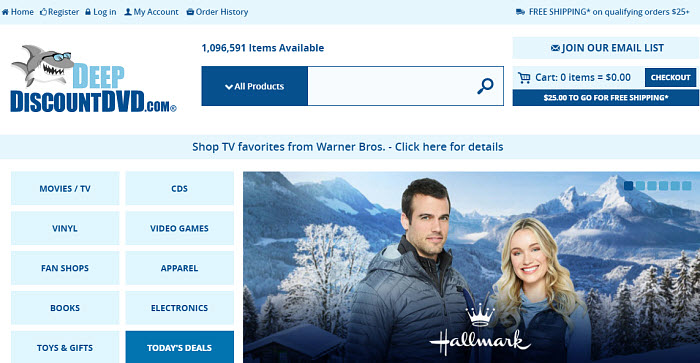 Some other places to buy DVD movies:
● Amazon - if you can't find a movie elsewhere, search it on Amazon.
● HPB - vast selection of new and used DVDs at low prices.
● BuyCheapDVD - you can find adult DVDs and various others at wholesale price with free shipping.
● Decluttr - find good deals on a good selection of used DVDs.
[Part 2] Where to Buy DVDs near Me?
1. Pawn Shops
Pawn shops not only buy old DVDs they also sell. It's a good place to buy used DVD movies for sale near you. You can even find used DVDs for $2 per disc. Don't count on box sets though, and when they get box sets, the price will go extremely high, usually at least $20 each. You can inspect the disc for any scratches or flaws. Normally, DVDs purchased from pawn shops will work well. That said, if any DVD won't play, the shop will let you switch for another one. The best part is, you may stumble upon some older movies that are not available elsewhere.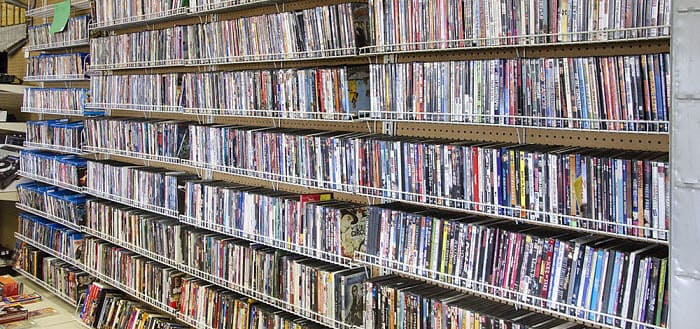 2. Target Stores
Target will take care of your question "where to buy DVDs near me". The store has many DVD movies, TV shows, music, games and you can go to the local Target store and browse the DVD selection for the ones marked under $6. Sometimes you can find deals to buy 2 get 1 free on select movies, music, books & games. As of 2021 , Target has 1,871 stores throughout the United States, so you don't need to worry about where to find the best place to buy DVDs near me.
3. Secondspin   
Secondspin will buy and sell old movies and TV shows on DVDs. It offers a massive selection of used DVDs, games, Blu-ray discs. You can find various coupons and promo codes, from its everyday deep discounts to the money-saving promo codes it regularly offers. It has a number of affiliate stores where you can check the visible scratches before you make a purchase.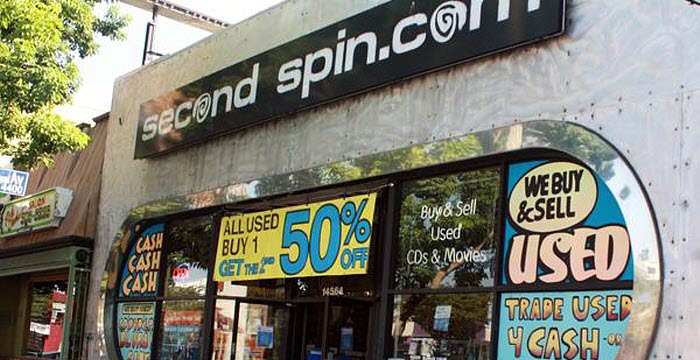 Some other places to buy DVD movies:
● Columbia House - the cheapest way to get newer releases (except for some studios like Disney).
● The local record used DVD stores - easy to find DVDs at lower prices than other places.
● Big Lots - limited DVD selection but very cheap prices.
● FYE - Fye really does have the best combination of price and selection, sitewide discount on used DVDs.
● Yard sales - hunt for some good DVDs for cheap prices.
FYI: Watch New DVDs Easier on Phones, Tablets, TV, etc.
After you buy a DVD, you may want to play the DVD movies, TV shows on mobiles and devices in a more convenient way instead of the DVD players. WinX DVD Ripper, a free DVD ripping tool will help you. It will convert 99-title DVDs, new/old discs, scratched DVDs, region-locked movies, other unplayable DVDs into MP4, MOV, AVI, HEVC, H.264, WMV, more formats. It's very fast and easy to operate.
To know more tutorial to rip DVD on Windows, please check the user guide >>