Safe Install Now & Play DVD Smoothly
The clean and easy interface enables users to play their favorite DVDs within one click. WinX DVD Player also accepts all kinds of digital files like MP4, MOV, MKV, HEVC, AV1, etc. for playback.
Let's Play DVDs with WinX DVD Player
This DVD player is the best DVD playing and decoding software to support all regions 1-6 DVDs and copy protected DVDs. And it also supports video formats as AVI, MP4 ASF, DAT, DivX, MPEG, RM, RMVB, VOB, WMV, Xvid, etc. WinX DVD Player can be your best assistant in DVD/video watching on PCs.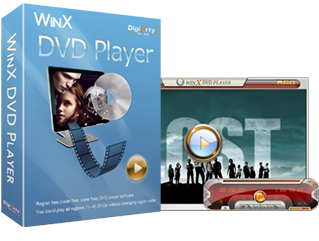 How to Play DVD Discs on Windows 10/8/7:
1. Import DVD Movie or Video. Click the folder icon at the bottom and choose DVD disc/Open File/Open DVD Folder to import source movie or video.
2. Hit Play icon to enjoy DVD movies/videos.
WinX DVD Player AwardsNo matter from which region the movie is, you will not have to change it, as the application will play it anyway. That's the reason why I choose it for playback of my region code protected DVDs.
Comment by Johnson
The interface is so simple! I am not a computer smart, but I can easily operate it! Besides, the quality of the movies are always good to view, and sound is OK too. In a word, I like it.
Comment by Hanks
It's great program to help me play region 2 DVD movies. I have a large collection of region 2 DVDs these years but bother to play them. Finally, your program helped me out. Easy to use. Powerful to decode. Wonderful.
Comment by Toby