How to Convert a DVD for Streaming to TV and Other Devices
It is not simply a guide on how to convert DVD on PC/Mac for streaming the digital copy to Plex, Roku, Chromecast, My Cloud.
Some people have hundreds and even thousands of DVD discs and want to convert them for streaming to TV, iPhone, iPad, Android mobile, etc. Well, how can we convert DVD for streaming? First of all, we need to install a DVD converter to digitize a DVD into a streaming allowed format.
In this article we'll introduce a well-received DVD ripper and walk you through the steps to convert DVD for streaming to specified device via Plex, Chromecast or something.
Part 1. [Step-by-step Guide] How to Convert DVD for Streaming?
Converting or ripping a DVD to a streaming friendly digital copy is the initial and vital thing to do in this course. It is will become unsophisticated and straightforward only if you are choosing the right tool and right format.
HandBrake is not bad if you won't bother with copy protection unlocks nor get mixed up with the listed codecs, parameters and settings. Otherwise, WinX DVD Ripper comes as an easier-to-understand solution. It sets a new bar for turning DVD disc to digital copy free. This tool supports both home-made and store-bought encrypted DVDs. Here we'll show you how to use WinX DVD Ripper to convert DVD for streaming.
Step 1: Downloading and Installing a DVD Converter
1. Download WinX DVD Ripper on your 64-bit or 32-bit Windows operating system or Mac.
2. Follow the wizard to install the program on your computer and open it.
Step 2: Transform Your Source DVD to MP4 or Other Video for Streaming
MP4, AVI, WMV, MOV, MKV, AVCHD, FLV are all good video file formats for video streaming on the internet. For bigger compatible range and better compression, more folks prefer MP4 as the streaming format.
On the interface of WinX DVD Ripper, you can select such video format directly on the output navigation:
1. Feed the source disc into your DVD-ROM, click "DVD Disc" button and get the DVD loaded by the software.
2. On the navigated Output Profile window, choose a popular video format like MP4 Video (Codec: H264 + AAC) in General Profiles, PC General Video or Mac General Video, and click OK.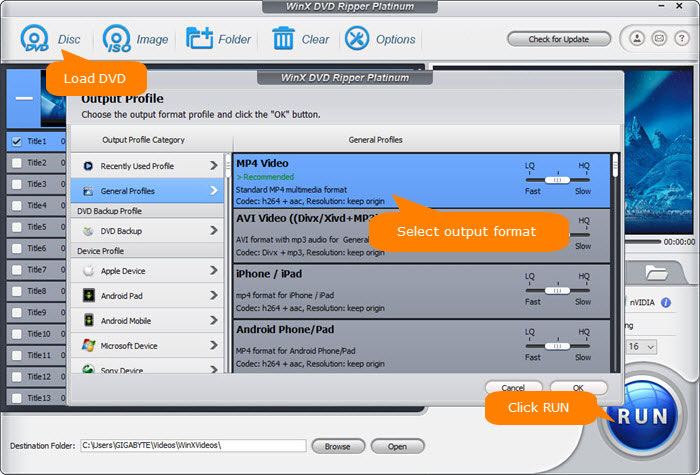 3. Activate the use of Hardware Acceleration by ticking Hardware Accelerator for the fastest ripping speed.
4. Choose a Destination Folder to save the converted file.
5. Tap RUN button the start converting DVD to MP4 or other video. After a few minutes, your DVD is ready for streaming.
Step 3. Put the Resulting File to Media Server or Cloud
Now you can copy the output video file from your computer to your media server like Plex or cloud like Dropbox. >>See how to quick start and setup Plex
Tips: If you do not have a media server, you can copy the video from computer to a USB or external hard drive that is attached to your computer. As an alternative solution, you can play video from the inserted USB on your TV using Roku Media Player later.
Step 4. Stream and Play the Video Content Using Roku Media Player
Only after selecting the media file you wish to play and pressing OK or Play button, can you play the video directly. (See the detailed Roku guide >)
Part 2. FAQs about Streaming DVD
How to stream a DVD from PC to smart TV?
First of all, make sure your PC and smart TV are on the same Wi-Fi network. Next, open File Explorer and browse to the media location in the DVD drive, right click on the audio or video file to select "cast to device" option and select your TV.
If the method above doesn't work, check if your TV supports Miracast or not. Mira cast is a streaming protocol that lets users mirror content from Windows PCs/Mobiles to TV screens. To stream DVD to TV with Miracast, you should follow these steps:
1. Open the Action Center by clicking on the notification icon next to the date and time in the lower right hand corner of the screen.
 2. Click on the Connect tile.
 3. The computer will now search for Miracast-enabled displays.
 4. If a Miracast-enabled device is in range, it will show up on the list, click to connect.
 5. The computer should now be casting the screen to TV.
 6. Open the Windows DVD Player app and load a DVD into the disk drive.
 7. The app should now auto-recognize the DVD and it should begin playing.
Another way to stream DVD from computer to TV is to connect your computer to TV via a HDMI cable.
How to stream DVD from Mac to TV?
To do this, you need to download a tool supporting AirPlay mirroring. If you don't have a choice, you can give the free 5KPlayer a try. Below are the steps to stream DVD from Mac to TV through 5KPlayer's AirPlay feature.
1. Download, install, and then launch 5KPlayer. * Make sure your Mac and TV are on the same Wi-Fi network.
2. Click the DVD icon on 5KPlayer and open the DVD you want to play.
3. Click the AirPlay icon on the top right-hand corner of 5KPlayer interface and choose your Apple TV. Then, your DVD will be streamed to Apple TV. How to stream DVD on Zoom
1. Play your DVD with VLC, 5KPlayer, or something you like.
2. Start your Zoom meeting, click "Share Screen" button at the bottom and select the application that you use to play DVD.
3. Check "Share computer sound" and "Optimize Screen Sharing for Video Clip". Sometimes, playing a DVD in Zoom will result in a grey screen. This is because the content uses HDCP protection. In this case, you can try bypassing the protection and digitizing the DVD with WinX DVD Ripper. Once done, stream the DVD rip file on Zoom.
Part 3. Things You May Not Know about DVD Conversion for Streaming
1. Converting DVD for streaming can keep DVD library away from being broken. Here is an example:
I have several kids and a huge collection of DVD's (and Blu-rays). With this application I can back-up my collection of DVDs and let them stream from a NAS without having the risk of seeing DVDs getting scratched or boxes being broken.
2. The globally popular streaming service like Amazon Video and iTunes does not support digital locker via its set-top box and mobile app. Therefore, Disc-to-digital supported by Vudu and Flixster is welcomed for flexible offline playback. (Disc to Digital: VUDU vs WinX DVD Ripper)
3. Streaming contains three layers of data management: 1. the encoded bits like H.264 for video; 2. the container that holds the encoded parts together (FLV, MP4); 3. the transport used for moving the stream from the media server to the user's player. M3U8 tells the player the order in which to play the stream. It's like a cargo manifest telling you which car to unload first as with so many other processes that occur in computing.
Supports virtually all mainstream video/audio codecs, e.g. rip DVD to MP4 (H.264), AVI, WMV, MOV, FLV etc.
Clones DVD to VIDEO_TS folder, ISO image or a single MPEG2 file at 1:1 ratio.
Delivers highest possible image quality thanks to High Quality Engine and De-interlacing Engine.
No.1 fast: supports hardware acceleration, Hyper-threading tech and Mulit-core utility.