How to Copy DVD9 to DVD5 with Menus Subtitles on Windows 10/8/7
Q - "I have a DVD9 (Moana) that I want to get all on a DVD5, including motion menus and extras. I have seen some guides online, which however were written back almost 10 years ago and I don't know if those methods still work or are the best way to go. Anyone can tell me if it's ok to copy a dual layer DVD to single layer and which DVD9 to DVD5 converter do you recommend?"
How to Copy a DVD9 DVD5 with Best DVD Converter for Windows 10/8/7
Use WinX DVD Copy Pro [100% Clean and Safe!] - copy DVD9/DVD5 to DVD disc, ISO image and DVD folder at 1:1 copy ratio, with intact original video/audio/subtitles/menus. Fastest speed (GPU HW acceleration) and fully compatible with Windows 10 and previous.
Supported OS: Windows 11/10/8/7, etc. | Average User Rating: ★★★★★ (based on 425 votes)
Part 1. DVD9 vs. DVD5 | Should You Copy DVD9 to DVD5?
"I'm about to start seriously digging into my old home VHS videos, and transfering them to DVD. I have a stash of both single layer and double layer discs. What I'm wondering is if one is better or has any advantages over the other. Will single layer stand the test of time better than double layer? Are most newer DVD players capable of handling DVD+R DL without problems?"
Basically, converting DVD9 to DVD5 is not recommended for all, especially those inexperienced users. We will give you a comparison between dual layer DVD and single layer DVD on three respects: cost, reliability, and compatibility.
The most attractive part about DVD5 is simply the price. Search on Amazon and you would see that a pack of 5 8.5GB dual layer DVD+R discs (Memorex) costs $18.95 while 50-pack of 4.7GB single layer DVD+R discs is only $29.99.
There might be some differences of the two on the compatibility part, which however is not a problem now.
As to the reliability, DVD9 one-ups the competition, featuring double the storage space and large data flow compression, which makes a same-length movie video in higher quality while you have to sacrifice image quality when using DVD5. A single layer DVD disc normally could take a 100-minute movie with good visual quality.
Next let's talk about the bad sides of converting DVD9 to DVD5, or copying dual layer DVD to single layer. In a word, it won't be a good user experience. Firstly, there is definitely a degradation of video quality. Inevitably, the audio quality will be decreased as well. So if you really want to copy DVD to DVD, choose DVD9 to DVD9, DVD5 to DVD5, or DVD5 to DVD9. But if you are burning video/VHS to DVD, use DVD9.
Read more: how to copy a DVD on Windows 10 or Mac
Part 2. How to Copy A Dual-layer DVD 9 to Single-layer DVD5?
Instead of converting DVD9 to DVD5, we recommend you copy DVD9 to DVD9, DVD5 to DVD5 and DVD5 to DVD9. And here we will give you an example of how to copy DVD9 to DVD9 on Windows with the best DVD cloner - WinX DVD Copy Pro.
Preparation
1. Download WinX DVD9 DVD5 converter for Windows
Step 1. Choose "Clone DVD to DVD"
There are 9 DVD copy modes inside this DVD converter. Choose the first one "Clone DVD to DVD" in the left function block.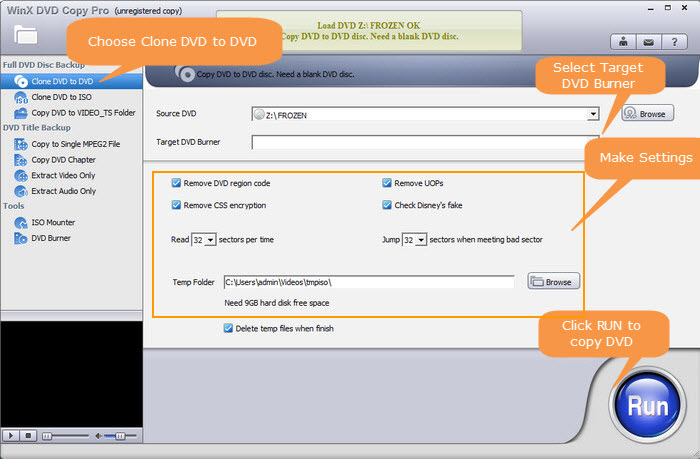 Step 2. Specify Source DVD and Target DVD
Source DVD would be auto loaded normally. But if there are several DVD drives on your PC, "Browse" to choose one.
If there is one and only DVD drive, you will have to set a temp folder previously to store the copied media temporarily, which should at least 9GB.
Step 3. RUN to Copy DVD9 to Computer
Click button RUN and then "Burn" your DVD9 to the temp folder you set.
An extra step: cut the DVD9 video for DVD5
As DVD9 contains larger data than DVD5, namely 8.5GB vs 4.7GB, the DVD5 disc is tool small the size to store the copied DVD9 video. Therefore, you will need to split the copied DVD9 video into two parts and burn them to 2 DVD5 discs. You can cut the ISO image video with WinX DVD Ripper Platinum via its trimming feature.
Step 4. Burn DVD9 Video to DVD5
Insert the DVD5 disc to the DVD drive. Then click DVD burner and select Image Source to load the DVD9 video. Then select the inserted DVD5 disc and simply click Run.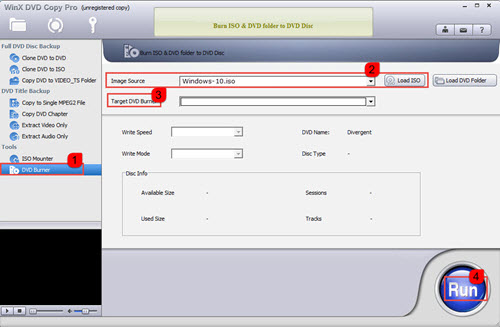 Disclaimer: Digiarty Software does not advocate ripping/copying copy-protected DVDs for any commercial purpose and suggests referring to the DVD copyright laws in your countries before doing so.
Copy DVD to DVD with Best DVD Converter Software
WinX DVD Copy Pro – 1:1 clone DVD9/DVD5 to DVD disc, copy DVD to ISO image file, Video_TS folder, MPEG2 file on Windows (10) without any quality loss. It supports accessing to all region codes and copy protections, and faultlessly supports Disney's Fake, severely scratched DVDs and Sony ARccOS bad sector. DVD chapter copy and extract audio/video only are also available.
Part 3. [Extended Knowledge] What Is DVD9 and DVD5?
Before converting DVD9 to DVD5, it would be wise to firstly figure out what DVD9 and DVD5 is and what their respective advantages and disadvantages are. Generally, there are four kinds of DVD discs based on the DVD capacities: DVD5, DVD9, DVD10 and DVD18, while the first two are much more commonly used in our daily lives.
DVD9, officially DVD+R9, aka double layer DVD, is a kind of DVD+R format using two recordable dye layers, upscaling the total capacity to 8.5GB.
DVD 5, as you can imagine, has a smaller capacity - 4.7GB and is single layer DVD.
For Your Information
DVD-R = DVD recordable. It is developed by Pioneer and supported by most normal DVD players. A DVD-R can record only once, the data on which will become permanent on the disc and can't be deleted.
DVD+R = DVD recordable. It is developed by Philips and widely supported by Sony, HP, etc. You can continue to record things onto the disc until it's full. But the data can't be deleted and rewrite.
DVD-RW/DVD+RW = DVD rewritable
DVD-RAM = DVD random access memory
DVD-ROM = DVD read-only memory