How to Rip and Convert Blu-ray to MP4 with HD Quality
Streaming is convenient, while Blu-ray provides excellent quality video and audio you can get in your home theater. The only problem is that it's so 2006 to get off the sofa to switch discs. In modern times, you certainly don't have to switch Blu-ray discs in the store. Instead, there is a new way - converting Blu-ray disc to MP4 with high quality. In this post, you'll find top 4 ways to convert Blu-ray to MP4 with HD quality reserved.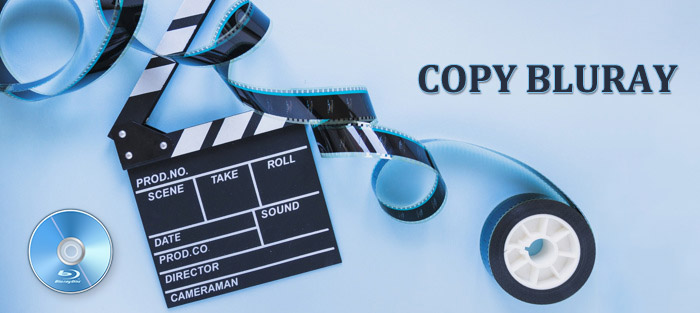 Part 1. What You Can Benefit from Blu-ray to MP4 Conversion?
1. Remove your Blu-ray encryptions and Play it wherever you please
Though you have paid a good price for BD disc, perhaps you have not enjoy full copy right on it. But with an excellent Blu-ray ripper, you can easily defeat upcoming Blu-ray encryption technologies. Converting blu-ray to MP4, you can right unfold Blu-ray disc's wrap, get the content inside and enjoy it as you please.
2. Still High-def quality after ripping Blu-ray to MP4
An excellent Blu-ray Ripper can offer you most favorable HD viewing experience, say excellent output picture and surround sound. Whether Blu-ray Disc is in M2TS or MKV format, the Blu-ray to MP4 ripping process will keep the quality loss minimally, and the image degradation is hardly to perceive by your eyes.
3. Rip Blu-ray to MP4 and makes all media players a Blu-ray player
Undeniably, MP4 is endowed with best compatibility on both Windows and Mac OS (for Mac OS, Apple invent M4V to mend up the shortcoming of MP4 which does not support AC3 5.1 video properly). So after ripping Blu-ray video to MP4 format, you can watch Blu-ray movies on Windows Media Player, Apple QuickTime, just to name a few.
4. Enjoy Blu-ray movie on the portable devices
Because of H.264/MPEG-4 video efficient VBR (vibrate bite rate), MP4 comes to one of best acceptable video format on multi-media portable devices, such as iPhone, iPad, iPod, etc. And by ripping Blu-ray to MP4, you can play and watch HD Blu-ray movie wherever you please.
Part 2. How to Rip Blu-ray to MP4 with Intact Quality?
1. MakeMKV
MakeMKV is recommended to rip Blu-ray discs to MP4 as it's easy to control. MakeMKV can remove most of the DRM protection of Blu-ray discs. That is to say, you're able to backup and copy DVD or Blu-ray discs for evergreen playback. But as its name implied, by using MakeMKV, you can only rip Blu-ray to MKV format with the preferred subtitles and channels at 1:1 ratio. To make the output compatible with common devices, you may have to convert MKV to MP4 with other conversion tools later.
How to Rip Blu-ray to PC with MakeMKV
Step 1. Download MakeMKV on your computer and install it.
Step 2. Launch MakeMKV and get the updated beta keys from MakeMKV forum. Go to Help > Register of the menu bar to activate MakeMKV. It's a must-do thing since it determines you can use the free MakeMKV or not currently.
Step 3. Insert your Blu-ray disc to your PC and wait for processing.
Step 4. As it's loaded, you can see MakeMKV is displaying the structure of your discs on the left side, including titles, audios, videos, subtitles, and other information. Check the items you want to save.
Step 5. Choose the destination folder where you want to save the output files and click the "MakeMKV" icon and wait. Your Blu-ray disc will be ripped to MKV in a short time. 2. HandBrake
HandBrake is program that can't be bypassed for video and DVD conversion. Do you know that HandBrake also supports to convert Blu-ray to MP4? But it's only applied for unencrypted homemade Blu-ray discs. Neither HandBrake 0.10.5 or 1.0.7 or any newer version now don't allow you to decrypt and rip any protected commercial Blu-ray discs. In that sense, HandBrake has too many limitations. Anyway, it serves a way to convert Blu-ray to MP4.
How to Rip Blu-ray Disc to MP4 with HandBrake
Step 1. Free download the latest version of HandBrake and install it on your computer. Open it. Insert the DRM-free blu-ray disc to your PC.
Step 2. Click the Open source button to load and scan the Blu-ray disc.
Step 3. Then select the preferred titles you would like to rip to MP4. Generally, if you just want to rip the main movie of the blu-ray disc, directly pick the longest title.
Step 4. Select MP4 as output format from the drop-down menu of Output Settings.
Step 5. Click the Browse button to choose a specific destination folder for saving the ripped video files. Then hit the Start Encode button to start the ripping process.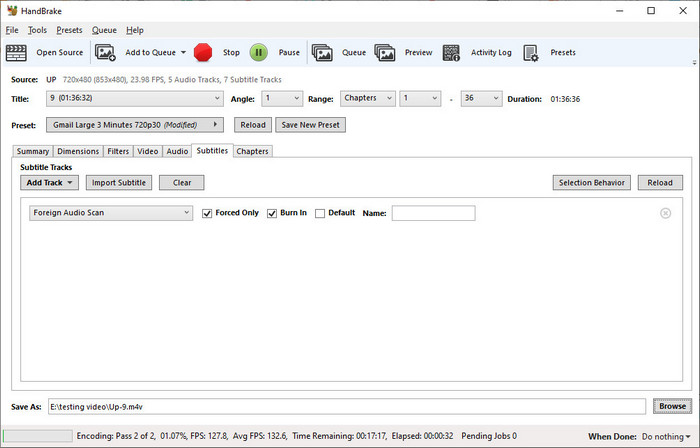 3. WinX DVD Ripper Platinum
WinX DVD Ripper Platinum is also nice choice. It's able to decrypt kinds of copy protections and convert DVD/Blu-ray MP4, MOV, AVI, MKV, WMV, iPhone, iPad, Android, Xbox, PS4/5 etc. fast and easily. Meanwhile, it offers complete yet advanced GPU acceleration to accelerate DVD ripping speed up to 50% faster than before.
It's pretty easy. All you need to do is to load your Blu-ray disc, choose MP4 as output format and tap RUN button to make all done.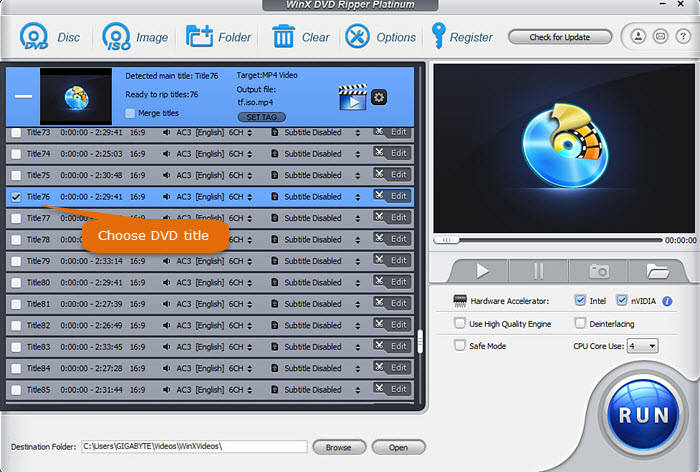 4. Free Blu-ray Ripper
Free Blu-ray Ripper can help users copy movies from Blu-ray Disc, Blu-ray Folder, Blu-ray ISO and save them as MP4 videos. It's available on Windows 11/10/8/7. By using it, you can rip Blu-ray movie to MP4, MOV, MKV, AVI, WMV, etc., so you can watch your Blu-ray movies with a multimedia player or everywhere you want. Meanwhile, it offers multiple output settings to customize your output video.
How to Convert Blu-ray to MP4 for Free with Free Blu-ray Ripper
Step 1. Install the Free Blu-ray Ripper on your computer. Insert your Blu-ray disc to your computer disc drive or external Blu-ray drive.
Step 2. Click the "Load Disc" to add the Blu-ray movies to this software.
Step 3. Click "Profile" to choose your preferred output format from the drop-down list. It enables you to free convert Blu-ray to MP4, MOV, AVI or FLV with high quality.
Step 4. Click "Browse" button to choose the destination file folder for the converted Blu-ray movies. Then click "Convert" button to start the conversion from Blu-ray to MP4 video. Part 3. FAQs
1. Is it legal to rip Bluray?
DVD ripping of copyrighted works is still considered illegal in the United States, but several organizations continue working to make it legal for purchasers of a copyrighted DVD to rip copies for personal use only. Please abide by the local laws before you rip Bluray discs.
2. Why does MP4 be the best format to rip Blu-ray movies?
MP4 owns the widest compatibility and reasonable file size. It is compatible with the common devices, including computers, mobile phones, tablets, and even game consoles. Compared with MKV files, ripping Blu-ray to MP4 takes less storage space. Of course, if you want to select the audio channel or subtitle, you can choose convert Blu-ray to MP4.
3. Can I Play Blu-ray on VLC?
Yes. Actually, the process to play Blu-ray on VLC is pretty tricky as VLC does not have direct support for Blu-ray. Therefore, you have to get the keys database and AACS dynamic library from VLC.