[Solved] HandBrake Crashes/Freezes on Windows 10
Learn 5 Useful Fixes to Solve "HandBrake Crashes on Windows 10 During Ending" Issue
Q: I tried to encode some TV shows to MP4 on my Windows 10 computer. But HandBrake crashes at the beginning and only creates a 0KB file. Any idea?
HandBrake is a great choice to digitize discs and transcode videos. It is free, easy-to-use and powerful. But problems arrive without warning. You may get it worked fine one day while it freezes during encoding the next day. Well, what we will discuss here is how to fix "HandBrake crashes on Windows 10" issue. All possible solutions will be listed in the following
[Solved] How to Get Rid of HandBrake Crashes on Windows 10?
Tips at the very veginning:
It is strongly suggested to uninstall and reinstall HandBrake on your Windows 10 computer to check if HandBrake crashing issue is fixed. If yes, congratulations! If not, try solutions below.
You'd better install the latest version 1.1.2 (64 bit only) from the official page: handbrake.fr.
Solution 1: Try Another Video Codec – from H.265 to H.264
HandBrake makes use of x265 encoder allowing users to encode disc or videos to HEVC MP4/MKV with compressed file size but high quality. However, if you are using an underpowered computer, HandBrake probably crashes or freezes on Windows 10 during encoding to HEVC.
It is workable to switch the video codec from H.265 (x265) to H.264 (x264) or H.264 (Intel QSV) for getting HandBrake ran again. But if unfortunately, HandBrake still can't work, try MPEG4 codec.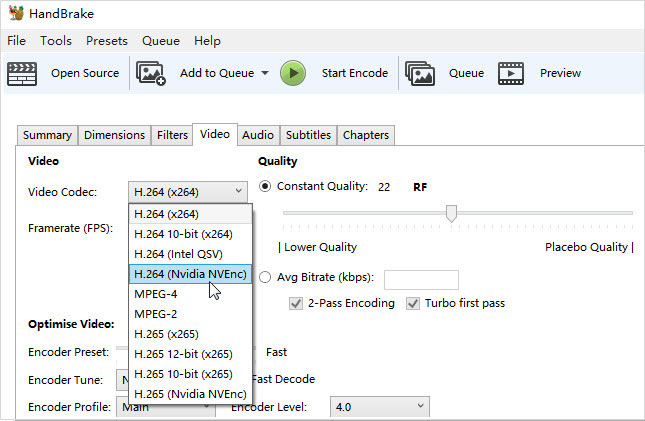 Solution 2: Get a Preset with Lower Resolution
HandBrake builds in lots of presets helping users conveniently get specific profile for web/devices or with particular resolution/frame rate. Some users find that HandBrake crashes on Windows 10 when the preset is selected as Super HQ 1080p30 while delivering a good performance if it is HQ 720p30. Solution 3: Make HandBrake Use Less CPU
It is necessary to monitor CPU usage or temperature during encoding videos with HandBrake. If the usage is full and temperature is too high, HandBrake may crash immediately.
In order to have a fast encoding speed, HandBrake uses all processors of your computer. If there are multiple CPUs, try to make it use less CPU for fixing HandBrake crashing issue.
Right click task bar to open Task Manager.
Find HandBrake from Processes. Right click it and select "Go to Details".
Right click HandBrake.exe and select "Set affinity".
A window pops up asking "Which processors are allowed to run HandBrake.exe?". Uncheck some CPU(s) and click OK.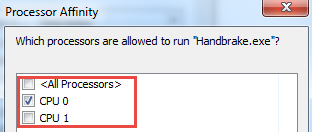 Solution 4: Download HandBrake Nightly
HandBrake releases Nightly builds on the basis of the latest development code. Developers and experienced users install the builds to experience improvements and give feedbacks. Sometimes, bugs in stable version are fixed in nightly version. You can download and install the nightly build to see whether "HandBrake crashed on Windows 10" issue is solved or not.