[Fixed] Plex No Sound on Fire TV, Roku, Android, PS, etc.
Plex no sound issues are quite common on Roku, Fire TV, PS4, Android, Chromecast, Samsung TV, etc. Plex audio settings are quite complicated and involve different devices. If you mistakenly enable or disable something you shouldn't, it could easily result in Plex no audio problems. However, it's a little bit tricky to find the cause of Plex audio not working issues and fix them. If you have the same problem, your search can end here. In this article, we have all the solutions to the Plex Media Player video but no audio errors.
Solutions
Fixes to Plex Sound Not Working Issues
1. Check the volume control
For those whose Plex audio is not working, especially after the last Plex app update, make sure you have checked the volume slider. The software update may set the volume to zero for some reason. When you run Plex Media Player in the server view instead of full-screen mode, you will see a small volume slider located next to the mute button. It's very hard to notice. Set the slider to the max should fix the problem. You should note that the volume slider only appears in the server view. Or you can try to press the + and - keys in full-screen mode to see if it will bring back the audio.
2. Set audio settings from Surround/5.1 to Stereo
In most cases, Plex has video but no sound means your Roku or other clients are not configured correctly. If the device is not connected to a surround sound system, you need to set the audio option from Surround/5.1 to Stereo. Otherwise, when you Direct Play a video containing 5.1 track in the file, the device will pass it along assuming that there's a surround on the other end of the cable that can play the audio. Thus it will cause Plex no sound errors on Roku, Fire TV, PS4, etc.
If you have different audio streams to play, just set the playback option to Automatic and everything would just work.
Check all Plex playback errors & fixes >>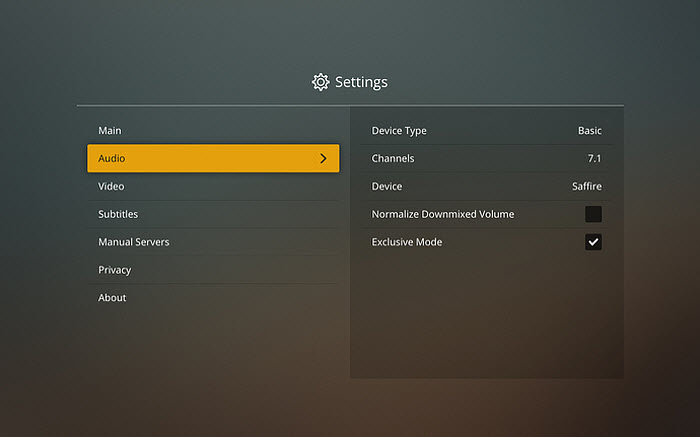 3. Disable audio passthrough
Go to Settings and disable HDMI passthrough. According to Plex, if you want to use passthrough for a digital connection, you need to know if your receiver does support the audio formats and set accordingly. If you're not sure about it, you'd better not enable passthrough. For example, some of the operating systems like macOS can't passthrough some audio formats, then Plex will receive no audio. If your pass through something that is not fully supported by the receiver device, your Plex may get no sound either.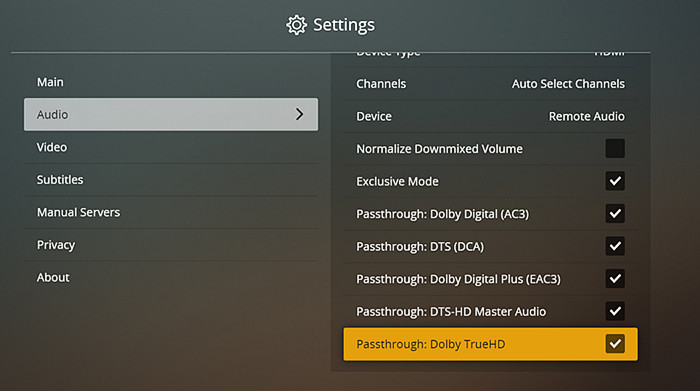 4. When Plex AC3 has no sound
Plex AC3 no audio issues are quite common, especially on Android TV box, Android player, Firestick, LCD TV, and some other devices. In fact, Android and many TVs don't support EAC3 codec, and when Plex send EAC3 to the device, it fails to decode that stream and results in sound problem. To fix them, try to:
* Put Plex back in mobile mode on the Android box. Then go to Settings > Player > AC3 and EAC3, uncheck the two options. Then go back to the TV mode and try again.
* In the Plex Player, disable Passthrough. It should work perfectly once disabled. Or change Passthrough from HDMI to Optical, then disable AC3 in the codec list.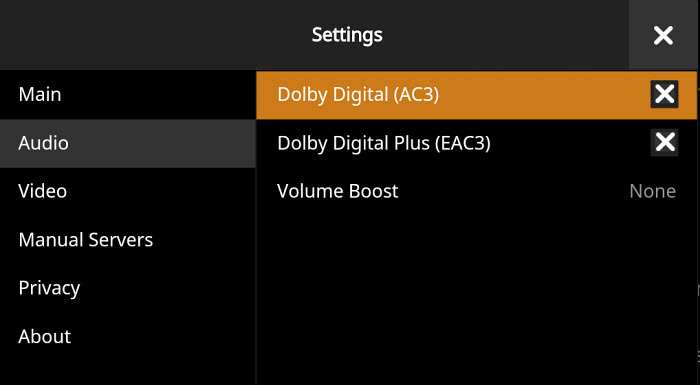 5. Switch from Automatic to Transcode
According to the feedback from users who have suffered Plex no audio problems, changing the Plex settings to transcode the video may solve the problem. If that doesn't work, try setting the transcode to stable instead of experimental.
6. Enter TV mode manually
If the Plex video but no audio issue happens after the Plex software update, you should also check if Plex for some reason selects the wrong audio device. It stands to reason that the Plex player receives no audio in this case. Then you need to click the device on the top bar, enter into the Settings, go to Audio, and check the Exclusive Mode box.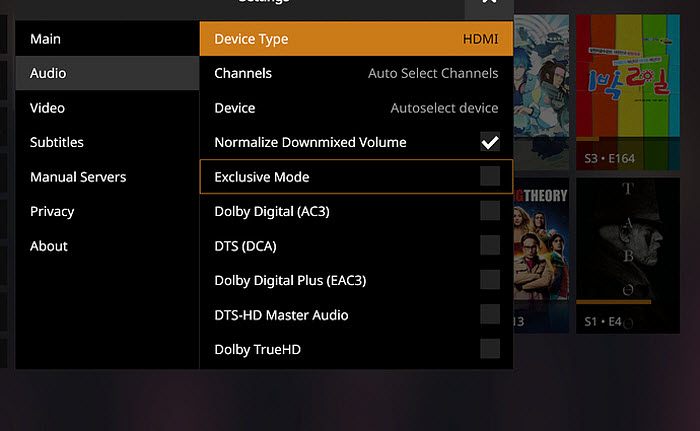 7. Re-encode the Video to an Acceptable File
If all the above fixes can't bring the sound back to Plex, try the last resort – re-encode the file to a correct codec for Plex/devices. For this, try WinX HD Video Converter Deluxe. It's able to convert videos to MP4, MOV, AVI, WMV, etc. with AAC, MP3, ac3, wmav2, mp2, libvorbis, pcm audios, or to audio files mp3, aac, ac3, wav, flac, alac, dts, ogg, and many others. You can easily convert a file to Plex supported formats.