[Solved] Plex Subtitles Not Showing/Appearing Error
After you download and add subtitles to Plex, you thought that you could eventually enjoy your favorite movies or TV shows with clear bold subtitles. However, life is not a bed of roses. When you stream movies via Plex app, you're surprised to find that subtitles display as none.
Feel frustrated? Don't be! Here we round up the most effective solutions for you to get Plex subtitle not working issue resolved with ease!
Quick Fixes to Resolve Plex Subtitles Not Working Issue
Supposing your Plex subtitles come from the external source and don't show up in Plex, firstly check if it's named correctly and encoded with UTF-8 in a appropriate way. If there is no problem, go ahead to meticulously check if the file name extension of Plex movie is hidden on your Windows PC. If so, rename your subtitles file to remove the name extension so as to keep consistent with your Plex movie.
Try the following methods in case the above common operations don't work for you.
Solution 1: Move subdirectories and refresh all.
Move 100% of the subdirectories under top level Movies directory to another hard drive not tracked by Plex. Copy this step to TV Shows directory.
Do a "Refresh All" for both movies and TV shows. Nothing needs to be changed within properties settings.
Copy the Movies & TV Shows subdirectories back under the top level Movies directory.
Conduct "Refresh All" for both movies and TV shows again.
Make sure that Plex media server can see all external subtitles for your movies and TV shows. Then, open movies to have a test.
Solution 2: Transcode subtitle format.
As is known to all, Plex officially announced that it supports a full array of subtitle formats, including .srt, .smi, .ssa, .ass, .vtt. However, not all of them can be perfectly compatible with all Plex apps. Embedded SRTs (tx3g) in MP4/M4V will appear in XBMC and VLC, but not Plex desktop client. Plex desktop client does uphold such subtitles inside MKV containers, however.
External subtitles like VOBSUB, PGS, SSAs, and SRTs are accepted by some Plex apps and Plex client, but not all. In most cases, they will need to be transcoded by Plex Media Server for Plex/Web and Plex iOS via "burn subtitles into video". Yet, as for those whose Plex Media Server is running on an underpowered computer or NAS, they will have to suffer from the Plex buffering, stuttering errors caused by CPU overuse during PMS subtitle transcoding.
Note: If Plex cannot read the subtitle format, you can resort to subtitle download sites to download subtitle file like SRT and then add subtitles file to Plex for streaming.
To resolve these troubles, a better solution is to transcode subtitles to Plex app/client supported sub format and add subs to movies before Plex streaming to avoid highly resource-consuming problem and Plex buffering issue. Try WinX HD Video Converter Deluxe, which lets you add external subtitles (.srt, .ssa, .ass) to movie and TV shows without transcoding. In terms of movies with embedded tx3g subtitle in MP4/M4V, it can only convert MP4/M4V to MKV container format for better compatibility with Plex desktop client. More features like convert H265 to H264, downscale 4K to 1080p, transcode MKV/Xvid/VOB/M2TS/MP4, download free movie TV series, etc. are available for free,
No subscription fee.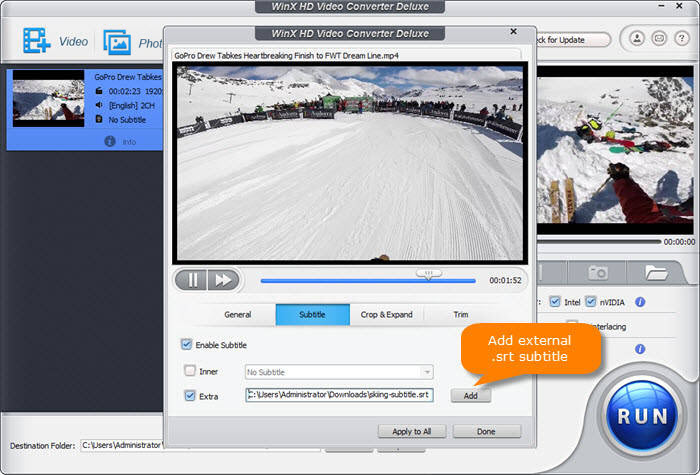 Warm prompt: with self-explanatory interface, anyone with whatever kind of skill level can figure out how to put external subtitles to Plex file without transcoding and adjust subtitles to be sync with video without consulting any tutorial. As for others who would like to get the hang of WinX converter, please check its complete help article.
Solution 3: Move subdirectories to the same hard drive.
Move 100% of the subdirectories under the top level Movies/TV Shows to a folder (unknown to Plex before) on the same hard drive. Please remember to move everything. Afterwards, move everything back to the original location when Plex is "empty".
Solution 4: Fix Plex subtitles not showing up on Roku error.
Open Plex channel > head to Movie.
Tap Settings > choose a subtitle stream > Roku Captions Mode: on
Now click Play button and Plex subtitles are displayed on Roku (Rewind, subtitles are no longer displayed).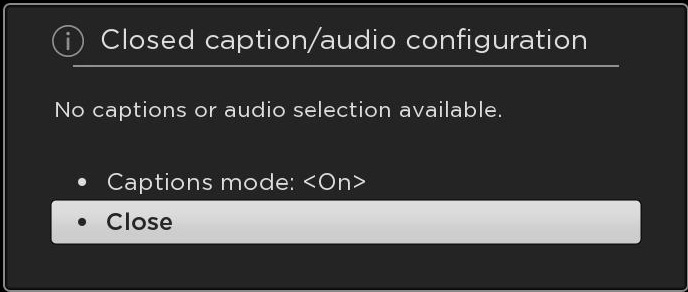 Solution 5: Use subtitle manager.
Navigate to Plex webtool to download subtitle manager for helping you solve sidecar (downloaded) subtitles not appearing in Plex issue.
Solution 6: Turn Burn Subtitles to ALWAYS. (Not recommended)
Access to Settings in Plex app > Web > Player > tap Burn Subtitles > change the default "Automatic" to "Always". This enables subtitles auto transcoding feature within Plex Media Server.
Solution 7: Resort to Kodi.
Download Kodi media player and install Plex Kodi addon to watch your Plex library via Kodi. This works for Plex subtitles not working issue.