Reasons and Fixes for Netflix Unblocker or Proxy Error on TV, iPhone...
When we try to watch Netflix shows in other regions by making use of a VPN, we are likely to get an unblocker or proxy error from Netflix. The error message is like below:
Whoops, something went wrong...
Streaming Error
You seem to be using an unblocker or proxy. Please turn off any of these services and try again. For more help, visit netflix.com/proxy.
Error Code: M7111-1331-5059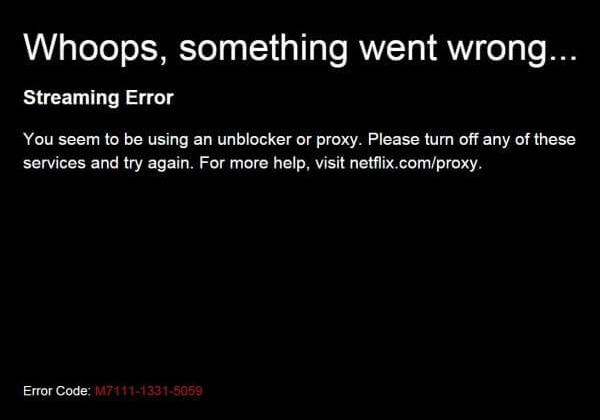 But the weird thing is that many users get a proxy error when there's no VPN or proxy being used. This article will explain what causes Netflix proxy error and how to fix it.
Part 1 Why Do You Get a Netflix Proxy Error?
You'll get a proxy error when Netflix detects that you're attempting to stream content through a proxy server or VPN.
By using a VPN or a proxy server, we can access other countries' Netflix libraries which may be larger and newer than the library in our own country. However, this violates the agreement between Netflix and studios that a particular TV series or film can be shown in one country (such as the US) but not in another.
Under the pressure of major studios, Netflix rolled out a VPN detection system in 2016 to prevent us from using VPNs or proxies. When Netflix finds out that your IP address belongs to a VPN, it will pop up the proxy error we mentioned in the beginning. Proxy error will appear even if you connect to a proxy or VPN server in your own country and you aren't trying to unblock content from other countries.
But why do you get Netflix proxy error when no VPN, unblocker or proxy server is enabled?
Possible reasons:
Your ISP uses DNS servers in other states. In this case, Netflix will see an IP from one state and a DNS from another, as a result of which Netflix will incorrectly assume you're using a proxy or VPN.
Netflix's server can't communicate with your device properly, and thus display a proxy error.
Netflix has added your ISP's IP blocks into blacklist, maybe because someone with those IPs was caught due to frequent use of VPN or proxy.
A web filtering software which works similar to a VPN is used by your ISP.
Sudden changes to the network have been made by your ISP.
Your network or device is infected with some kind of malware which keeps changing your IP address or sending tons of malicious requests and traffic to Netflix's servers.
Part 2 How to Fix Netflix Unblocker or Proxy Error?
1. Disable any VPN, proxy, and the like
If the content is available to access in your country, you can turn off any VPN, proxy, unblocker, and other software that might route your internet traffic outside of your current region. Netflix also suggests users to set device's network settings to Automatic to get best results.
2. Modify VPN connection
If you want to access Netflix content from other countries, disabling VPN isn't the right way to help you get rid of Netflix proxy error.
What you can do now is to:
01. Restart your device and generate a new connection through your VPN or proxy tool. Then, you should be able to get a workable IP address for Netflix.
02. Try a new server in your country of choice.
03. Update your VPN app. This way you may get new IP address for visiting Netflix.
04. Clear your browser's cookies before opening Netflix. And, you can use incognito mode to visit Netflix.
05. Switch to a new VPN. There're many great VPNs to try, such as NordVPN, Surfshark, and ExpressVPN. Free VPNs may be not the best choices because they usually can't keep up with Netflix's blocks due to the lack of financial resources and infrastructure.
3. Check if you're using an IPv6 proxy tunnel
You need to check if your device has a masked IPv6 address that is actually linked through an IPv4 connection. This isn't supported by Netflix and will trigger a proxy error. You need to disable this link to make Netflix back to work.
If you're not sure if you are using such kind of services, you can contact your ISP for help.
4. Change your DNS settings
When you don't use VPN but still get a Netflix proxy error, you can try using a VPN or proxy that has DNS servers in your state or changing your DNS settings to OpenDNS (208.67.222.222 and 208.67.220.220) or Google Public DNS (8.8.8.8 and 8.8.4.4).
5. Wait for some time, or use a different device to watch Netflix
If you suspect that Netflix has difficulty in communicating with your device, you might as well wait for a few minutes or longer before try again. If you are eager to stream a video, try using a different device to access Netflix if there's an available one.
6. Scan and clean your device
As we mentioned above, malware could result in proxy error. So, you can try using antivirus software to scan and clean your device. Once done, try using Netflix and see if problem disappears or not.
7. Contact your ISP
When no VPN is used but get a Netflix proxy issue, you can send your ISP a message and see if this problem is caused due to a conflict between your ISP and Netflix.
Hope this article has helped you fix Netflix proxy error. And you can tell us which solution resolves your problem on social media.