Entry-Level DJI Video Editors for Windows
"I've downloaded all my video files to my PC. Any recommendations on easy-to-use DJI drone video editing software. Appreciate any advice, am very new to this, so the simpler, the better, for me. Thanks"
1. Windows Movie Maker
Speaking of free video editor for Windows, Windows Movie Maker surely is on the top of the list, which is developed by Microsoft but is discontinued now. Even so, you still can download the Movie Maker for DJI drone video editing on Windows 10 and previous. Note that there is no direct download link on the official website, but you can free get it from other sites like https://windows-movie-maker.org/. For help on how to edit DJI drone videos, please turn to Windows Movie Maker user guide >>
What Can Windows Movie Maker Do?
Windows Movie Maker is a well-known and free DJI video editor only for Windows users. Simply from its name you can see that it helps make movie from recording footages or captured images. As to the DJI drone video editing, it can trim and split video, add animations, control brightness, change transitions, etc.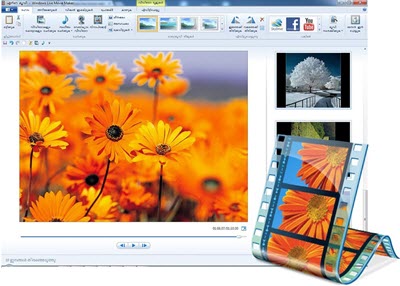 Must-See Tips
1. Most DJI drones output videos in MP4 (H.264) or 4K MP4 (H.265), which however is not supported by Windows Movie Maker for copyright reasons. But the good part is it accepts most video decoders in the market. Download codec pack for Windows Movie Maker/WMP >>
2. Video formats supported: WMV, ASF, MPG (MPEG-1), AVI, MP4, 3GP, FLV, MOV
3. Audio formats supported: MP3, AAC
4. Download link: https://windows-movie-maker.org/download/windows-movie-maker-2017-full.exe
WinX HD Video Converter Deluxe, instead of being merely video editing software, is a combination of both video editor and converter. It is not the best DJI drone video editing tool, but it is, to some extent, the most full featured one, especially good and easy for inexperienced users. Of course you can upgrade to some other professional tools later when you pass through the learning period.
What Can WinX HD Video Converter Deluxe Do?
>> Being a DJI video editor, it fully supports 4K/8K UHD videos encoded in H.264 and HEVC and outputs videos in high quality as well. DJI Phantom 4K drone videos can be easily decoded for later editing.
>> You can: crop the video, cut black edges, trim drone footages, merge multiple clips into a new one, expand the image, add inner/external subtitles, resize the drone video, etc. Also you are permitted to make videos with DJI captured photos and output into whatever video format you want for sharing.
>> As to the general video quality, you are allowed to adjust drone video parameters like resolution, bitrate, frame rate, aspect ratio (16:9, 4:3), etc to balance video quality and size. Up to 370+ output formats are available for you. Edit and convert DJI drone videos to FLV for uploading to YouTube, to MOV for playing on Mac, to MPEG-2/ISO for burning on DVD, etc. Hardware accelerated encoding/decoding can be enabled to maximize your DJI video editing/transcoding speed.