Review on Best 7 DJI 4K Video Editors 2021 (Free & Paid)
"Hi Guys, just wondering what DJI video editing software different people use. I know that Photoshop is good, but it is too expensive to be worth it, for me. Is there any good FREE video editing software out there? Something that you can put lots of videos together to make a movie."
What DJI Video Editing Software Do You Use?
The newly DJI Air 2S is available to shoot video at up to 5.4K resolution at 30 fps. The earlier models like Mavic 2 Pro, Mavic Air 2, Phantom 4 Pro V2.0 are all capable of recording high quality footage in 4K, 2.7K or 1080p. Then how do you deal with these videos? What DJI video editing software do you use?
Basically, there is no standard single answer, because everybody has their own favorites and theories. An amazingly professional DJI video editor sometimes is just not the right choice for you, for it would definitely be pricy and you might have to take a lot of time to figure it out. But things are different if you were a well experienced user. So take a deep dive into the review about DJI or drone video editing software, sift through the advantages and disadvantages that matter most to you and then choose based on your actual needs.
To Polish DJI Drones Video, An All-in-one Video Editor Converter Is Needed!
WinX HD Video Converter Deluxe - Edit 4K/HD video footage recorded by DJI drones for YouTube, Instagram and more!
4K support. Full support for 8K/4K/FHD MOV or MP4 videos with H.264/H.265 codec.
Editing features. Trim, crop, cut, split, expand, merge and subtitle videos.
Photo slideshow. Create slideshow from DJI photos (JPG/PNG) with background music.
Video encoding. Encode HEVC, H.264, MP4, MOV DJI drone videos to MP4, MOV, MKV, FLV, AVI, WMV etc. of any resolution and codec.
What's the Best Editing Software for DJI Drones Footage?
Part 1. Entry-Level DJI Video Editors for Windows & Mac
"I've downloaded all my video files to my PC. Any recommendations on easy-to-use DJI drone video editing software. Appreciate any advice, am very new to this, so the simpler, the better, for me. Thanks"
1. Windows Movie Maker (Windows)
Speaking of free video editor for Windows, Windows Movie Maker surely is on the top of the list, which is developed by Microsoft but is discontinued now. Even so, you still can download the Movie Maker for DJI drone video editing on Windows 10 and previous. Note that there is no direct download link on the official website, but you can free get it from other sites like https://windows-movie-maker.org/. For help on how to edit DJI drone videos, please turn to Windows Movie Maker user guide >>
What Can Windows Movie Maker Do?
Windows Movie Maker is a well-known and free DJI video editor only for Windows users. Simply from its name you can see that it helps make movie from recording footages or captured images. As to the DJI drone video editing, it can trim and split video, add animations, control brightness, change transitions, etc.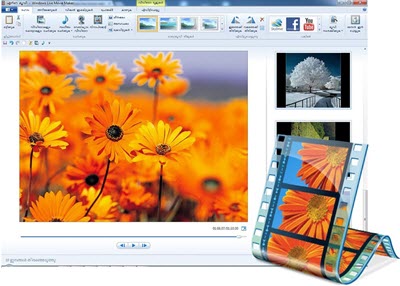 Must-See Tips
Most DJI drones output videos of H.264 or HEVC codec in MOV and MP4 format, which however is not supported by Windows Movie Maker for copyright or codec incompatibility reasons. Thus you need convert MOV to MP4 or download codec pack for Windows Movie Maker/WMP to make it compatible.
Video formats supported: WMV, ASF, MPG (MPEG-1), AVI, MP4, 3GP, FLV, MOV
Audio formats supported: MP3, AAC
Download link: https://windows-movie-maker.org/download/windows-movie-maker-2017-full.exe
2. WinX HD Video Converter Deluxe (Windows & macOS)
WinX HD Video Converter Deluxe, instead of being merely video editing software, is a combination of both video editor and converter. It is not the best DJI drone video editing tool, but it is, to some extent, the most full featured one, especially good and easy for inexperienced users. Of course you can upgrade to some other professional tools later when you pass through the learning period.
What Can WinX HD Video Converter Deluxe Do?
• Being a DJI video editor, it fully supports 4K/8K UHD videos encoded in H.264 and HEVC and outputs videos in high quality as well. DJI Phantom 4K drone videos can be easily decoded for later editing.
• You can: crop the video, cut black edges, trim drone footages, merge multiple clips into a new one, expand the image, add inner/external subtitles, resize the drone video, etc. Also you are permitted to make videos with DJI captured photos and output into whatever video format you want for sharing.
• As to the general video quality, you are allowed to adjust drone video parameters like resolution, bitrate, frame rate, aspect ratio (16:9, 4:3), etc to balance video quality and size. Up to 370+ output formats are available for you. Edit and convert DJI drone videos to FLV for uploading to YouTube, to MOV for playing on Mac, to MPEG-2/ISO for burning on DVD, etc. Hardware accelerated encoding/decoding can be enabled to maximize your DJI video editing/transcoding speed.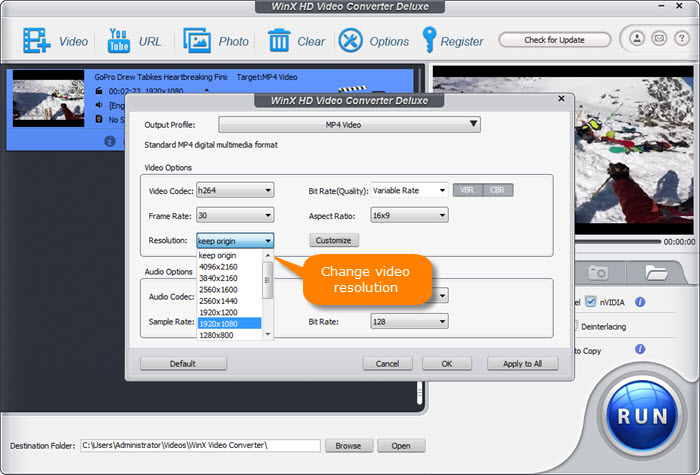 3. iMovie (macOS)
If you ask for suggestion of a good DJI drone video editor in a Mac forum, there is a big possibility that they would tell you to just change your computer to Mac to save you the trouble and your time. Yep, they have iMovie, which used to be bundled with Macs for a fee, but now can be free downloaded from the Mac App Store since April 18, 2017.
What Can iMovie Do?
Luckily, iMovie has added the support of importing H.265/HEVC footage in 2017, however only on macOS High Sierra. 4K resolution (3840 x 2160) seems to be supported on OX X 10.10.5 and later. General drone video editing features are all included, like add music and titles, correct colors, change transitions, etc. Also, there is iMovie for iOS, meaning you have a free DJI video editor built in with your iPhone and can easily edit drone videos if necessary.
>> How to fix iMovies not importing DJI MOV footage? Click here...
>> What if iMovie not editing DJI 4K at 60fps? Just try this iMovie alternative on macOS.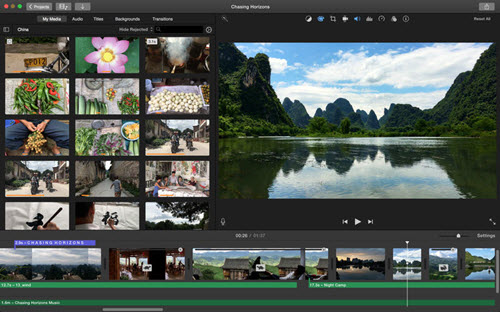 Part 2. High-End DJI Video Editing Software
1. Adobe Premiere Pro (Windows & macOS)
Adobe really has a series of professional and powerful video photo editing tools favored by a lot of people, such as Adobe Premiere Pro, Adobe Premiere Elements, Adobe After Effects and Adobe Photoshop. Truth be told, Adobe Premiere Pro is the best option for your DJI drone video editing if price is not a big deal for you and of course you must be well experienced. After all, this is an extremely professional tool adopted by companies like CNN, BBC, etc and contributes to famous movies like Avatar, Gone Girl and Deadpool. Lucky for you, there is a relatively easy version for home users - Adobe Premiere Elements. Both are available on Windows and macOS.
What Can Adobe Premier Pro Do?
On the footage importing part, Premier Pro supports drone video editing up to 10,240×8,192, which is suprisingly amazing. Today the highest video resolution known by most people is 8K (7680x4320) while 4K (3840 x 2160) just catch on. Then coming to the editing part, Premier Pro is an expert in aspects like high bit-depth rendering, multiple sequence support, auto optimization of colors, time remapping, bezier keyframing, etc. And needless to say, there is a full bunch of filters for you.
* There is a free trial of Premier Pro on the official website, which allows you to enjoy all features of the latest version for 7 days without any limits. If you are no sure whether you need such a professional DJI video editor or not, free download to have a try.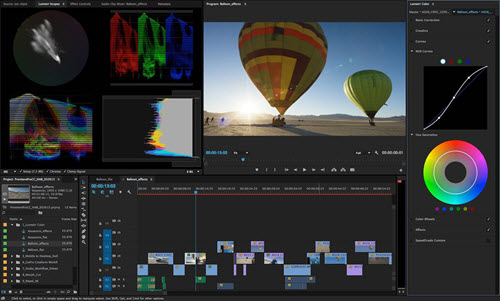 Learn More: Adobe Premiere Pro won't import MOV HEVC properly? Fix it easily >>
2. Final Cut Pro X (macOS)
Final Cut Pro X is a professional drone video editor only for macOS users. Being a successor to Final Cut Pro but and released in 2011 with redesigned GUI, it has a similarity to the free DJI video editing tool - iMovie in code and interface. Final Cut Pro X is the one that can stack up against Adobe Premier Pro on macOS.
What Can Final Cut Pro X Do?
Final Cut Pro X abandoned traditional track based NLE paradigms and adopts new magnetic timeline, new color board and chapter markers. The latest updated version of Final Cut Pro X in the end of 2017 really cut the cord for adding support for the importing/editing/outputting of 360° video, HEVC footage, HEIC/HEIF photos, and many more. Besides, it comes with support of Open CL, allowing GPU hardware acceleration when rendering UHD videos. Anyway, Mac users seem to be more likely to settle on Final Cut Pro X than Premiere Pro/Elements.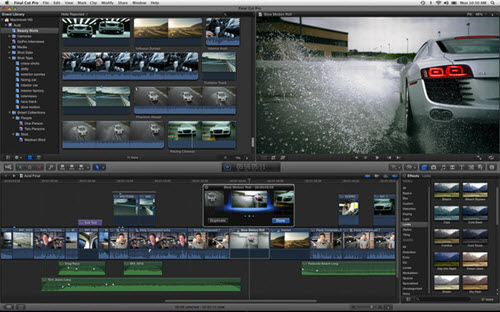 Part 3. 2 DJI Video Editors for Enthusiasts and Somewhat Experienced Users
If Windows Movie Maker and iMovie are not powerful enough for you but Adobe Premier Pro and Final Cut Pro X are too professional and pricy, then the next two DJI video editors should be what you are looking for.
1. Cyberlink PowerDirector
Cyberlink PowerDirector 16 updated on Jan. 25 might be the best DJI video editor for 2018 for ordinary people. If Adobe Premiere Pro is too expensive for you, PowerDirector is the affordable alternative but only for Windows 7 to Windows 10. Exactly, it ranks 6 on Amazon in "Software > Video > Video Editing". The best part is that there is a PowerDirector University on YouTube, with hundreds of instructional videos to help you on how to edit a (drone) video.
What Can Cyberlink PowerDirector 16 Do?
In general, this is a user friendly yet powerful DJI video editing software with nearly whatever video effects you want. It can fix shaky 360º footage to let you enjoy a smooth video file. Built-in Color Match helps correct and standardize colors for different lighting situations. Also you can track motion, zoom videos, freeze frames, create transparency in video, rotate, split or trim video clips, etc. There are four different versions of Cyberlink PowerDirector 16. You can purchase from the official webpage, Amazon or Google Play.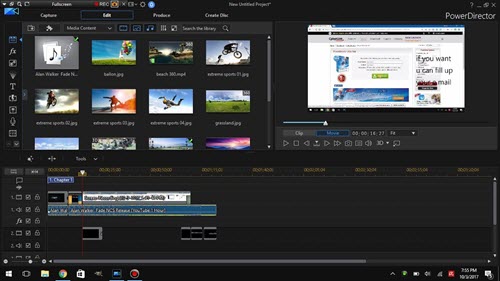 2. DaVinci Resolve 14
If you don't want a recurring payment, DaVinci Resolve 14 would be the best alternative of Cyberlink PowerDirector, which is 10x faster than the previous version. This DJI video editor is most well known for two things: firstly it is free and secondly it is said to have the world's most advanced color corrector, favored by Hollywood.
What Can DaVinci Resolve 14 Do?
Even being free, DaVinci Resolve 14 has nearly all the video editing tools that professional software can provide, in a more intuitive way. It includes dozens of FX filters, offers dynamic JKL trimming and performs asymmetric trims. You can add filter effects like mosaic, blurs, lens flares, film grain, etc.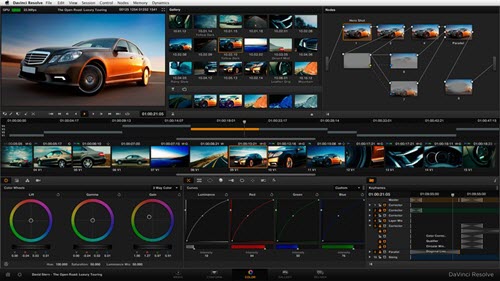 Background information about DJI Drone with Camera

How many types of drones does DJI have?
Currently, there are 19 DJI drones and DJI Phantom series seem to be its featured products with 13 different versions.
DJI Mavic series: Mavic Air/Pro/Pro Platinum
DJI Phantom series: Phantom 4/Pro/Advanced, Phantom 3 Standard/Professional/4K, Phantom 3 Advanced/SE, Phantom 2/Vision/Vision+, Phantom FC40, Phantom 1
DJI Inspire series: Inspire 1/Pro
DJI Spark

What is the resolution and format of video recorded by DJI drones?
Based on our research, the highest resolution of a DJI drones (Phantom 4 Pro) recorded video is 4K 4096X2160 at 60fps, while the display resolution is 1920x1080. It can be encoded into both H.264 and H.265/HEVC. For your information, the photos are captured into JPG.
Alert: Before all the drone video editing, or rather your DJI drone video recording, we suggest you refer to drone regulations and laws in different countries first.
Free Download WinX HD Video Converter Deluxe to Edit Your DJI Drone Footage Now!
Edit DJI drone video, remove black borders, change aspect ratio, adjust bit rate, etc
Convert DJI drone videos to MP4, MKV, HEVC, AVI, WMV, MPEG, MOV, etc safely.
Convert drone videos to any formats playable on iPhone, Android, Windows (10), Mac, Xbox, etc.
No.1 fast video converter supporting hardware acceleration (Intel QSV & Nvidia CUDA/NVENC).