[Updated] 2023 Best HEVC Converters for Windows, Mac, Online
HEVC footage enjoys great popularity these days, from iPhone to camcorder, ultra 4K, or HD digitals to streaming services. HEVC codec certainly brings crisper images, hi-fi audio, and smaller size, but also playback errors owing to HEVC incompatibility and underpowered hardware. Therefore, you may want to convert HEVC videos to H.264, MP4, MOV, and more for playback on incompatible devices; or convert large 4K/HD videos to HEVC to save storage. What you need is a good HEVC video converter.
Best HEVC Video Converter to Convert H.265 to MP4 Easily
WinX HD Video Converter Deluxe - convert 4K HEVC videos to/from MP4, H.264, MPEG4, WMV, AVI, MOV, MKV, etc. fast with high quality.
Convert 4K/HD 60fps, 12/10bit HDR videos to HEVC H.265 with the highest quality. Support HEVC videos from GoPro, DJI, iPhone, DSLR cameras, blu-ray videos, etc. and other high-quality codecs like Prores, MXF (HDVCPRO HD, DNxHD), AVCHD, Sony Raw, etc.
Convert HEVC H.265 to MP4, H.264, MPEG4, MOV, AVI, FLV, WMV, HDTV, Apple TV, mobiles, Plex, NAS, and 420+ profiles.
5x faster HEVC H.265 converting speed. Support GPU acceleration (Intel/Nvidia/AMD). No lagging, CPU overuse, overheating, crashes.
Freely adjust video parameters, merge, trim, resize, compress and edit HEVC videos, and do more.
3 steps only: load HEVC video > select format > RUN. No plugins and add-ons are needed.
Do You Need an HEVC Converter?
1. Convert high-quality videos to HEVC for a smaller size.

Videos shot with modern HD cameras like Sony, Panasonic, mirrorless cameras, drones, and mobiles provide lossless video quality. But raw 4K/HD videos can be enormous in size. Converting 4K/HD raw videos to HEVC H.265 can get smaller sizes with the best quality.

2. Convert HEVC H.265 to H.264 for easier playback.
Microsoft will charge you $0.99 to download the official HEVC video codec from the Microsoft store to play HEVC.
Even with the HEVC codec, decoding HEVC H265 requires massive processing power. That can cause stutters, freezes, black screens, or crashes on old hardware. You will need to upgrade your device to handle 4K HEVC 60FPS, 10/12 bit HEVC footage smoothly.
HEVC H.265 is not supported by Instagram, Whatsapp, TikTok, Twitter, Facebook, etc. Even YouTube prefers VP9 over H.265.
Hot search: 15 Best Video Converters to Convert and Compress Video Files
Part 1. Best HEVC Video Converter to Convert H.265 without Stutters/Freezes on PC/Mac
As there are many H.265 video converters online, here we have some rules. For example, the HEVC video converter should be usable by professionals and nonprofessionals alike, and it also must work with 4K video, since the ever-increasing availability of devices capable of recording 4k and even higher resolutions. Below is our list of 2023 Best HEVC H.265 video converters for Windows 11/10 and macOS.
WinX HD Video Converter Deluxe
Handbrake
VLC
FFmpeg
Any Video Converter
VidCoder
Avidemux
Wondershare UniConverter
WinX HD Video Converter Deluxe
WinX HD Video Converter Deluxe offers easy and fast HEVC conversion on Windows 11/10/8/7 and MacOS. It's able to convert HEVC H.265 from/to MP4, H.264, MPEG-4, ProRes, AV1, VP9/8, MOV, AVI, WebM, WMV, etc. and transcode HEVC to iPhone, iPad, Android, PS4, Xbox, Plex and 420+ profiles in 4K, 1080p, 720p or whatever resolution. It supports HEVC videos HDR video @60fps or higher in 4K and even 8K resolutions.
Intel, Nvidia, and AMD GPU accelerations are all supported. Compared to other H.265 video converters like Handbrake, WinX HD Video Converter Deluxe is about 5-10x faster than other HEVC converters based on the configuration. For example, to convert a 4K MOV (3846*2160) @60fps, Prores 422HQ, 2 min 11s, 3.15GB video to HEVC H.265 file, WinX HD Video Converter Deluxe takes 2 min 3s to finish the conversion, while Handbrake uses 15min 43s.

Free Download for Windows 11/10 or earlier


Free Download for macOS 13 or earlier
How to Convert HEVC/H.265 Videos without Quality Loss?
Step 1: Download the best H.265 video converter online and install it on your computer. Open it and click click the + Video button to import the source HEVC or 4K video source. You can do it by drag and drop.
Step 2: Once the videos are loaded, an output profiles window pops up automatically. Select the output format you want from the list.
• Convert 4K/HD Videos to HEVC: If you have an uncompressed source or high-bitrate compressed video, you can convert the 4K/HD video to HEVC H.265 to save space while maintaining the same quality. To convert videos to HEVC h.265, go to General Profiles > select HEVC Video.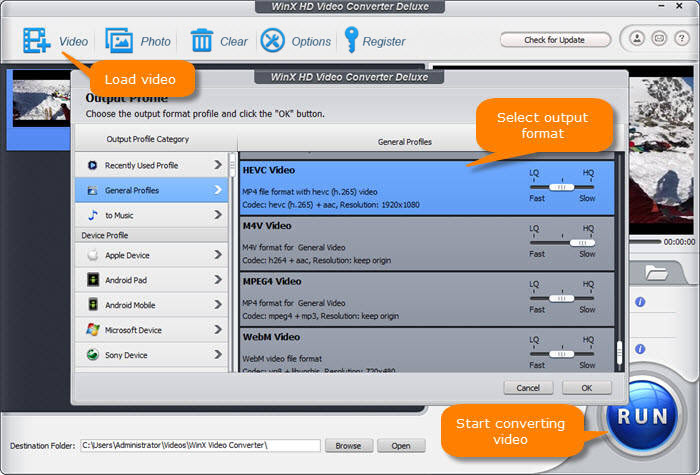 • Convert HEVC to MP4 for better compatibility: If you have HEVC videos recorded using GoPro, DJI, iPhone, downloaded online, or otherwise gained, you can convert the HEVC H.265 to more friendly formats for online streaming or sharing. You can convert HEVC videos to MP4, H.264, MOV, AVI, MKV, iPhone, Android, TVs, YouTube, etc. For example, to convert HEVC H.265 to MP4, go to General Profiles > select MP4 Video (codec: h264+aac).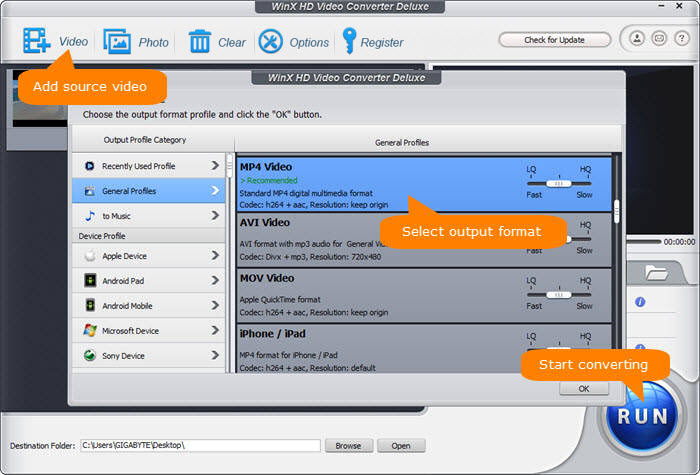 Step 3 (optional): To change HEVC video parameter settings, click the icon

on the main interface. On the pop-up window, you can adjust video resolution, frame rate, bit rate, aspect ratio, audio settings, etc. Click the edit button below the selected output profile to cut, trim, add subtitles, crop, and edit the video.
Step 4: Back on the main interface, don't forget to enable the Hardware Accelerator. It will apply the Nvidia, AMD, or Intel GPU acceleration if possible to speed up the HEVC video converting speed. Click the blue RUN button to start. The hardware acceleration tech can boost the HEVC conversion to 5x faster and the high quality engine will ensure high video quality.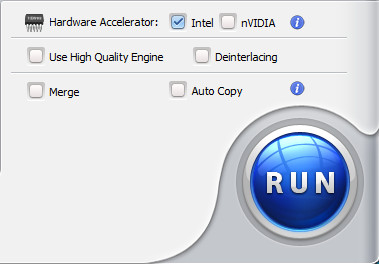 Handbrake
Handbrake is an open-source video transcoder with its target formats limited to MP4 and MKV. You can convert HEVC videos to H.265, H.264, MPEG-2, MPEG-4, Thera, VP8, and VP9. It includes AMD VCE, Intel QSV, and NVIDIA NVENC hardware encoders to accelerate creating H.265 and H.264 videos. Handbrake is able to convert 4K videos to HEVC 10/12-bit. More than that, there is a wide range of settings to customize the HEVC video conversion. If you are seeking a free HEVC video converter for Windows 11/10/Mac to convert videos from/to H.265, Handbrake will have the job well done.
But you should know that:
The hardware encoders (AMD VCE, Intel QSV, NVIDIA NVENC) are considerably faster than converting videos to x265 on the CPU.
The hardware encoders won't provide the same quality versus file size efficiency as the x265 software encoder.
You'd better enable AMD VCE, Intel QSV, and NVIDIA NVENC when you convert HEVC videos on less powerful computers where performance is the greatest concern.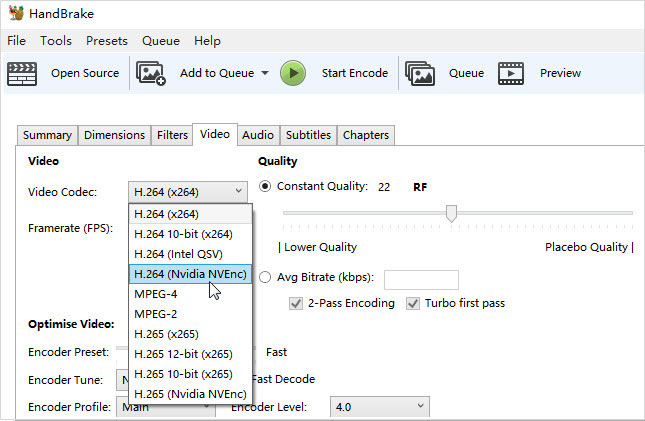 There are so many settings and tweaking any single parameter can result in very different HEVC converting speed, final file size, and video quality. Therefore, Handbrake HEVC video converter is very flexible yet quite complicated for new users. Check Handbrake HEVC settings here >>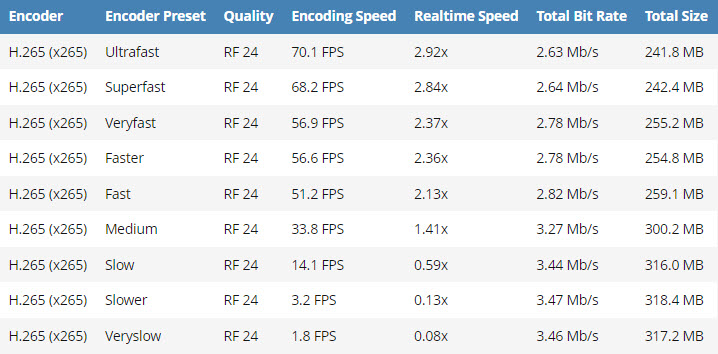 VLC
Before you try any other HEVC video converter online or on desktop, there is a big chance that you already have a tool installed on your computer which is able to convert videos to H.265 or transcode HEVC to various other formats. VLC, the famous free video player, lets you convert videos to H.265, H.264, MPEG-4, DIVX, VP8, and several more. It's not as powerful as other top H.265 video converters in this list, but it gets the job done.
To convert videos from/to HEVC on Windows 11/10/Mac using VLC, click Media > Convert / Save… > Add the source video and click the Convert / Save. Then select the format from the Profile dropdown menu, like Video - H.264 + MP3 (MP4).
Converting high-quality uncompressed videos to HEVC as well as converting H.265 into other formats can be very slow using VLC. This is because it doesn't support HEVC hardware acceleration. On Windows, H.264, MPEG-1, MPEG-2, WMV3, and VC-1 are all hardware accelerated. On a Mac, only H.264 is hardware accelerated.
VLC has trouble with HEVC videos in the HVC1 codec and it may result in audio only with no video. (see VLC HVC1 codec issues)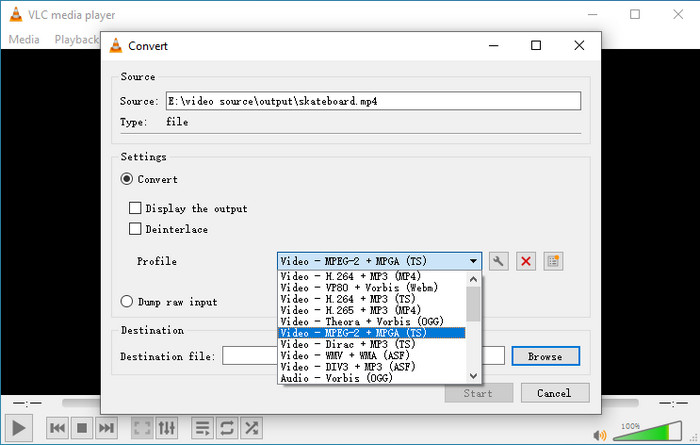 FFmpeg
If you're an advanced user, the command tool FFmpeg works perfectly as a free HEVC video converter for Windows 11/10/Mac/Linux. It allows you to convert among different video formats, including HEVC/H.265, H.264/MPEG-4 AVC, MPEG-4 Part 2, AVI, WMV, FLV, and many more. It supports tons of filters to adjust the HEVC video quality, size, crop, rotate, trim, add filters, etc. More importantly, it supports a wide range of hardware to deliver fast speed converting 4K/HD HEVC videos, including NVENC/NVDEC/CUVID, VideoToolBox, Direct3D, openCL, AMD UVD/VCE, etc. Therefore, FFmpeg is commonly used to convert videos from/to HEVC, H.265.
Many users are put off by installing and setting FFmpeg. Here is a detailed FFmpeg HEVC guide to help go through the first step. Once you've installed and set FFmpeg, you only need to enter the commands to convert HEVC videos (there are many online). Here are some examples:
Convert MP4 to H.265: ffmpeg -i input.mp4 -c:v libx265 output.mp4
Convert AVI to HEVC: ffmpeg -i input.avi -c:v libx265 output.mp4
Convert HEVC to MP4: ffmpeg -i input.mov -c:v libx264 output.mp4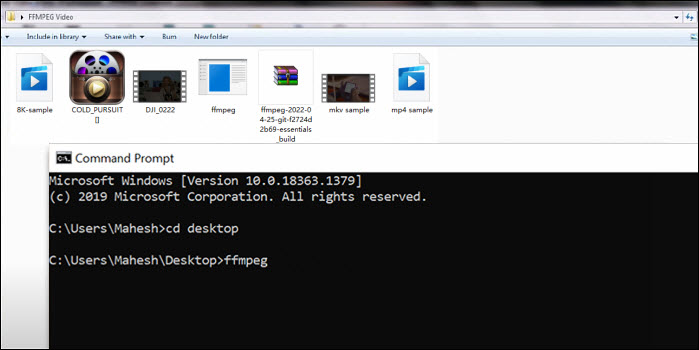 Any Video Converter
Any Video Converter can be used as a free HEVC H.265 video converter for Windows 11/10 and earlier. It accepts 4K and HD videos of different types (including HEVC) and converts them into H.265, H.264, AVI, MKV, M4V, WMV, and 160+ other formats. Though not as versatile as its paid pro version, the free converter also allows you to customize the final HEVC video with settings like video bitrate, video frame rate, video aspect ratio, video quality, audio bitrate, and more.
You can use NVIDIA NVENC, AMD AMF, and Intel QSV hardware acceleration if you need to convert HEVC videos into H.264. However, the video to H.265 converting is only accelerated by AMD graphics card. It will take quite a long time if you convert uncompressed 4K/HD videos to HEVC even if you have a powerful NVIDIA graphics card installed.
The HEVC H.265 codec is only available in the Windows version. It's not an option to convert videos from/to HEVC on a Mac. Here is a list of HEVC video converters for Mac >>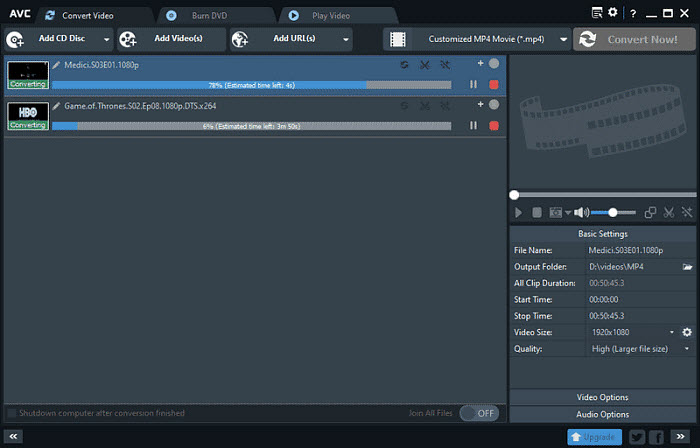 VidCoder
If Handbrake is an HEVC video converter too complicated for you, here is a little more straightforward alternative for Windows 11/10 - VidCoder. Based on the Handbrake encoding engine (FFmpeg), you can regard VidCoder as an alternate GUI for Handbrake. It will convert 4K, HDR videos to X265, H.265 10-bit, H.265 12-bit, or transcode HEVC videos to H.264, MPEG-4. It's also an H.265 video converter accelerated by hardware with AMD VCE, Nvidia NVENC, and Intel QuickSync. You will find settings, filters, features, etc. just like Handbrake.
To convert HEVC videos using VidCoder is similar in Handbrake but a little bit different. Load your source video > you need to click on the gear button beside the video info to get into the page where you can set the output > adjust the video & audio settings > start to encode.
The converted HEVC videos are slightly different in size using VidCoder and Handbrake. For example, the final sizes using Matroska H.265 MKV 1080p30 in VidCoder and Handbrake are 191,164 KB and 147,499 KB respectively.
Both Win 7 and Win 10 require .NET framework 5+ in order TO get the latest VidCoder to work.
You do not need to install HandBrake for VidCoder to work.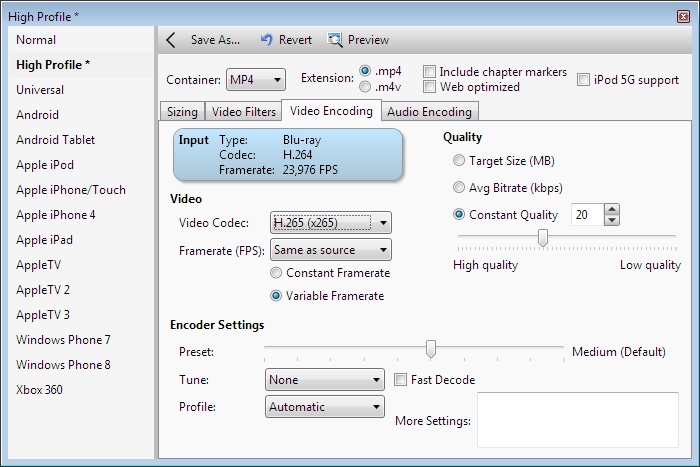 Avidemux
The free and open-source video editor VidCoder is able to convert videos from/to HEVC x265 on Windows 11/10, macOS, and various other platforms. It provides a one-stop solution to edit your high-quality recordings and encode them using x265, x264, VP9, and several other encoders. There are various advanced conversion settings like 2-pass encoding, fast to slow presets, quality settings, etc.
How to convert HEVC vdeos with Avidemux? Add the source video to the converter > go to the Video Output menu> select the HEVC (x265) or others. Click Configure to make necessary changes and you can save the converted H.265 videos in MP4, MKV, MOV, AVI, etc. 
Avidemux supports HW accelerated decoding of 8-bit HEVC on Intel graphics drivers on Windows. And there is an FFmpeg-based VA-API HW accelerated HEVC encoder (Intel/Linux).
As the internal pixel format in Avidemux is YV12 (YUV420P with U and V planes swapped), you can convert HEVC H.265 videos 10bit HDR or higher color depth.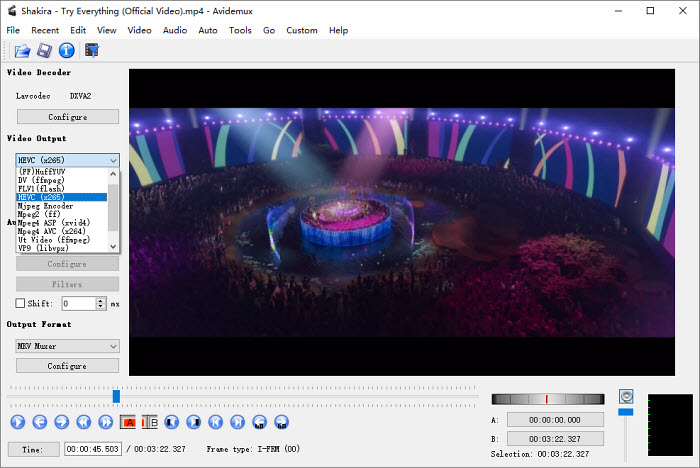 Wondershare UniConverter
Pricing: $49.95 (1 Year License) | $69.95 (2 Year License) | $79.95 (Lifetime License) | Free Limited version trial.
Wondershare UniConverter is not a free HEVC video converter, but it's very versatile and there are features you may be interested in. As a HEVC video converter, it's able convert H.265 videos to MP4, AVI, and +1000 file formats. It takes advantages of GPU acceleration to speed up the HEVC converting speed and the output quality is good too. It offers full support to 4K and UHD videos encoded in HEVC, AV1, VP9, and other advanced codecs.
In addition to a 4K H.265 video converter, there are many other features to explore. For example, you can easily edit HEVC files, record videos, merge clips, burn CD/DVD, play videos, and more. You can try this HEVC converter for free but there are many limits. If you need the full functions to convert a HEVC video, you need to pay for its full features. In a word, it's a reliable and feature-rich HEVC video converter that is worth considering for users who need a powerful and versatile video conversion tool.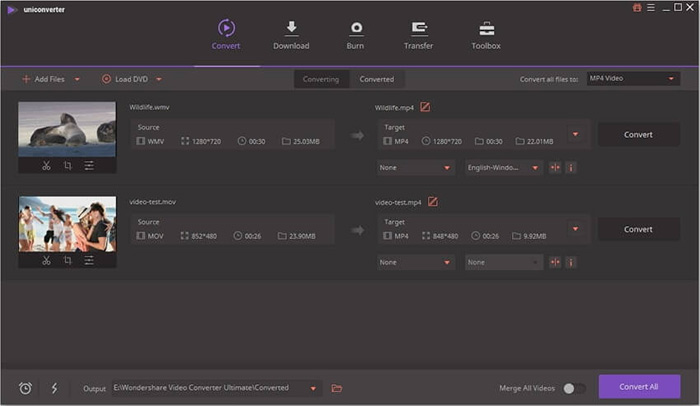 Part 2. Top Free Online HEVC Converters to Convert HEVC to MP4
When we need to convert HEVC videos, we usually prefer a free and easy way. The online HEVC converter precisely meets all your demands. You don't have to pay for it or install any 3rd-party plug-ins or programs. Now let's check the leading online HEVC converters, which re-encode HEVC files fast and easily.
convertio.co
freefileconvert.com
clipchamp.com
video-converter.com
anyconv.com
onlineconverter.com
1. convertio.co
Convertio.co is not only capable of converting HEVC files from local but also Dropbox, Google Drive, and video links. While it has strict limits on the file size. Guest visitors are only allowed to upload an HEVC video of a maximumly of 100MB, approximately 30 seconds for 4K HEVC @30fps shot by iPhone (Learn more for 4K HEVC file size). If you want to convert large HEVC files, you have to upgrade your account from 3 options: $9.9/month (max size: 500MB), $14.99/month (max size: 1GB), and $25.99/month (no limits on file size). 2. freefileconvert.com
Freefileconvert.com is a free and excellent HEVC converter that convert local videos, cloud footage, or online streams from/to HEVC in various format like MP4, MKV, MOV, and AVI without the need to install a program on the computer. It's totally free and pretty easy to use, only requiring you to enter the video link or upload the video file, select the format and click the "Start" button. By the way, the allowed max file size for freefileconvert.com is 300MB combined for 1-5 videos added at once. 3. clipchamp.com
As a free HEVC online converter, Clipchamp.com can encode and decode HEVC videos in a wide range of formats like MP4, WebM, WMV, MKV, etc. The biggest point of the tool is that it has no input file size limit., and you can even convert a 10GB HEVC file with it. But it's noteworthy that Basic plans only allow footage shorter than 5 minutes and it will export videos in 480p with a watermark. If you want to remove these limits, you're required to buy its business plan at $14/month.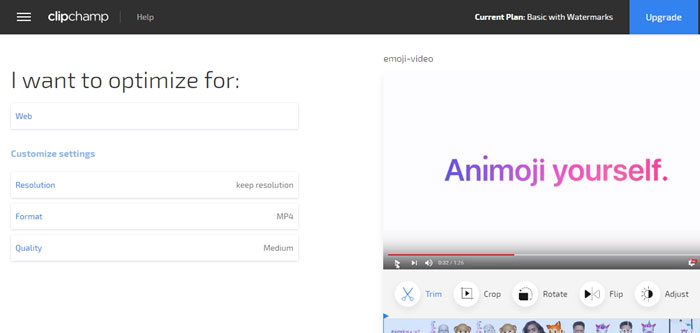 4. video-converter.com
This free online HEVC converter is very useful. It's able to convert HEVC videos free online to MP4, AVI, MOV, WebM, MKV, and various other formats and device profiles. Moreover, you can adjust the video resolutions, change the video/audio codec, and most importantly, control the final file size. Unlike many other free HEVC video converters online, there is no limit on the number of files you can convert. So you can convert as many HEVC videos as you want. But there is a size limit. You can upload an HEVC no more than 4GB at a time.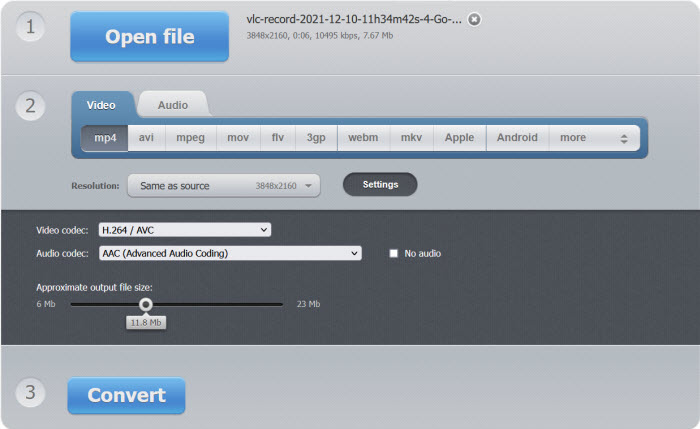 5. anyconv.com
AnyConv is a free HEVC to MP4 converter online. You can upload an HEVC of no more than 100MB to the site, and convert it to H.264 or MP4 within 2 clicks: Choose the HEVC and click the Convert button to start. Then just download the converted HEVC file to your local computer. The simple HEVC converting process also means no option to customize the conversion. Besides, you can convert no more than 60 files per hour.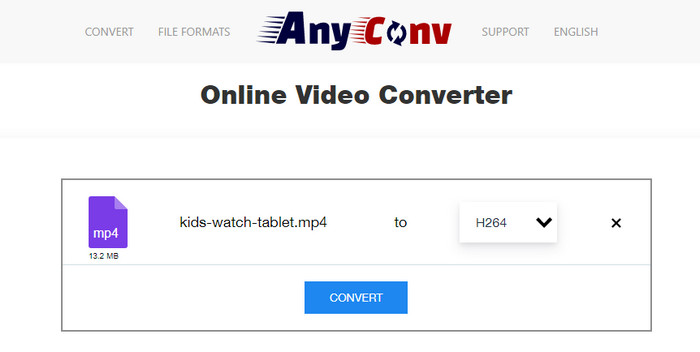 6. onlineconverter.com
Online Converter works as a free HEVC to MP4/AVI converter online. It supports HEVC videos  in .mov, .hevc, .mp4, .mkv, .ts, .h265, .265. Simply upload the HEVC video and click Convert, it will convert the HEVC video into MP4 or AVI online. You can't convert HEVC into other formats like MOV, MKV, WMV, FLV, WebM, etc. There are two simple options available to let you cut the video and resize the aspect ratio, without a preview window though. Max file size of 200 MB is allowed to be uploaded.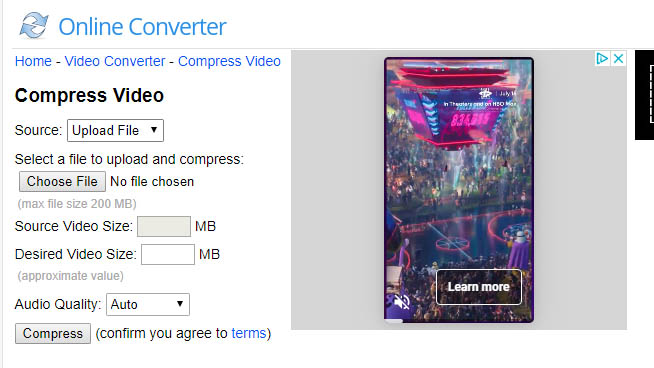 Part 3. Desktop vs Online HEVC Converters: The Good, The Bad and The Ugly
Which type of HEVC H.265 video converter is better? In fact, they excel at each other in different aspects. Choose based on your needs:
Pros and Cons of HEVC Converters for Windows and Mac
Pros:
Powerful: H.265 video converters can make usage of the hardware to convert 4K and large-sized video files.
Rich features: HEVC video converters for PC/Mac features a lot of functions and support a wide range of formats. You are able to tailor video files to the best quality possible.
Fast speed: desktop video converters don't rely on the internet. The desktop HEVC video converters listed above all support GPU acceleration to speed up the HEVC video conversion.
Cons:
Installation required: users need to install programs on their computers and it takes a longer time to get familiar with the rich features and settings provided by desktop video converters.
High requirements: HEVC requires high computer hardware. Therefore, it still requires a more advanced configuration to convert HEVC H.265 videos with good performance.
Pros and Cons of HEVC Converters Online
Pros:
Free: the basic features of most HEVC video converters online are available for free without registration.
Convenient: You don't need to install 3rd-party software.
Cons:
Slow video conversion: converting HEVC videos online is highly based on the internet connection. It can be endless torture to convert large or 4K HEVC videos online, especially when your internet connection is slow.
File size limit: all HEVC converters online have a file size limit for free users. You'll have to upgrade your account to unlock more features, especially the input file size and output video quality. 
Lack of features: the features of online H.265 video converters are quite limited.
Thus, there are also some limits on your computer configuration and Internet connection when converting HEVC files online. Check the details:
Operating system: Windows 7 Ultimate (64bit)
CPU: Intel(R) Core(TM) i5-3470 @3.20GHz @3.60GHz 4 cores
GPU: Intel Ivy Bridge Graphics Controller
RAM: 8GB
Internet Speed: 50 Mbps
Download Speed: 5.56 Mbps
Part 4. FAQs on Converting HEVC H.265 Files
1. Does HEVC Reduce Quality?
No, it keeps the same high quality of H.264. Although HEVC is a lossy compression, it has higher intra-coding efficiency, and the detail area can be well handled. Thus the reduction of quality is also coordinated, even if it is invisible to the eyes under certain parameters.
2. Should I Convert Videos to HEVC or MP4?
It depends on your source video. If the input video is an uncompressed source or at least a high-bit-rate compressed source, converting it to HEVC H.265 can compress the content into a lower bit rate while maintaining the same quality. But for videos lower than 1080P, you will probably mostly waste a lot of time and not save much space. HEVC is best used if you compress from the same high-quality original material (e.g. Blu-ray). Otherwise, choose MP4.
3. What is the Best Format to Convert HEVC H.265 Videos to?
Converting video between lossy formats will always lose more quality, even if you use the same bitrate as the original file, if not even more. For example, converting HEVC (H.265) to H.264 isn't ideal if you want to keep the highest quality, especially if you're planning to edit the files in something like Final Cut Pro X or Premiere Pro. It's recompressing one compressed file into another compressed file, meaning the quality is going to take a further hit with that second-generation compression. For the highest quality, you'd better convert the HEVC video to a format like Apple's ProRes 422 codec.
4. What's the Best HEVC H.265 Converter Online?
As H.265 codec often comes with high bitrate and high resolution, and HEVC decoding/encoding is quite CPU/GPU intensive, online tools are often not the best choices. However, there are some converters online to let you convert HEVC videos. Here is a list for you: FreeFileConvert, Convertio, Online Converter, Anyconv. For the best quality and fast speed, you're suggested to use the desktop H.265 converters.
5. How should I choose the best HEVC video converter?
As there are many different video converters online, we choose the best HEVC H.265 converters based on the following criteria. You can also consider these factors when choosing the best free HEVC video converter:
Conversion speed: Converting HEVC is a resource-intensive task. A good 4K/HD HEVC video converter should be able to convert videos quickly and efficiently without stutters or app crashes.
Output quality: As HEVC videos are often used for 4K or HD quality. The converted video should retain the original quality of the source file as much as possible.
Ease of use: You may want a HEVC converter that has a clear and intuitive interface, and does not require any technical expertise to use.
Batch conversion: If you need to convert multiple HEVC videos at once, look for a converter that supports batch conversion to save time.
Compatibility: Make sure the HEVC H.265 converter is compatible with your Windows 11/10 or Mac system.
Additional features: Some HEVC video converters may offer additional features, such as video editing tools, batch conversion, or support for subtitles. or the ability to download videos from popular video sharing platforms.
Customer support: Choose a converter that offers good customer support, in case you encounter any issues or have questions about the software.
Some popular HEVC video converters that meet these criteria include WinX HD Video Converter Deluxe, Handbrake, Freemake Video Converter, Any Video Converter, etc.