HEVC Converter: Convert H.265 Video at GPU Accelerated Speed
Microsoft announced that Windows 10 added native support for HEVC/H.265 and MKV, which means you can play HEVC 4K videos on Windows 10. However, the playback and edit of 4K HEVC videos on Windows 10 need you to unlock a series of 4K video codec puzzles – HEVC/H.265.
"My computer supports 4K USB playback using HEVC. I tried to watch P3Pro 4K videos from the SD card with no success…" - Mr. Clear
"Hi, I bought a GoPro Hero 6 which encodes higher frame rates in H.265. However, I open the video file, I only get audio, no video is display. Windows 10 home." - GoPro Youthman
HEVC is an advanced video format. That means, in addition to format compatibility, playing H.265/HEVC video or editing a 4K footage are high-demanding in computational resource. If your computer can't provide enough power (specifically GPU hardware acceleration tech), you will see stutters or freezes when processing a 4K HEVC video. To fix the problem, a HEVC converter (with GPU HW accel. supported) is needed whenever there comes a codec incompatibility issue, to convert H.265 to H.264, MPEG-4 etc.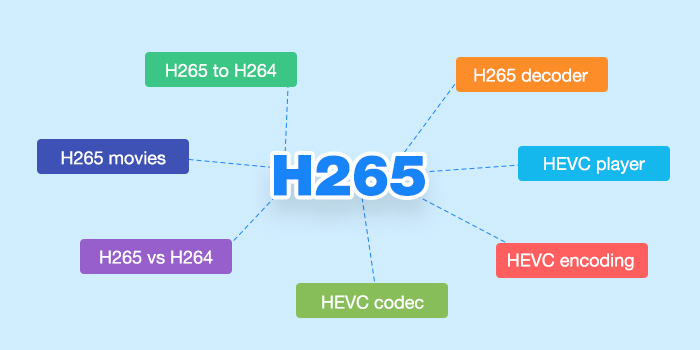 Smoothly Convert Video from/to HEVC/H265, No Stuttering/Freezing Issue
WinX HD Video Converter Deluxe - Smoothly convert 4K HEVC video files from GoPro, DJI, iPhone, DSLR cameras, etc. to H.264, MPEG4, WMV, AVI, etc., or encode video (H.264) into H.265 on Windows 10. Unique Level-3 GPU acceleration (Intel/Nvidia/AMD) offloads the compute-intensive HEVC encoding task from CPU to GPU so as to expetide conversion speed up to 5X faster, no laptop lagging, CPU overuse, software crash errors! ZERO quality degraded!
This tutorial explores the solutions for several interconnected H.265/HEVC issues, solving problems like what is the relationship between 4K and HEVC/H.265 and which is the best Windows 10 H.265 video converter to encode a H.265 video or convert H.265 to H.264, MPEG4, MOV, FLV, MKV, etc., on Windows 10 and for smart TVs' playback.
What is H.265/HEVC?
High Efficiency Video Coding, abbreviated in HEVC, is a video compression standard also known as H.265 and MPEG-H Part 2. HEVC codec is considered as the successor to currently most commonly used video compression format H.264, which is said to double the data compression ratio compared with the previous.
The highest resolution supported by the H.265/HEVC is 8192x4320, and it can be divided into two versions. The version 1 standard defines three profiles: Main, Main 10, and Main Still Picture. The version 2 of HEVC adds 21 range extensions profiles, two scalable extensions profiles, and one multi-view profile. According to different profiles, the bit depth is crossing from 8-bits to 16-bits.
HEVC is more used to encode videos of HD and 4K resolution owing to its high data compression. To play 4K HEVC video for PC/Mac: One is software decoding, which uses the CPU to do that, and another is hardware decoding, which handled by the graphics chip. However, due to the complicated compression algorithms of HEVC, many PCs stutter or become very slow when playing HEVC video without hardware decoding.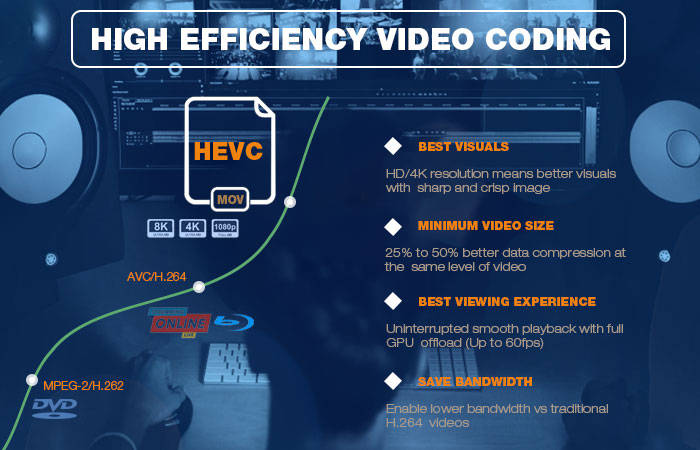 Best HEVC/H.265 Video Converter for Windows 10
Q - "How to play MKV file encoded in HEVC or how to convert H.265 to some other format? The video file has HEVC video codec and AC3 audio. I want to play it on TV, which does not support MKV container or H.265 codec. How to convert H.265 to H.264 to better fit my device?"
Only new 4K UHD TVs from Sony, Samsung, LG, etc. support HEVC decoding. To figure out how to play a H.265 4K video on a Windows 10 1080p/720p display or on HDTV can be really time consuming. You can just easily convertH.265/HEVC to H.264 video with a Windows 10 HEVC video converter – WinX HD Video Converter Deluxe.
● It will convert 4K/H.265 video to MP4, H.264, AVI, WMV, MKV, FLV, MOV, and 320+ video codecs Windows 10.
● It will also convert HEVC H.265 to Sony TV, Apple TV, Samsung Smart TV, mobiles, Chromecast, PC, Mac, NAS, Plex, any devices.
● Level-3 hardware acceleration will convert H.265 to H.264 with GPU acceleration based on Intel QSV, Nvidia Cuda/Nvenc for fast speed.
● Best Windows 10 HEVC video converter to download HEVC videos from 1000+sites at one go.
How to Convert H.265 to H.264 on Windows 10?
Free download the best H.265 video converter for Windows 10. With H.265/HEVC codec for 4K video built-in, you can convert HEVC to other formats and encode videos into H.265 right away.
Step 1: Click +Video button to load your H.265 video from local media library.
Step 2: Go to Output Profile -> General Profiles -> MP4 Video (codec: h264 + aac) -> OK.
Also, you can encode video into H.265 by choosing HEVC Video under PC General category.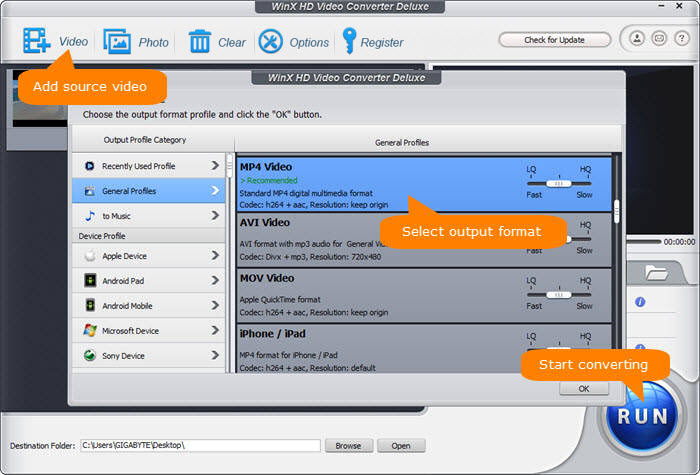 Step 3: Click Browse button to set a destination folder and hit RUN to start converting H.265 to H.264.
Check the following video tutorial if you want to know more nitty gritty.
Will 4K HEVC Work on Your PC/Mac or TV?
As for playing HEVC video on TV, you need always make sure you have the newest smart TV with HEVC support. Actually most 4K TVs only play H.264 format, but cannot decode HEVC/H.265 leading to the failure of playback on TV, streaming HEVC 4K video to TV on Windows 10 for watching won't be possible as well. That's why you need a best HEVC video converter.
Take the time to check out what the video files playable on Apple, Sony or Samsung Smart TV are before you make up your mind as to which device you are going to play the H.265 video. Then use the best H.265 video converter software to convert H.265 to H.264 MP4, AVI, WMV, MOV, FLV, etc.
| | | |
| --- | --- | --- |
| TV Brand | Supported File Type | File Extension |
| Apple TV | H.264, MPEG-4, JPEG | .mp4, .avi |
| Sony TV | MPEG-1, MPEG-2, AVCHD, MPEG-4, DivX, Xvid, WMV, Asf, OGG, MKV, MOV, RealMedia, FLV, 3gpp, MVC | .mpg, .m2t, .m2ts, .mts, .mp4, .divx, .avi, .asf, .wmv, .ogv, .3gp, .mkv, .rm, .rmvb, .mov, .flv, .mvc |
| Samsung Smart TV | H.264 | .mp4 |
External Knowledge: Does HEVC Reduce Quality?
If you just go for more video compression ratio, 4K may not have better quality than 1080p, from this, "smart" compression maintains a good balance between better image quality and smaller video size is actually what we want. Reduce bandwidth requirements while dramatically improving the experience, so HEVC codec wins great support in the industry.
Although HEVC is a lossy compression, it not only has higher intra-coding efficiency, the detail area can be well handled, but the reduction of quality is also coordinated, even it is invisible to the eyes under certain parameters.