HEVC Converter: Convert H.265 Video at GPU Accelerated Speed
"My computer supports 4K USB playback using HEVC. I tried to watch P3Pro 4K videos from the SD card with no success…" - Mr. Clear
"Hi, I bought a GoPro Hero 6 which encodes higher frame rates in H.265. However, I open the video file, I only get audio, no video is display. Windows 10 home." - GoPro Youthman
Part 1: Is HEVC Converter Really a Necessity?
Uninstall and free download official HEVC video extension from Microsoft store for Windows 10 is certainly a way to make HEVC playable. But if there is still something wrong in H265 (4K) playback, you're required to upgrade hardware configurations since under-powered computer can cause stutters, freezes, black screen or laptop lagging when processing a (4K) HEVC video.
Instead of costing hundreds of dollars on hardware upgrade to handle 4K HEVC 60FPS video, 10/12 bit HEVC footages, an economical yet once-and-for-all solution is preferable to any other. That's using a HEVC converter (GPU HW accel. supported) to convert H.265 to H.264 or adjust video parameters to reduce computational burden.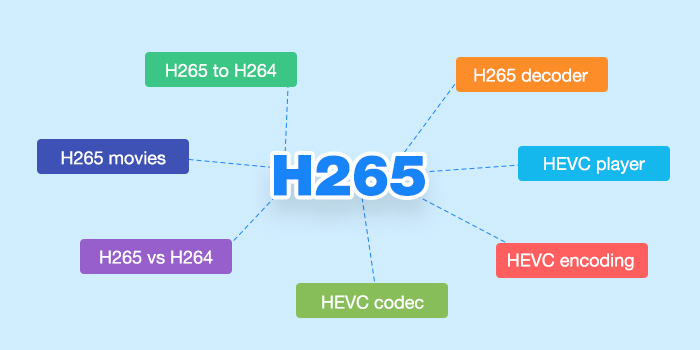 Part 2: Get the Best HEVC Video Converter to Convert HEVC without Stuttering/Freezing Issue
WinX HD Video Converter Deluxe - Smoothly convert 4K HEVC video files from GoPro, DJI, iPhone, DSLR cameras, IP camera, etc. to H.264, MPEG4, WMV, AVI, etc., or encode video (H.264) into H.265 on Windows 10.
The unique Level-3 GPU acceleration (Intel/Nvidia/AMD) offloads the compute-intensive HEVC decoding & encoding task from CPU to GPU so as to speed up HEVC encoding without laptop lagging, CPU overuse, software crash errors! ZERO quality degraded! What's more, it can:
● Convert HEVC H.265 to Sony TV, Apple TV, Samsung Smart TV, mobiles, Chromecast, PC, Mac, NAS, Plex, 420+ profiles pre-programmed.
● Use "Auto Copy" mode to change MKV (HEVC) to MP4 (HEVC) or MOV H264 to MP4 H264 without decoding or re-encoding, 1:1 quality.
● Tweak x265 4K to 2K/1080p, lower 60FPS to 30FPS, adjust 12/10bit to 8bit, change bit rate for smooth playback, virtually no quality loss.
What Are WinX's Advantages Over Online HEVC Converter?
Some of you might say why not use online HEVC converter? In this case, you don't need to install any software for HEVC conversion. Certainly, you can. But online video converter depends a lot on Internet connection, and has a limit on file size.
The following figure shows WinX HD Video Converter Deluxe's advantages over online HEVC encoder. Part 3: How to Convert HEVC/H.265 Videos without Quality Loss?
Free download the best H.265 video converter for Windows 10. With H.265/HEVC codec for 4K video built-in, you can convert HEVC to other formats and encode videos into H.265 right away.
1. How to Convert HEVC to MP4 on Windows 10?
Step 1: Click +Video button to load your HEVC/H.265 video from local media library.
Step 2: Then an output prifiles window pops up. Go to General Profiles and choose MP4 Video (codec: h264+aac) to convert HEVC to H.264 MP4.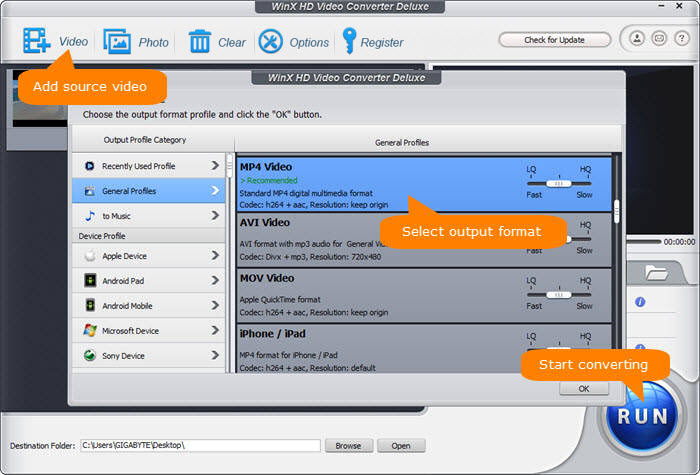 Optional: providing you also need to change HEVC video parameter settings, click the icon

on the main interface. On the pop-up window, you're free to adjust video resolution, frame rate, bit rate, aspect ratio, audio settings, etc.
Step 3: Click Browse button to set a destination folder and hit RUN to start converting HEVC to MP4.
2. How to Convert Any Videos to HEVC?
Certainly, some of you want to convert videos to HEVC codec for saving to Google drive or dropbox account with high quality. Here are the simple steps:
Step 1: Drag and drop or click "+ Video" to import your target video source.
Step 2: Go to General Profiles > HEVC Video to convert your MP4 file or whatever video file to HEVC.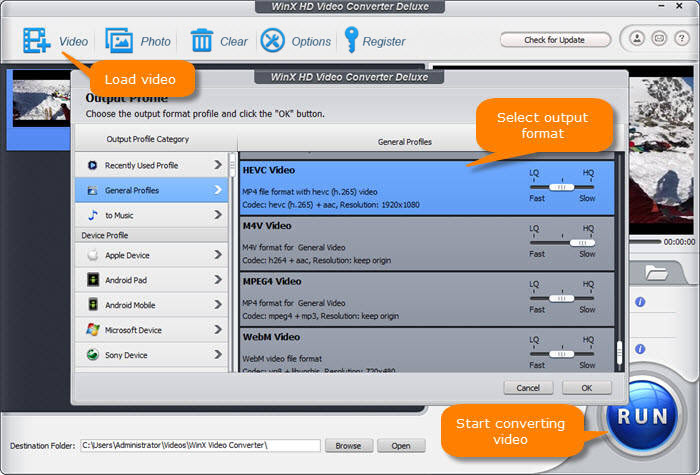 Step 3: Click the blue RUN button to start the conversion immediately. The hardware acceleration tech and high quality engine will help complete the conversion in a very short time and with a high level of video quality.
Check the following video tutorial if you want to know more nitty gritty.
Part 4: To Know More about H.265 Files
1. What is H.265/HEVC?
High Efficiency Video Coding (aka HEVC) is a video compression standard also known as H.265 and MPEG-H Part 2. HEVC codec is considered as the successor to H.264, which is said to double the data compression ratio compared with the previous. HEVC is more used to encode videos of HD and 4K resolution for saving to google drive or dropbox owing to its high data compression.
2. Does HEVC Reduce Quality?
No, it keeps the same high quality of H.264. Although HEVC is a lossy compression, it has higher intra-coding efficiency, and the detail area can be well handled. Thus the reduction of quality is also coordinated, even if it is invisible to the eyes under certain parameters.
3. How Can I Play HEVC on My PC/Mac?
If your computer configuration is high enough, install a 4K video player to play 4K HEVC footage directly. If not, convert 4K HEVC to H.264 to better compatible with your PC or Mac. Check the minimum requirements for HEVC:
Windows: HEVC is supported on Windows 10 computers using the Intel Kaby Lake (or equivalent) processor and newer.
MacOS: HEVC is supported on macOS High Sierra computers using the A10 processor and newer.
4. Can I Play 4K HEVC on My TV?
It depends on whether your TV supports HEVC or not. Actually most 4K TVs only play H.264 format instead of HEVC codec. That's why you need a best HEVC video converter. Check the supported file types of common 4K TVs:
Apple TV: H.264, MPEG-4, JPEG
Sony TV: MPEG-1, MPEG-2, AVCHD, MPEG-4, DivX, Xvid, WMV, Asf, OGG, MKV, MOV, RealMedia, FLV, 3gpp, MVC
Samsung Smart TV: H.264