Reviews of the Best Free H.265/HEVC Video Players for Mac/Windows PC
H.265 will be the codec of the future and will possibly take the place of H.264 one day. In that case, many videos or media files won't be playable with the regular player apps, and the professional HEVC player in the future may be charged.
But luckily, there are, not many, but a few free yet well-performed H.265 media player. Here we pickily single out two best free media players that support H.265/HEVC without the need of any third-party HEVC Codec.
Review of 5KPlayer – No.1 Free HEVC/H.265 Player
★★★★★ Rating: 5; Type: Freeware; OS: Windows & Mac
5KPlayer, the leading product of DearMob, Inc., is a decent yet completely free multimedia player that is building up a reputation gradually, although it is comparatively young. Natively, it supports Ultra HD videos, so it can play H.265 encoded videos as perfectly as they are one. Without downloading a codec (encoder or decoder) or a plug-in, you can enjoy the latest video standard for quality and compression.
The unique core of 5KPlayer makes it recognize and read an H.265 video fast, and process and display it on the user computer as quickly as possible. More importantly, 5KPlayer is extremely user-friendly and lightweight. Even a beginner can play a 4K and 8K movie on Windows PC or Mac as easy as rolling off a log.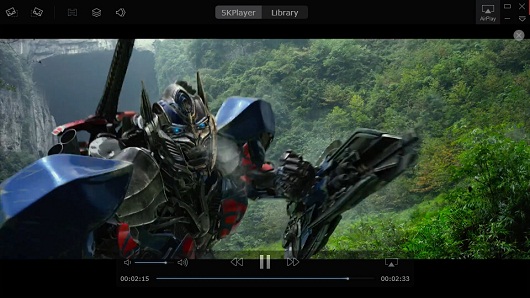 HEVC Player free download for Windows XP, 7, 8/8.1, 10 and Mac OS X (High Sierra included):
5KPlayer has many other outstanding features:
1. Plays HD/SD videos and audios, supports almost all video and music formats;
2. Builds up and manages your H.264, H.265 and all-rounded media library at free will;
3. Plays DVDs, even if it is region code protected;
4. Streams media from iPad, iPhone, PC, Mac to Apple TV, PC, Mac or AirPlay-enabled speakers;
5. Downloads any kinds of videos and music from 300+ online sites without a boundary.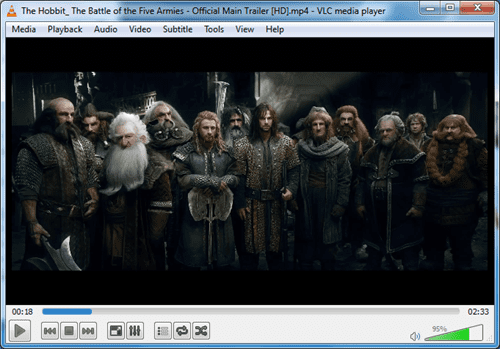 Review of VLC – Also a Good HEVC/H.265 Player
★★★★☆ Rating: 4.5; Type: Freeware; OS: Windows, Mac & source code for others
VLC is a free and open-source media player developed by VideoLAN. It has been famous especially among Americans for many years. It can play many codecs without the need of codec packs. But for playing an HEVC format video, it requires to download a specific x265 as a free software library and application for encoding video streams into the H.265/MPEG-H HEVC compression format. But if you click the "Download x265" button on that page, a landing page of "400 Couldn't parse URL" would appear and you will fail in downloading the H.265 encoder for VLC.
VideoLAN is a non-profit volunteering organization, so the support help and bug fixing are likely to not timely enough. Besides, the HEVC player is more suitable for the users with a solid expertise base. It is at a risk of being overtaken by some latest players, in the sides of playing 4K/5K/8K videos and supporting trendy features.