Posted by Kaley Torres - Contact Author

[iMovie Tutorial] Fix iMovie Won't Import MOV Issue

If you are searching for an easy solution, click here: The solution most recommended by us [85%]
iMovie is supposed to accept MOV videos as inputs. But the real case is that your MOV files are not selectable when loading to iMovie. Why would this happen? is it explainable?
The answer is positive. The possible causes are:
1. Incompatible codecs. Google "iMovie supported formats" and you'll be informed of its full codec list, including H264/AVC, HEVC, AIC, ProRes, MPEG-4, etc. Though your MOV is encoded by those supported codecs when checking its attribute, MOV is a container, having a big chance to contain other incompatible video codecs, indeed.
2. HEVC subcodec problem. iMovie (developed by Apple) natively supports editing iPhone recorded MOV HEVC videos. Of note is that iMovie won't import MOV HEVC videos encoded by hev1 subcodec now and then. After all, Apple's hvc1 is its top choice.
3. MOV file is too large and consume too much space in hard drive, which leads to the rejection from some newer version of iMovie.
4. MOV file is broken and not recognized by iMovie.
A single cause above would result in the MOV to iMovie importing failure. That being said, roughly 85% cases are resulted by the incompatible codecs. Hence, first things first. Converting MOV codecs to iMovie supported one is at your top of priority. One professional MOV video converter (highly recommended by cnet editor) - WinX HD Video Converter Deluxe can help you do the magic!
Troubleshoot "Can't Import MOV to iMovie" Error with 99% Success Rate: The Key: Convert MOV to iMovie supported MOV H264, MP4, HEVC...

Try with WinX HD Video Converter
WinX HD Video Converter Deluxe, as J.D. Chadwick (editor from toptenreview) said, is a mixed bag with almost everything you need covered, and more importantly decent ones. It enables you to convert any MOV videos (recorded by iPhone, Nikon/Canon camera, DJI drone or saved from online sites) to iMovie supported MOV H264, MP4, HEVC (hvc1), MPEG-4, ProRes, etc., with the result that you can smoothly add MOV to iMovie (any version), away from the annoying message "none of the selected files can be imported".
As a versatile tool, handling large-sized MOV file can also be a piece of cake. Take advantage of its editing features to cut off unnecessary clips from MOV video, crop video borders, delete unwanted audio tracks or downscale 4K to 1080p, lower 60FPS to 30FPS to reduce MOV file size to iMovie accepted range, as well as release your hardware CPU and GPU burden (in terms of processing 4K MOV video in HEVC if your hardware configurations are entry-level or sub-par). For the slightly damaged MOV files, it can auto repair MOV during the conversion. No worries!
Tutorial: How to Transcode MOV to iMovie Supported Codec/Format?
Step 1. Run this MOV to iMovie converter after downloading and installation.
Click "Video" icon to load .mov files or just drag-and-drop MOV footages into this utility.
Step 2. Scroll down to find Apple Device > iMovie (H264) > hit OK button on the pop-up output profile window. Additionally, you can also choose "to ProRes Video" or go back to find "Mac General Video" under common video profile.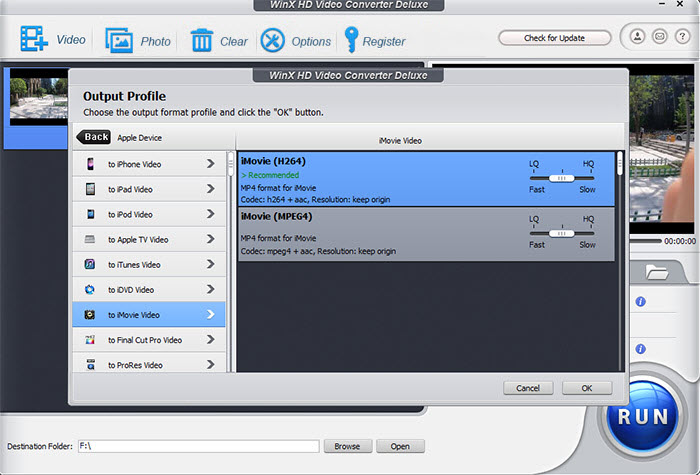 Note 1: go back to home panel, where you tap "Edit" icon and enable Trim (as the below picture shows) to freely set up the start time and end time to shorten your MOV duration. That can fix the "MOV file too large to load" error when importing to iMovie.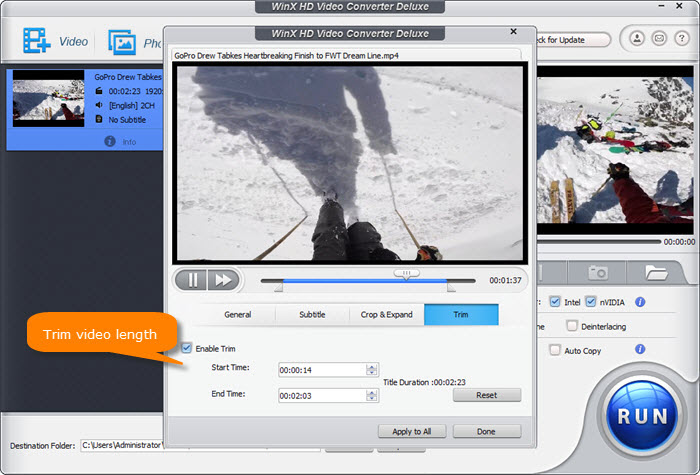 Note 2: still on the main interface, find the settings icon and hit it. A window pops up as below. Change your 4K 2160p to 1080p or lower frame rate from 120/60 to 30FPS if your hardware configurations can't handle MOV HEVC video at 4K resolution when adding to iMovie.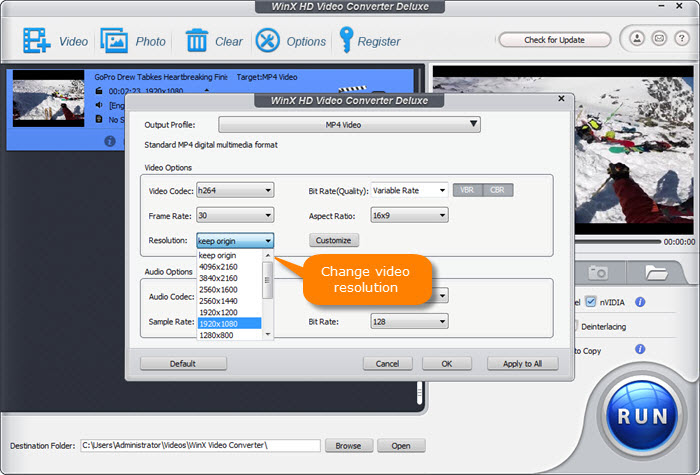 Step 3. Tap Browse button to choose an output folder if necessary. Then, hit RUN button to start transcoding MOV files at Intel QSV/Nvidia/AMD GPU hardware accelerated speed with highest possible quality reserved (High Quality Engine). Import the output file to iMovie for editing after the conversion is accomplished.
Watch YouTube video tutorial to convert MOV to MP4 iMovie format!