How to Fix MOV Black Screen When Playing & Editing?
Summary:
MOV black screen error is mainly caused by corrupted MOV file, missing required decoder, incompatible codec or 4K video resolution. If you don't know which one is the real reason for your issue and how to fix it, you can try WinX Video Tools which can solve all causes: play MOV directly, transcode MOV to be more compatible, convert 4K to 1080p and slightly repair corrupted MOV file. Get it free below:

Free Download for Windows >>

Free Download for Mac >>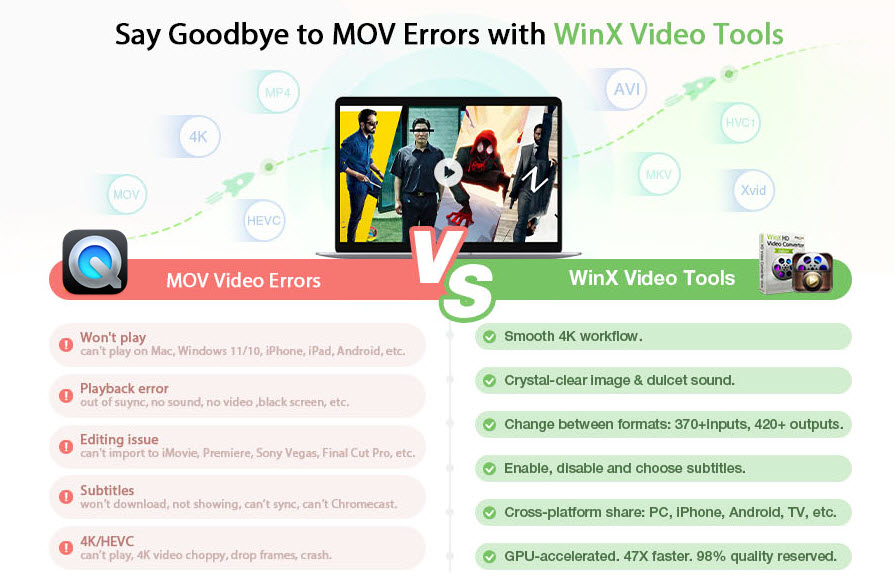 MOV file black screen issue is very common. It is a typical error when you use QuickTime Player to play MOV videos on Mac. Also, as one of the best video formats for recording, you may encounter the no video error when editing the recorded MOV videos with video editing software like Sony Vegas, iMovie, After Effects, etc. Put succinctly, damaged file, missing required codec, high video resolution and incapable media player are possible causes. So, this page is a detailed analysis to help you find the real reason behind your MOV black screen error and get the right solution to tackle with it.
Part 1. Why Is MOV File Not Showing Video but Black Screen?
1. The MOV file is corrupted.
Broken or damaged file will surely lead to video not playing but black screen error. Often the case, incomplete video downloads can lead to the error. You can check the video file size, if it is 0kb, it should be a corrupted or empty file. Re-download the video if possible.
As MOV videos usually come from cameras and drones, you may need to transfer them to computer for further editing. So, the file is probably damaged during transferring process.
If you have converted your MOV video with an unqualified video converter, the file maybe improperly or incompletely converted, and thus causing a black screen playback issue. And then, you can't see the video output and only hear the audio, or totally can't play back the MOV file.
Other possible causes include viruses and accidental changes to the file headers such as format, size or author.
2. The required MOV codec is missing or incompatible
Commonly known, MOV is a container file format which can contain different video audio codecs that your OS, media player, video editor or device can't recognize. For example, QuickTime only supports modern MOV codec like H.264, HEVC, MPEG-4, etc. though MOV format is developed by Apple. Even you upload it to Google Drive, OneDrive, YouTube or any other online platforms, the MOV file does not show video but a black screen.
3. The MOV video resolution is too high
Most of MOV files come from Apple devices (iPhone, iPad, iPod), digital cameras (Canon, Nikon, Olympus), Drones, etc., and the video resolution is getting higher and higher up to 4K and 8K. To play the high definition 4K and 8K videos at 30fps, 60fps or 120fps, it often requires a high-end computer. However, usually our computer is not that powerful. So, the MOV video cannot be played or even the system shut down abruptly when playing the large and heavy MOV videos.
4. You media player or software is outdated.
If your media player or software hasn't been updated for a long time, you'd better update it to the newest version to support the MOV files encoded with newer video codecs including HEVC, AV1, ProRes. Or, turn to a more powerful MOV player to play MOV files without black screen issue.
Now that you have learnt the main reasons behind a MOV file black screen problem, it's time for you to solve the error with the below workable solutions.
Part 2. How to Solve MOV File Black Screen Issue?
Method 1. Repair MOV if it's corrupted.
You can use the MOV repair tool to fix the damaged videos on Windows PC. For Mac users, QuickTime is the direct way you can utilize to fix the black screen error in a corrupted MOV file.
1. Launch QuickTime Player on Mac.
2. Click Edit on the menu bar and click on Preferences.
3. Click QuickTime Preferences and select Advanced settings.
4. Switch off hardware acceleration and close the Advanced setting window.
Switching off hardware acceleration on QuickTime can improve the bitrate of the MOV file and then fix the black screen issue.
Method 2. Install required MOV codec.
If your MOV video is unwounded, maybe there is missing required codec or codec incompatibility issue with your media player, video editing software or something else. Hence, MOV codec download is the first thing you should consider. However, it is an option but not a recommended way as extra codecs from unknown sites may be not clean and compatible with your computer.
Method 3. Transcode MOV video – most recommended.
If you insist a MOV video, you can try a video converter like HD Video Converter Deluxe to transcode MOV to MOV with required video codecs. The built-in 420+ output presets allow you to directly convert MOV to devices including PC, Mac, iPhone, TV, Android, etc., or convert MOV to MP4, AVI, WMV, H.264, etc. that is more accepted by your software.
Step 1. Download HD Video Converter Deluxe, install and launch it on your computer.
Step 2. Click the + Video button on the top bar to add a MOV video.
Step 3. When the Output Profile window pops up, simply choose a video format you need and click OK.
Step 4. Choose a destination folder by clicking the Browse button and hit RUN to start conversion.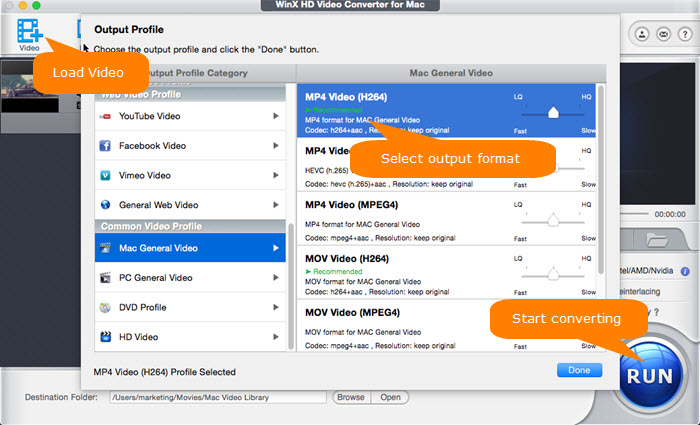 If needed, you can convert your MOV video from 4K to 1080p with this MOV video converter to lower the video resolution and downsize file size so as to prevent black screen issue and achieve smooth video playback.
Method 4. Try a more powerful MOV video player.
As said, MOV file black screen issue often occurs when playing MOV videos on Mac with QuickTime Player. You are suggested to turned to a more capable MOV video player that can render high-quality and smooth playback performance, such as VLC, PotPlayer, 5KPlayer, etc.