How to Fix No Sound Issue with MOV Files?
Many users have encountered no sound on .mov files issue as follows.
The audio for .mov files from my canon camera has stopped working in Windows Media Player. Video is fine. No error messages, just no sound.
Since re-installing Windows 7, I have no sound from MOV files shot on my Canon from Quicktime, VLC Media Player and Adobe Premiere Elements.
I have posted a handful of .mov files on YouTube. Half of the files when played on YouTube have no sound, though they are not marked as matching third party content, which I know can cause the audio to be blocked.
I have a few .mov files which I am trying to edit with Lightworks, the videos play with audio when I view them on my PC but when imported have no audio.
There're many reasons for MOV files playing without audio on Windows 10/8/7, Mac, iPhone, Android, Windows Media Player, Windows Movie Maker, QuickTime Player, VLC, Adobe Premiere Pro CC, GoPro Studio, YouTube, Instagram, or other platforms. It could be a problem with the file itself, hardware, or software. Read on to get the fixes for MOV no sound issue.
[Solved] MOV File No Sound? Convert MOV File to Fix the Error
When there is no sound on MOV files, the missing or wrong codec is to blame. Accordingly, you are suggested to convert MOV to MOV with required codecs or MP4, AVI, MKV, etc. to play on both Windows 10 and Mac with sound smoothly. And WinX HD Video Converter Deluxe is a good tool to help you out.
5 Solutions to Resolve MOV No Sound Error
Solution 1. Check the volume and sound settings
You need to make sure the media player and the device you use are not set to mute. For example, if MOV file won't play sound on Windows Media Player, you need to check the volume and sound settings of Windows Media Player and those of your Windows computer.
Solution 2. Check the speakers and sound drivers
Make sure the speakers are fine and the latest sound drivers are installed. Your computer use driver software to send information to the sound card. Therefore, if the driver is outdated or corrupted, your player may be unable to play MOV QuickTime movie file with audio. So it is necessary to update your sound card drivers in good time.
Solution 3. Check the audio codec of your .mov file
A .mov file could use an audio codec (e.g., LCPM) that your media player, device, or the social media platform can't decode, hence it plays without sound. You have four methods to fix the codec issue causing MOV no sound and some other video not playing errors:
Install the missing codec. K-Lite Codec Pack contains all the possible media codecs you need.
Update or reinstall your media player and then you may get the required codecs.
Try a different player. If MOV file plays video only in Windows Media Player, no audio, try QuickTime player, 5KPlayer or other one you like. WMP isn't a good choice for MOV video playback.
Convert the MOV file's audio codec into a compatible one with WinX HD Video Converter Deluxe.
How to convert MOV file to make both video and audio playable?
To get started, you need to download WinX HD Video Converter Deluxe on your computer.
Step 1. Add the source MOV file with sound issue. Launch WinX HD Video Converter, and then click the "+Video" button at the top left corner of the main interface to import the problematic MOV file.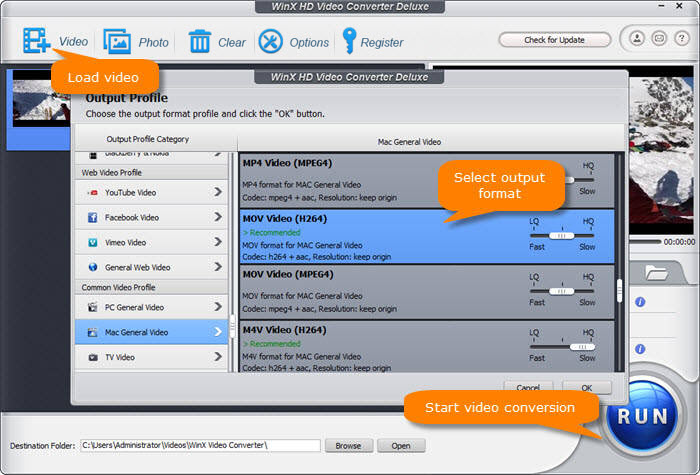 Step 2. Choose an output format that the target player supports. WinX offers 420+ optimized output profiles to meet users' various needs. Choose one based on your own needs. For example, you can go to "General Profiles" and choose "MOV Video" which adopts widely-used codec formats H.264 and AAC. So you shouldn't run into MOV no sound problem any more.
Step 3. Start conversion. Simply click the "RUN" button and the conversion will begin immediately and complete quickly thanks to the support for Intel QSV and NVIDIA CUDA/NVENC hardware acceleration.
Video Tutorial: How to Convert MOV to MP4 for Playing Without Error
Solution 4. Check if the MOV file is corrupted
Sometimes the reason for MOV file no sound is nothing but file corruption. Then you need to try repairing the corrupted .mov file and fixing the broken sound.
Solution 5. Check for multiple audio streams
If you upload .mov file to YouTube and get no sound, check if there're multiple audio streams in your source .mov file. YouTube only handles one audio and one video stream, and rejects any extras.
Above are the five fixes for MOV no sound problem. Hope one of them can work for you. Note: the above-mentioned solutions are also workable to solve the 0xc00d36c4 error.