Posted by Donna Peng - Contact Author

[Solved] MOV Video Files Won't Open, Read, and Play

If you are searching for an easy solution, click here: The solution most recommended by us [85%]
MOV is a commonly used format, however, even the most popular media player and video editor can have hiccups when processing MOV files, especially huge 4K Ultra HD MOV and MOV HEVC files. QuickTime Player, VLC, iMovie, Adobe Premiere Pro, and other software won't open/import MOV footages, MOV video file playback is choppy/freezing/stuttering, audio track missing, etc. If you have run into the same problem, use the troubleshooting guide to help clarify the issue and easily fix it.
Troubleshooting Guide on MOV Files Won't Open/Read/Play
MOV Won't Open and Recognize in Media Players
MOV files won't open in QuickTime, Windows Media Player, VLC Media Player, and other mainstream video players on Windows 10/8/7 and macOS. It shows an error codec, a black screen, or an error message like QuickTime can't open (filename), the file format is not supported. These MOV videos are recorded by iPhone, iPad, Nikon/Canon cameras, or DJI drones, etc.
MOV Videos Won't Read and Import in Video Editors
MOV videos won't open and import in Adobe Premiere Pro, iMovie, Lightworks, HitFilm, Windows Movie Maker, Sony Vegas, and DaVinci Resolve. It shows no video file and nothing appears.
Possible causes and solutions
- Damaged or empty MOV files
Check the file size of the MOV file you can't open. A video with only a few kb may refuse to process. Test the MOV video with other players or video processing programs to see if it's corrupted. If your media player or editor can open other MOV sources, the issue is with the MOV file. Follow the guide to repairing corrupted MOV videos.
- Format incompatibility
MOV is a container format and can be encoded with different codecs that may be not accepted by your program or operating system. Many devices capture HEVC MOV footages, such as iPhone 7 or later running iOS 11 or later, DJI Phantom 4 Pro, Mavic 2 Pro/Zoom, and many more. HEVC video viewing and editing require macOS High Sierra or later. The support for HEVC codec was removed from Windows 10 Fall Creators Update. MOV HEVC video processing in Premiere Pro CC requires version 12.0.1 or later. HitFilm currently doesn't include the ability to decode MOV HEVC footages. To fix the issue,
- Update your operating system.
- Update your video editor or media player to the latest version.
- Install MOV codec and HEVC codec pack on your computer.
- Transcode MOV to MP4 format, or HEVC to H.264 format that is universally accepted.
- Clear media cache. When importing files, your program processes versions of these files for faster access. Theses are media cache files that store in the media cache database. Cache data can slow down your workflow. Try clearing the media cache of the media player and video editor, and import your MOV clips again.
MOV Files Won't Play Properly - No Sound, V/A out of Sync, Freezing
No Sound with Imported .mov Videos
Some users reported they were able to play and edit .mov files but there is no sound. Video is fine, no error message pops up. Try playing other video files to see if they have audio. Use another media player to play the MOV video file. Make sure the volume and sound settings are correct. Check the speakers and install the latest sound driver. The incompatible audio codec can also cause the MOV audio missing issue. Learn more solutions to no sound on MOV videos.
MOV Video and Audio out of Sync
The MOV video doesn't match the audio after importing to VLC, QuickTime, Windows Media Player, Adobe Premiere Pro, and other programs. Causes of the error may be corrupted media files, improper settings, a variable frame rate that your video processing software like Adobe Premiere Pro can't handle, to name a few. For more reasons and fixes, check what to do when MOV video and audio are out of sync.
MOV Video Freezing/Stuttering/Choppy/Laggy
MOV file playback stutters, the image lags behind the sound, particularly MOV video in high resolution (4K UHD) and mov video with HEVC codec. The problem happens in VLC, QuickTime Player, Adobe Premiere Pro, and other players and video editors. Large 4K Ultra HD MOV video processing requires powerful enough CPU and hardware. If your MOV video uses the HEVC codec, it has a higher CPU overhead than others. The following ways may be helpful.
Convert HEVC codec to H.264 format that is widely compatible and uses less CPU power.
Compress large 4K UHD MOV footages by changing 4K to 1080p, trimming, lowering down bit rate, etc.
Use video processing programs with hardware acceleration.
A Quick Fix to (4K UHD HEVC) MOV Videos Not Reading/Playing Problems
WinX HD Video Converter Deluxe can solve MOV videos processing problems caused by incompatible video audio formats, high CPU usage load, damaged source videos, high frame rate, etc. With numerious codecs built in, it convert (4K UHD/1080p) MOV HEVC videos to MP4 H.264, and other friendly formats quickly. The tool make it easy to repair corrupted MOV videos by trimming/cutting, adjust video audio bit rate, frame rate, compress large 4K MOV files, and more.
Download WinX HD Video Converter Deluxe to Help Play MOV Files Smoothly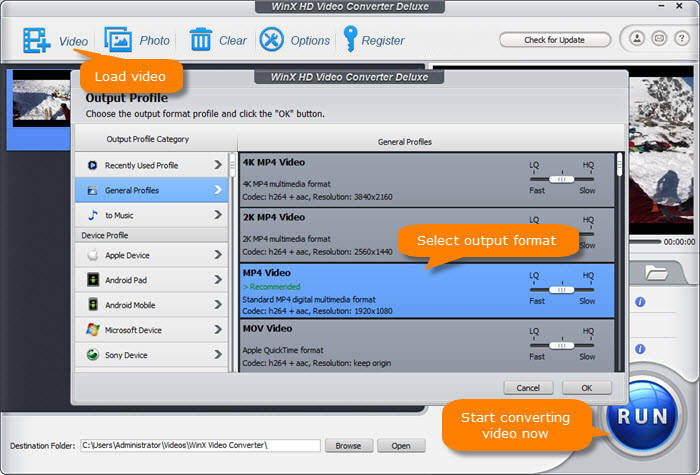 Video Tutorial: Convert MOV Files to MP4 for Limitless Playback on Any Screens